We left our cabin at 9 a.m. on the 4th of July to meet up with our Swedish friends from Ed who were going to ride along with us up to Alvdal, where we would split up - they were going west on their Cecteks, a Linhai and a scooter - we were heading for Trondheim.
A couple of hours before Trondheim we were met by two members of Trøndelag ATV forum - these great guys excorted us all the way to the camping site!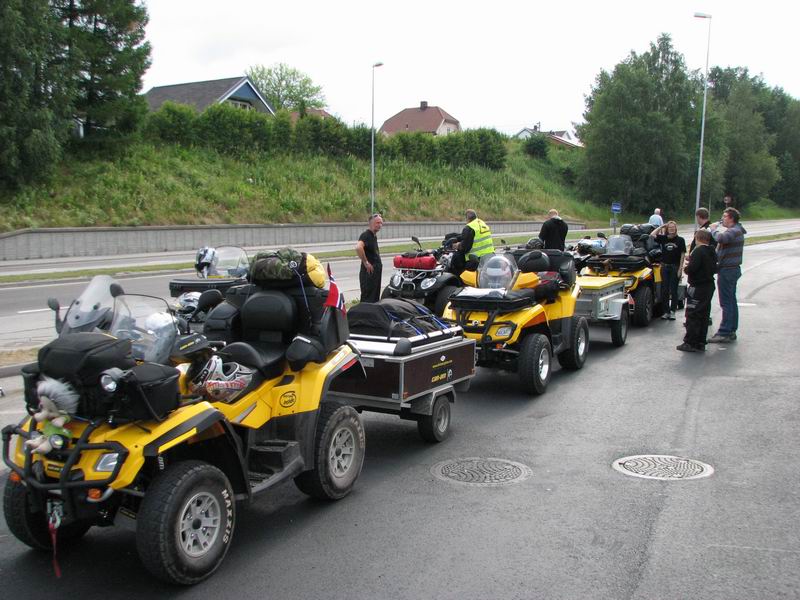 Before take-off - Kongsvinger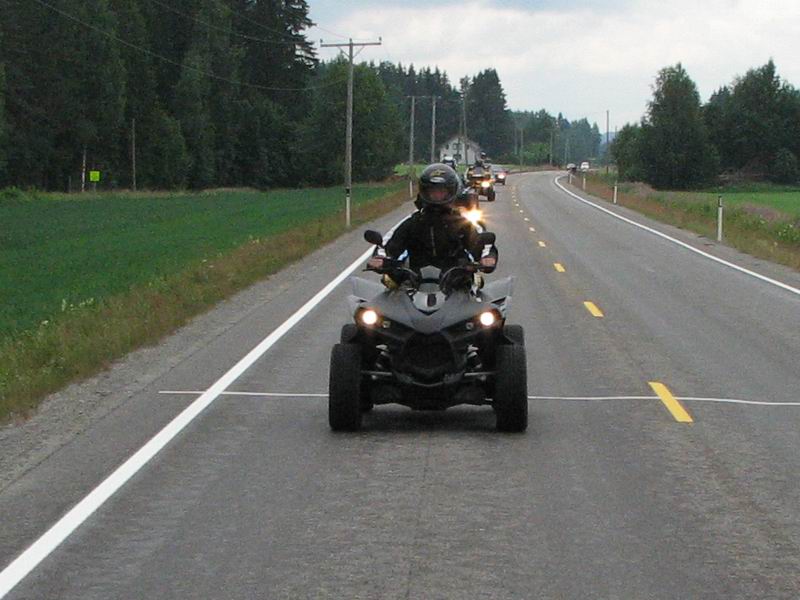 One of the Swedish Cecteks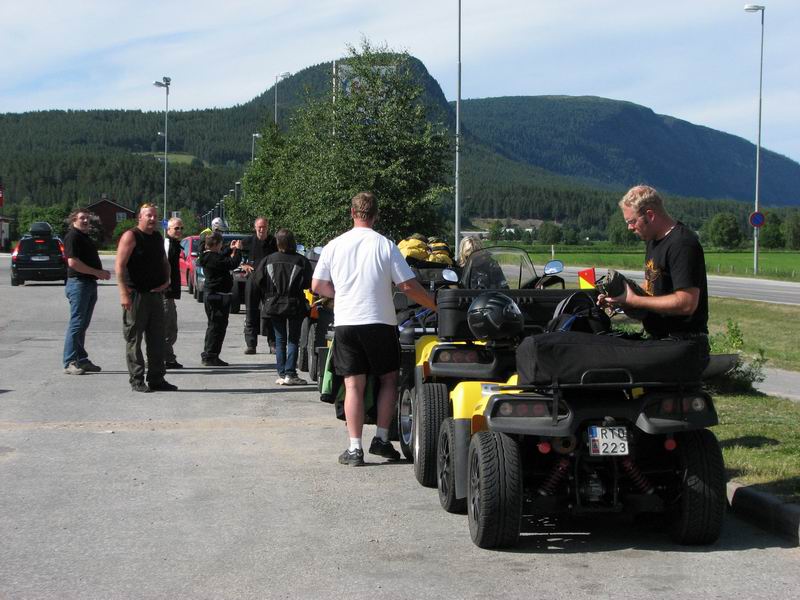 Stopping for lunch in Alvdal - beautiful weather!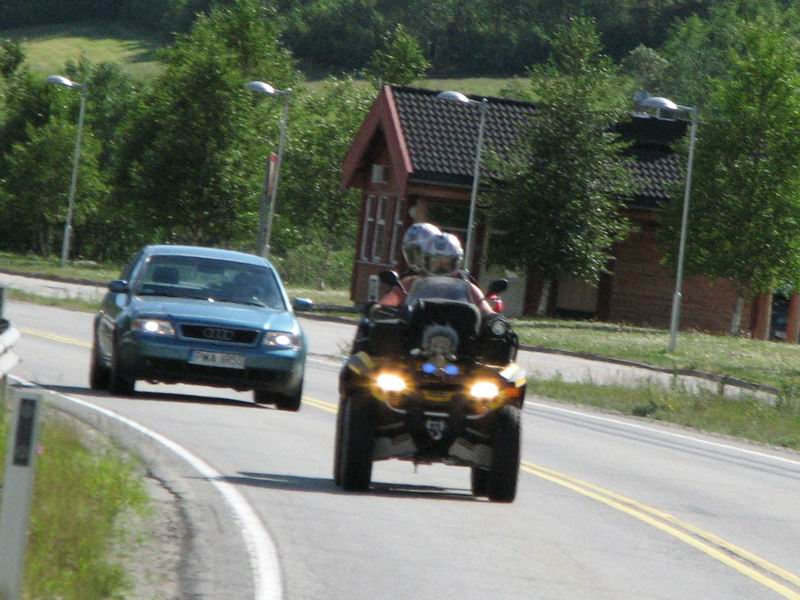 Pål Vidar and Randi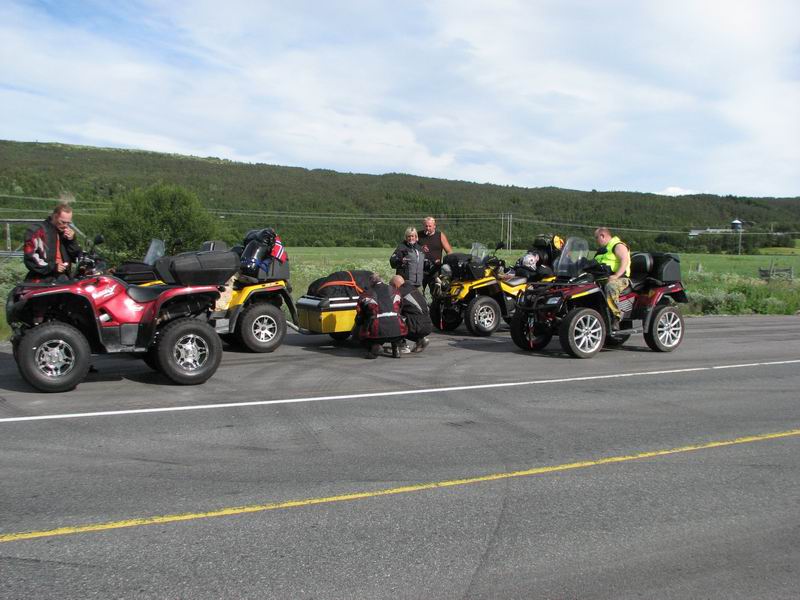 Østlandet ATV Klubb meets Trøndelag ATV Forum!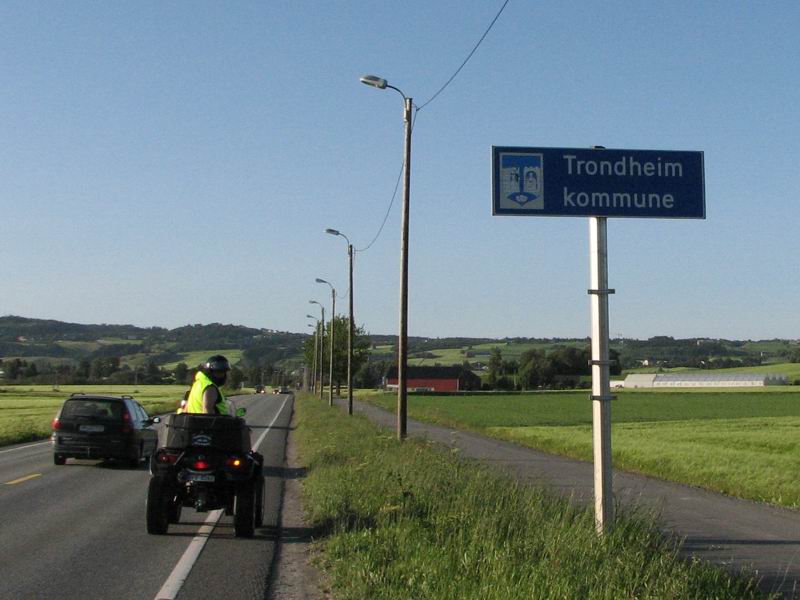 Obelix escorting us - we have reached Trondheim - soon we'll be at the campinig site
Sunday we toured Trondheim guided by several members of Trøndelag ATV Forum - Trondheim is a beautiful, relaxed city worth a visit. The weather was still nice and warm, however as I type this (Monday 7.30 a.m.) it's starting to get colder - We still have a long trip ahead of us....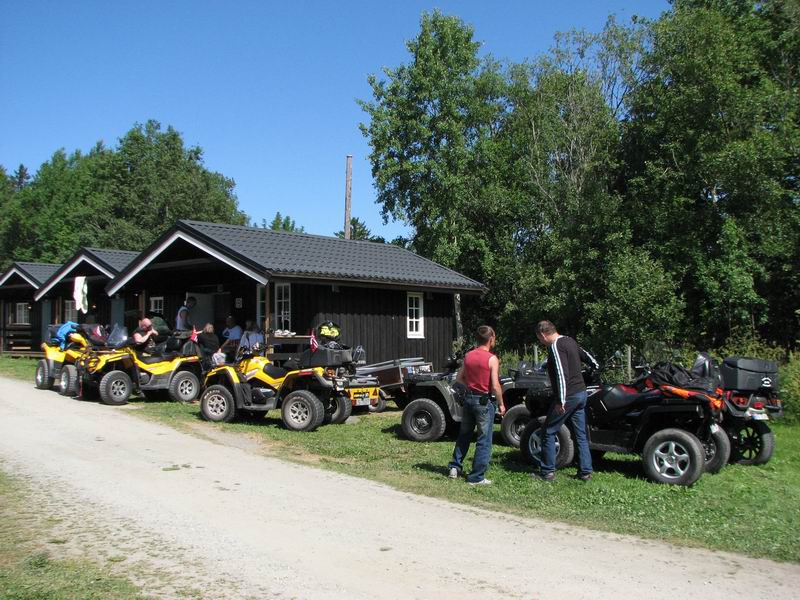 The guys from Trøndelag ATV Forum have arrived at our cabin at the camping site.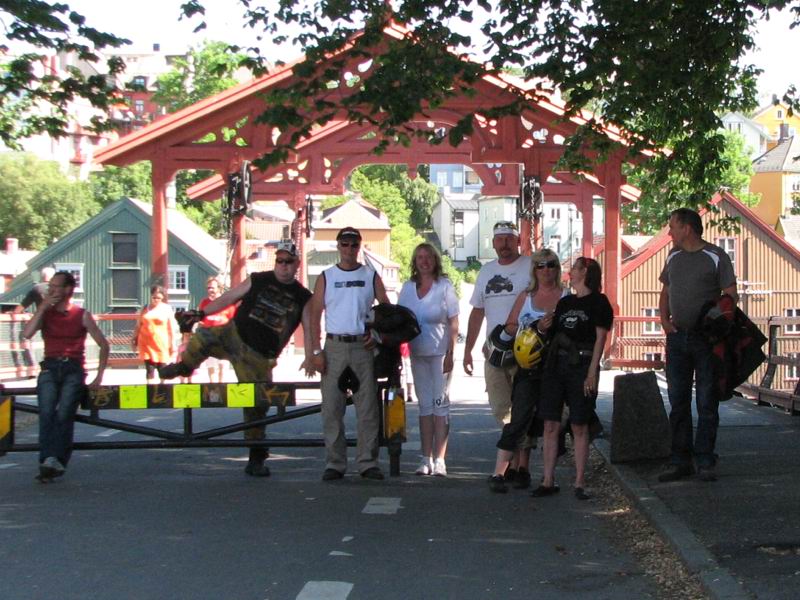 The old bridge in Trondheim crossing the river Nidelva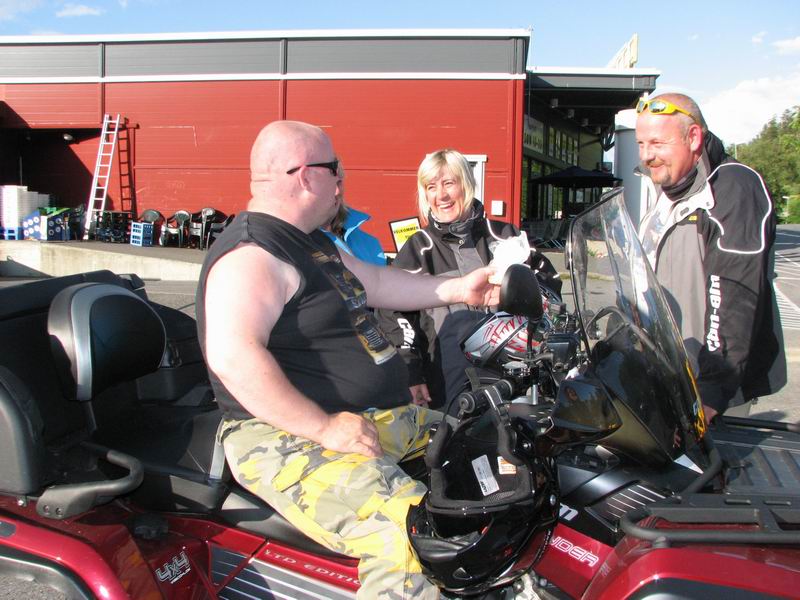 Obelix receives some Danish pastry (wienerbrød) as a thank you for guiding us.....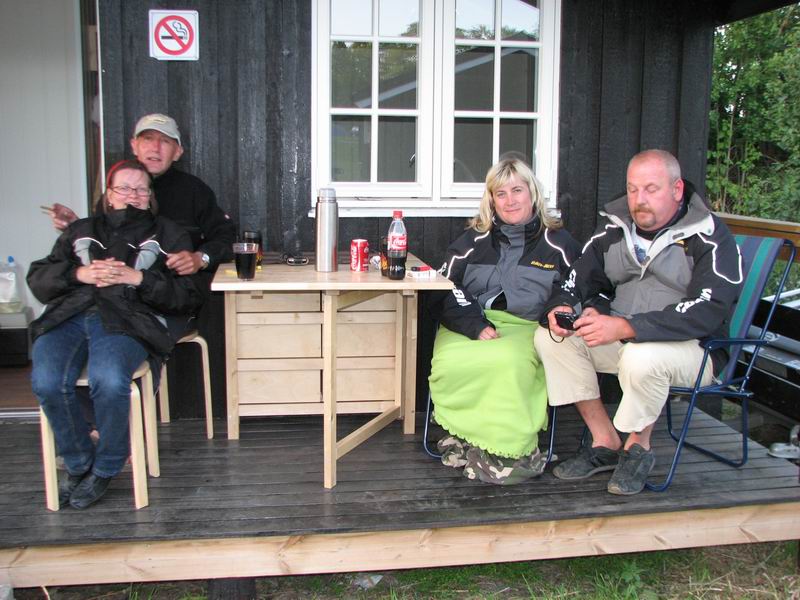 It's a bit chilly in front of our little cabin....
Monday we had a pleasant meeting with BRP in Trondheim before we took off. We had a nice ride along Trondheimsfjorden. After a short stop in Steinkjer vi continued past Snåsavatnet towards Grong. Such beautiful nature! In Grong we made a small stop to take some photos and have a ciiiiigar. Our goal that evening was to pass Mosjøen. The roads in Namdalen are excellent, however the gnats and the mosquitos are not.......
When we reached Mosjøen we passed a campingsite where we saw a familiar Can-Am Spyder - It was Rohnny of course. We did not want to wake him up because it was past midnight so we continued towards Korgen where we took the old E6 to camp. We found a nice spot close to a lake where we camped in our lavvos (the tents the sami people use). The next morning we crossed Saltfjellet and the Arctic Circle - nice and sunny weather all the time but the wind was a bit chilly up there in the mountains.
After Saltfjellet we made a short stop in Fauske for same gas and a cigar. The trip from Fauske to the ferry crossing Vestfjorden is a mixture of high mountains, deep fjords, lots of tunnels and clear rivers and streems. We caught the ferry just in time - 10.45 pm - and we reached Lødingen at 11.45 - it was of course still sunny! Now we had a 2 hours ride left to Andøya where Sylvi's partens welcomed us at 2 am - we were very tired after riding in the midnight sun. (more updates soon).

Meeting with BRP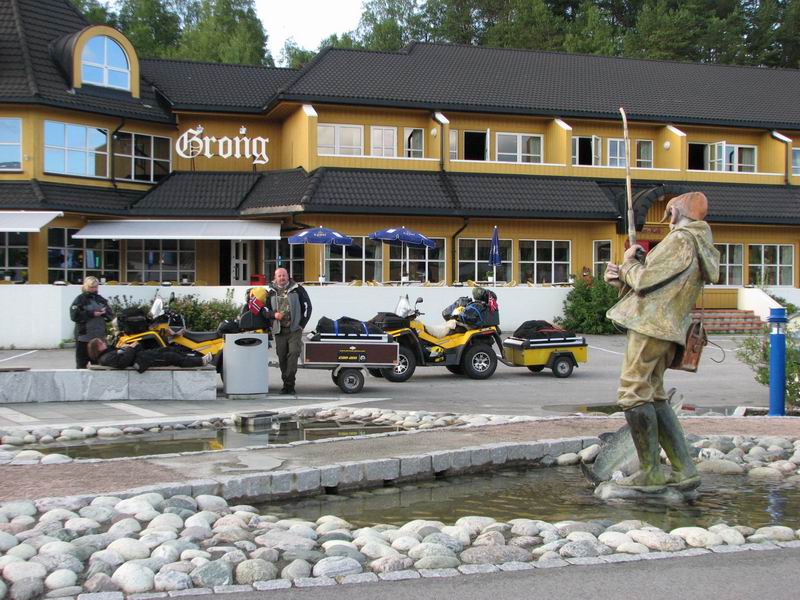 Grong - famous for the salmon river Namsen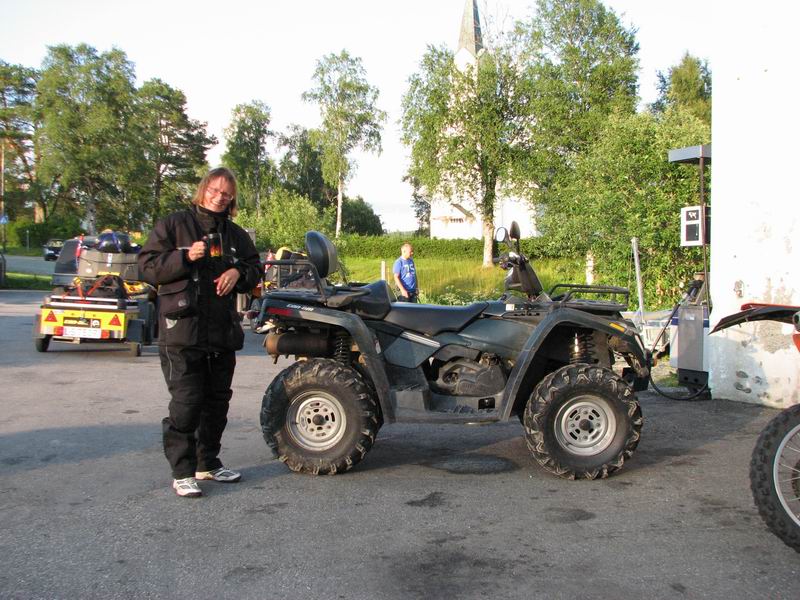 In Harran we saw this beaten up can-am.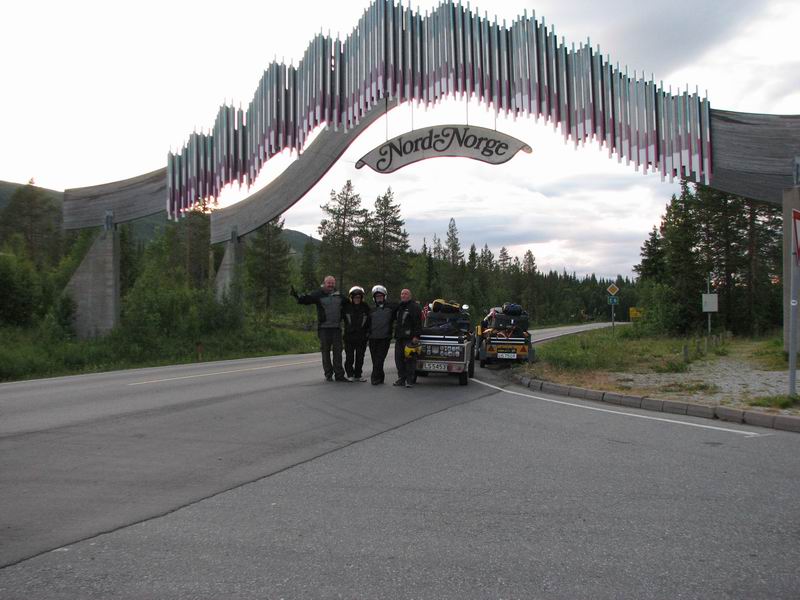 The "gate" to northern Norway!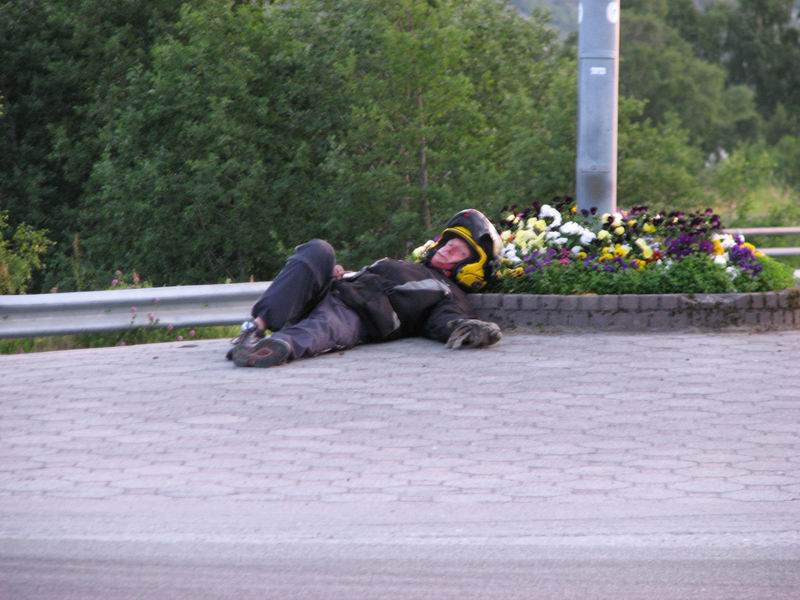 I'm relaxing in a roundabout in the center of Mosjøen....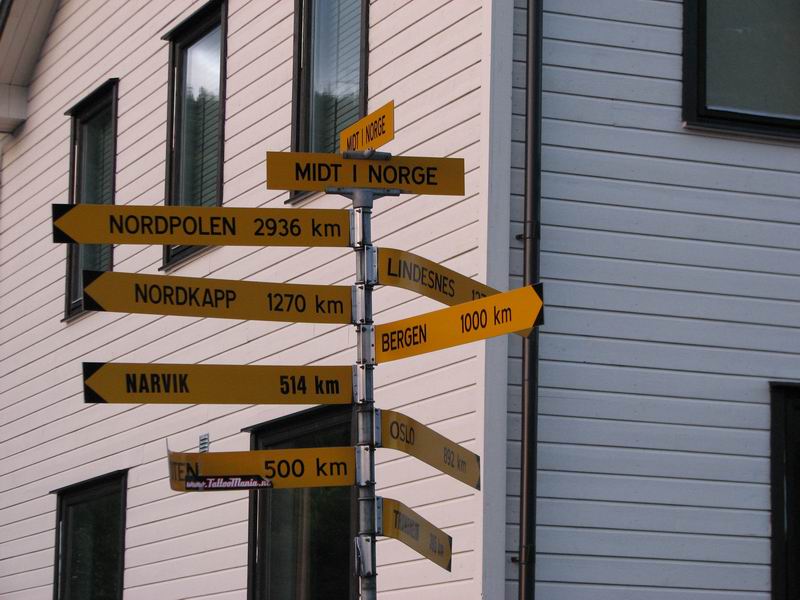 This photo speaks for itself... - this is Mosjøen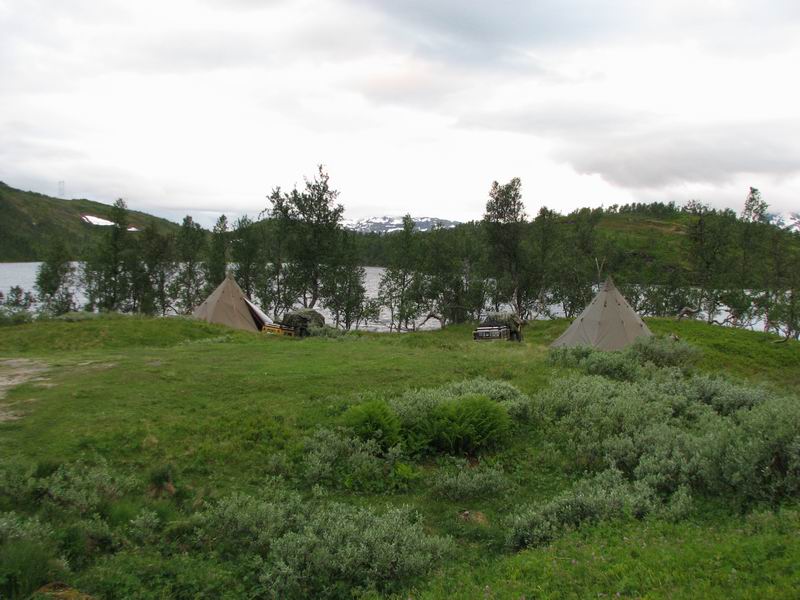 Our camp at Korgfjellet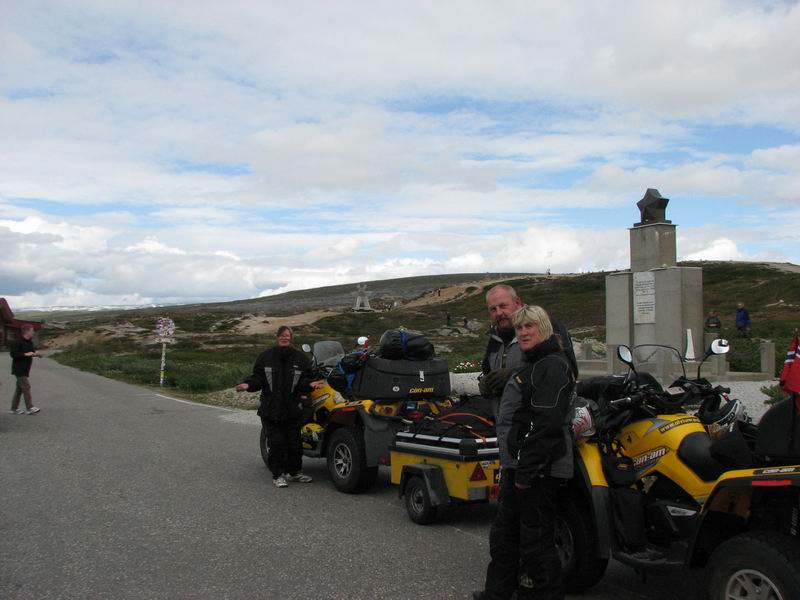 The Arctic Circle on Saltfjellet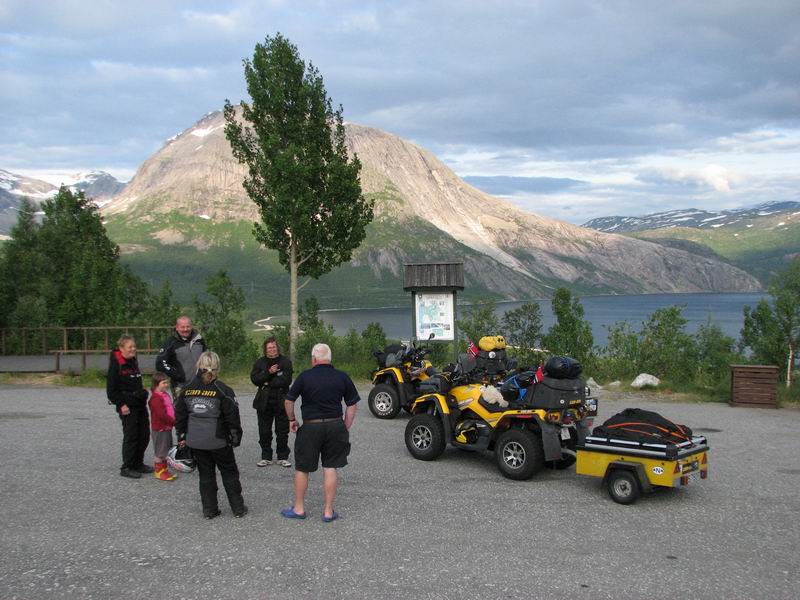 Somewhere between Fauske and the ferry - what a view!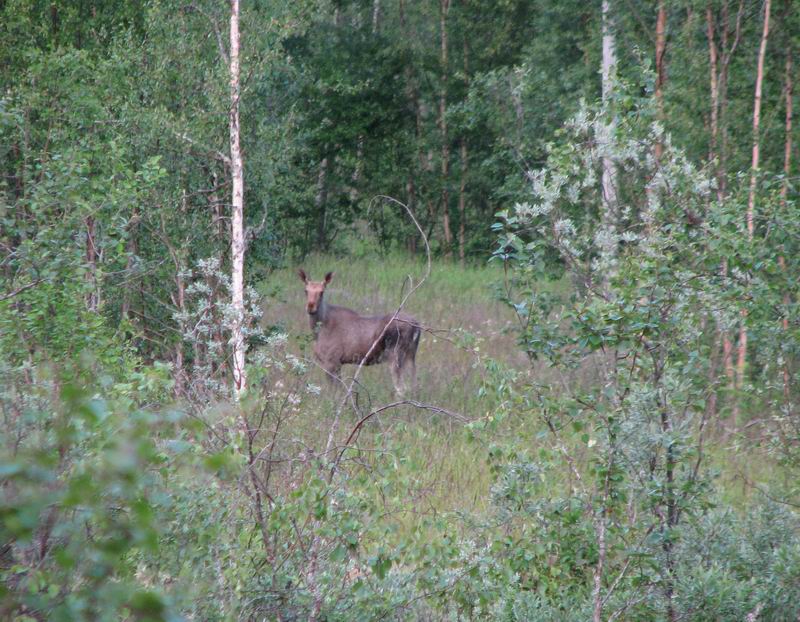 We saw this fella' and his sister feeding close to the road. It's a moose.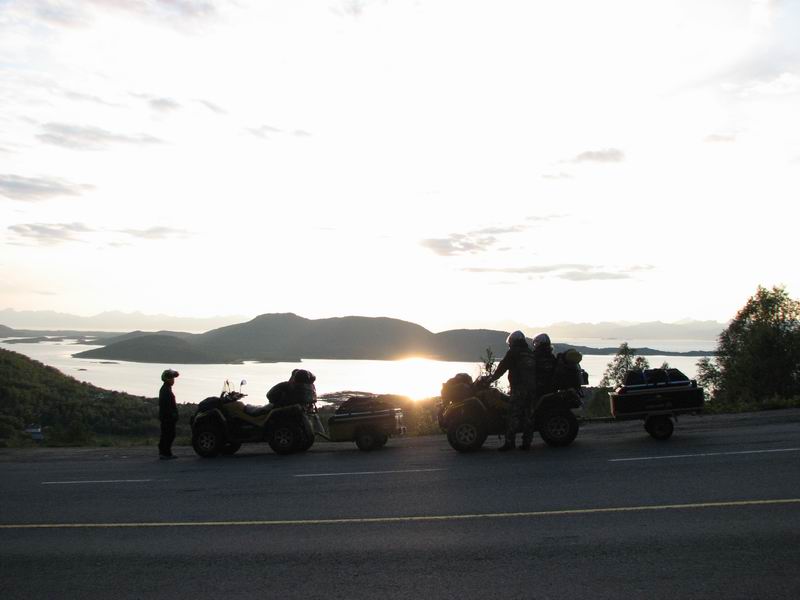 10.30 pm - the sun is shining on our can-ams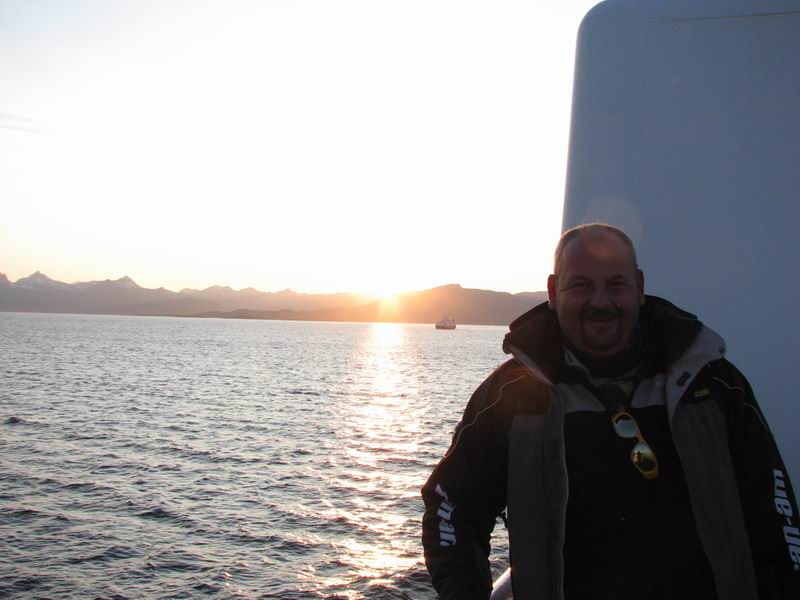 Pål Vidar enjoying the crossing of Vestfjorden - Lofoten and the midnight sun in the far background.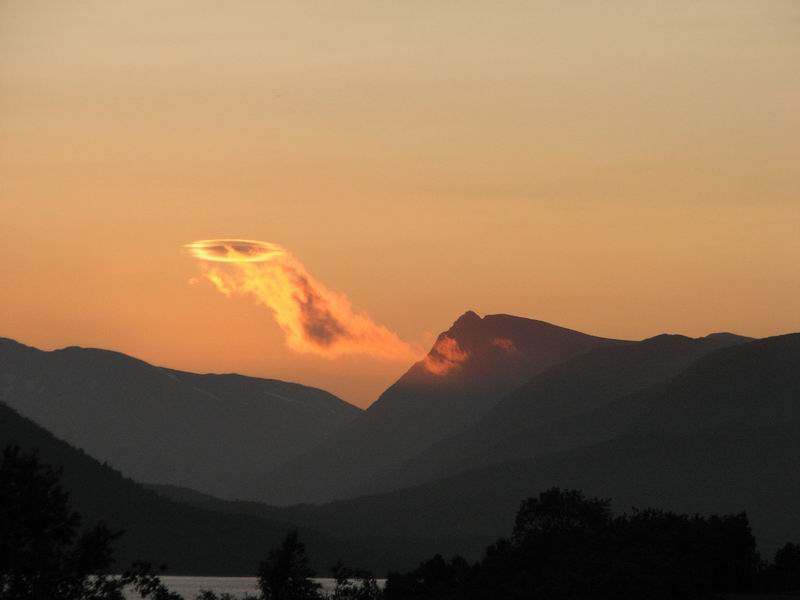 Funny looking clouds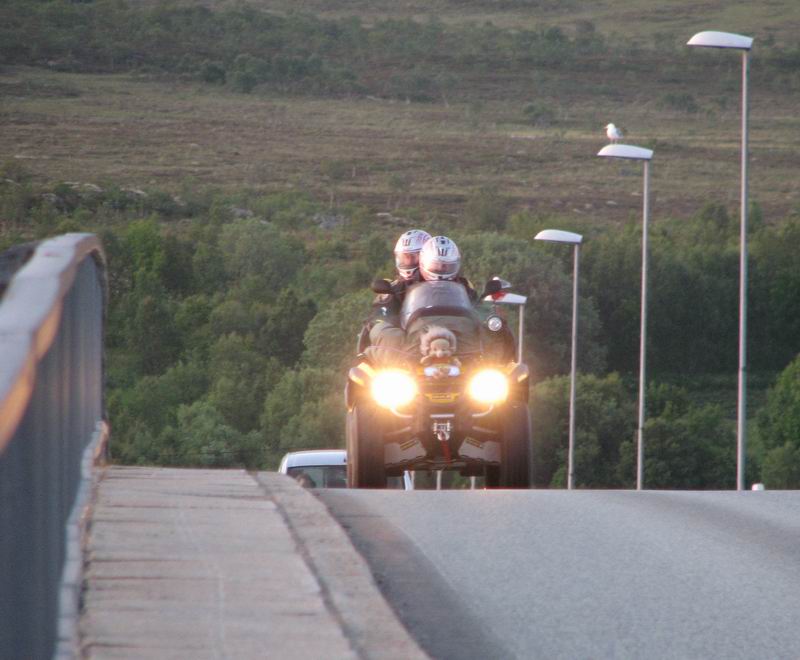 Pål Vidar and Randi on the brige to Sortland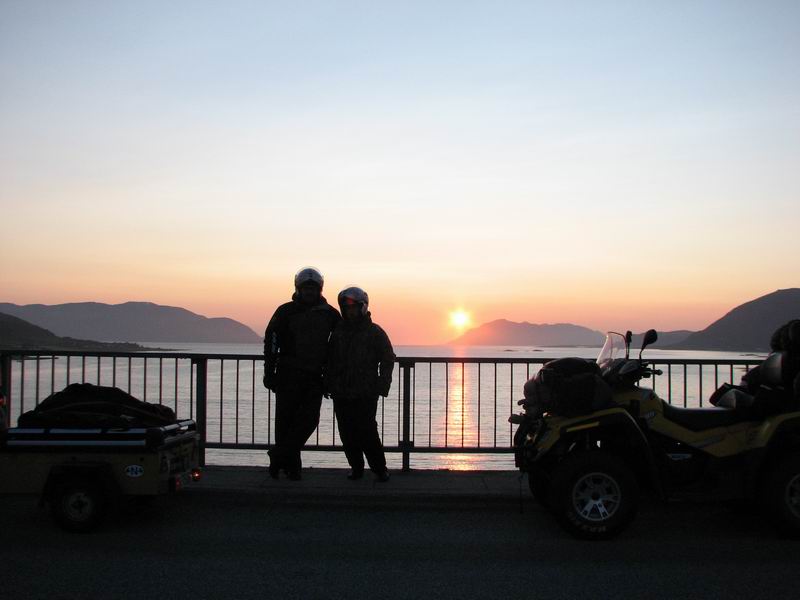 The midnight sun (actually it was 1 a.m....) from the Sortland bridge.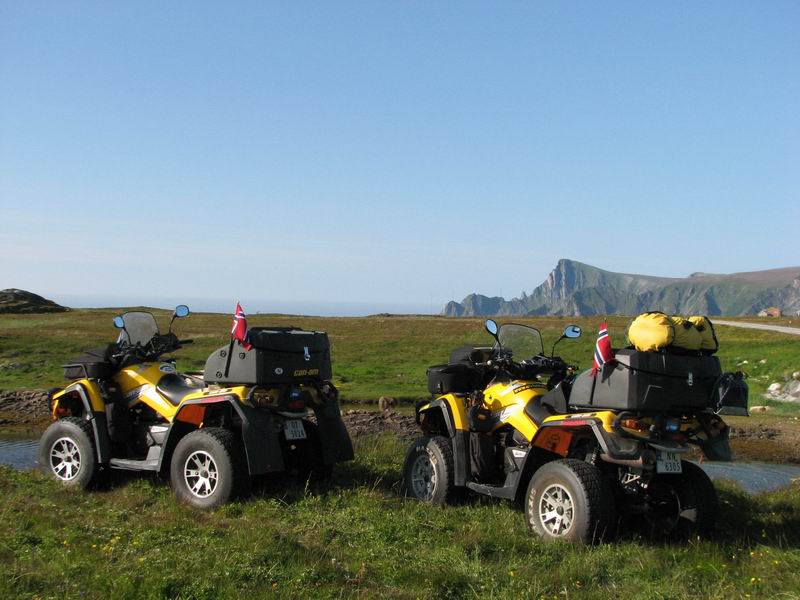 On the 8th of July we toured Andøya - the weather was fantastic . The brook on this photo was packed with salmon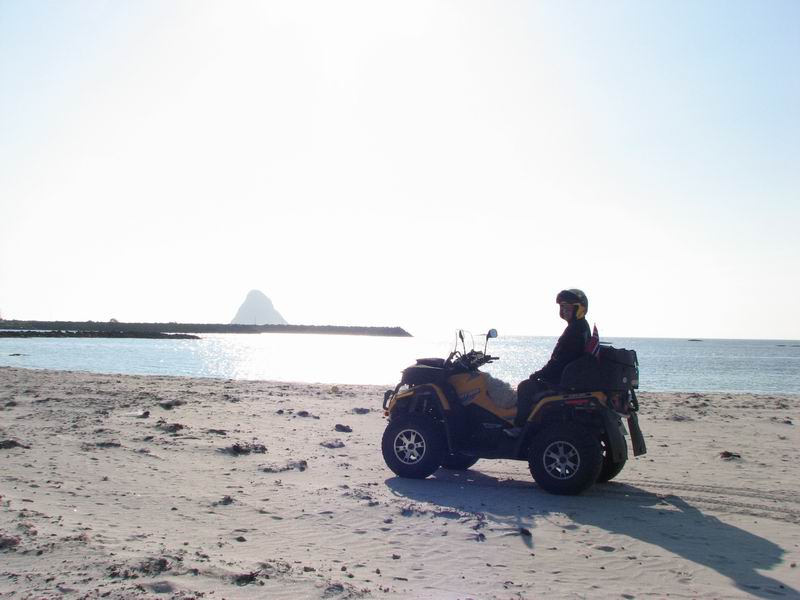 The sandy beach at Bleik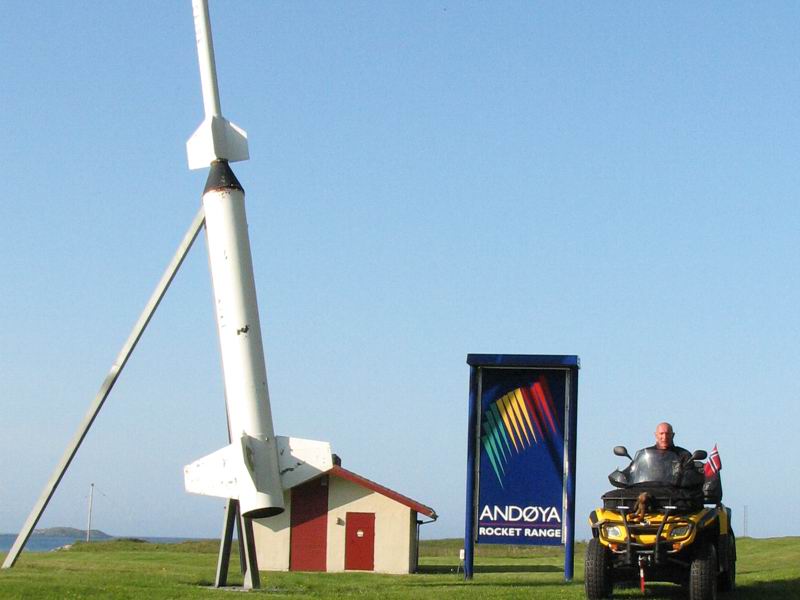 Andøya rocket range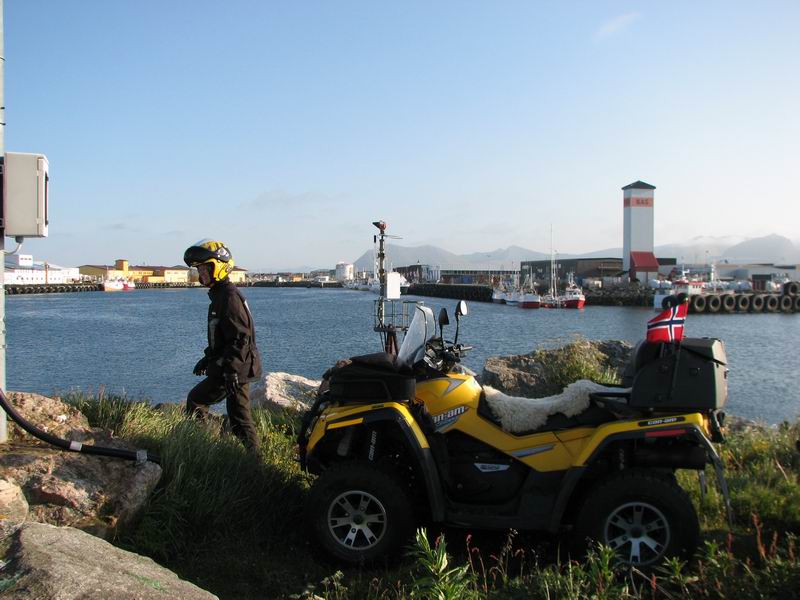 Andenes harbour with all the whale safari boats in the back ground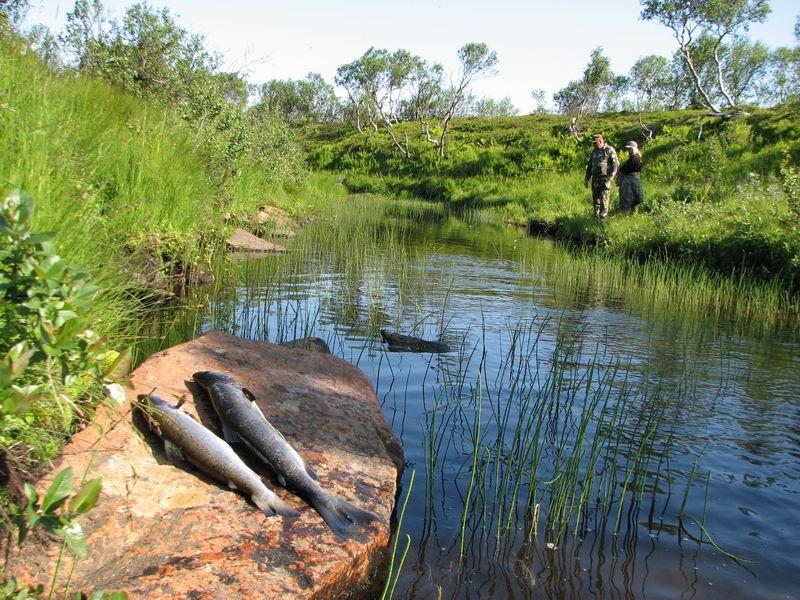 Salmon!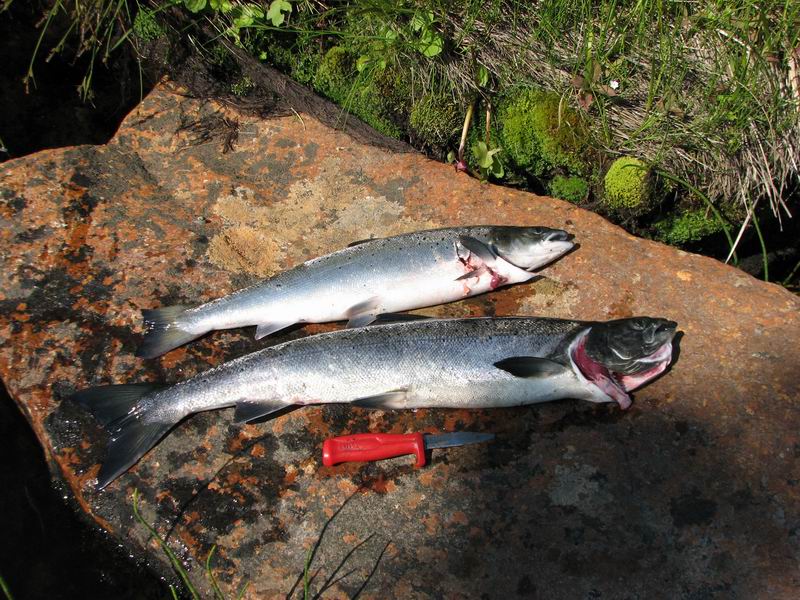 I was bored so I spent a couple of hours fishing in the Åse river - the result was 2 of these babies - 3 and 2 kg - not bad....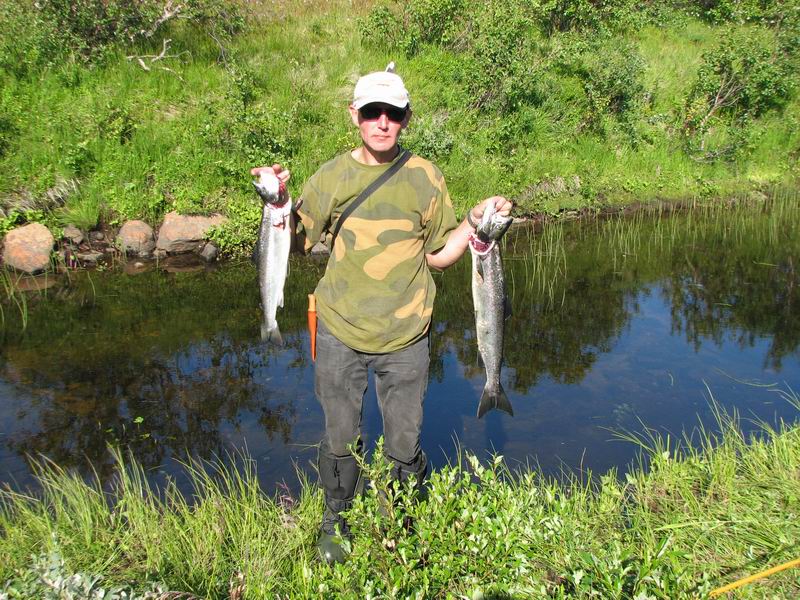 I guess we're going to bbq fresh salmon tonight
Today (July the 10th) we left Andøya by ferry - It was a bit windy so the crossing was not too pleasant, but we survived..... - the rain caught us after we passed Finnsnes however it ceased raining after an hour or so leaving us a bit wet - we are now in northern Troms enjoying the luxury of a hotel room. Tomorrow it's off to Alta and Repparfjorden.


Crossing Andfjorden - Andenes - Gryllefjord - Andenes in the background.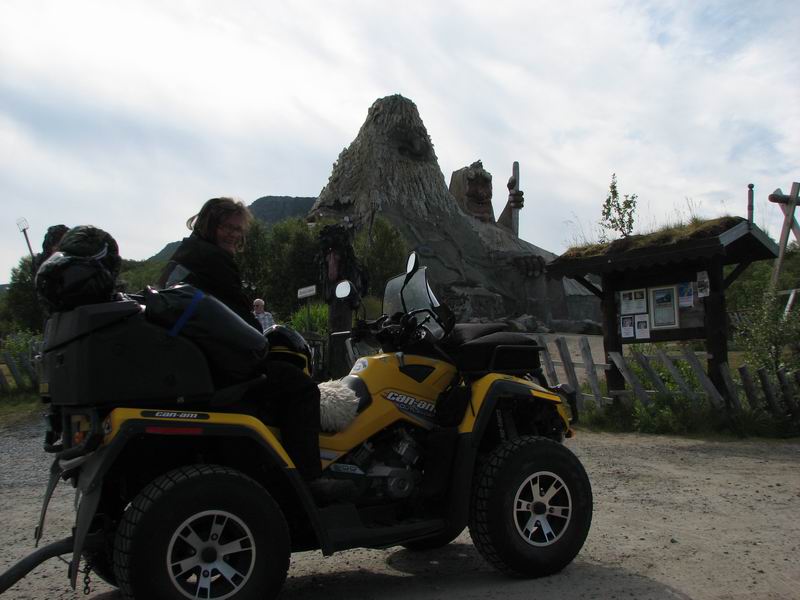 Somewhere on the island Senja - Senjatrollet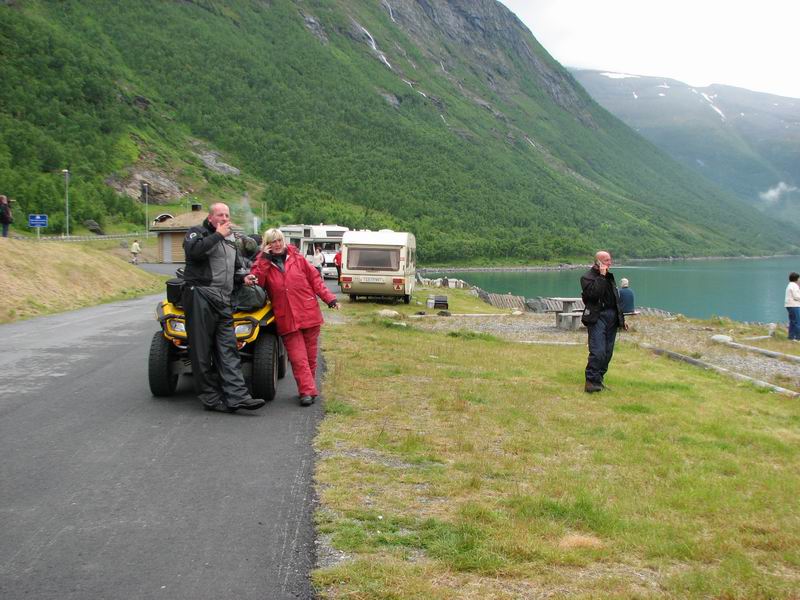 A little rest - everybody is on the phone.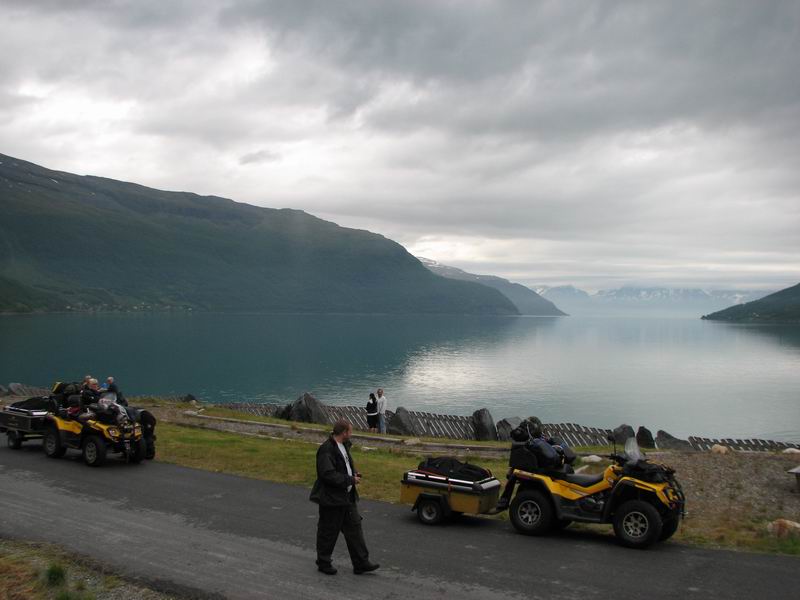 Northern Troms - Lyngsalpene in the far back covered by clouds and fog.