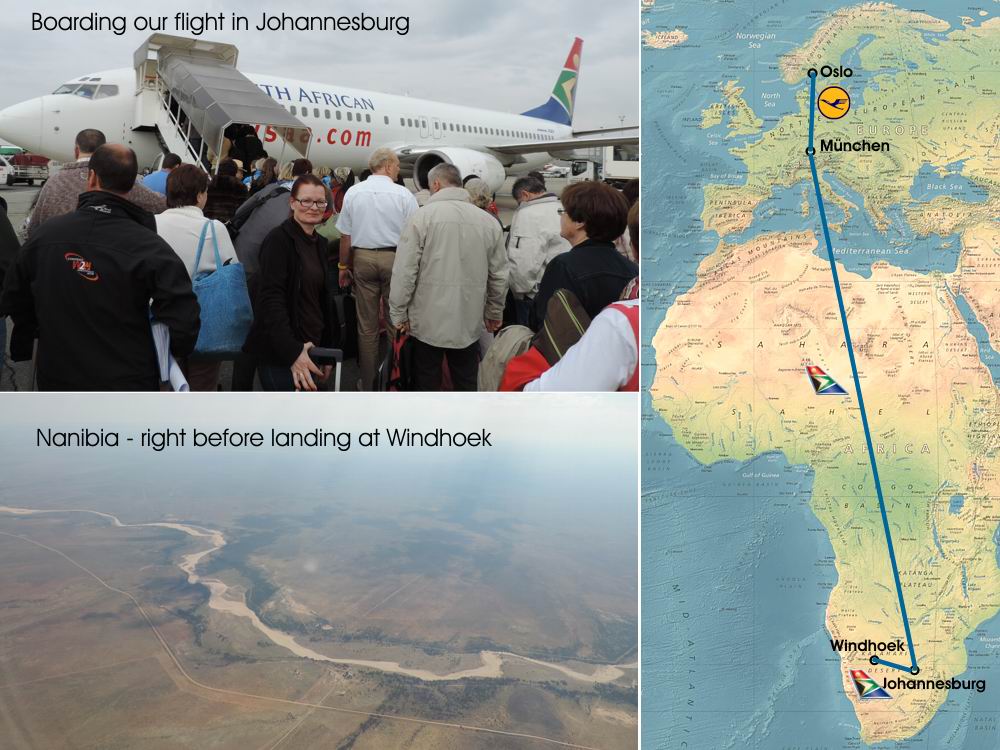 13/4 - We are alive and well in Windhoek after a long and boring trip. The great thing is that we were upgraded to business class on our flight from Johannesburg to Windhoek. We could get used to travelling like that...

13/4 - Vi lever i beste vellgående etter en lang og kjedelig reise. Det fine var at vi ble oppgradert til business class på flighten fra Johannesburg til Windhoek. Dette er noe vi godt kan venne oss til....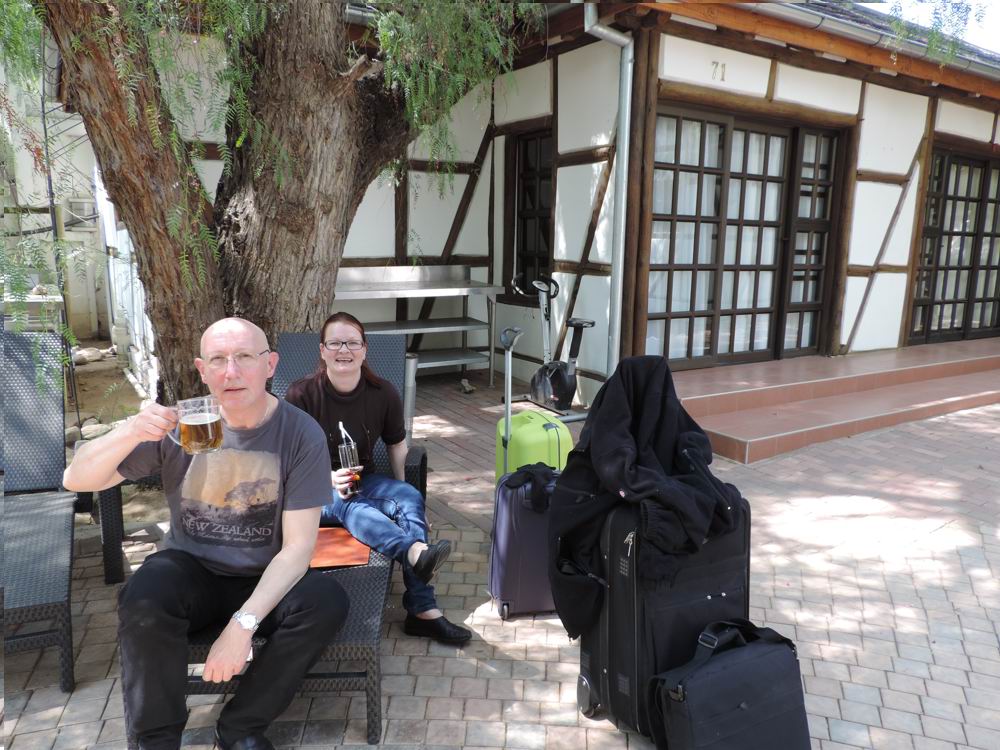 13/4 - We're waiting for our room at Roof Of Africa to get ready. The WIFI is working!

13/4 - Vi venter på at rommet vårt på Roof Of Africa skal bli klart. Internettet funker!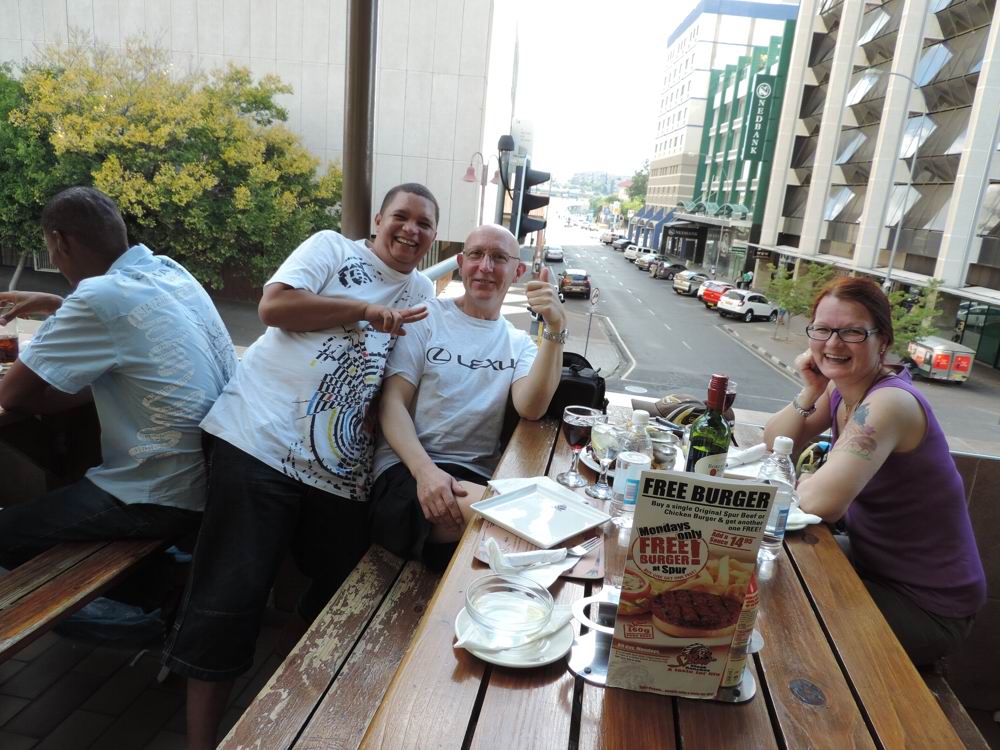 13/4 - Our first meal in Windhoek at "The Grand Canyon Spur" - Spareribs, buffalo wings, calamares etc. etc. We got to talk to some of the locals and this guy gave us some good advice on safety in Windhoek on what to do and what not to do.

13/4 - Vårt første måltid i Windhoek på "The Grand Canyon Spur" - Spareribs, kjempestore kyllingvinger, calamares etc.etc. Vi snakket med noen av de lokale og denne karen ga oss noen gode råd angående sikkerhet i Windhoek - hva man gjør og hva man ikke gjør.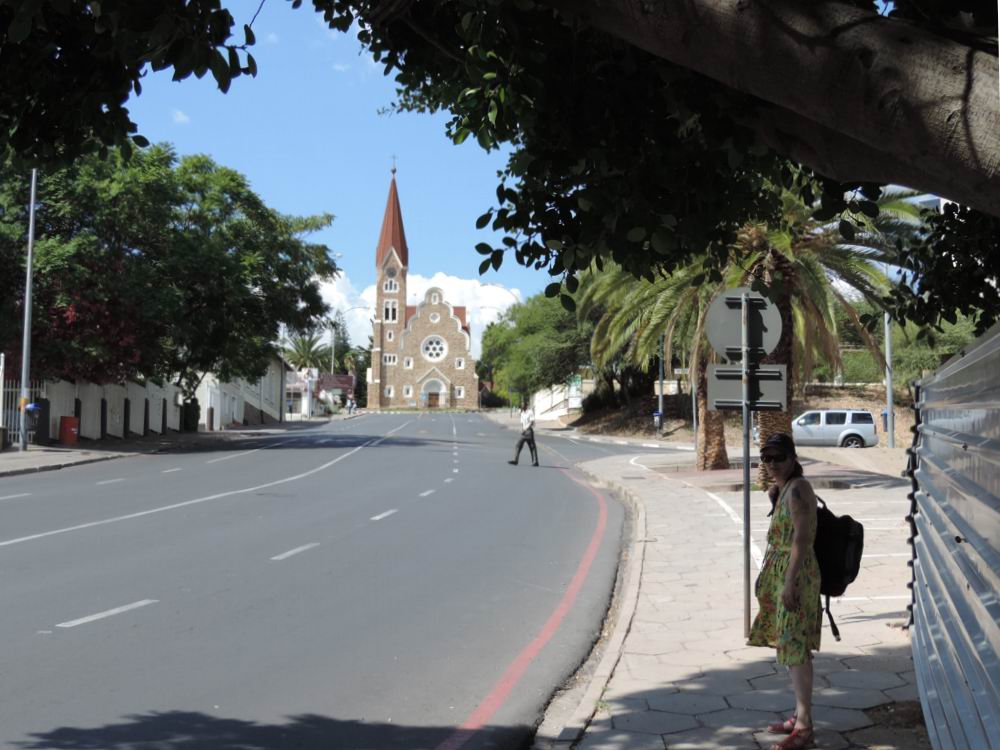 14/4 - Today we went on a walkabout in Windhoek, mainly in the city center (Independence Ave.) and sourrounding streets. Here is a typical tourstic photo of Christ Church in Windhoek.
It's rather hot during the day - 29 C at the moment (14.30 hrs) and cool at night - approx
15 C, so sleeping is no problem. Sofar we think Windhoek is great!

14/4 - I dag vandret vi rundt i Windhoek, for det meste i sentrum (Independence Ave.) og de nærliggende gatene. Her er et typisk turistfoto av Christ Church i Windhoek. Det er ganske varmt om dagen - 29 C for øyeblikket (kl 14.30) kjølig på kvelden - ca. 15 C, så det er ikke noe problem å sove. Vi liker oss veldig godt i Windhoek.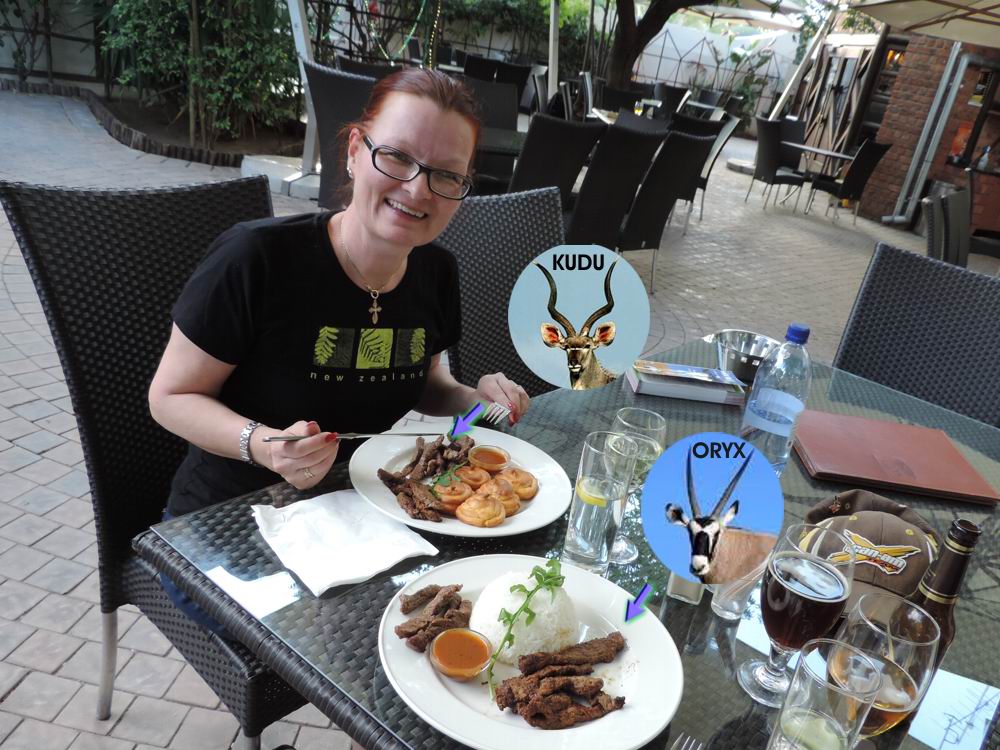 14/4 - Kudu and oryx for dinner - now...which one is the tenderest and has most taste? The winner is...oryx!

14/4 - Kudu og oryx til middag - nå...hvilken er den møreste og mest smakfulle? Vinneren er....oryx!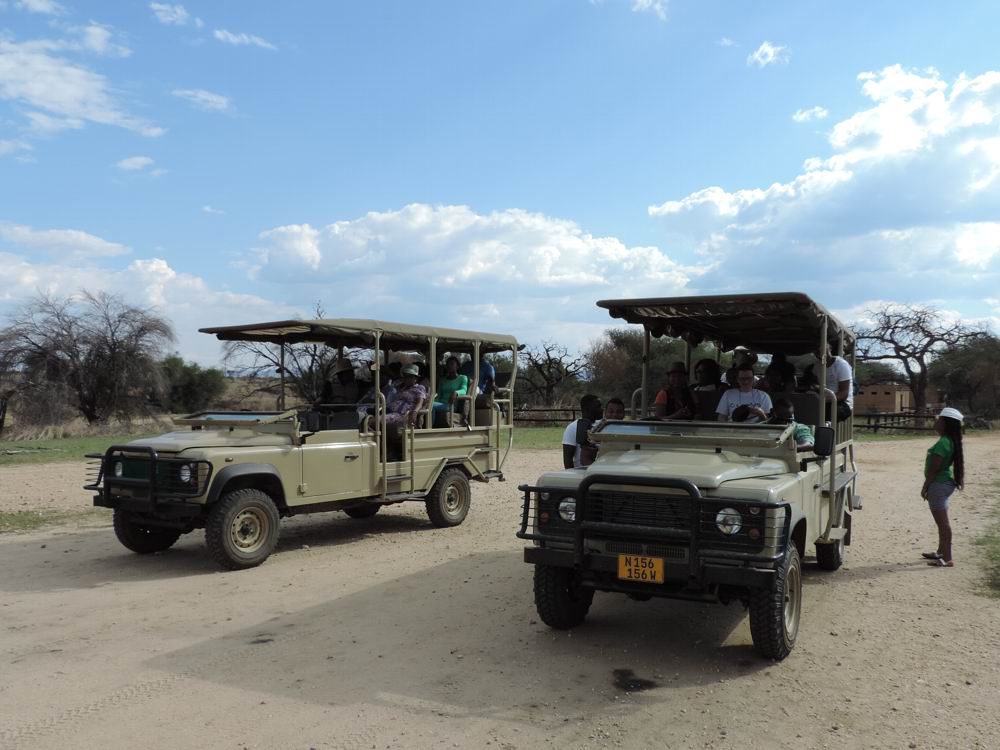 15/4 - Okapuka game reserve - today we went on a little safari with the car loaded with noisy and funny people from Angola.

15/4 - Okapuka vilt reservat - idag var vi på en liten safari med bilen full av støyende og artige mennesker fra Angola.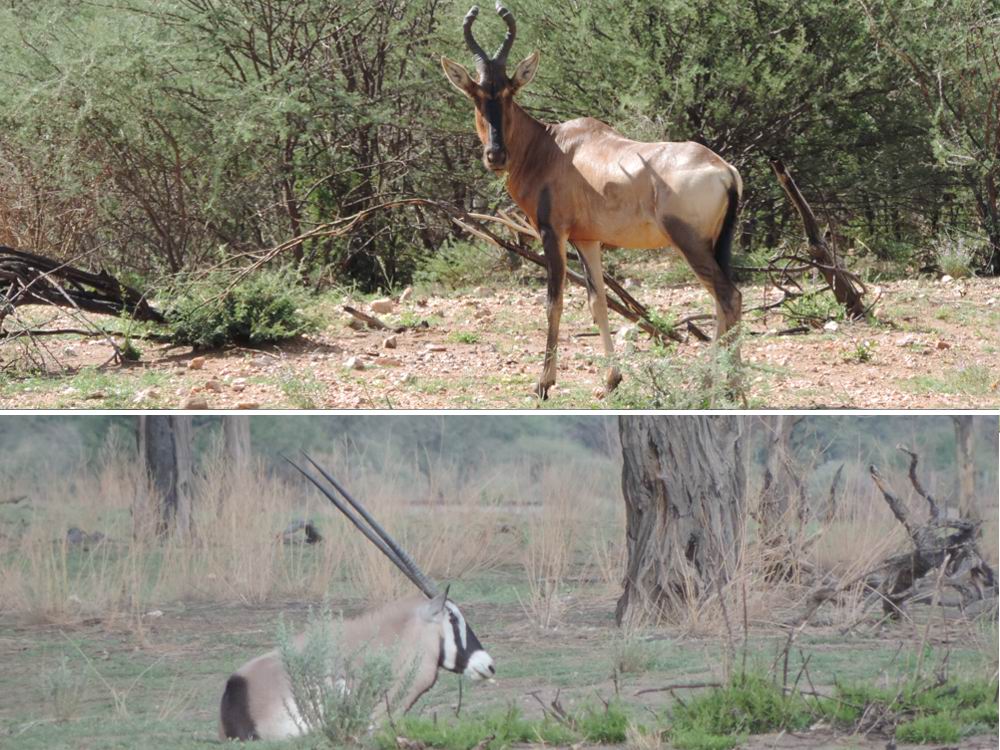 15/4 - The red hartebeest and oryx were quite shy but with my super zoom cam. it was no problem getting good shots.

15/4 - Rød hartebeest og oryxen er ganske sky men med super zoom kameraet var det ikke vanskelig å få gode bilder.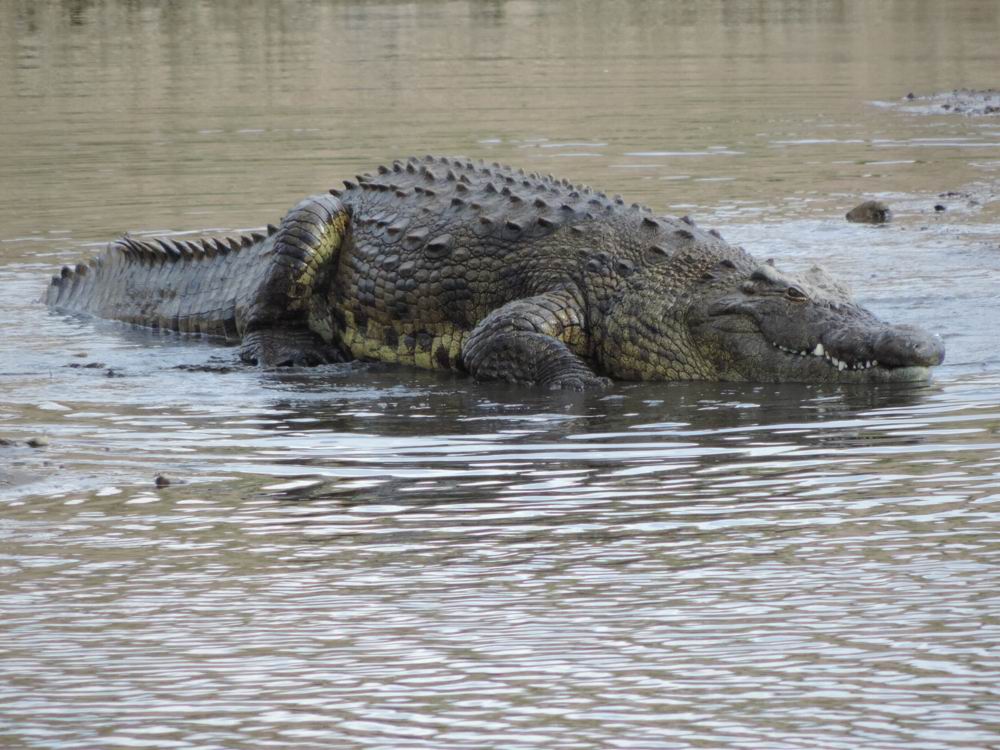 15/4 - This croc looked like a dodgy old bastard. Fortunately he did not seem too hungry, but who knows - I did not pet him....

15/4 - Denne krokodillen så ut som en gammel luring. Heldig vis så den ikke ut til å være særlig sulten, men hvem vet - Jeg klappet den ikke....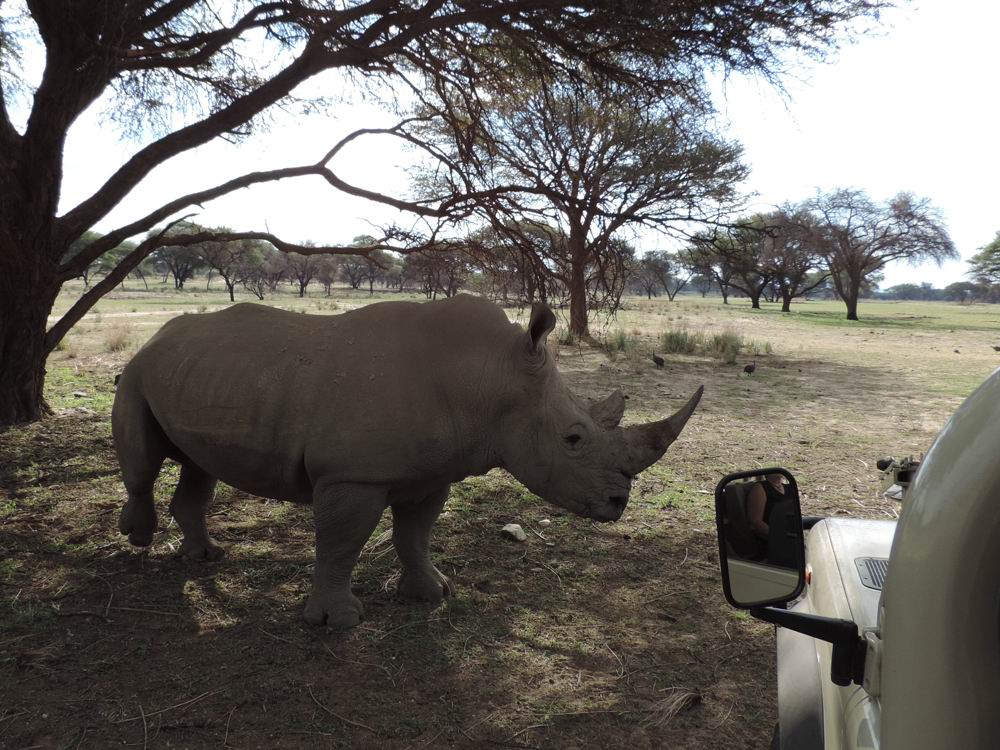 15/4 - It's quite amazing to get so close to wild animals in their own habitat - this rhino could easily have scratched the paint on the landrover had he been grumpy...

15/4 - Det er ganske så fantastisk å komme så nært ville dyr i deres egen verden - dette neshornet kunne lett ha skrapet opp lakken på landroveren hvis den hadde vært grinete..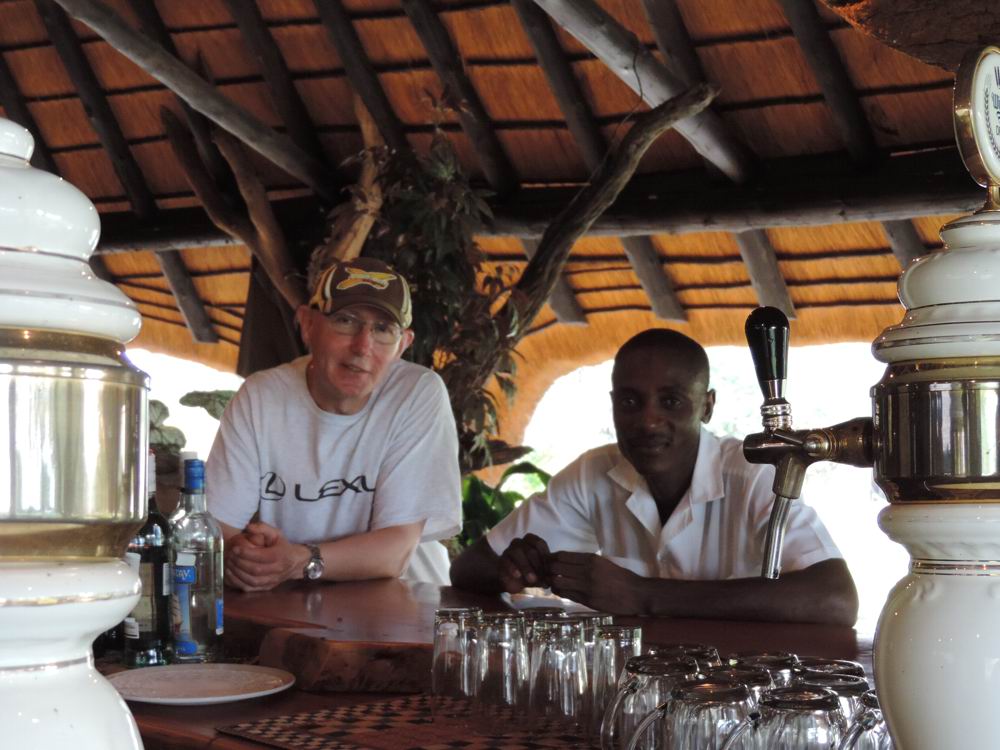 15/4 - Temus, our excellent driver came to pick us up after the safari and we had a very pleasant conversation with him while having something to drink after a couple of hours in the bush.

15/4 - Temus, vår utmerkede sjåfør plukket oss opp etter safarien og vi hadde en trivelig samtale med ham mens vi tok noe å drikke etter at par timer i bushen.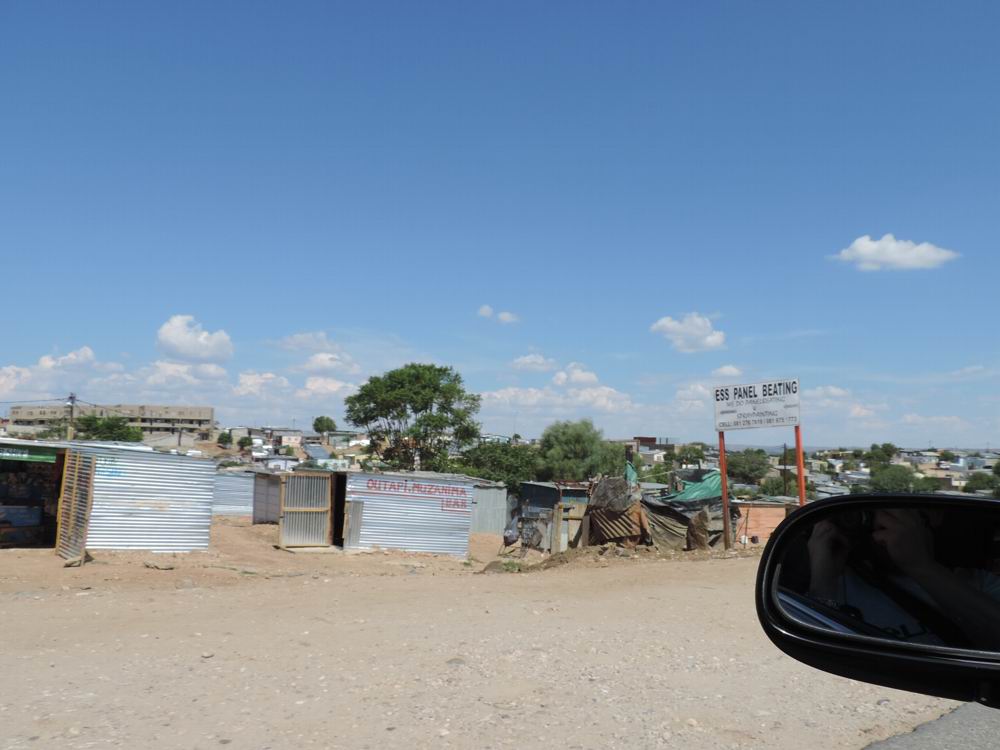 16/4 - We've just returned from a 3 hrs. driveabout in Windhoek and we've seen a lot. Here's the place where the less fortunate live. (Katutura township area)

16/4 - Vi har kommet tilbake etter en 3 timers tur rundt i Windhoek og vi har sett masse. Her er en plass der "de mindre heldige" bor. (Katutura township området).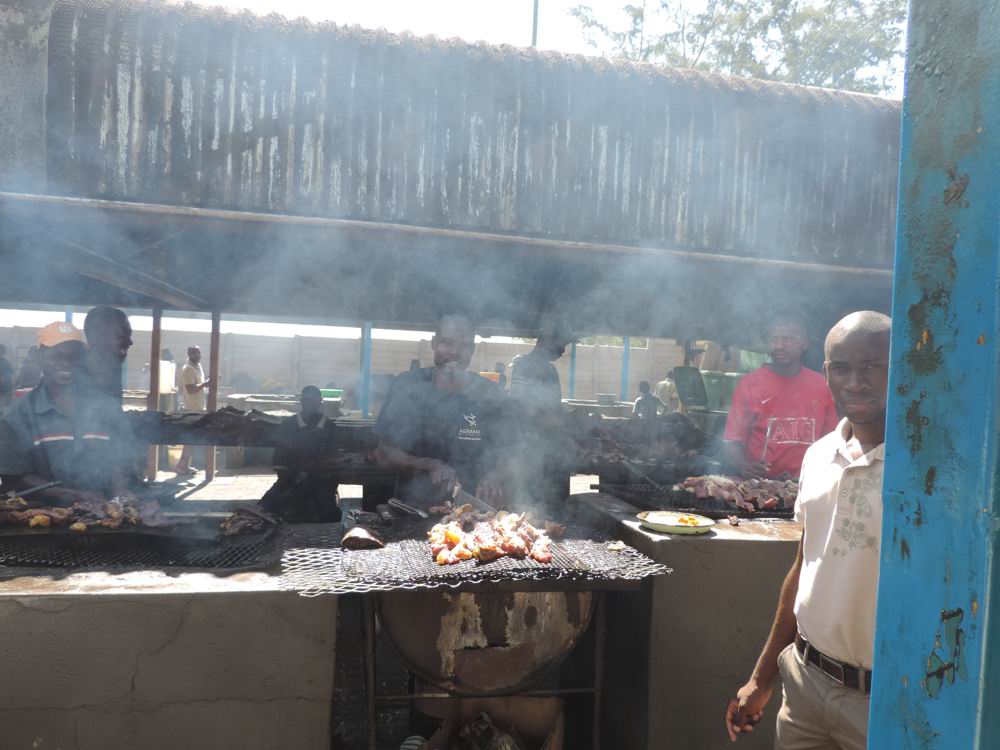 16/4 - Fresh bbqued beef dipped in spices - very good stuff actually.

16/4 - Ferskt grillet storfekjøtt dyppet i krydder - faktisk veldig godt.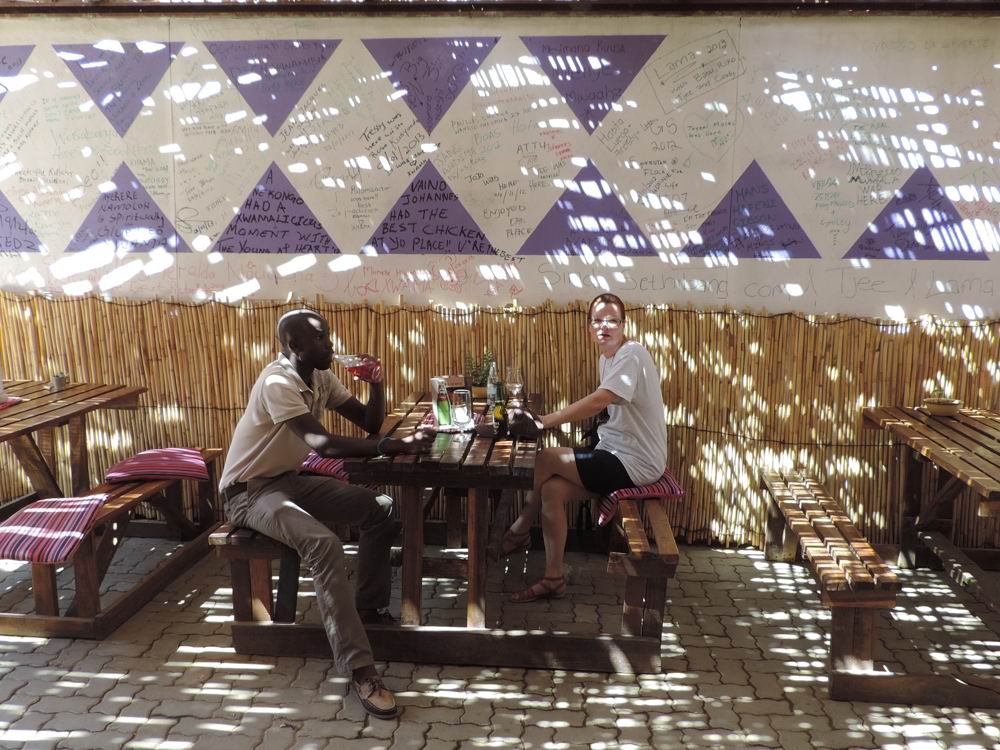 16/4 - It's a bit hot (for us) so we stopped at a water hole where we all had a drink. Thank you Oscar for excellent guiding and keeping us safe.

16/4 - Det er litt varmt (for oss) så vi stoppe på et vannhull og tok noe å drikke. Takk Oscar for utmerket guiding og for at du passet på oss.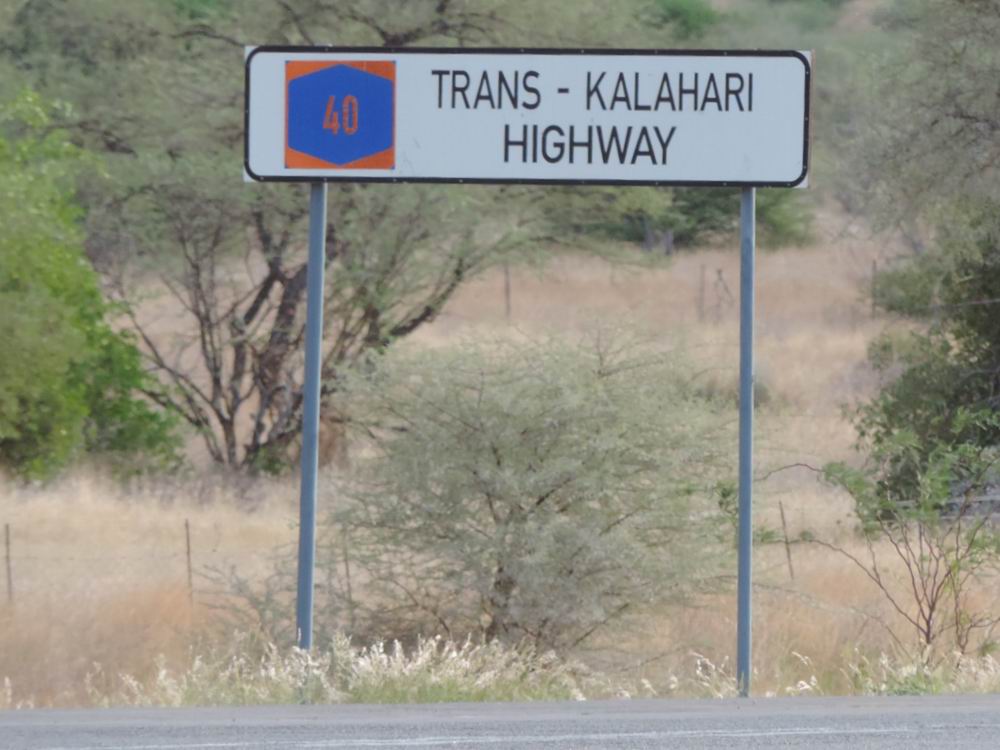 17/4 - Off to Swakopmund and Walvis bay - after leaving Windhoek we saw quite a few warthogs near the road but also a few baboons and ostritches - it's so cool to see wildlife like that but after we passed the road sign on the photo above the landscape got dryer and dryer because we were in the Kalahari desert. It took us approx 5 hours to get to Swakop and the ride was quite pleasant. We're now staying at Langholm in Walvis.

17/4 - På vei til Swakopmund og Walvis bay - etter at vi forlot Windhoek så vi mange vortesvin i veikanten men også noen bavianer og strutser - det er så flott å se ville dyr men etter at vi passert skiltet ovenfor, ble lanskapet tørrere og tørrere fordi vi kom inn i Kalahari ørkenen. Det tok oss ca. 5 timers å kjøre til Swakop og turen var ganske behagelig. Vi bor nå på Langholm i Walvis.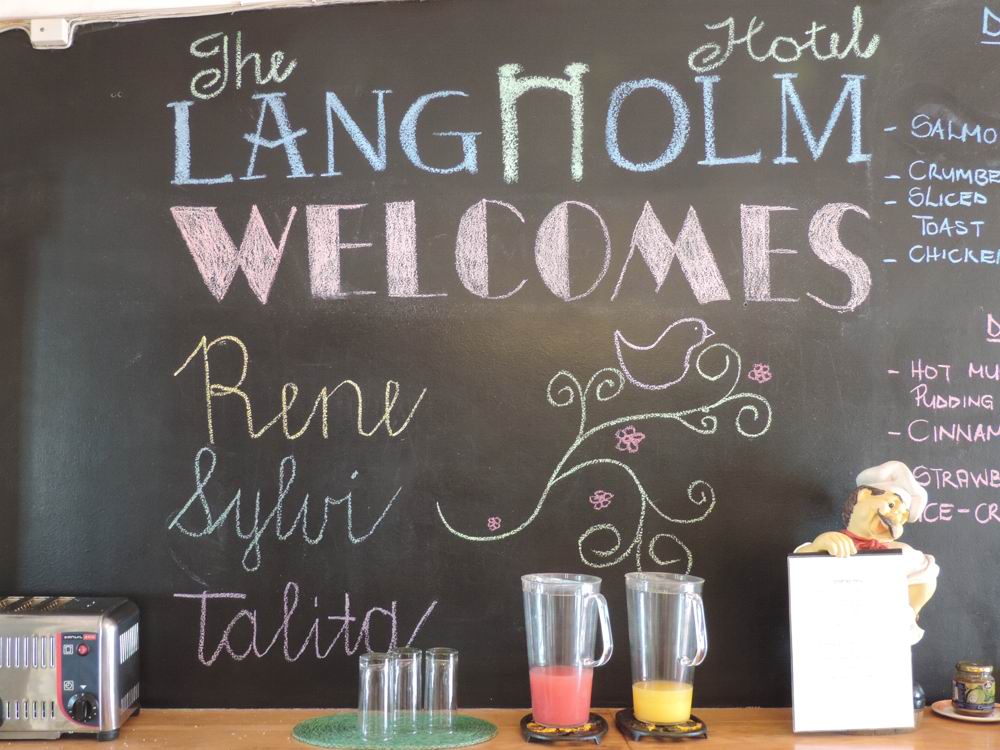 18/4 - Pretty cool...

18/4 - Ikke verst...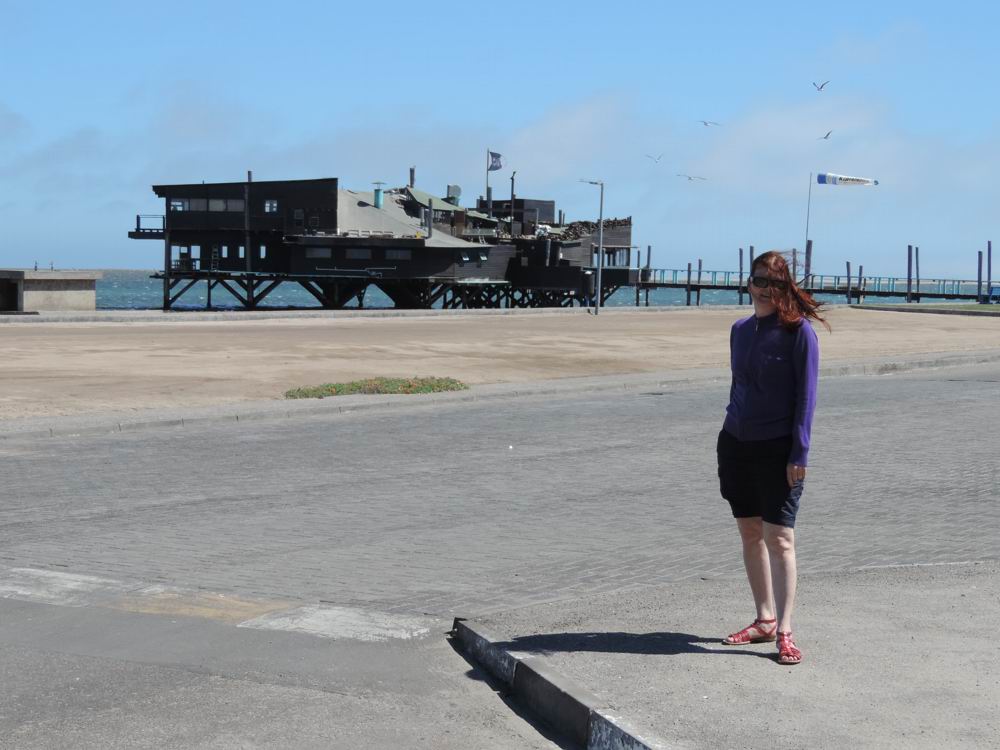 18/4 - The Raft restaurant where we had lunch and could watch dolphins playing and flamingos doing their stuff (what ever that is).

18/4 - The Raft restauranten hvor vi spiste lunch og kunne se delfiner leke og flamingoene drive med sitt (hva nå det måtte være).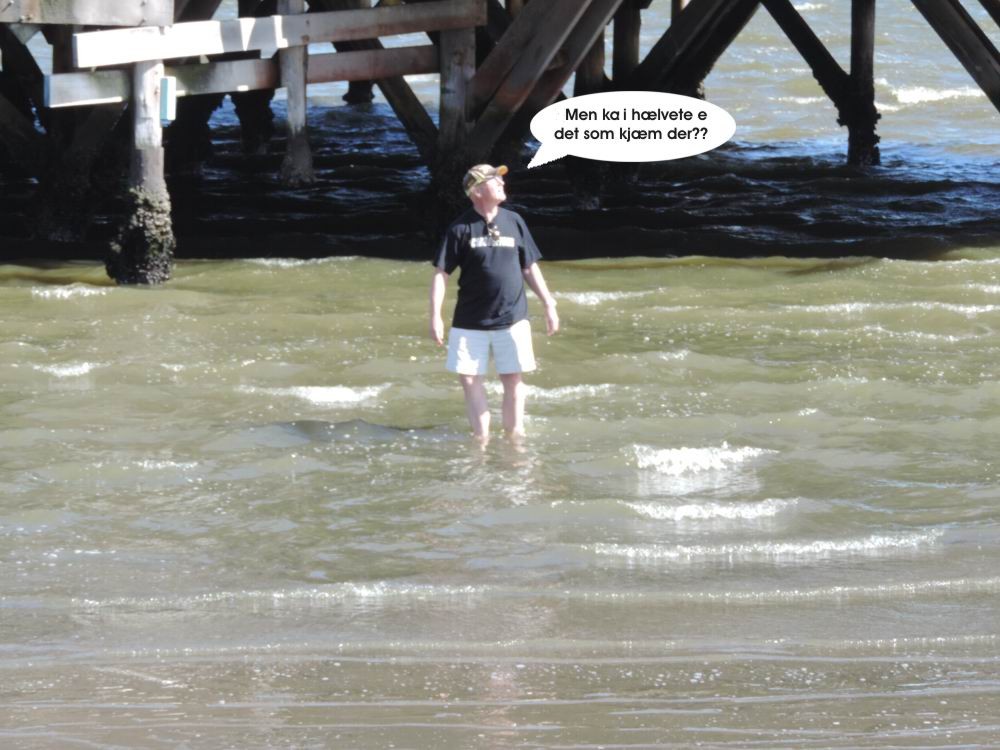 18/4 - On a little walk-about in the lagoon near and under "The Raft".

18/4 - Jeg går meg en liten tur i lagunen og under "The Raft".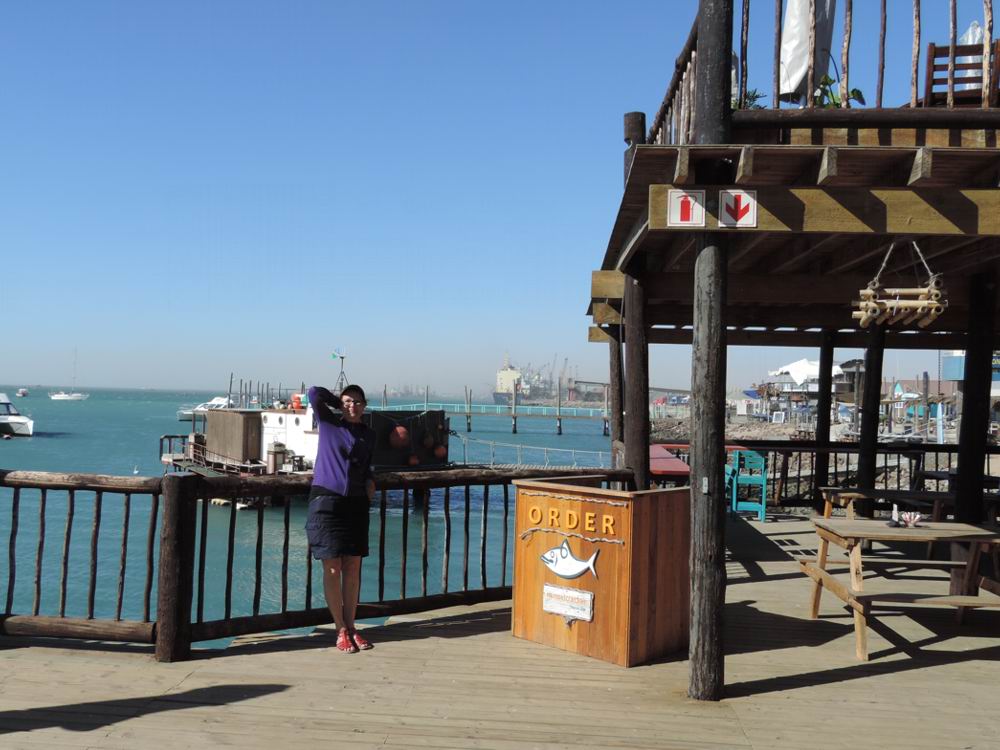 18/4 - A restaurant area near the yacht club in Walvis - the harbour is in the background. Walvis bay is the port of Namibia.

18/4 - En fin restaurant ved yachklubben i Walvis - havnen er i bakgrunnen. Walvis bay er havnen til Namibia.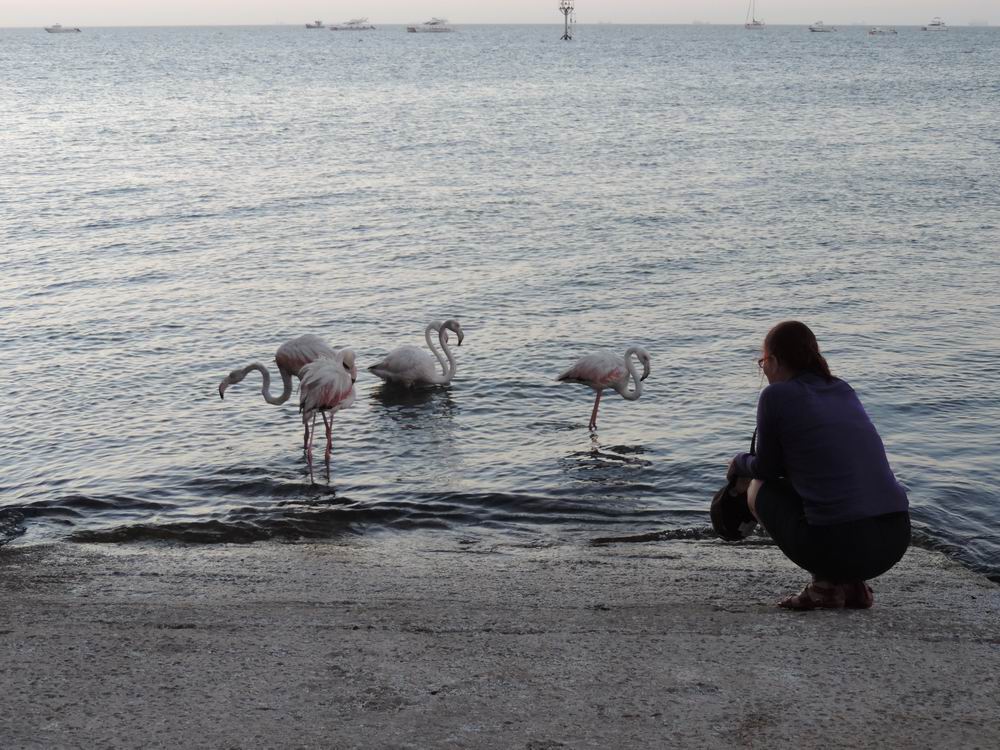 19/4 - Flamingos every where - and they seem to be very used to tourists (like the tourist on the photo...)

19/4 - Flamingoer over alt - og det ser ut som om de er vant til turister (some denne turisten på bildet..)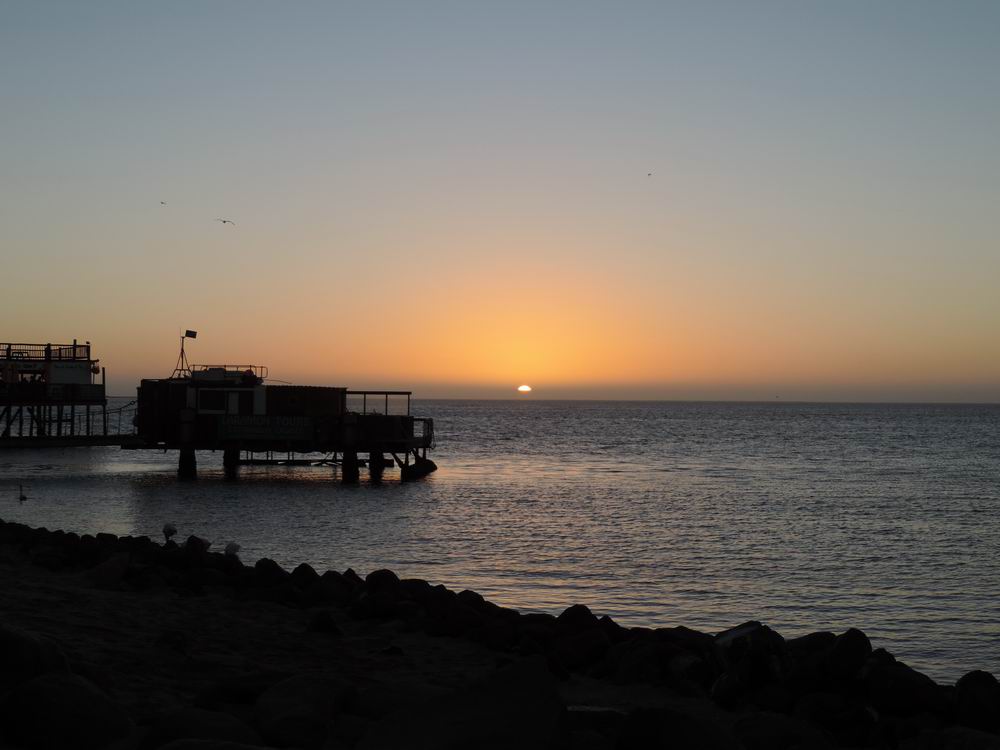 19/4 - Sunset in Walvis bay approximately 17.45 local time - we've never seen the sun descend into the sea this fast...

19/4 - Solnedgang i Walvis bay ca. klokka 17.45 lokal tid - vi har aldri sett sola forsvinne ned i havet så fort...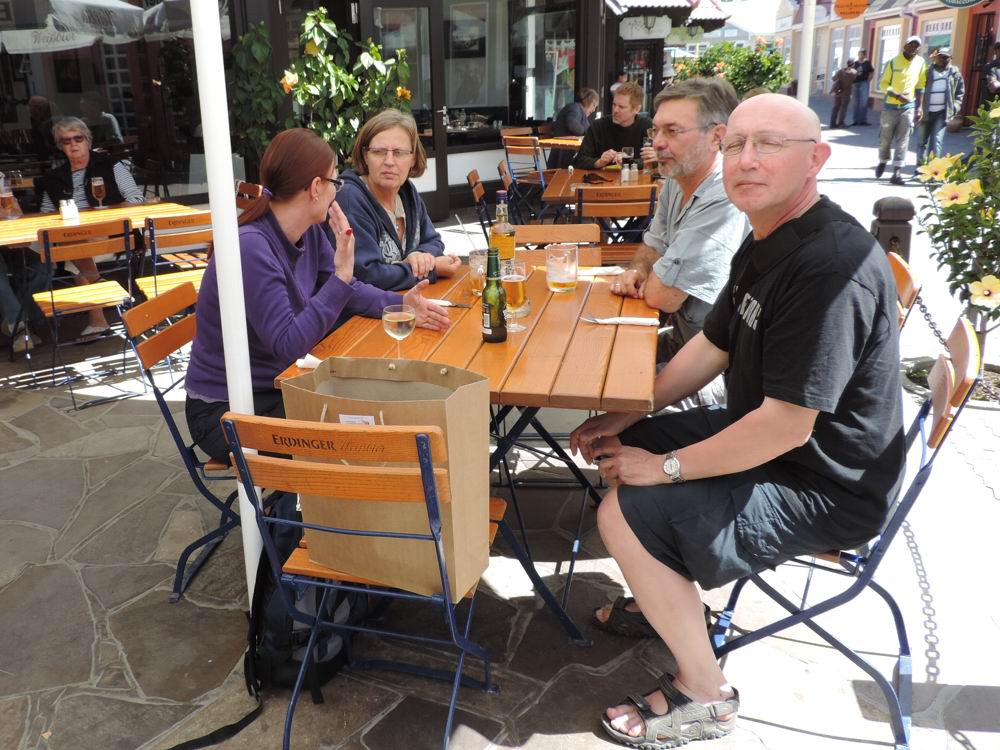 20/4 - We spent the day in Swakopmund with Sigrid and Berti.

20/4 - Vi tilbragte dagen i Swakopmund sammen med Sigrid og Berti.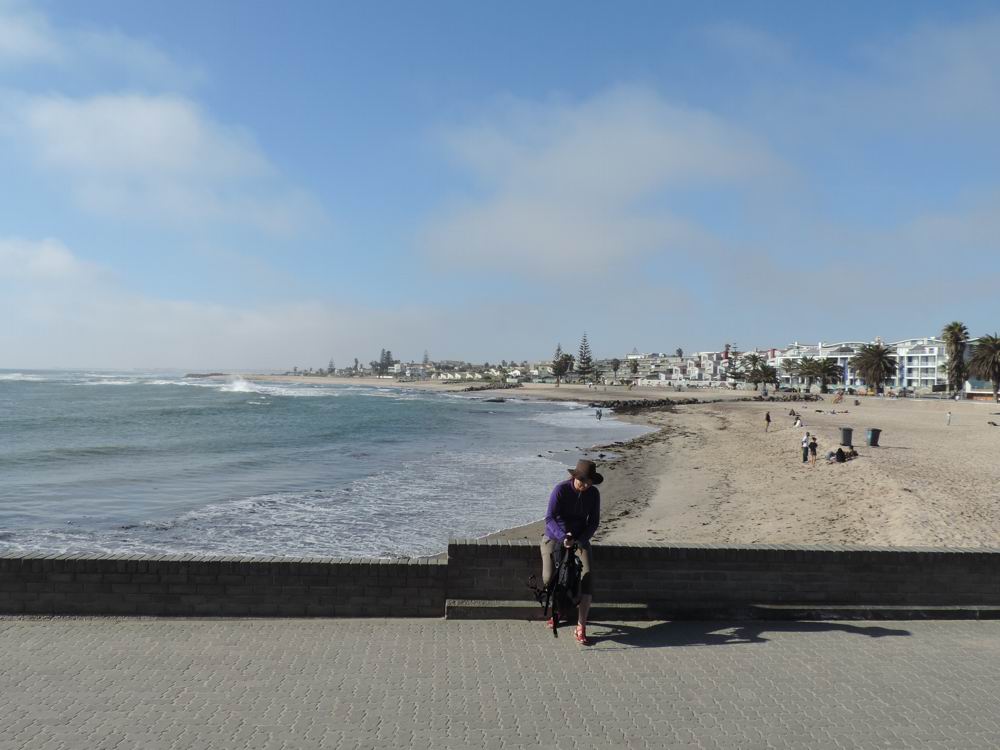 20/4 - The tourist is checking her back-pack on the windy beach of Swakopmund.

20/4 - Turisten sjekker ryggsekken på den vindfulle stranda i Swakopmund.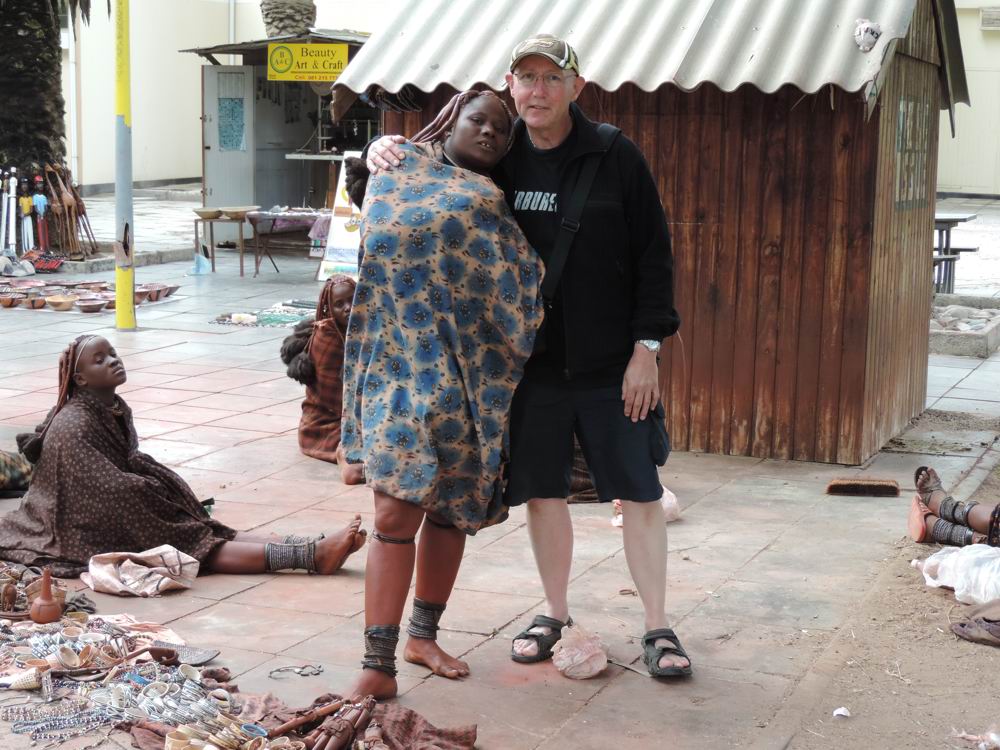 20/4 - My new wife..?? Himba-Andersen???? (he wish)

20/4 - Min nye kone..?? Himba-Ændersen???? (ja, han kan jo drømme)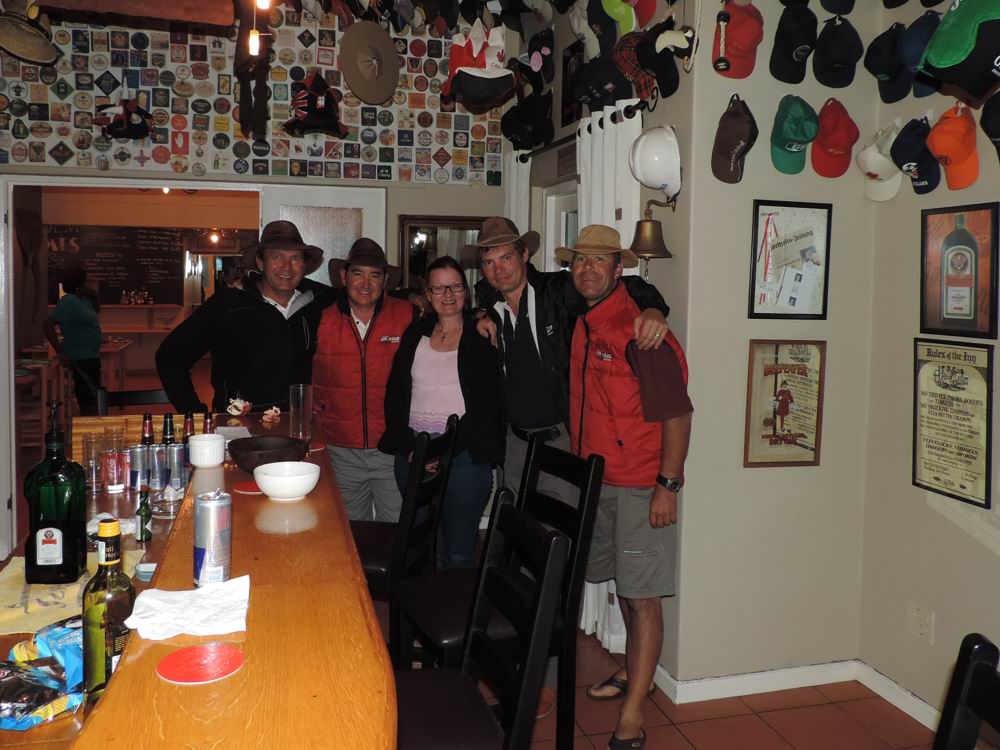 20/4 - Back from Swakopmund, we met these crazy bad-ass South Africans watching the rugby game on the telly. They must be the Crocodile Dundees from South Africa, I recon. Very cool people, actually!

20/4 - Da vi kom tilbake fra Swakopmund, møtte vi disse klin gærne Sørafrikanerne som så på rugbymatch på tv. De må være Corcoldile Dundees fra Sørafrika, regner jeg med. Skikkelig trivelig mennesker!