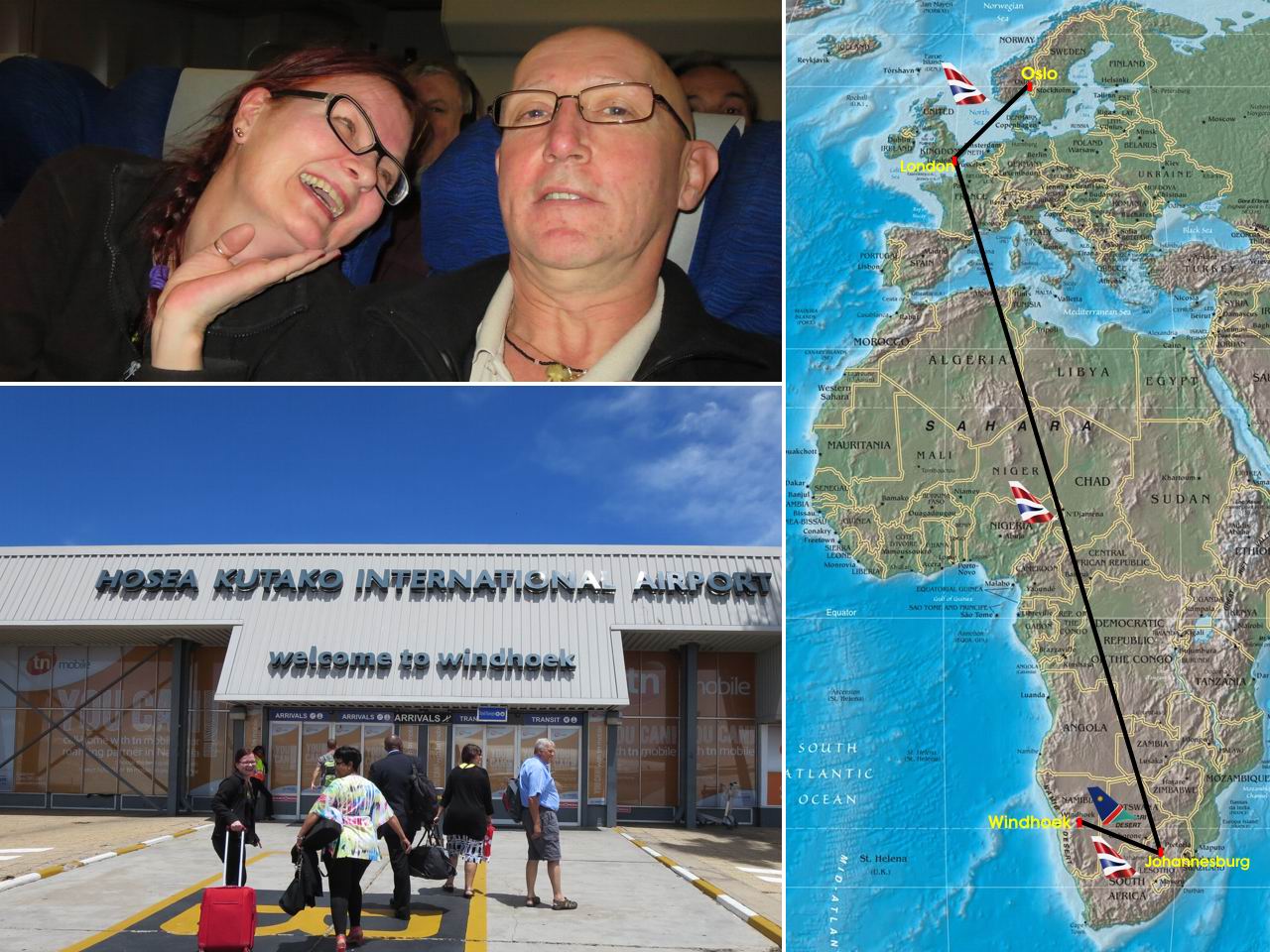 060214 - we just arrived Windhoek and Roof of Africa - everything is as we remember it ... one downer... my suitcase did not arrive Windhoek - hopefully I'll get it tomorrow.
060214 - vi har ankommet Windhoek og Roof of Africa - alt er som vi husker det..men en liten nedtur.. kofferten min kom ikke til Windhoek - kanskje kommern' imorgen.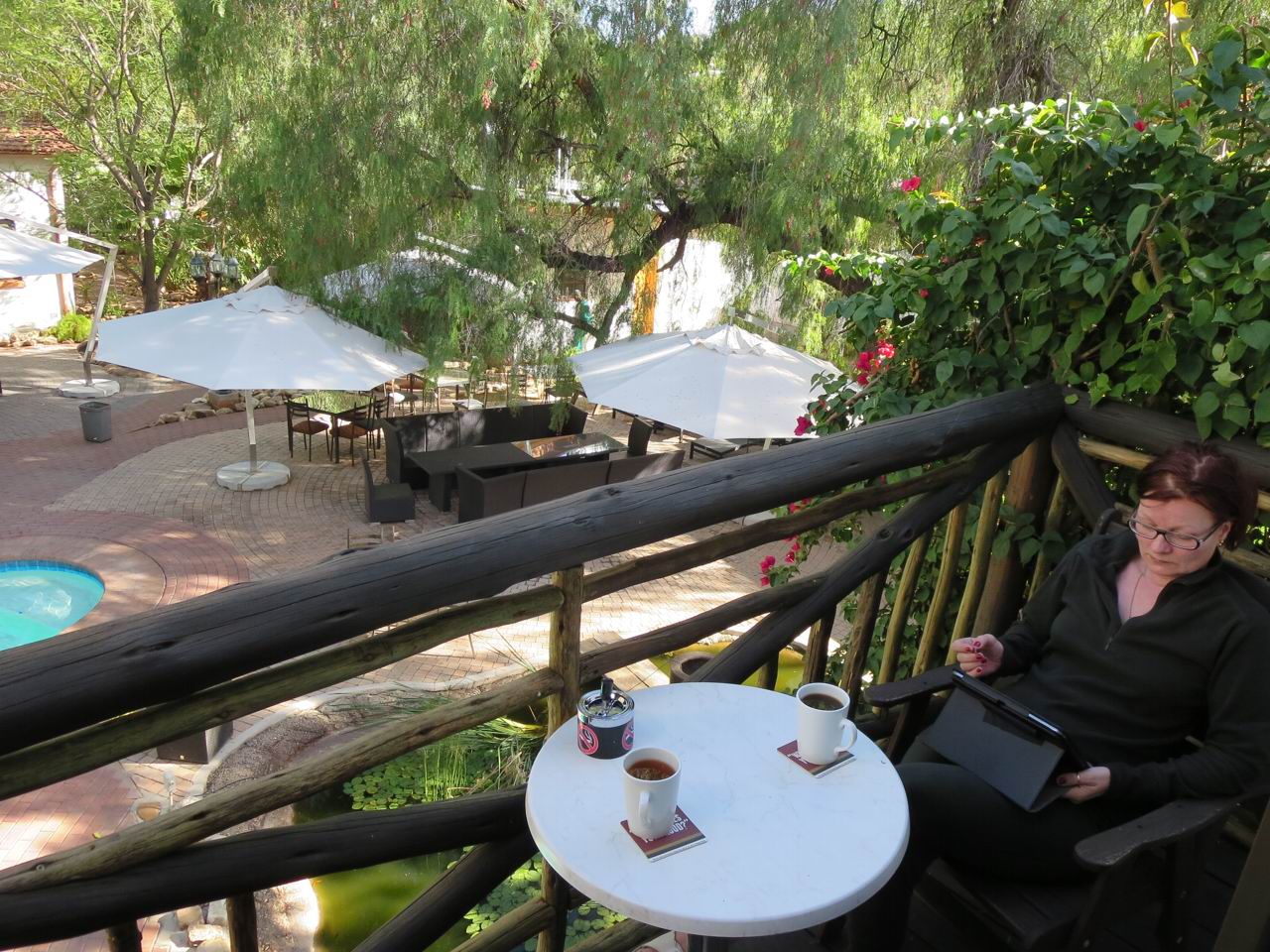 0702 - First morning in Windhoek - it feels good when the sun warms our frozen Norwegian bones...the instant coffee teastes good with a view like this.
0702 - Første morgen i Windhoek - det kjennes godt når sola varmer de frosne norske knoklene våre....pulverkaffen smaker godt med en slik utsikt.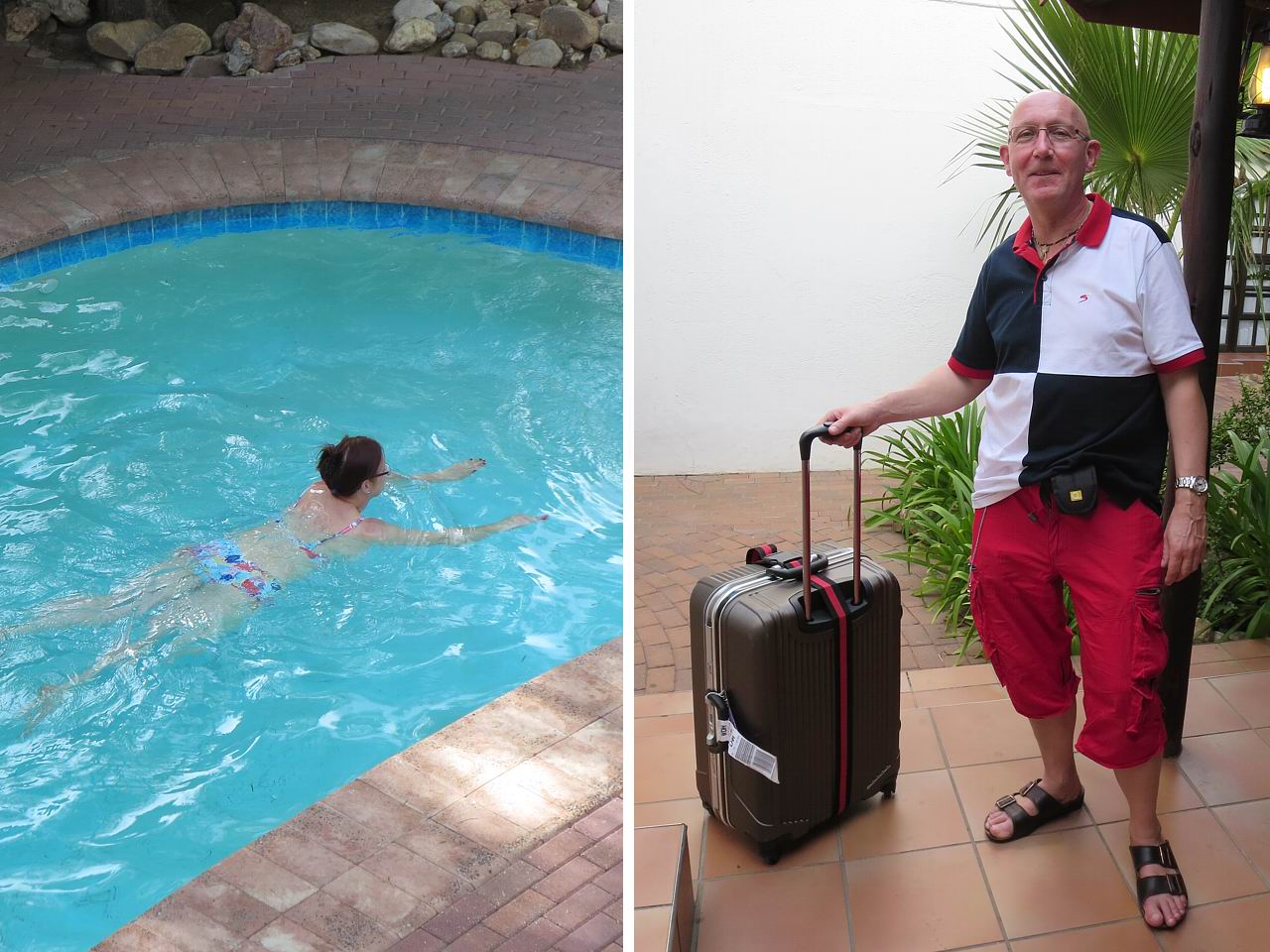 0702 -Somebody went for a swim today in her new swimsuit - and - I GOT MY SUITCASE BACK AND EVERYTHING WAS IN ORDER! Now our vacation can start....
0702 -Noen tok seg en svømmetur idag i sin nye badedrakt - og - JEG FIKK KOFFERTEN MIN OG ALT VAR I ORDEN! Nå kan vi begynne ferien vår...
0902 - "Our" balcony - we moved from room 19 to room 18 yesterday so now we a huge palmtree as our nearest neighbour but we are still overlooking the pool.
0902 - "Vår" balkong - vi flyttet fra rom 19 til rom 18 igår så har vi ei diger palme som nærmeste nabo men vi ser fremdeles ned på svømmebassenget.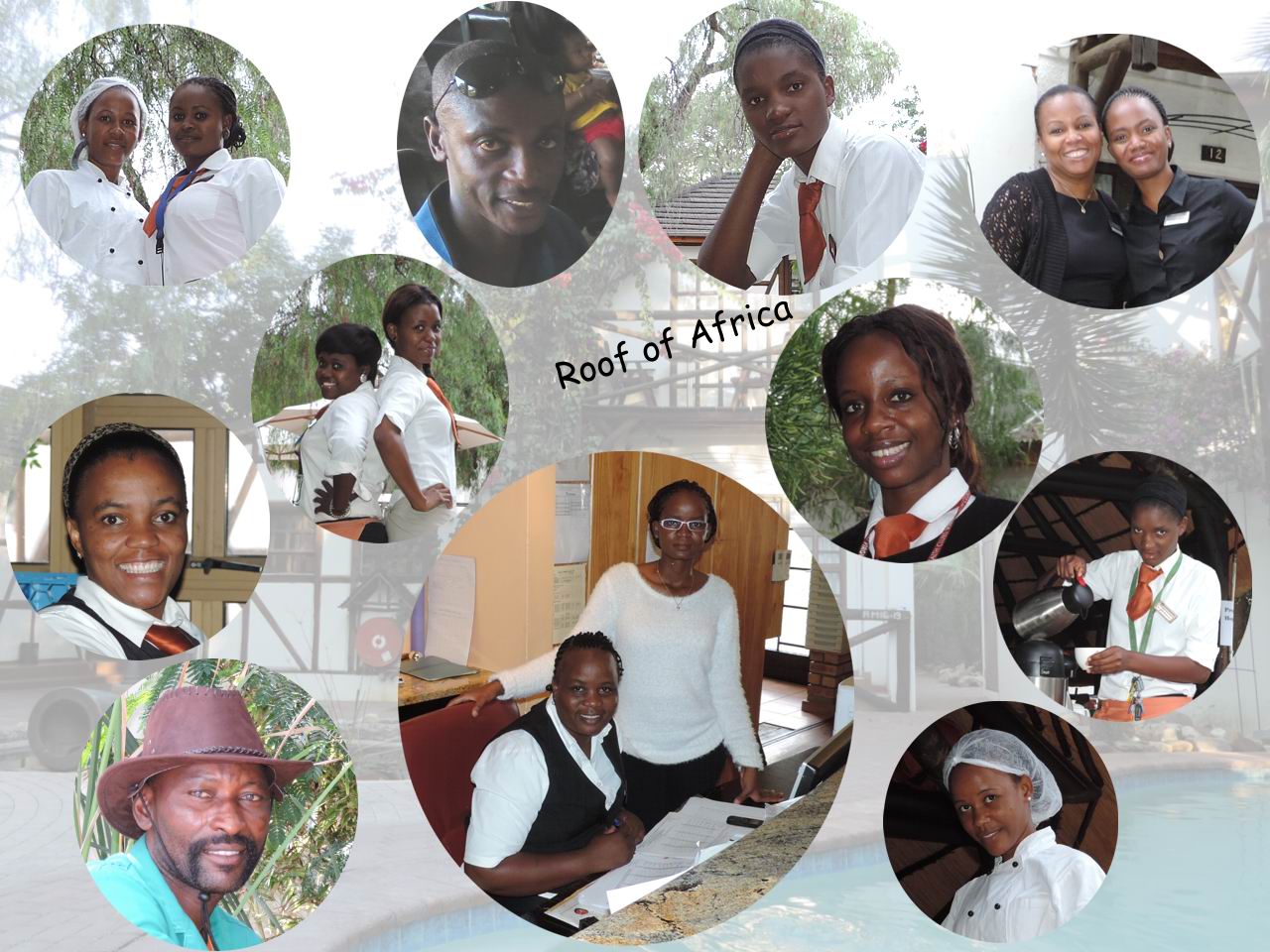 1101 - Yesterday I took some photos of the lovely people working at The Roof of Africa.
1101 - Igår tok jeg noen bilder av de hjelpsomme menneskene som jobber på Roof of Africa.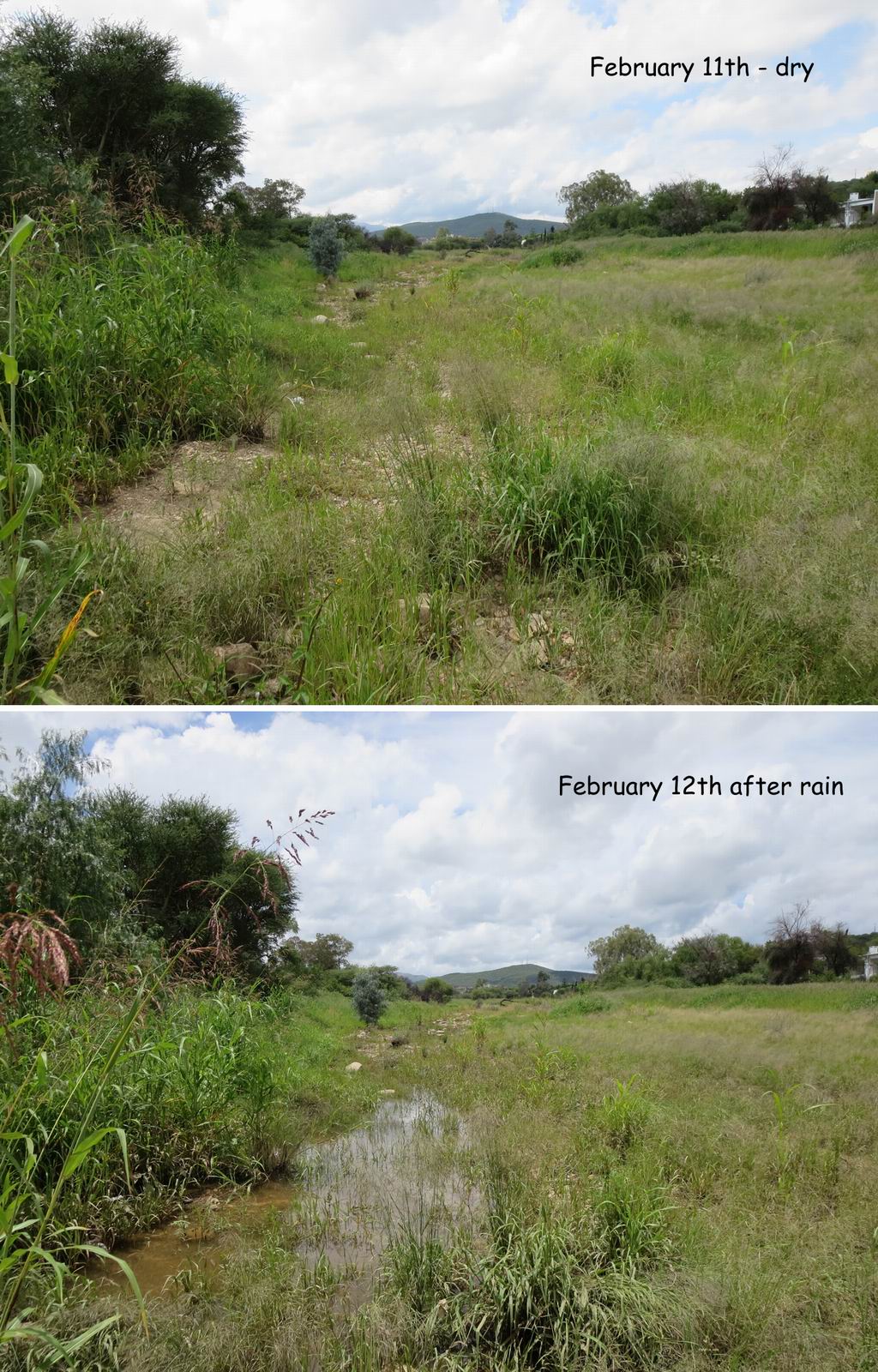 1102 - We've had some heavy rainfalls over night so the dry river close to the hotel turned into a real creek
1102 - Vi har hatt noen skikkelige skybrudd så det tørre elveleiet ved hotellet ble forvandlet til en riktig bekk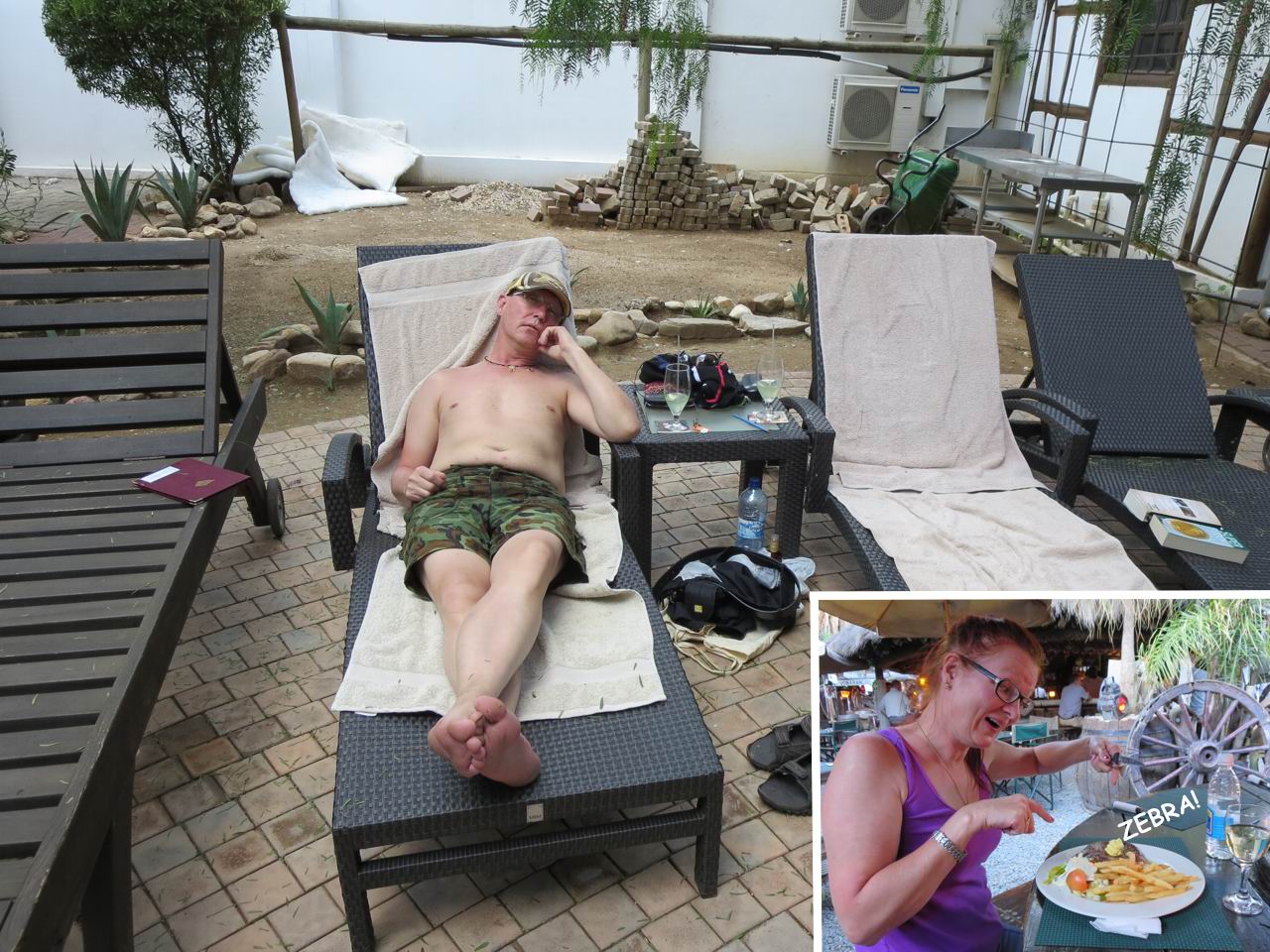 1402 - What we did yesterday - nothing... just relaxing by the pool and enjoying the sun. In the afternoon we went to Joe's and had a chunk of dead zebra - very good!
1402 - Igår gjorde vi ikke noe - vi bar slappa av ved bassenget og nøt sola. På ettermiddagen gikk vi til Joe's og spise en bit med dau sebra - sebra er veldig godt!
1602 - We're off to Erindi today. There is no wi-fi there however we have bought a 3G stick/SIM card with 2 GB of data so as long as we have mobile signals we should be able to upload stuff. We're back in Windhoek on Thursday.
1602 - Vi drar til Erindi idag. De har ikke trådløst internett men vi har kjøpt en 3G stikk/SIM kort med 2 GB data så dersom vi har mobilsignaler, bør vi kunne laste opp greier. Vi er tilbake i Windhoek på torsdag.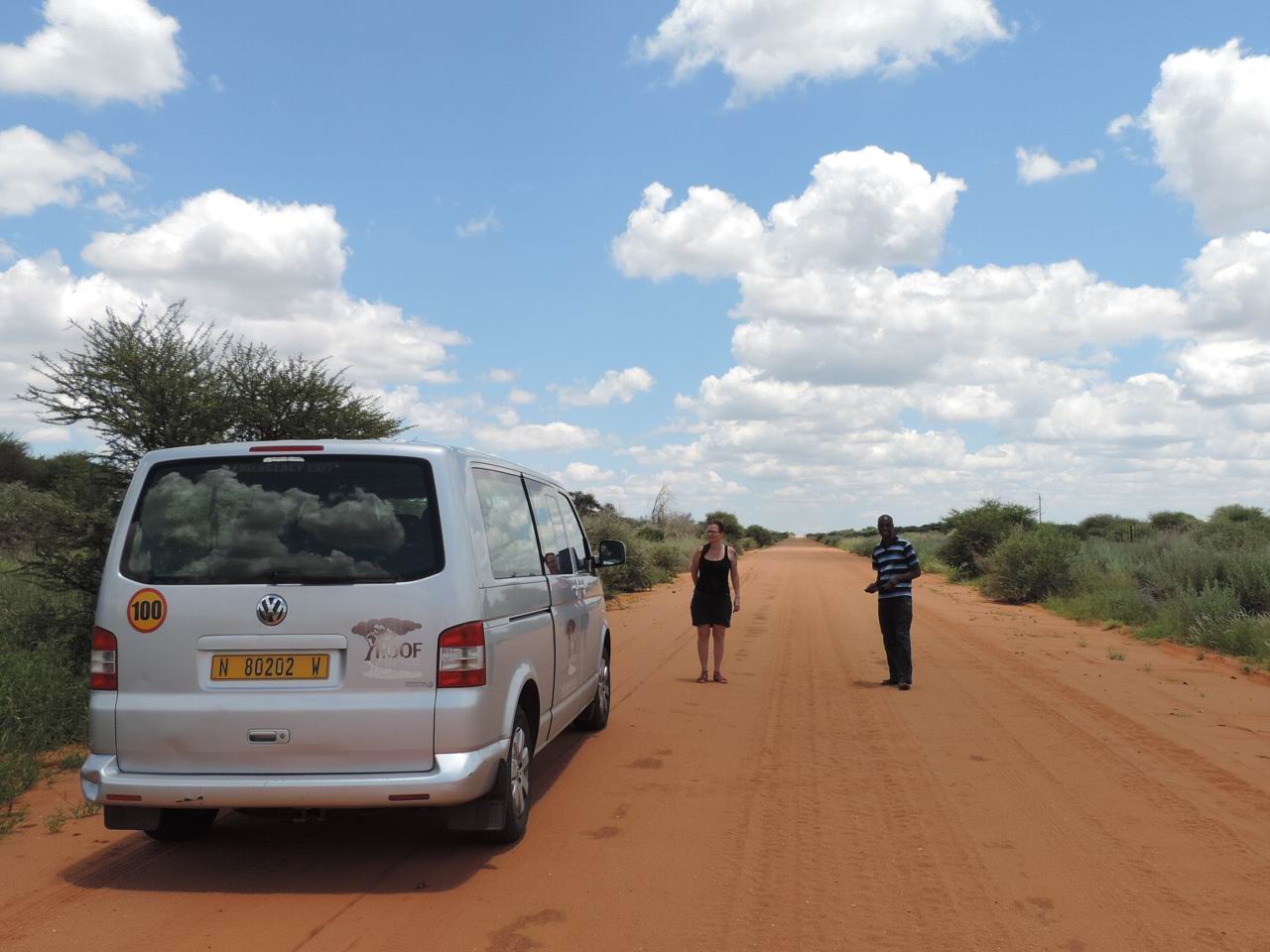 1602 - On our way to Erindi - 30 km of the road was red sand or gravel. We saw a lot of baboons and termite anthills on the way.
1602 - På vei til Erindi - 30 km av veien var rød sand eller grus. Vi så masse bavianer og termittuer.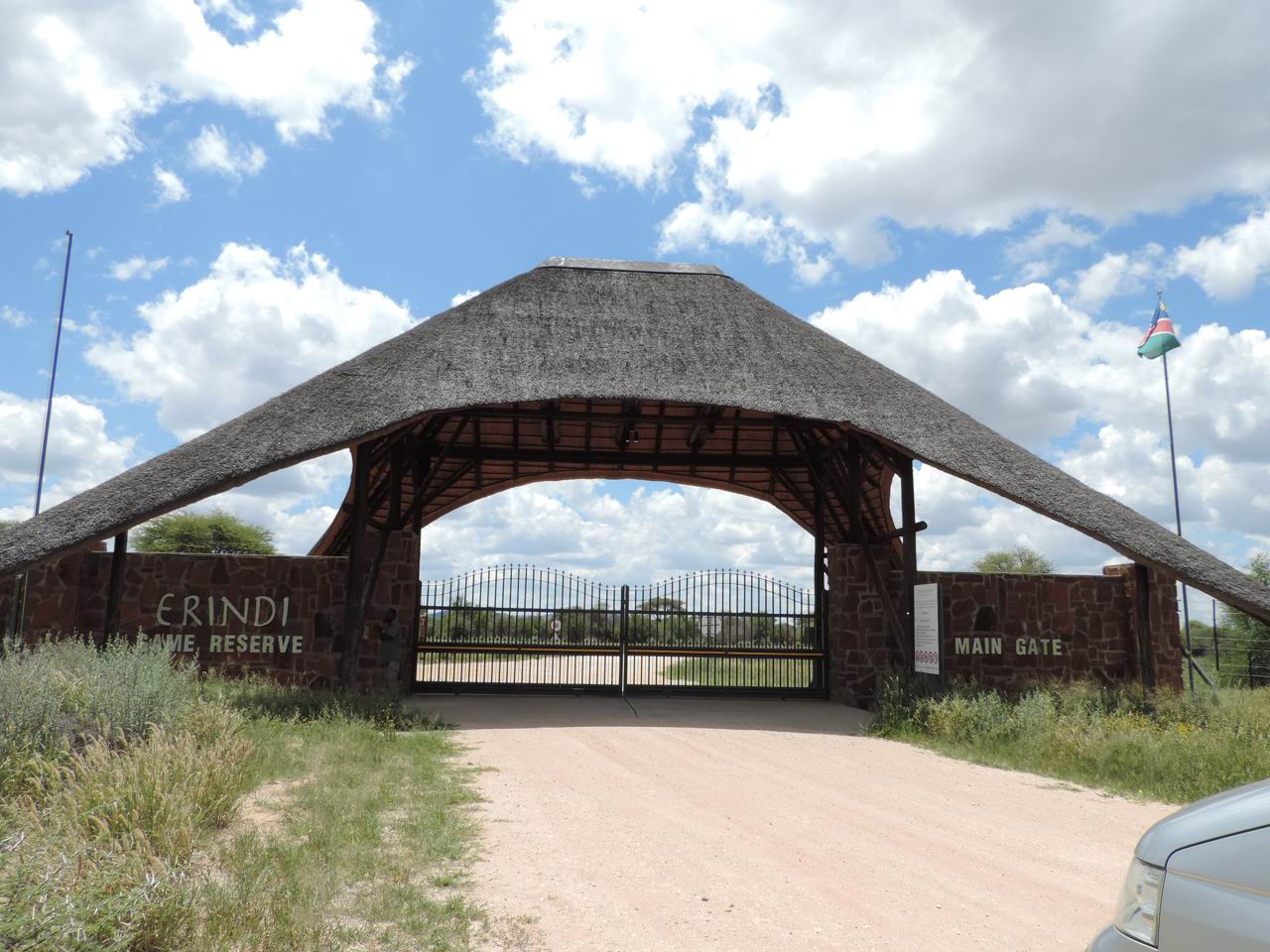 1602 - The photo speaks for iteself...
1602 - Bildet taler for seg selv....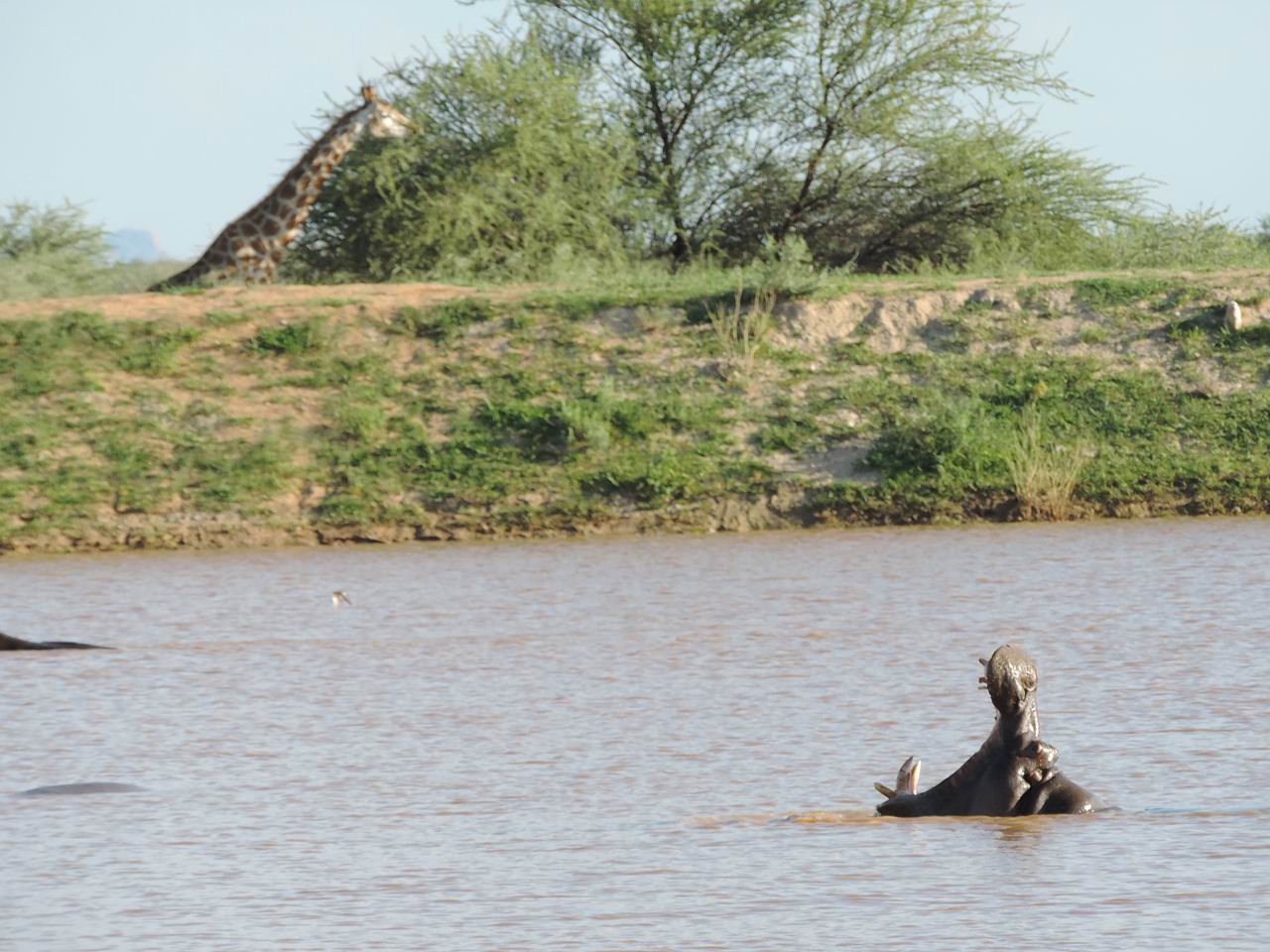 1602 - Erindi - a fantastic place to relax while watching the wildlife and enjoying a cool drink.
1602 - Erindi - en fantastisk plass å slappe av mens man ser på ville dyr og tømmer i seg kalde drinker.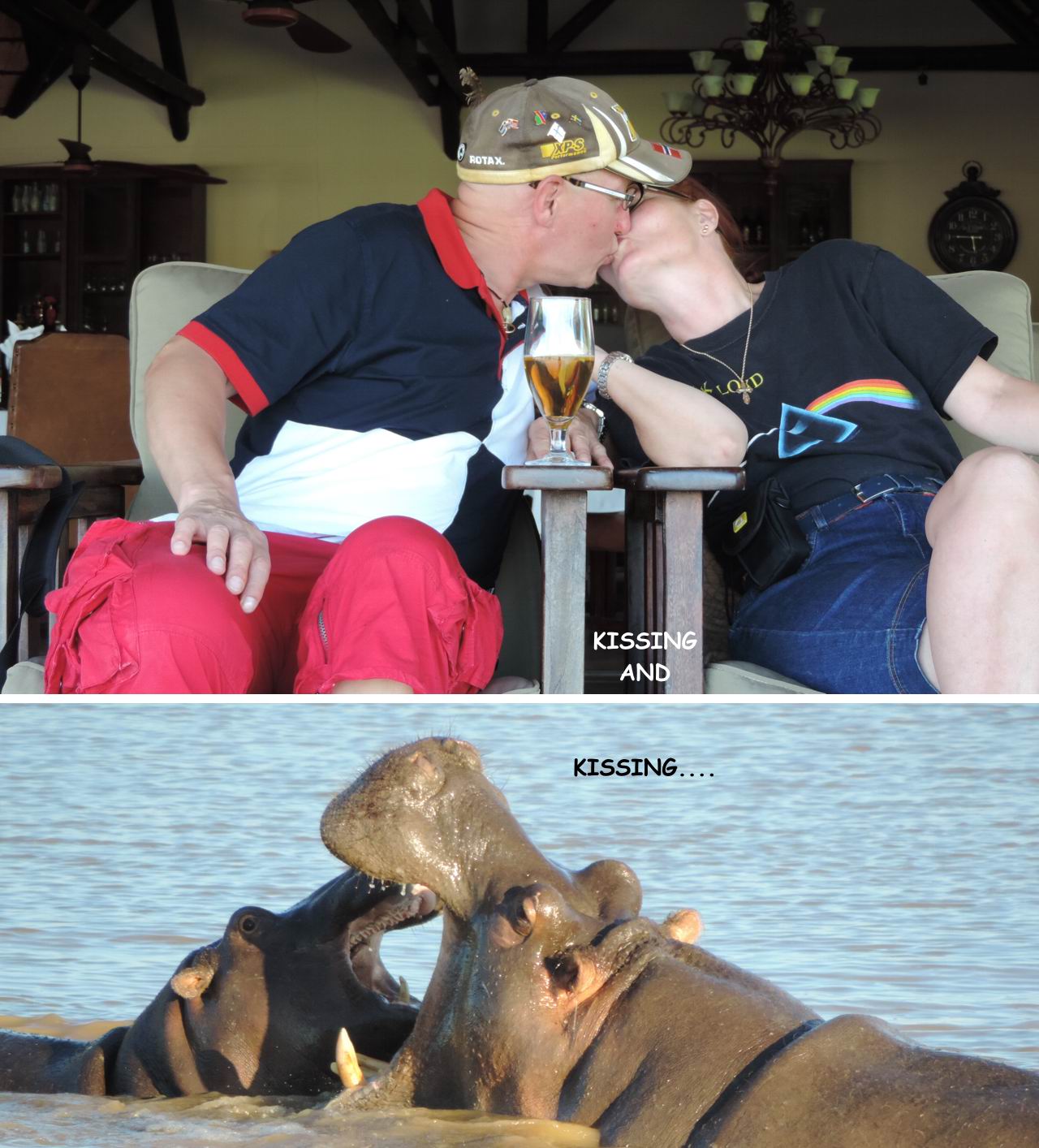 1602 - There seem to be a lot of kissing in Erindi - both in water and on dry land...
1602 - Ser ut til å være mye kyssing i Erindi - både i vannet og på tørt land....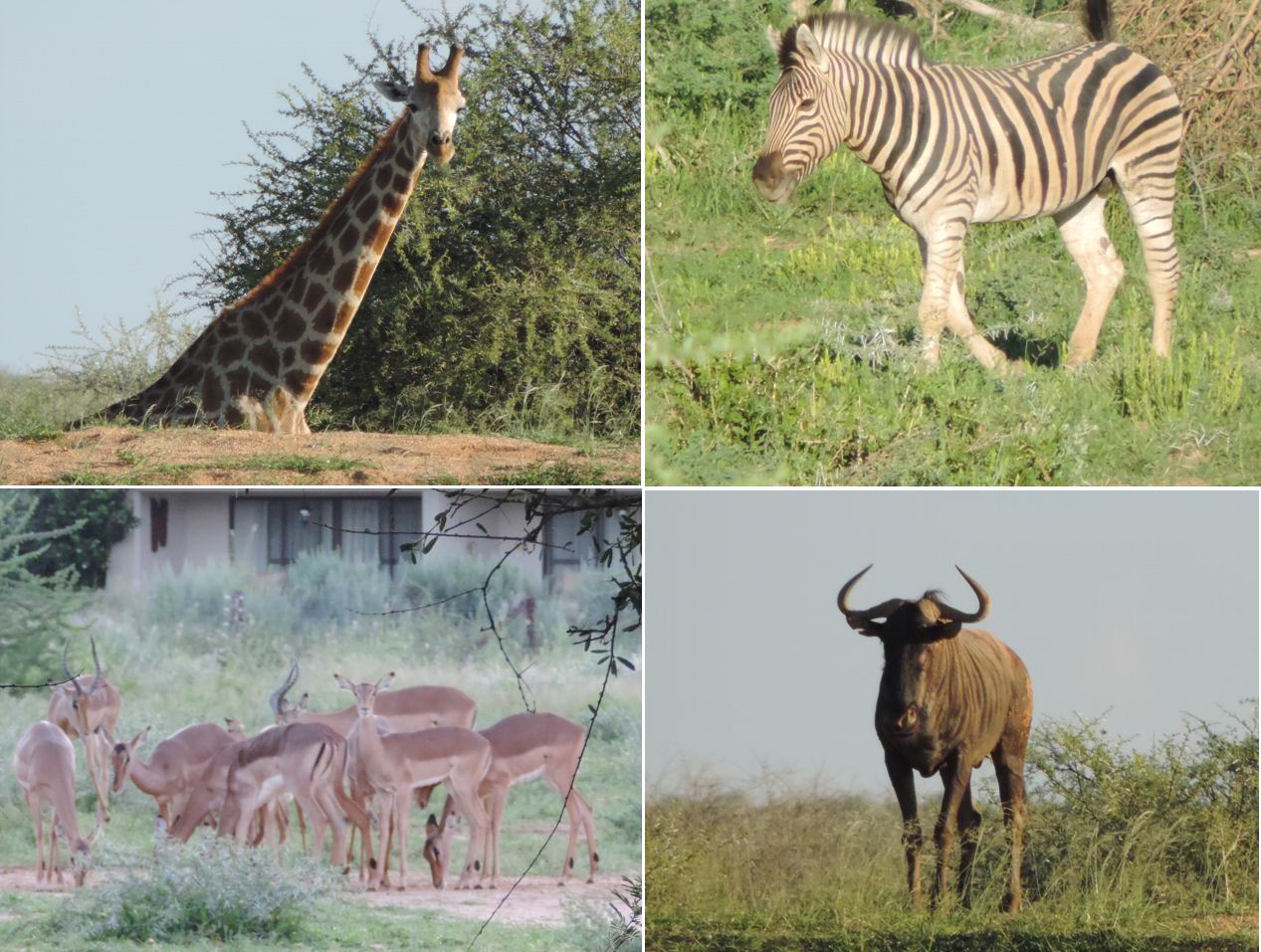 1702 - Some of the game we saw yesterday and this morning - I addition to these beautiful animals, we spotted a few oryx and the a rhino last night at around 11 - the rhino was very shy but still we could se it wandering around in the bushes behind our little lodge. Our lodge is also fantastic by the way.
1702 - Noen av dyrene vi så igjår og idag tidlig - I till til disse flotte dyrene, så vi noen oryxer og etterpå så vi et neshorn igår kveld ved 11 tiden - neshornet er veldig sky men vi kunne se det vandre rundt i bushen bak det lille "huset" vi bor i. Huset vårt er også helt fantastisk flott.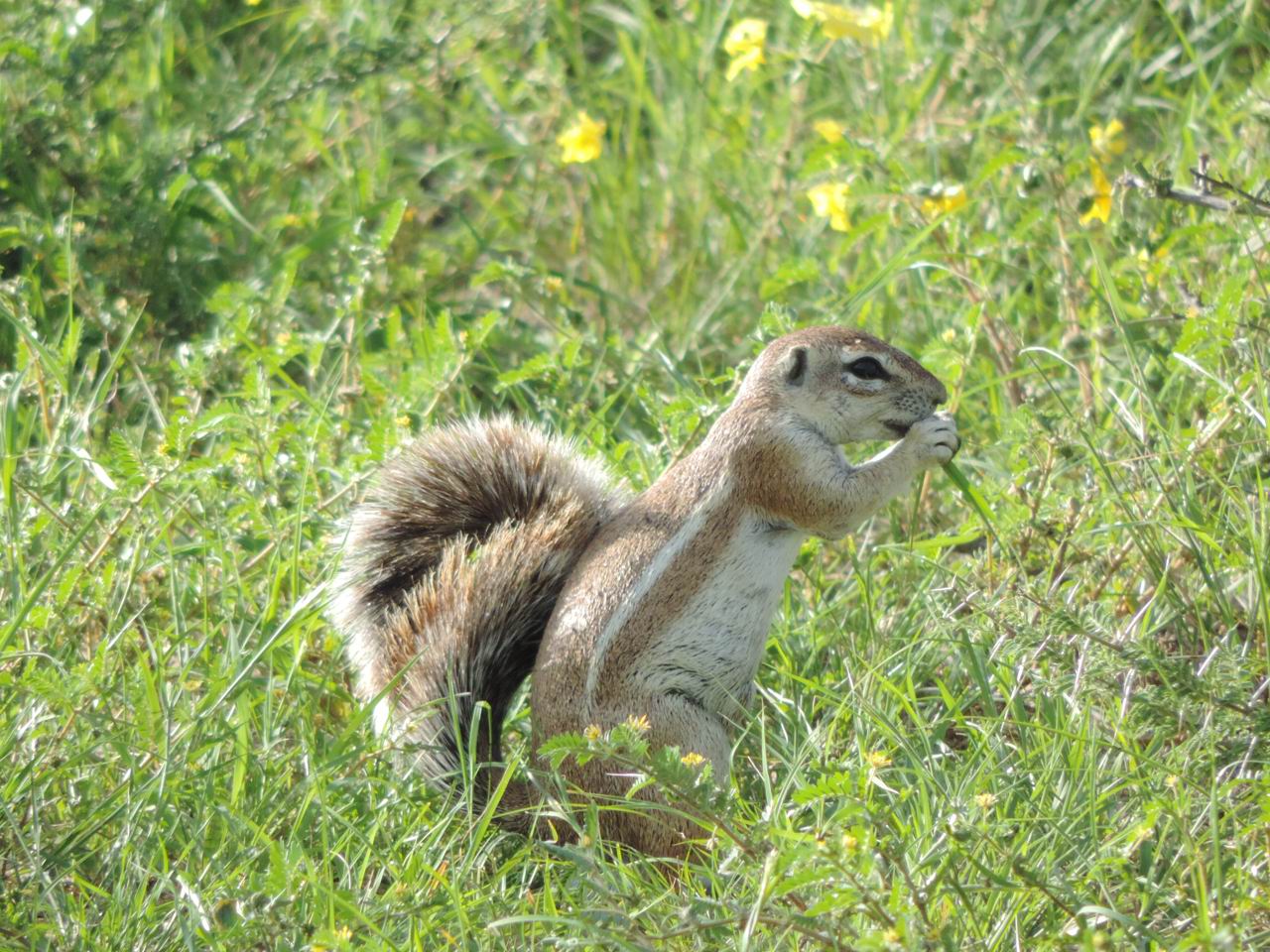 1702 - Today we had our first game drive at Erindi. We saw a lot of wildlife, including this ground squirrel.
1702 - Idag hadde vi vår første game drive. Vi så masse vill dyr, ikludert dette ekornet.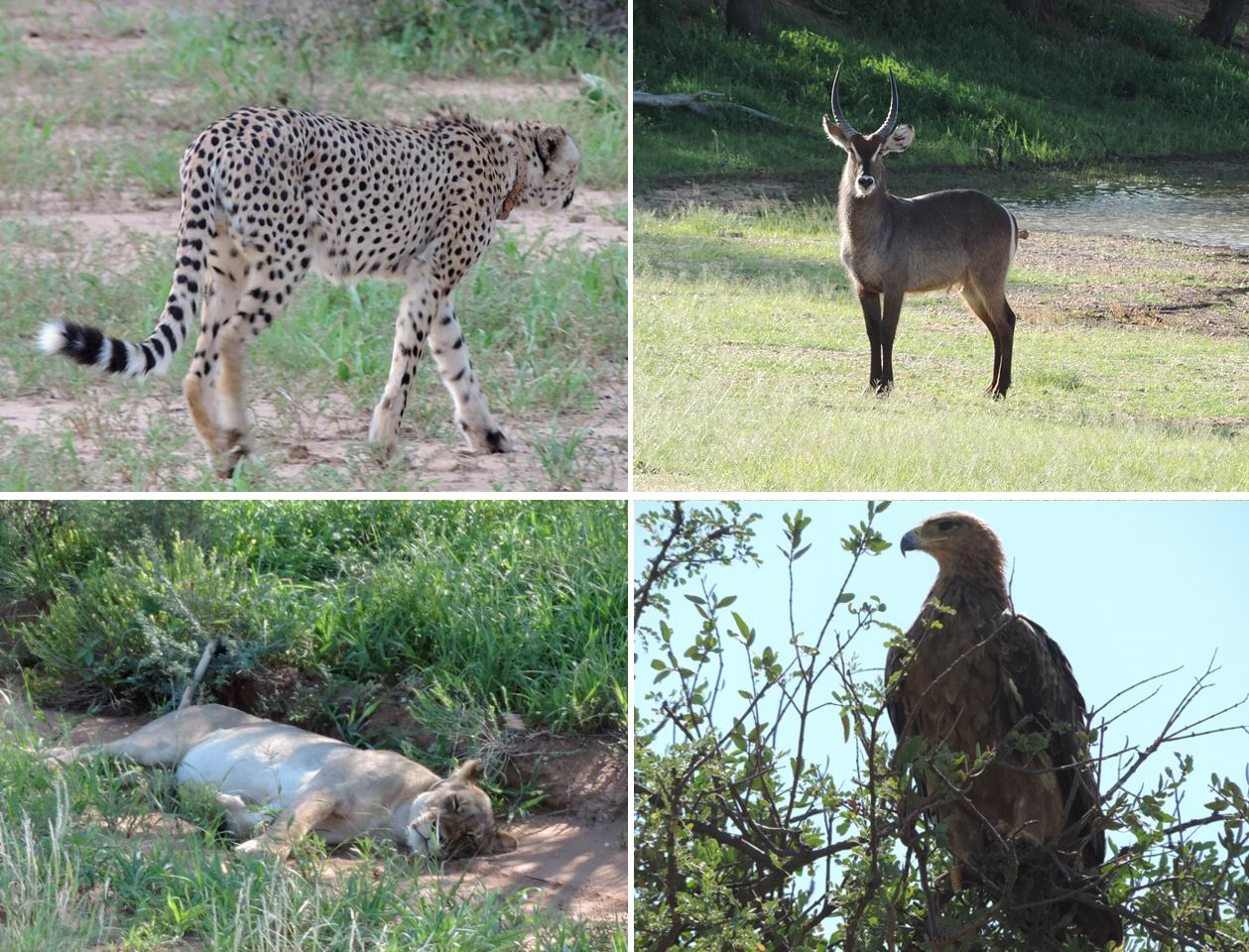 1702 - The cheetas have GPS trackers and so do some of the liones, because sometimes they decide they want to leave the game farm and go for a walk outside the fence. The waterbuck is a majestic animal and not very shy. The lion did not seem to have a worry in the world, she hardly opened here eyes. Her sister was hiding somewhere in the bush looking after the lion cubs. Last picture shows a very beautiful eagle. Most of the drivers are armed with powerful rifles or sidearms in case of an animal attack.
1702 - Gepardene har GPS tracker på seg og det har noen av løvene også, for iblandt finner de ut at de skal bort fra farmen og ta seg en tur utefor gjedet. Waterbuck'en er majestetisk og ikke særlig redd. Løva så ikke ut til å ha noen bekymringer og hun åpnet nesten ikke øynene da vi var der. Søstra hennes gjemte seg i krattet med løveungene. Det siste bilde viser en nydelig ørn. De fleste sjåførene er tungt væpnet med grovkalibra rifler eller håndvåpen i tilfelle et dyr skulle angripe.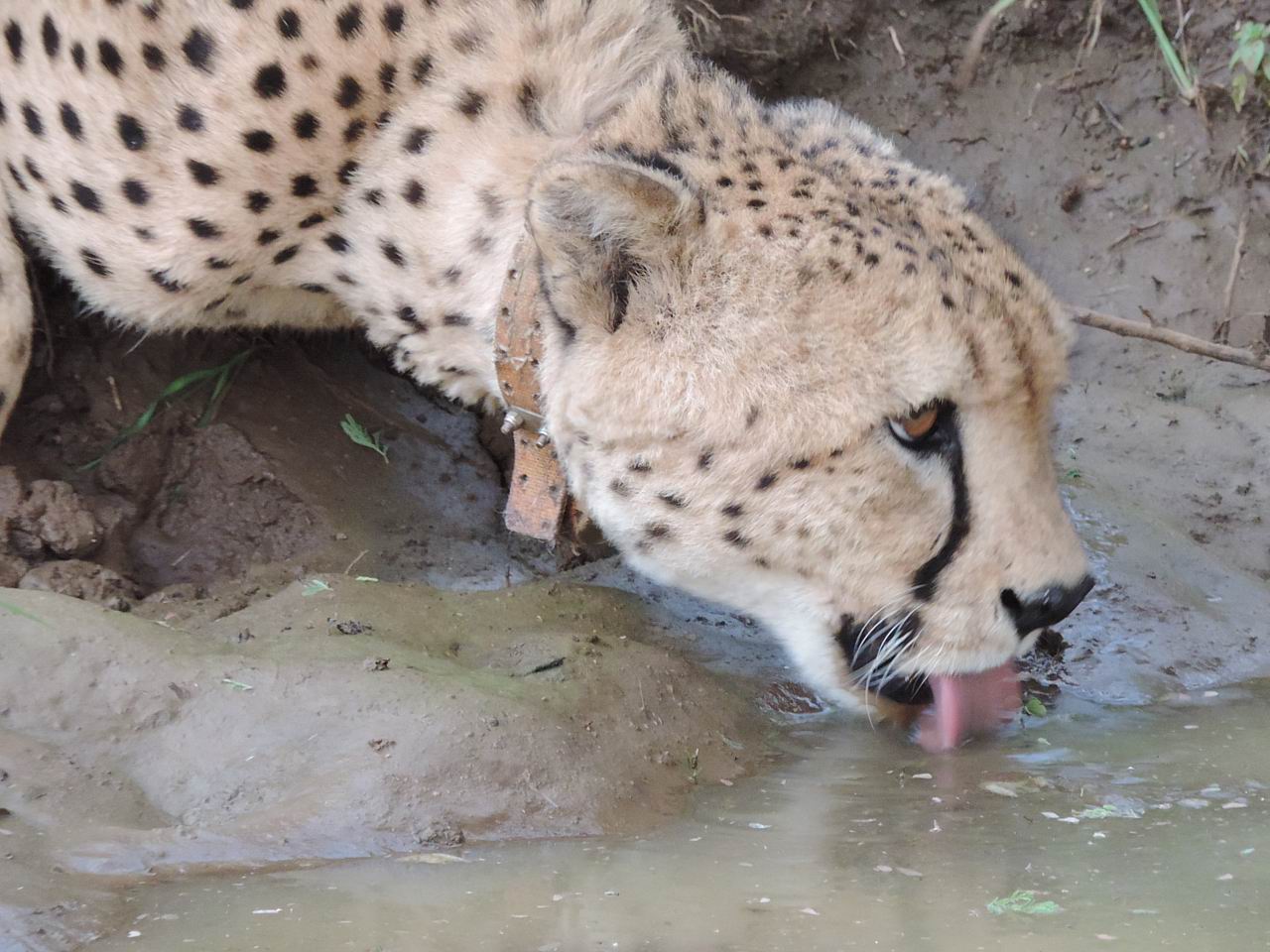 1702 - The cheetah was not scared of humans so we got quite close when she was having a drink of muddy water.
1702 - Geparden er ikke noe særlig redd for mennesker, så vi kom temmelig nærme da hun skulle ha seg litt gjørmevann.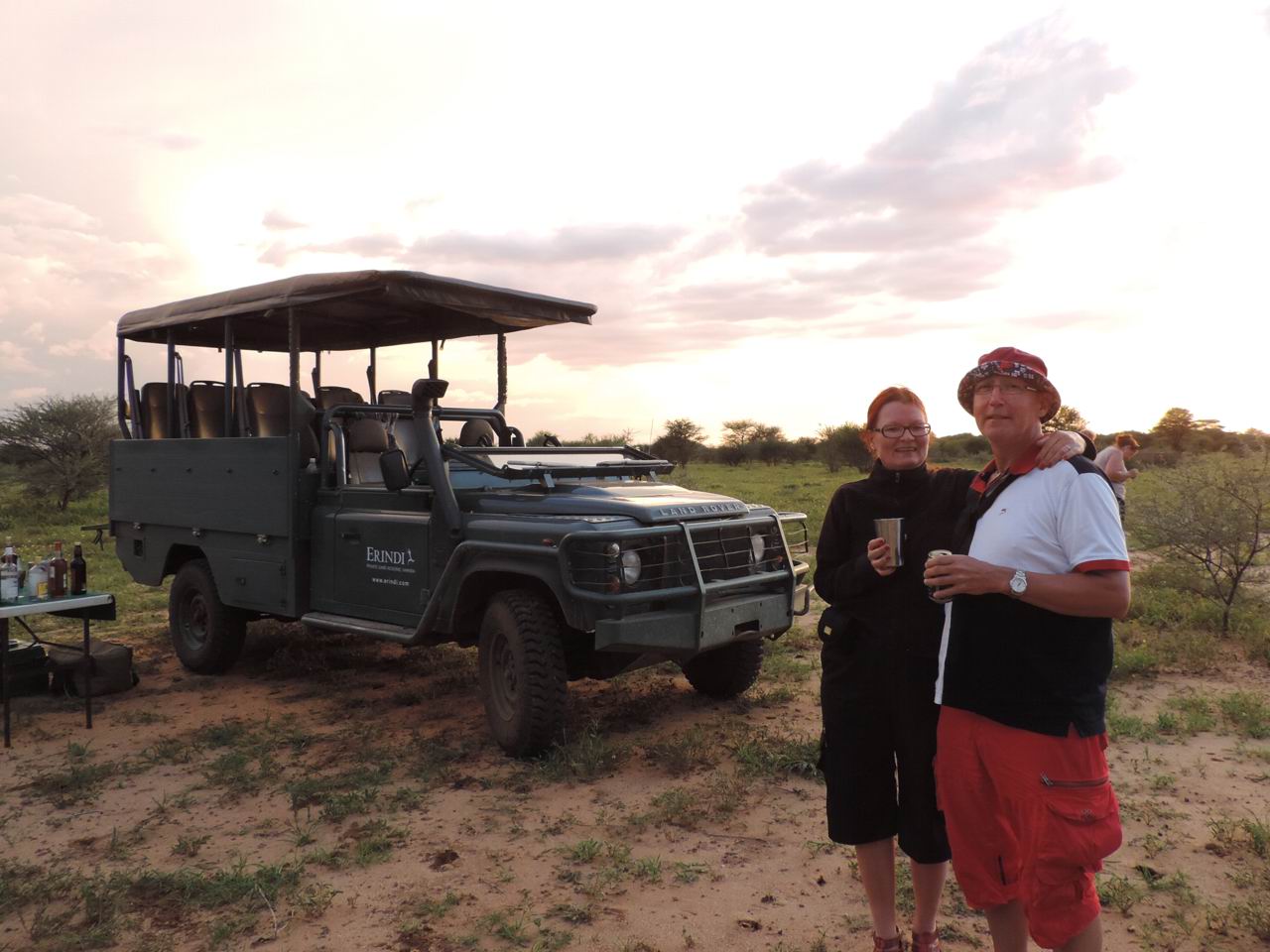 1702 - The game drive is nearly over and now it's time for a sundowner. The entire drive took nearly 4 hours....
1702 - Kjøreturen er nesten over og det er tid for en sundowner. Hele turen tok nesten 4 timer.
1802 - Yes, it does rain in Africa...
1802 - Ja, det regner virkelig i Afrika.....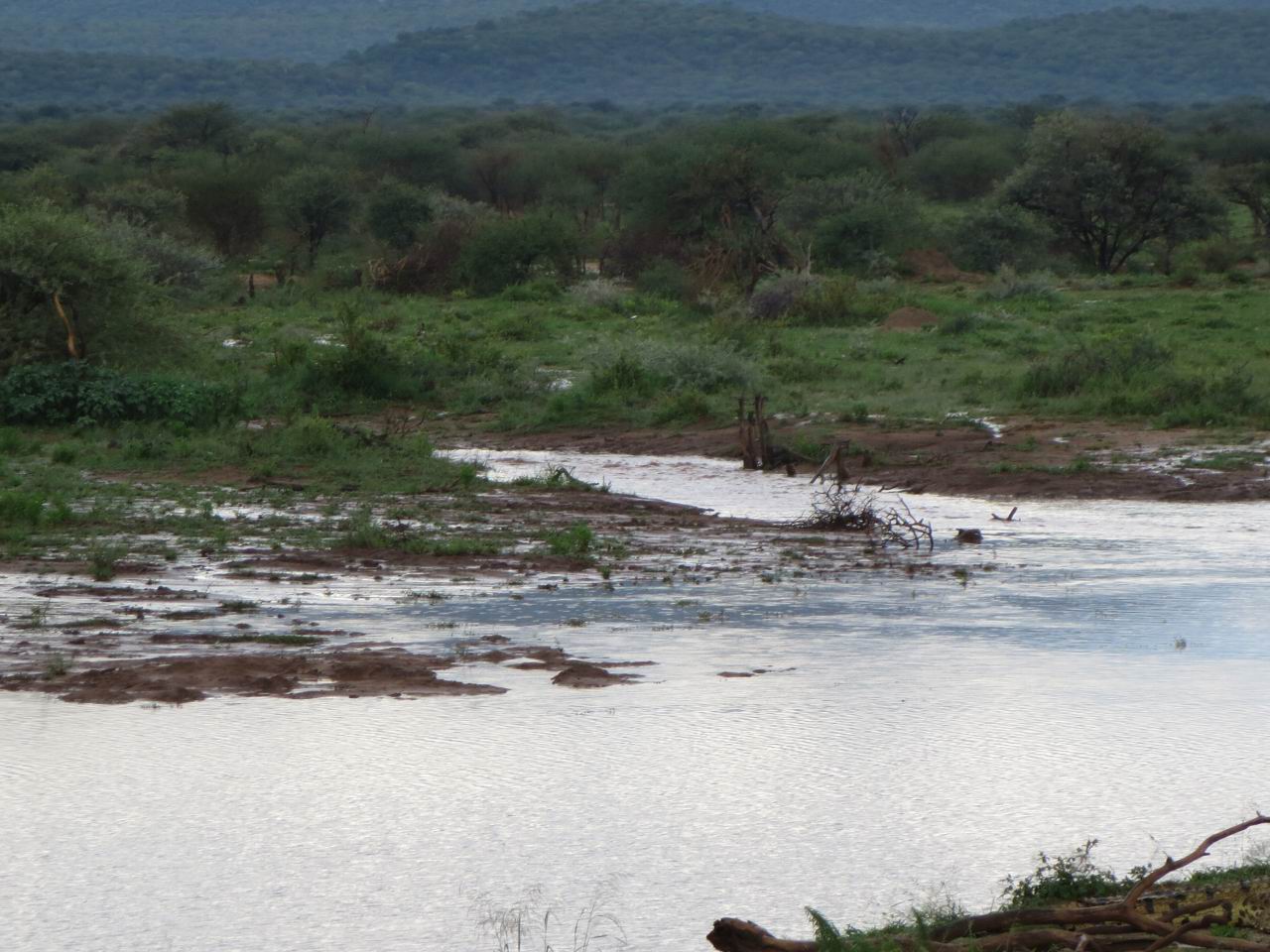 1802 - After the rain, several brooks were flowing into the waterhole, welcomed by the crocs and the hippos. The waterlevel rose by approx 30 cm in 1 hour.
1802 - Etter regner, fløt det masse bekker inn i vannhullet, noe som gledet krokodillene og flodhestene. Vannivået økte med ca 30 cm på 1 time.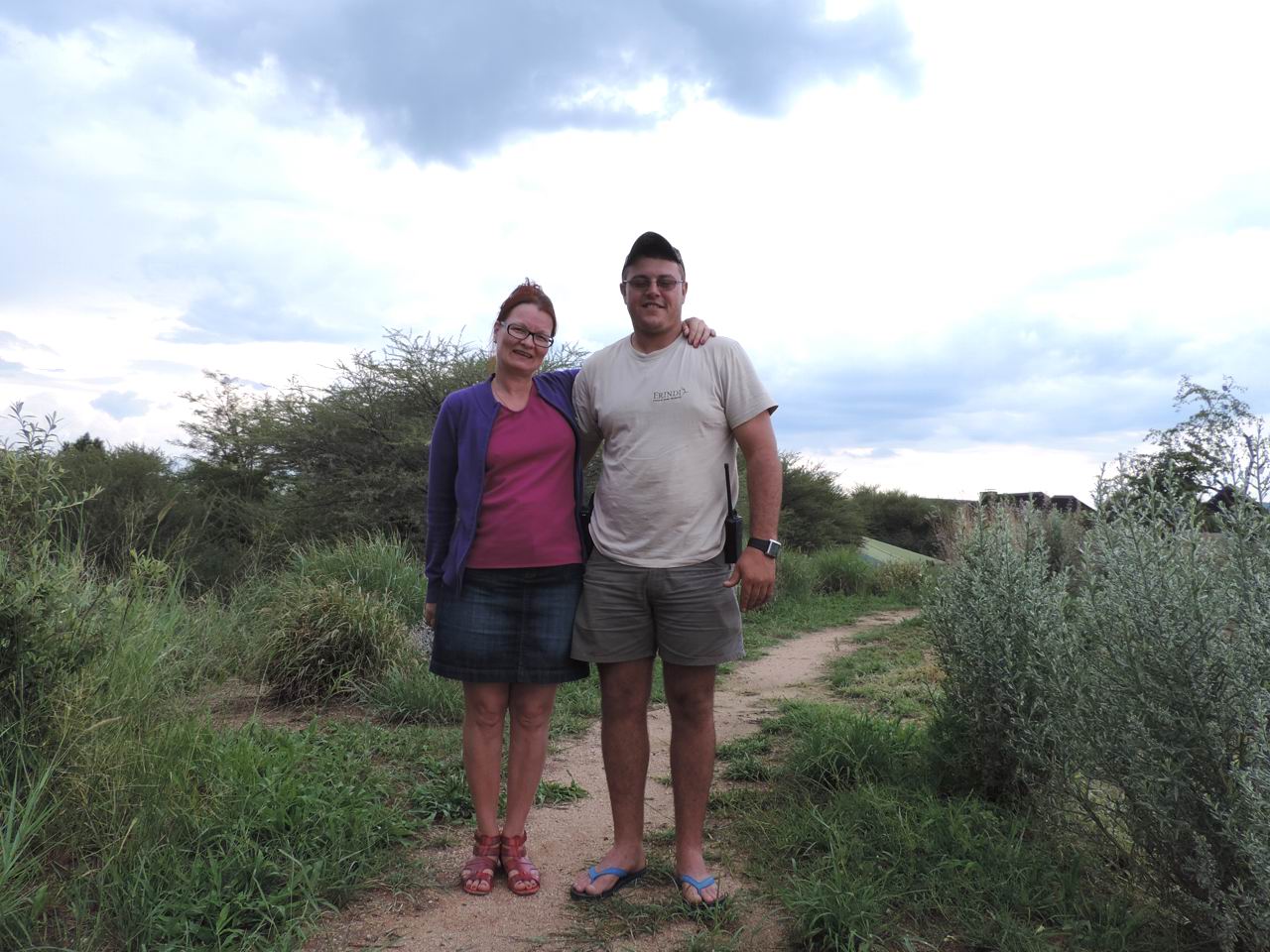 1802 - We met Gerhard, one of the very helful people of Erindi. He could answer ALL of our stupid questions about the animals and the park. He was of course armed with a cal. .40 sidearm.
1802 - Vi møtte Gerhard, en av de hjelsomme menneskene i Erindi. Han kunne svare på ALLE de dumme spørsmålene våre angående dyrene og farmen. Han var selvfølgelig bevæpnet med en cal. .40 pistol.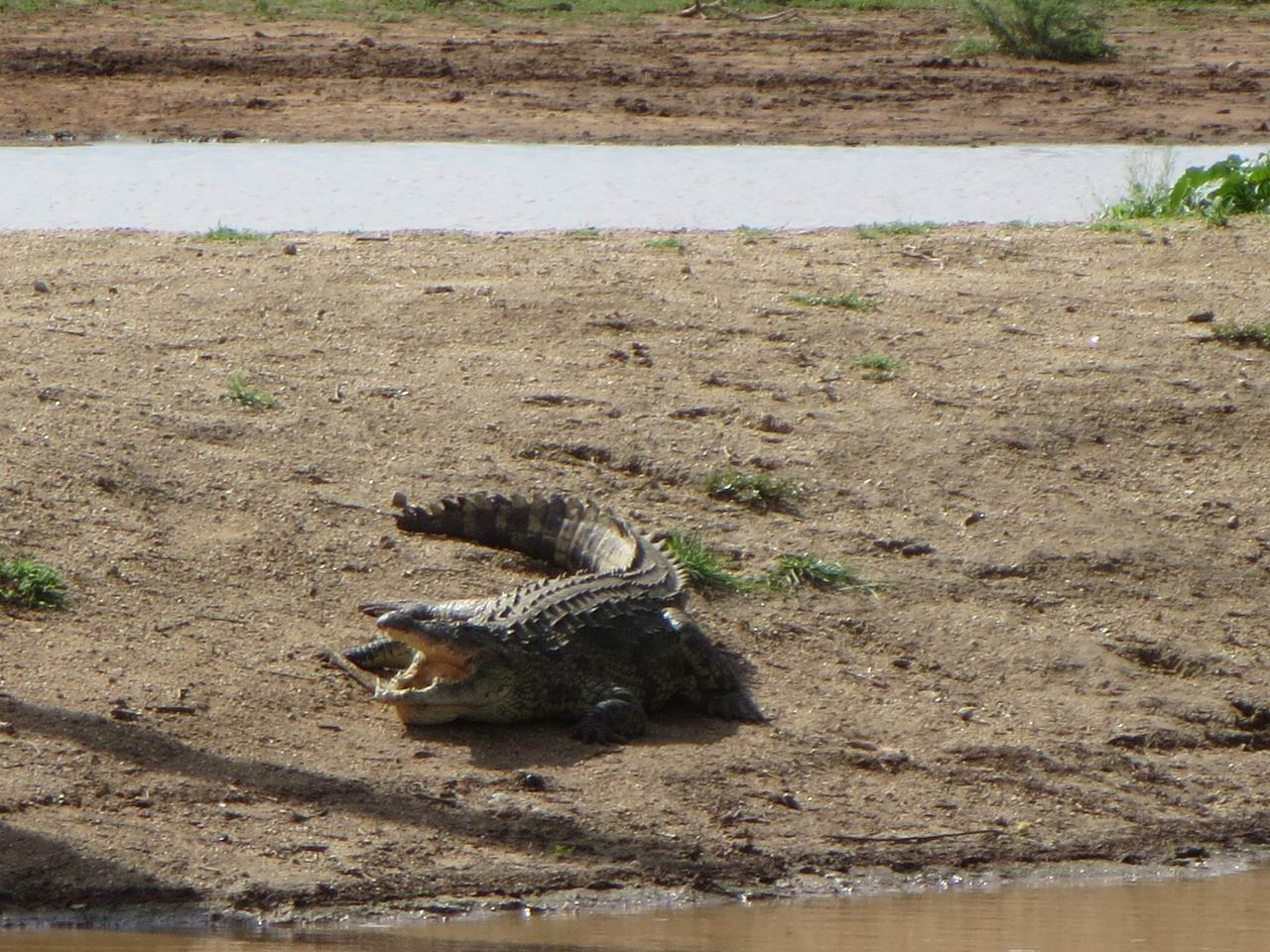 1902 - This croc was watching us while we were having breakfast - maybe he was longing for some Norwegian bacon......?
1902 - Denne krokodilla så på oss mens vi spiste frokost - kanskje den hadde lyst på litt norsk bacon.......?
1902 - These blue wilderbeest were right outside our room when we returned from breakfast. They were a bit edgy because of the calf.
1902 - Disse blue wilderbeest var rett utenfor rommet vår da vi kom tilbake fra frokost. De var litt skvetne pga. kalven.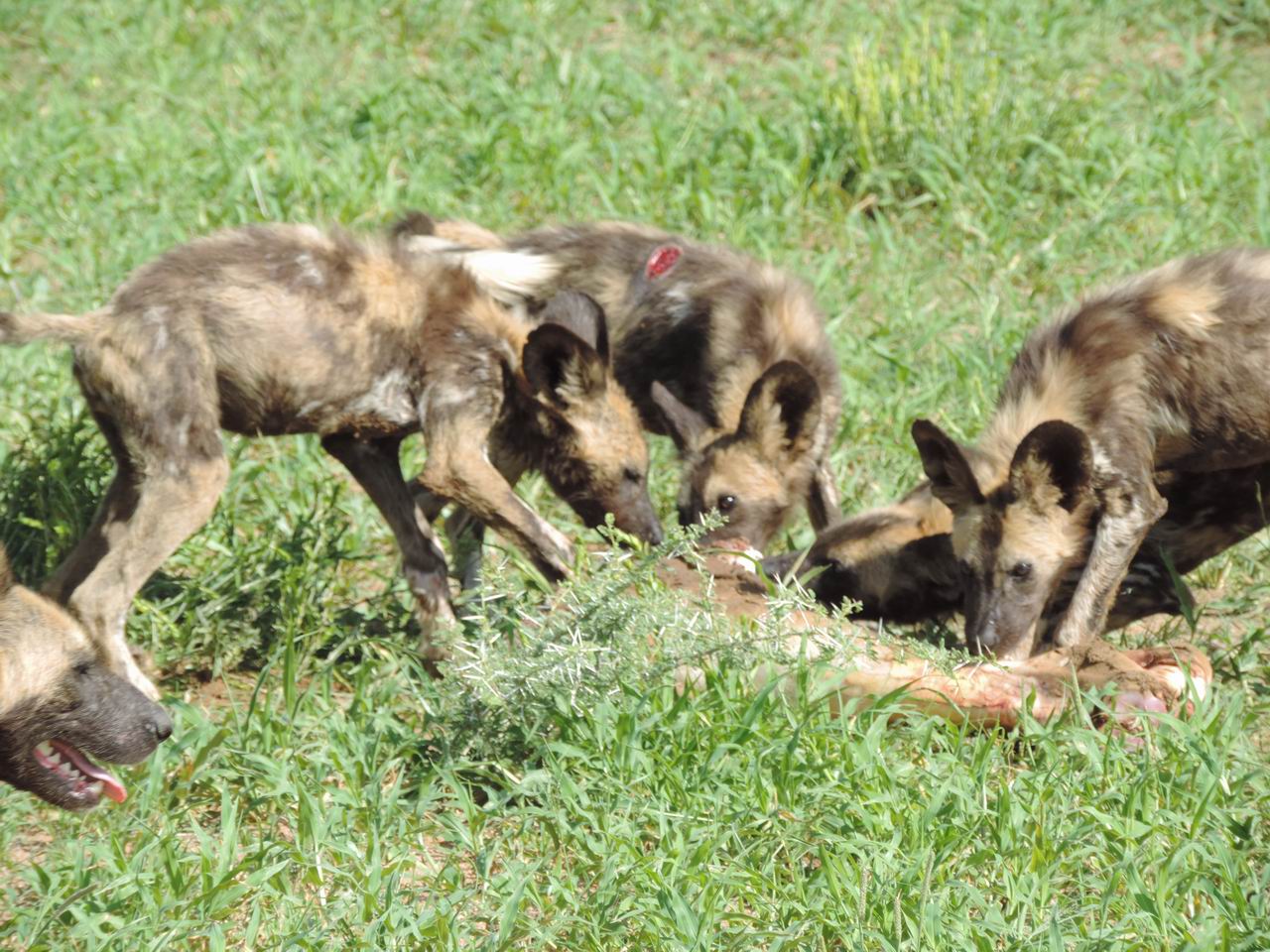 1902 - Later we went on a game drive and this is the first thing we saw - wild dogs feasting on a giraffe's head - bon apetit!
1902 - Senere dro vi på en gamedrive og dette var det første vi så - villhunder som hadde fest på et giraffhode - bon apetit!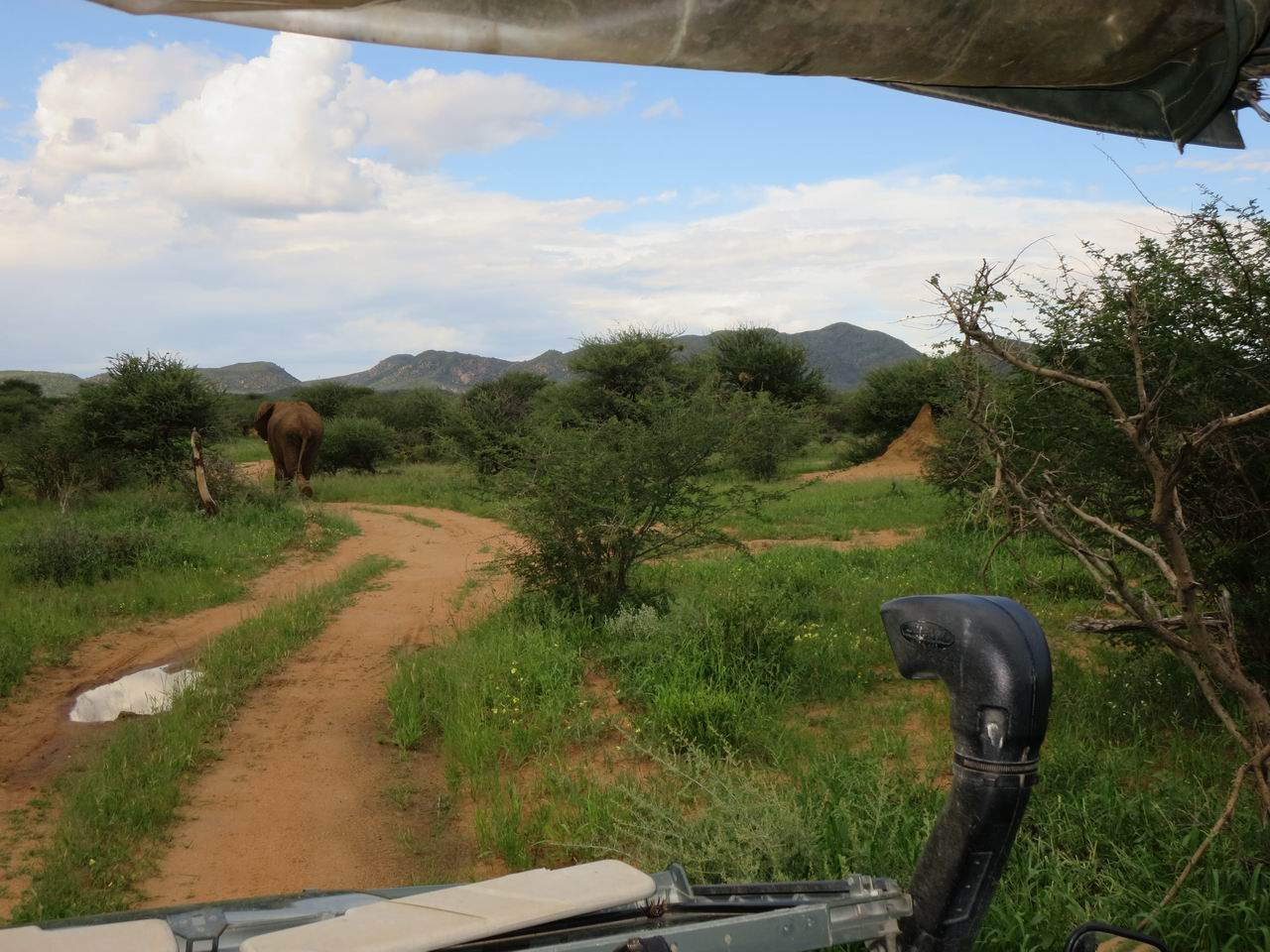 1902 - Finally we got to see an elephant - an old bull, walking about with no worries at all - we got quite close to this big fella. The guide estimated it's weight to 6-7 tons..
1902 - Endelig fikk vi se en elefant - en gammel hanne som gikk rundt for seg selv uten noen bekymringer - vi kom ganske nærme denne fyren - guiden anslo den til ca 6-7 tonn...
1902 - I also made new friends on the game drive but he did not stay too long - guess he did not want to go to cold Norway...
1902 - Jeg fikk meg nye venner på denne game driven men han ville ikke bli - regner med at han ikke vil dra til kalde Norge -
1902 - Our guides - Pena to the left and Aron to the right - and... dunno who is in the middle - just one of those tourists???
1902 - Guidene våre - Pena til venstre og Aron til høyre - og.... vet ikke hvem som er i midten - sikker bare en av de derre turistene???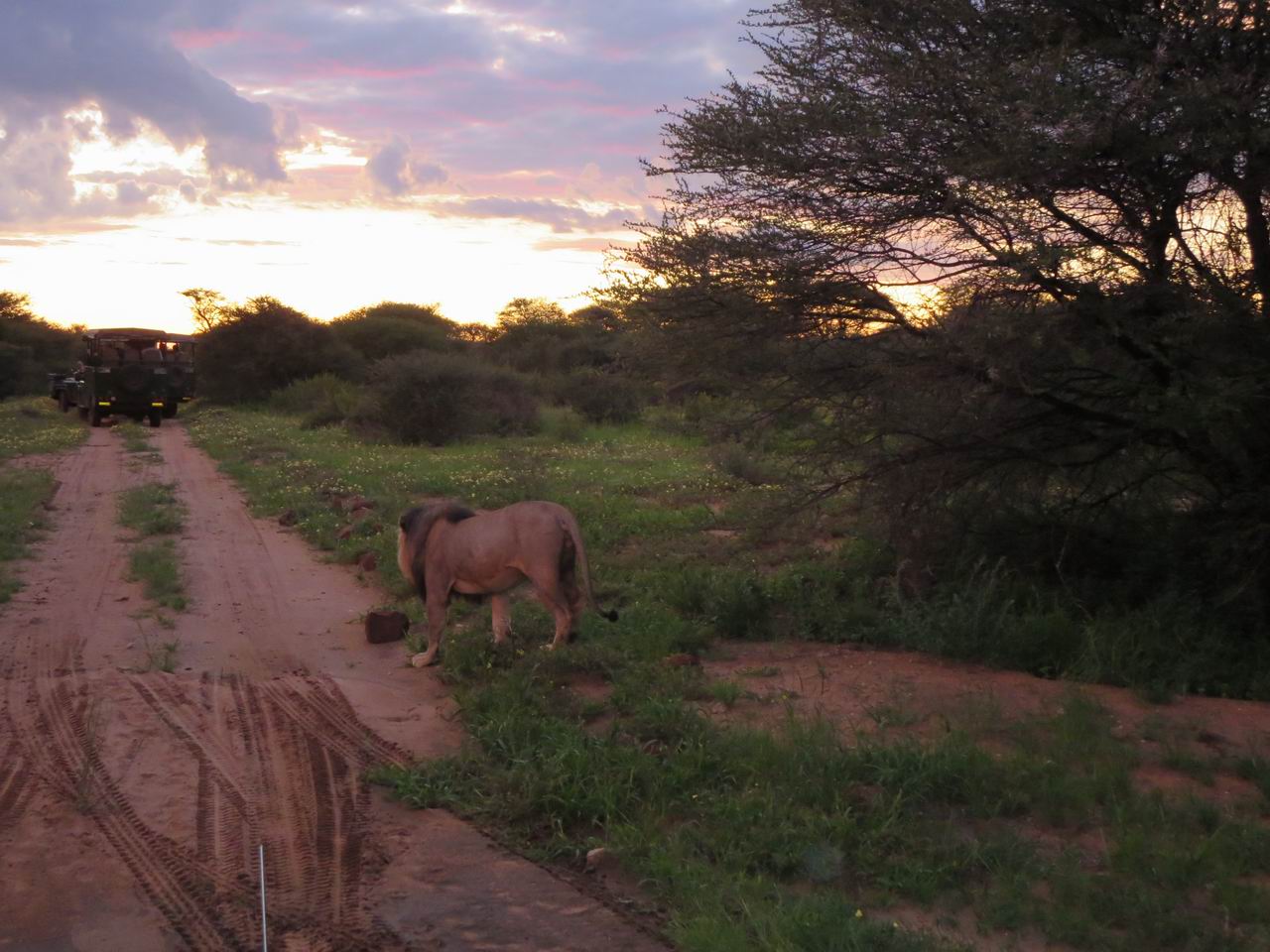 1902 - On our way home we met Mr. and Mrs. Lion - and they actually decided to mate in the middle of the road - 21 seconds of pelasure.
1902 - På veien tilbake møtte vi Hr. og Fru Løve - og de bestemte seg for en kjapp en midt i veien - 21 sekunder med fryd og glede.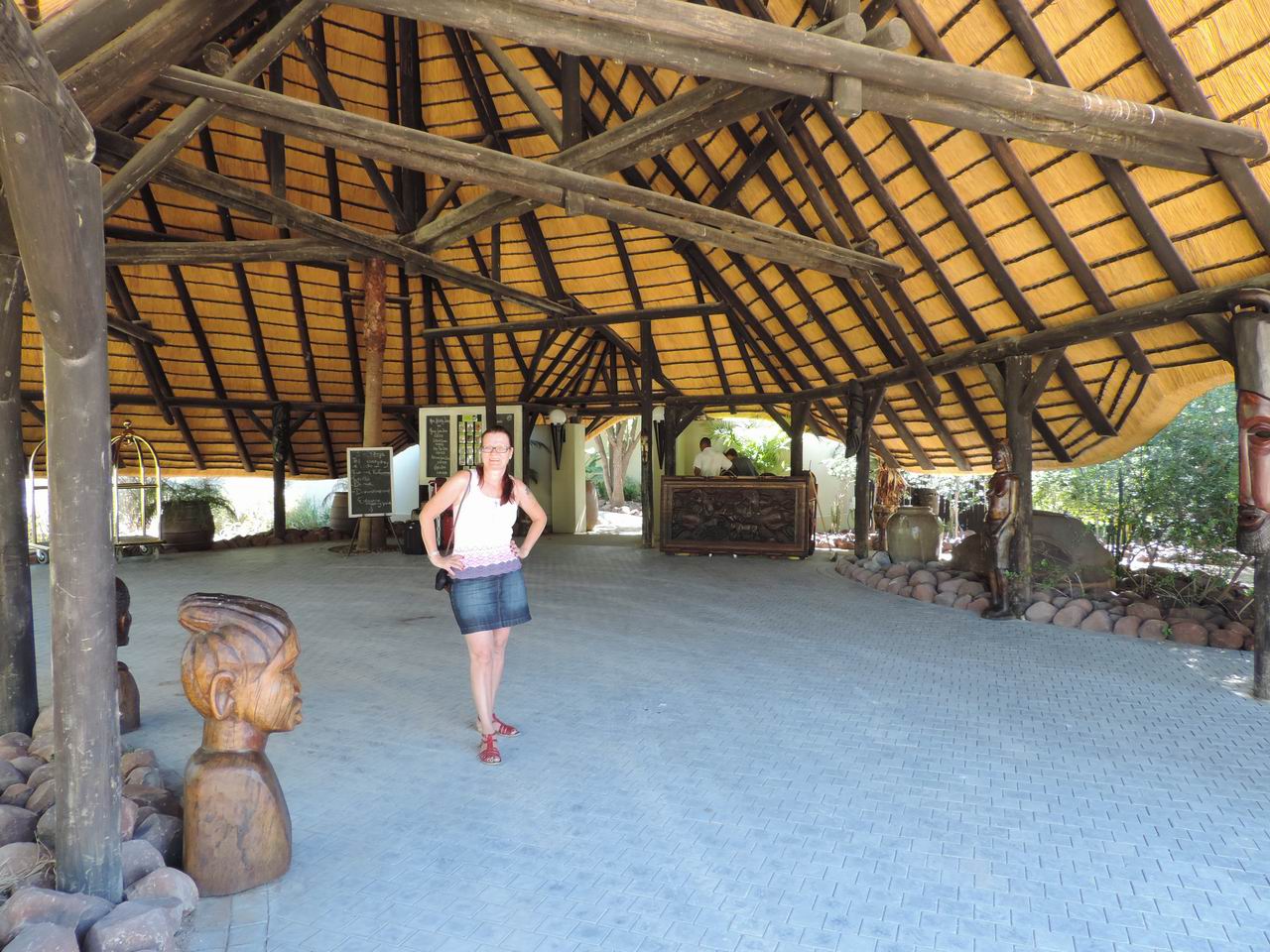 1902 - Waiting for Temus to pick us up - and there was a surprise behind the desk in the background.. and nasty surprise - se next photo.
1902 - Vi venter på at Temus skal hente oss - og det var en overraskelse bak skranken i bakgrunn... en ugrei overraskelse - se neste bilde.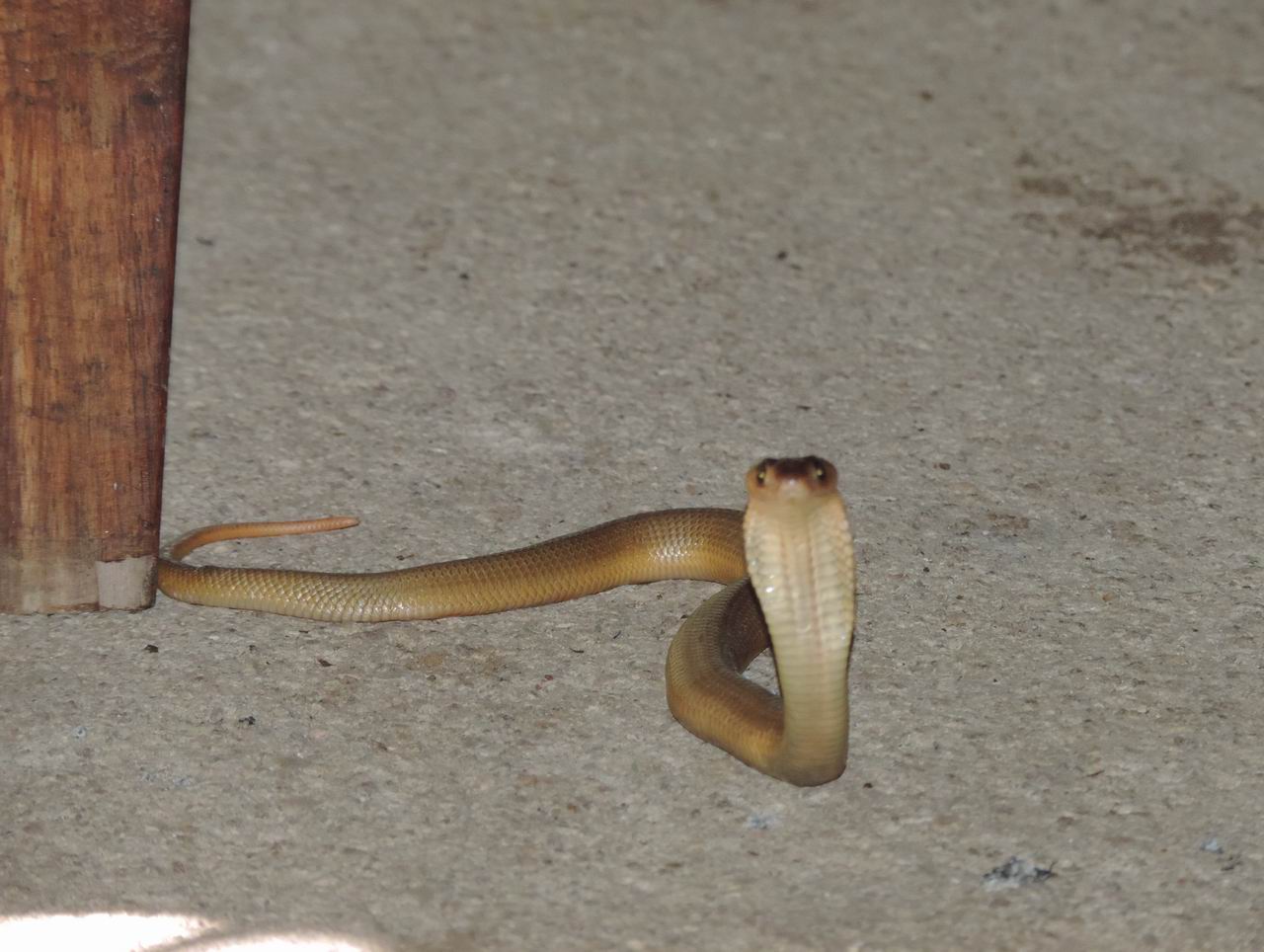 1902 - A cobra!!! Under the chair behind the desk - not a big one, but approx 40 cm long and venomous enough to kill us...We don't know what happened to it.. Now we're back at the Roof in Windhoek.
1902 - En kobra!!! Under stolen bak skranken - ikke en stor, men ca 40 cm lang og giftig nok til å drepe oss....vi vet ikke hva som skjedde med den - Nå er vi tilbake på the Roof i Windhoek.