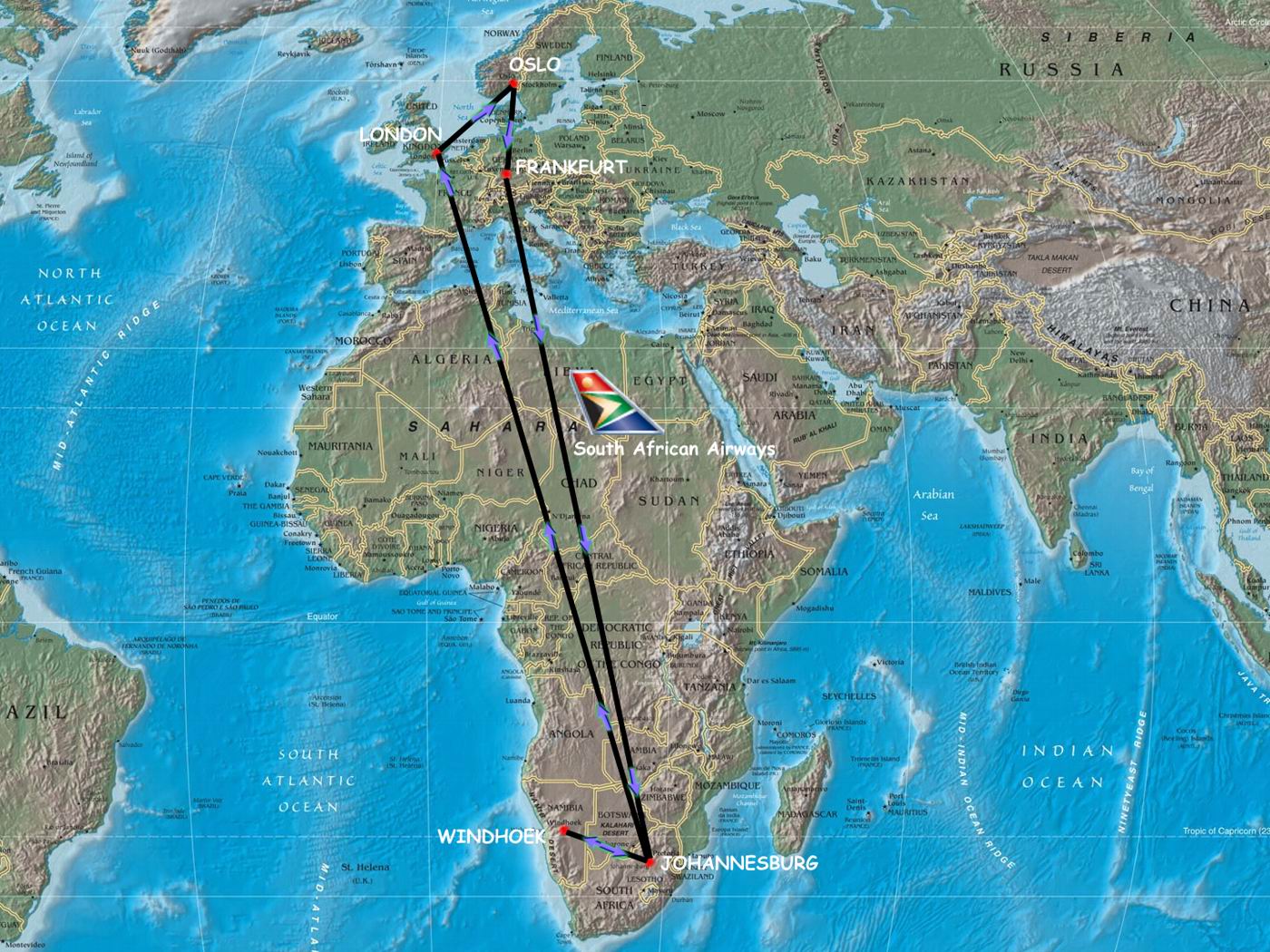 110215 - We arrived Windhoek yesterday after a long and tiresome trip. It was very hot - 32 degrees C. We'll upload pix later.
110215 - Vi ankom Windhoek igår etter en lang og slitsom trur. Det var veldig varmt, 32 grader. Vi skal laste opp bilder senere.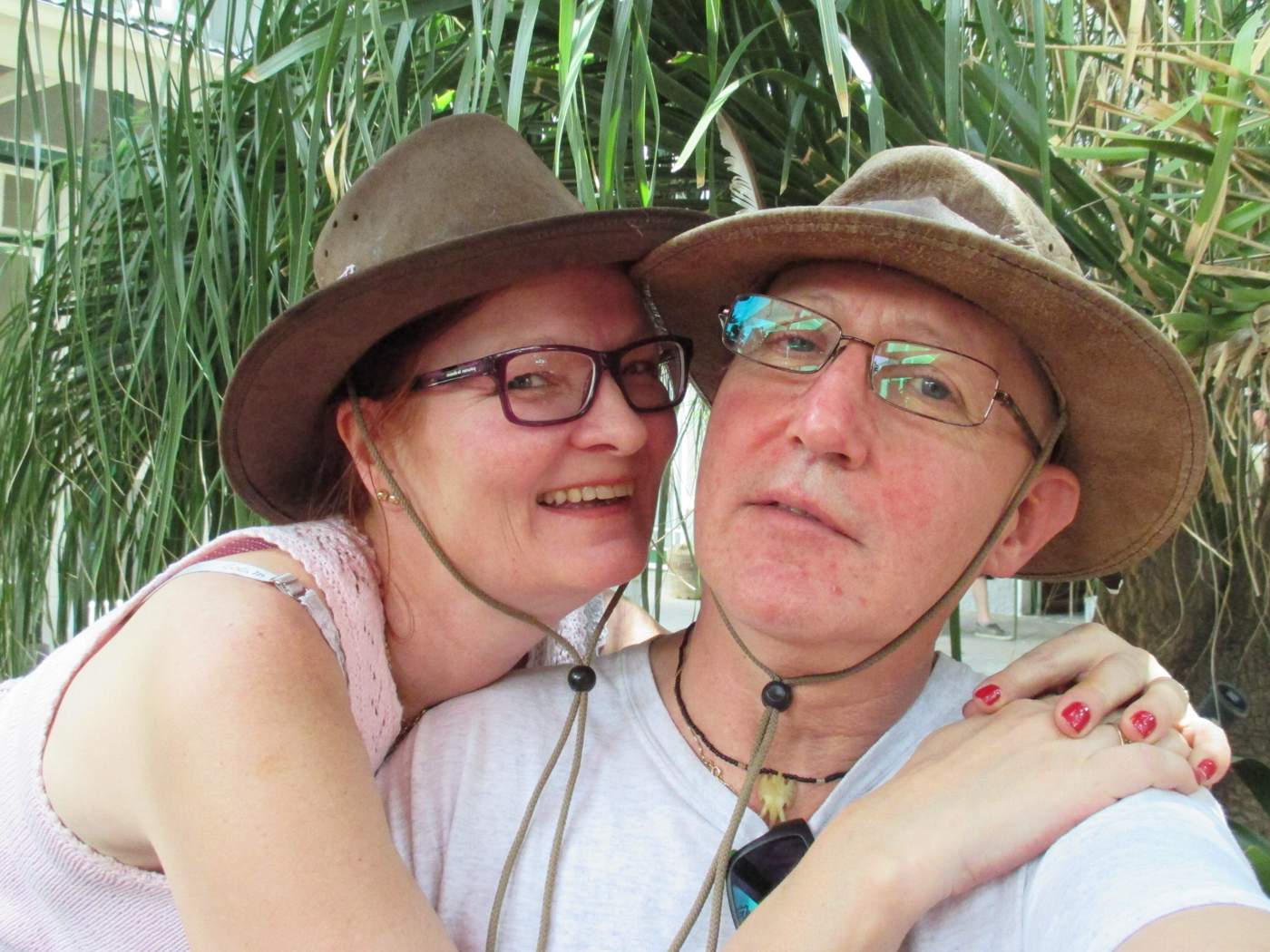 110215 - Selfie downtown Windhoek.
110215 - Selfie nede i Windhoek.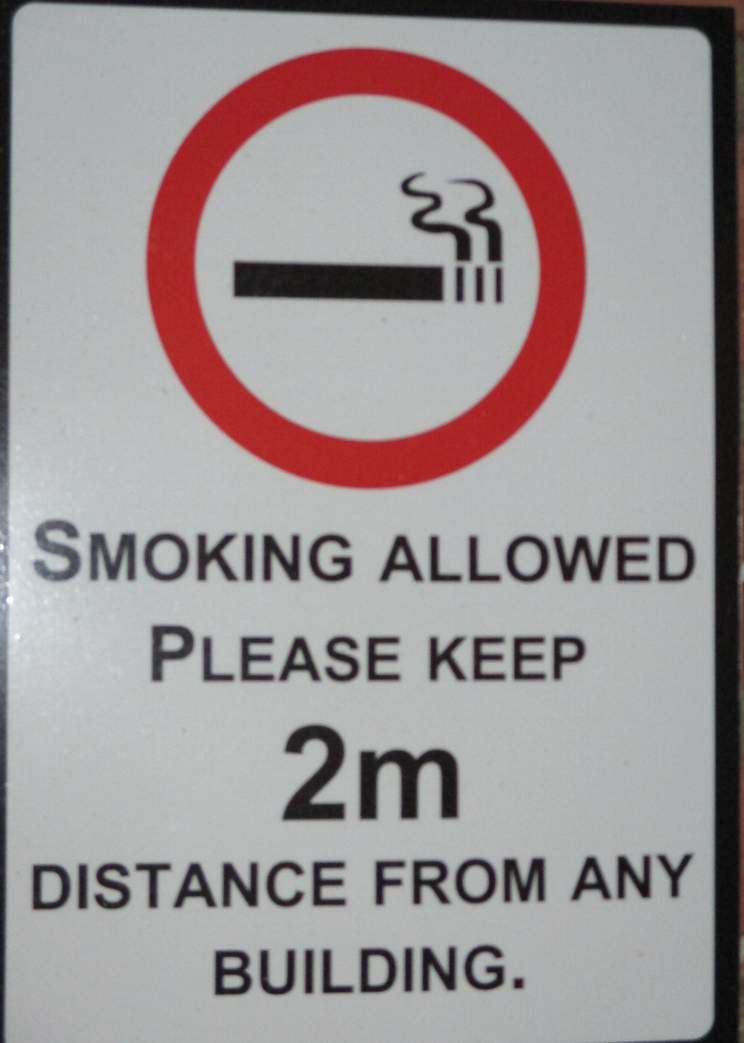 120215 - New smoking laws in Namibia - this one is a bit weird...
120215 - Nye røykelov i Namibia - denne er litt merkelig...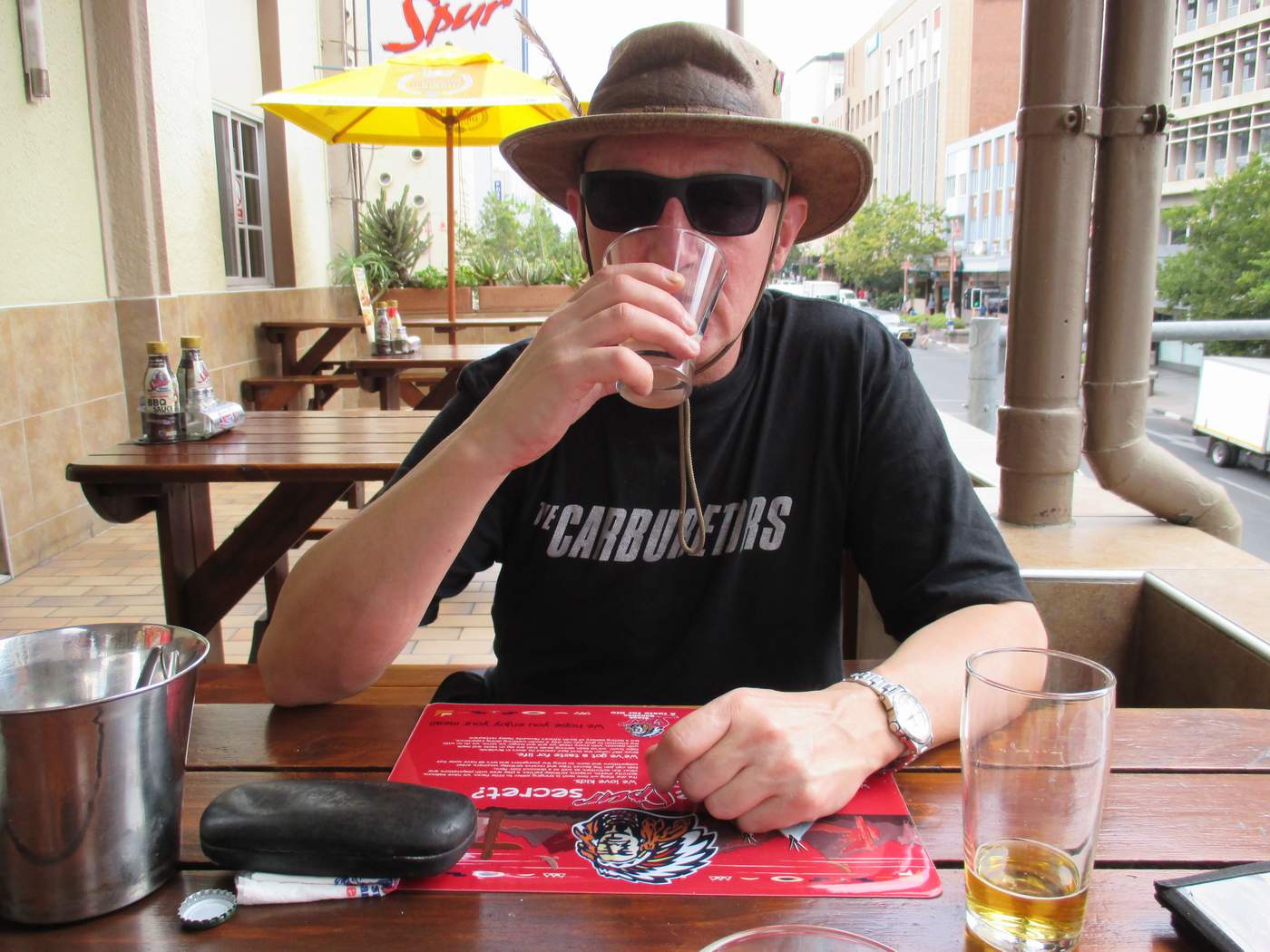 120215 - We're at Spur restaurant on Independence avenue and this is my first Amarula on this vacation. Do I look like tourist or not..?
120215 - Vi er på resturang Spur på Independence avenue og dette er min første Amarula på denne ferien. Ser jeg ut om en turist eller...?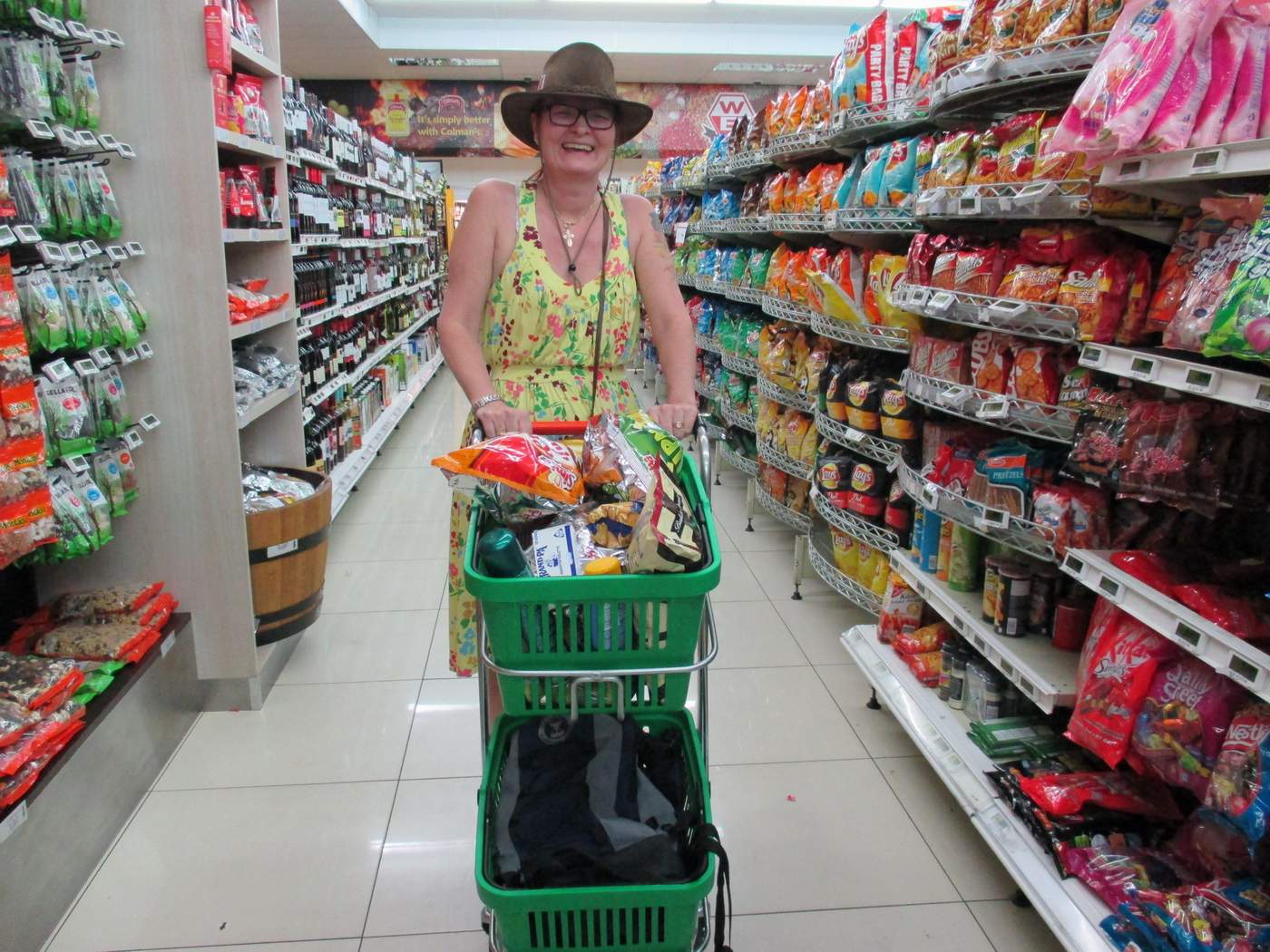 130215 - Shopping in Eros shopping center before we're off to Erindi tomorrow morning. The backpack is full of wines and amarula.
130215 - Vi handler på Eros shopping senter før vi skal dra til Erindi imorgen tidlig. Ryggsekken er full av vin og amarula. Kjekt å ha....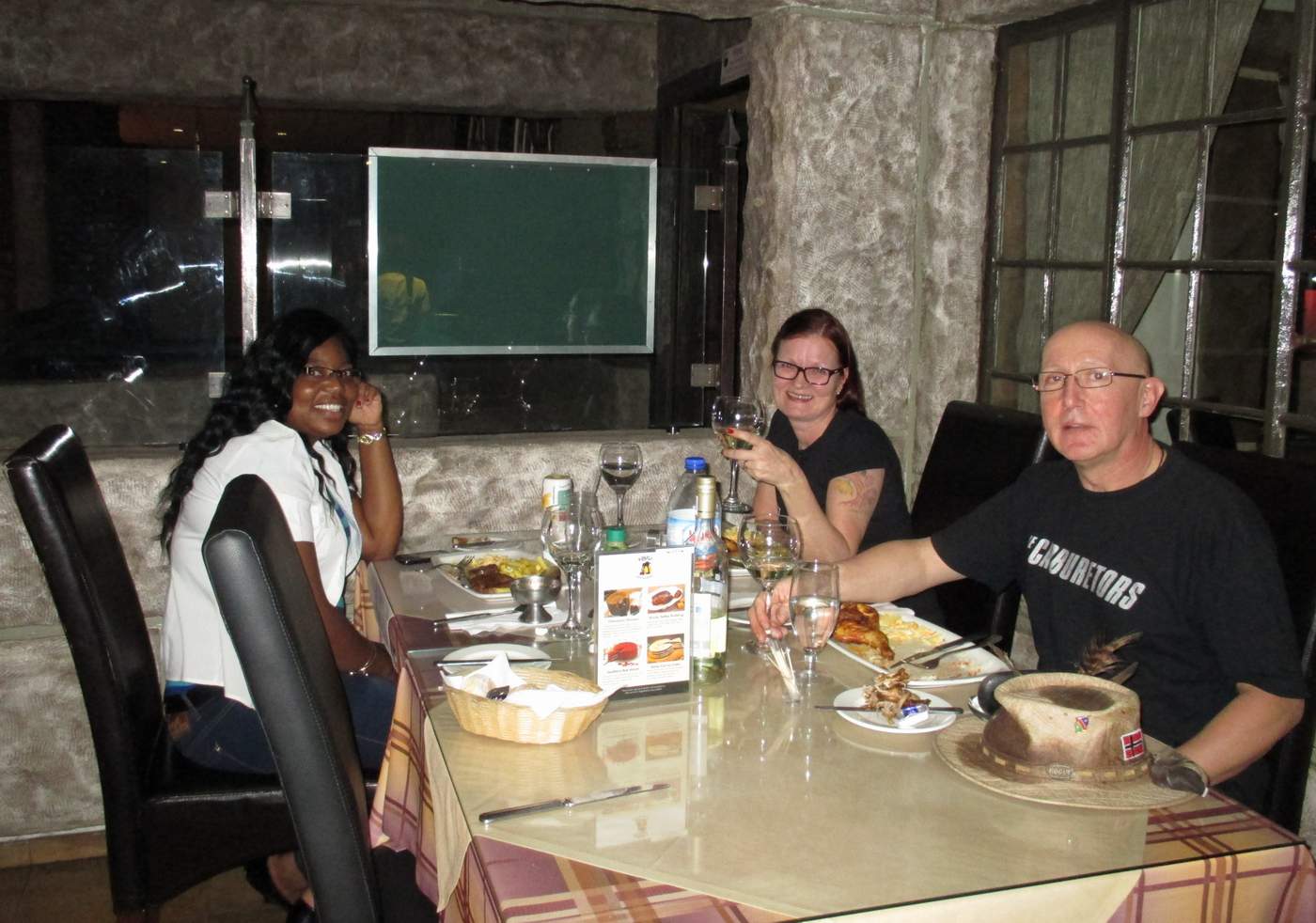 130215 - In the evening we had a lovely dinner at Kubata with Rauha, Temus' girlfriend. Mr. T. could not make it because he we busy.
130215 - På kvelden spiste vi en bedre middag på Kubata sammen med Rauha, Temus' kjæreste. Mr. T. var opptatt så han kunne ikke komme.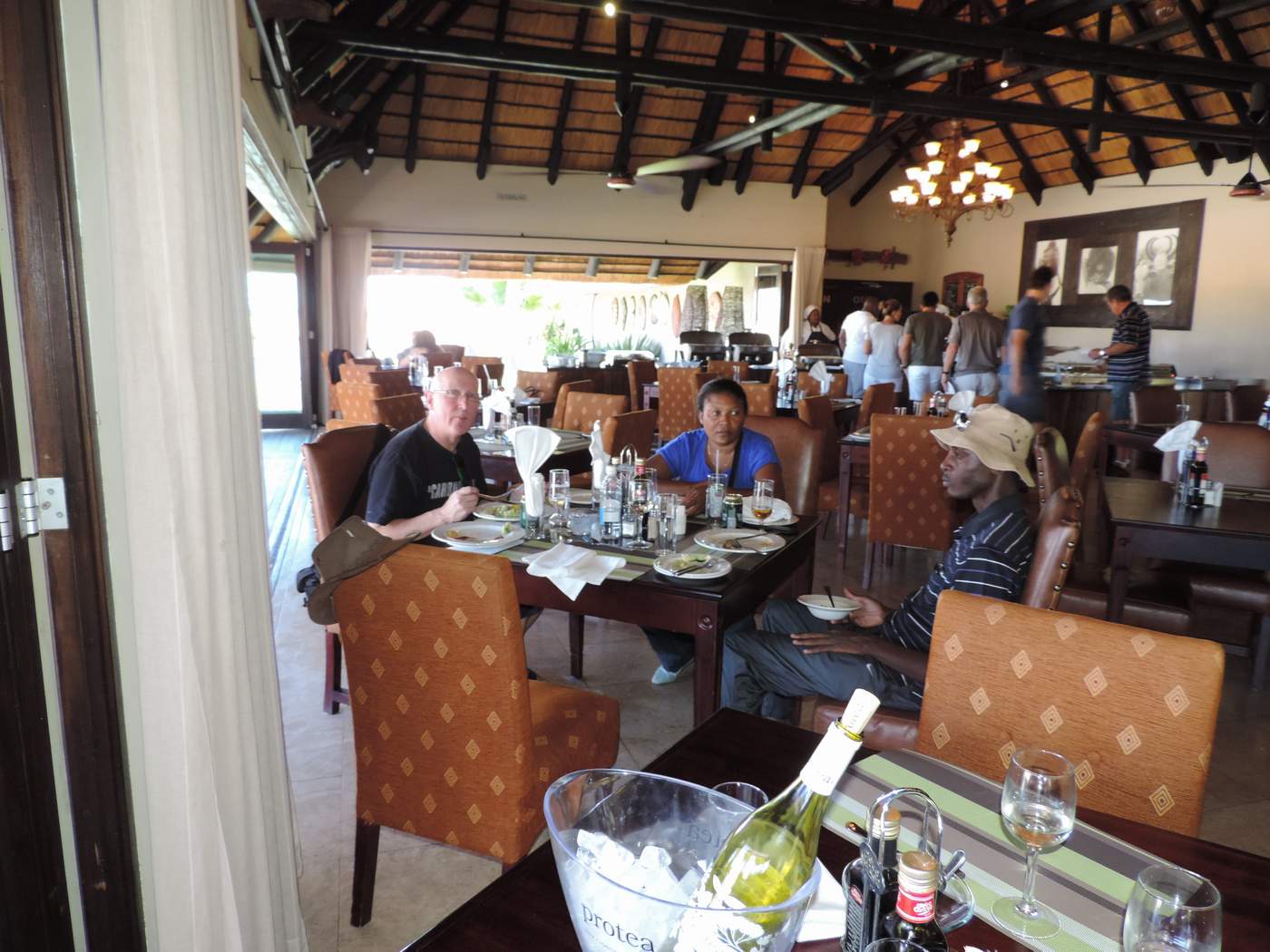 140215 - Finally at Erindi www.erindi.com - Temus and a friend of his brought us here and then we had lunch.
140215 - Endelig på Erindi www.erindi.com . Temus og ei venninne av ham kjørte oss hit og så fikk vi lunch.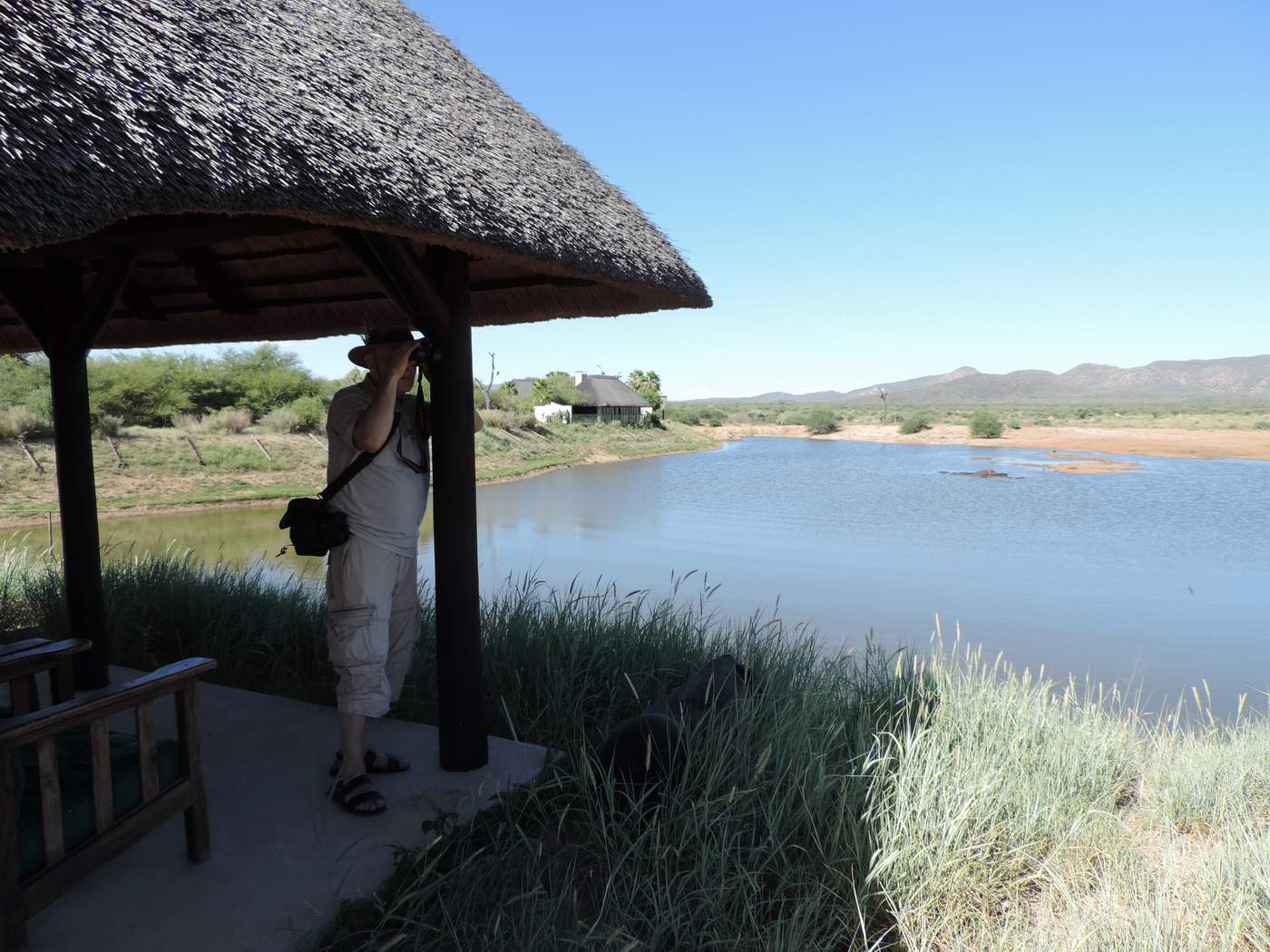 140215 - This year we brought a pair of binoculars and we use them a lot. Nothing to see in the bush at the moment, except for a spotted horse with an extremely long neck...
140215 - I år har vi med oss kikkert og vi bruker den hele tiden. Ikke noe å se i bushen for øyeblikket, botsett fra en flekket hest med ekstremt lang hals....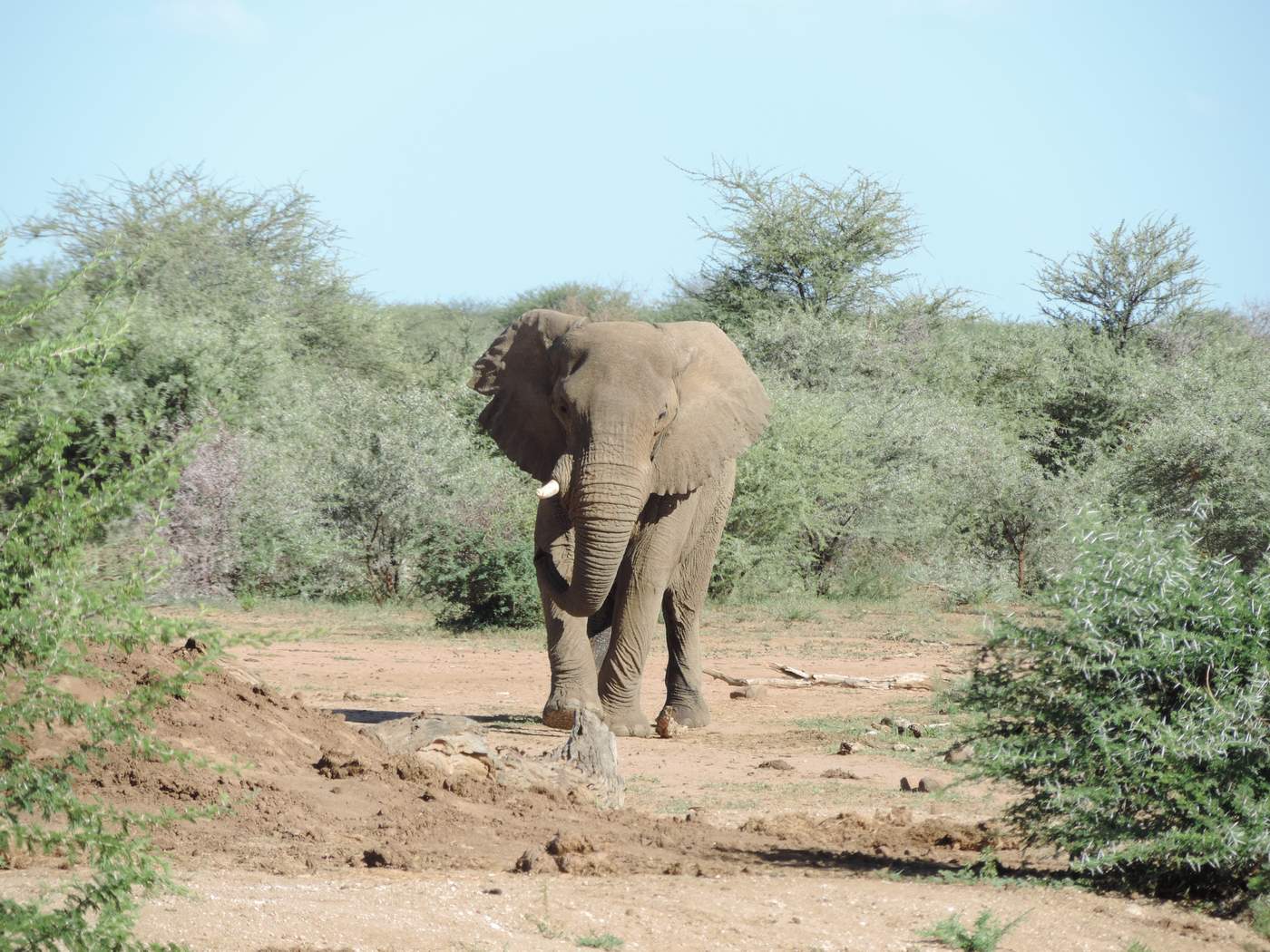 140215 - A big thirsty elephant with only one tusk. He came alone to cool down with a drink of muddy water.
140215 - En stor tørst elefant men ei støttann. Han kom alene for å kjøle seg ned med litt gjørmevann.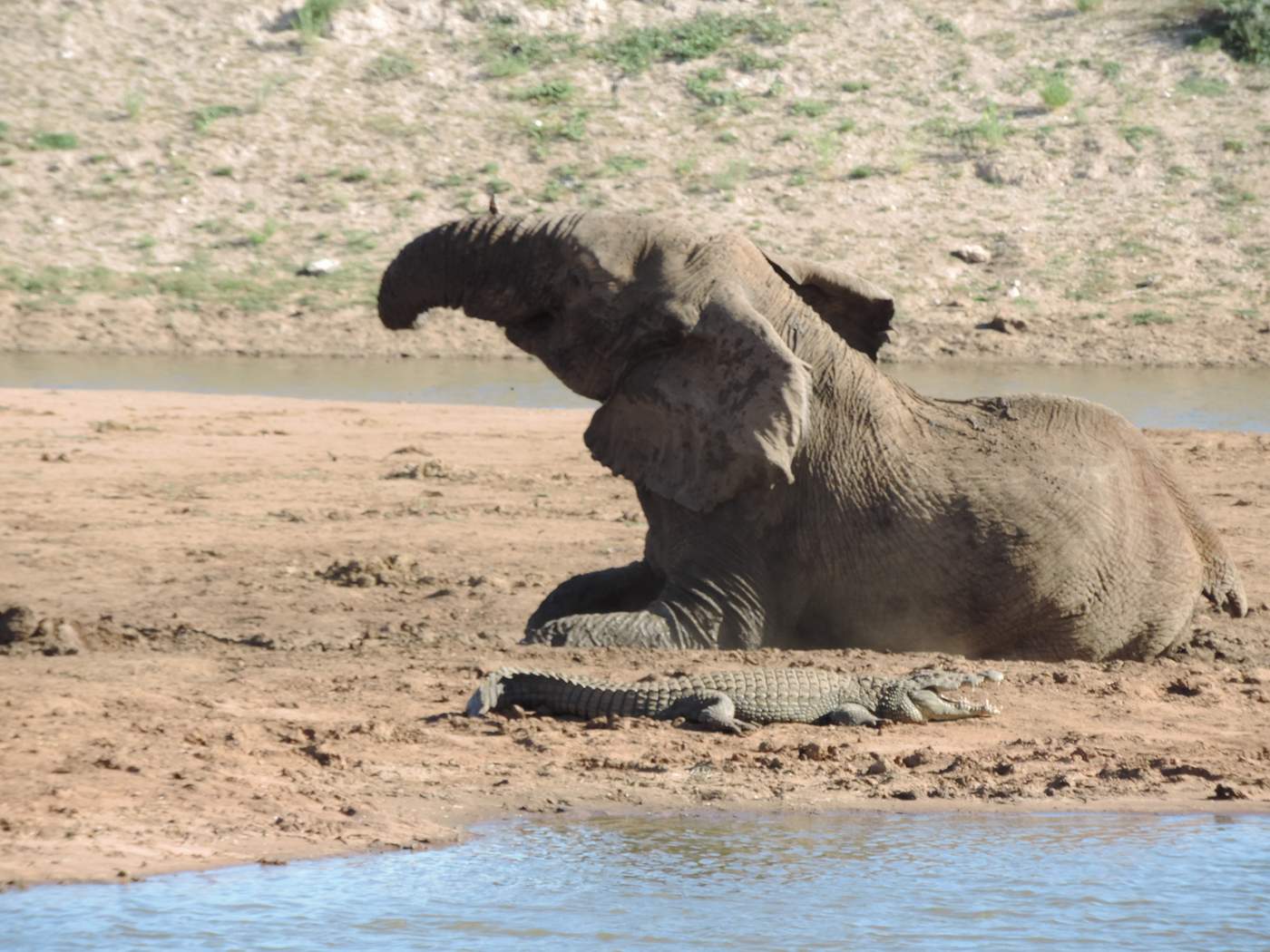 140215 - Rolling around in the mud. The elephant did not mind the croc but after a while the elephant chased the croc away. In the evening, after dark 13 elephants came to the water hole to drink. There were also a few baby elephants and the big elephants are very protective of their youngster. An amazing sight!!
140215 - Her velter den seg rundt i gjørma. Elefanten brydde seg ikke om krokodilla men etter en stund jagde den krokodilla vekk. På kvelden etter at det var blitt mørkt, kom det 13 elefanter til vannhullet for å drikke, Det var også noen elefantunger og de store elefantene var veldig beskyttende. Et fantastisk syn!!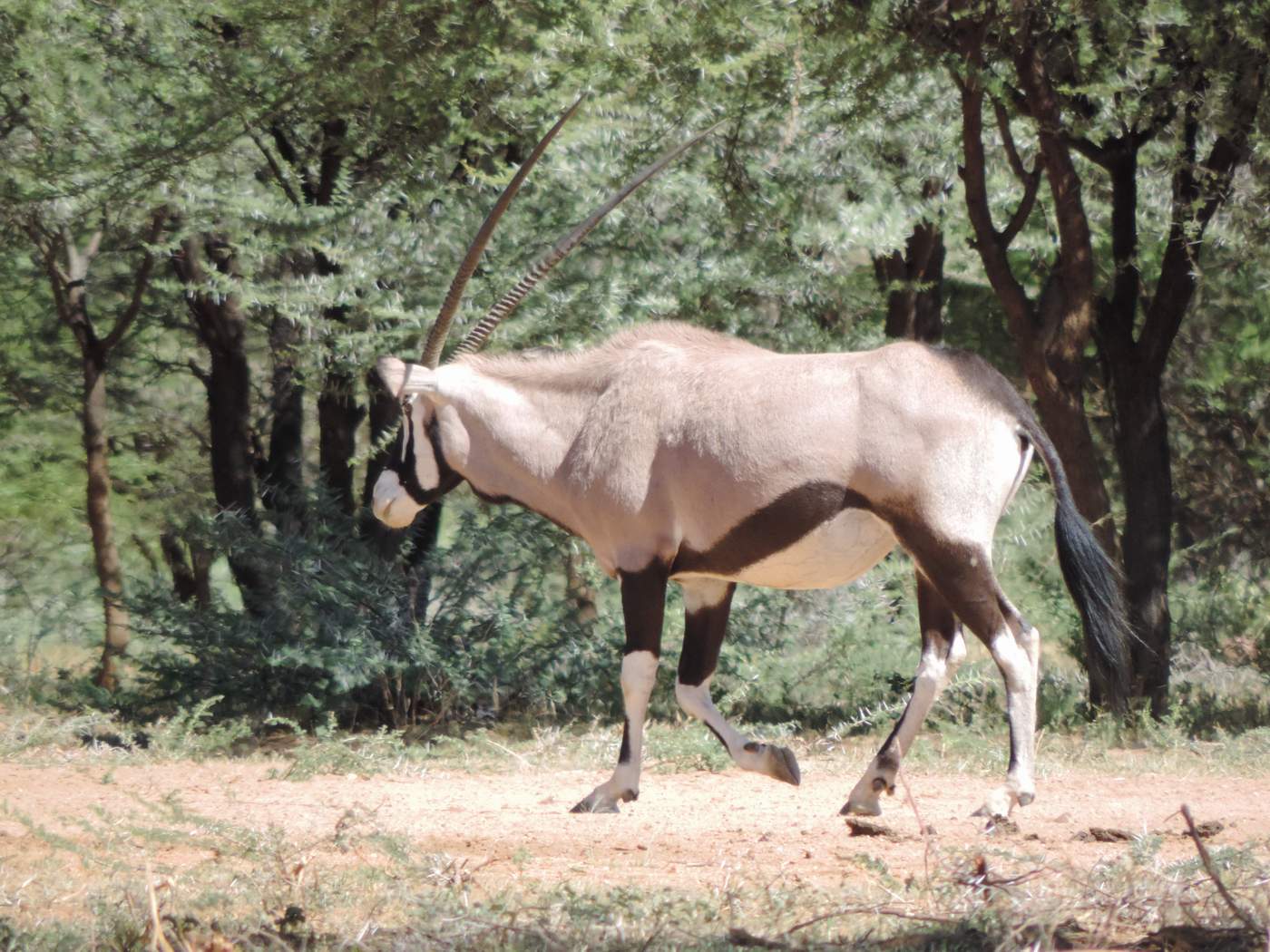 150215 - After breakfast we went to the pool and we were greeted by the sight of this beautiful oryx. Now the waterhole is surrounded by wildebest and springbok.
150215 - Etter frokost gikk vi til bassenget og der så vi denne nydelig oryxen ved vannhullet. Når er det masse gnu og sprinbok rundt vannhullet.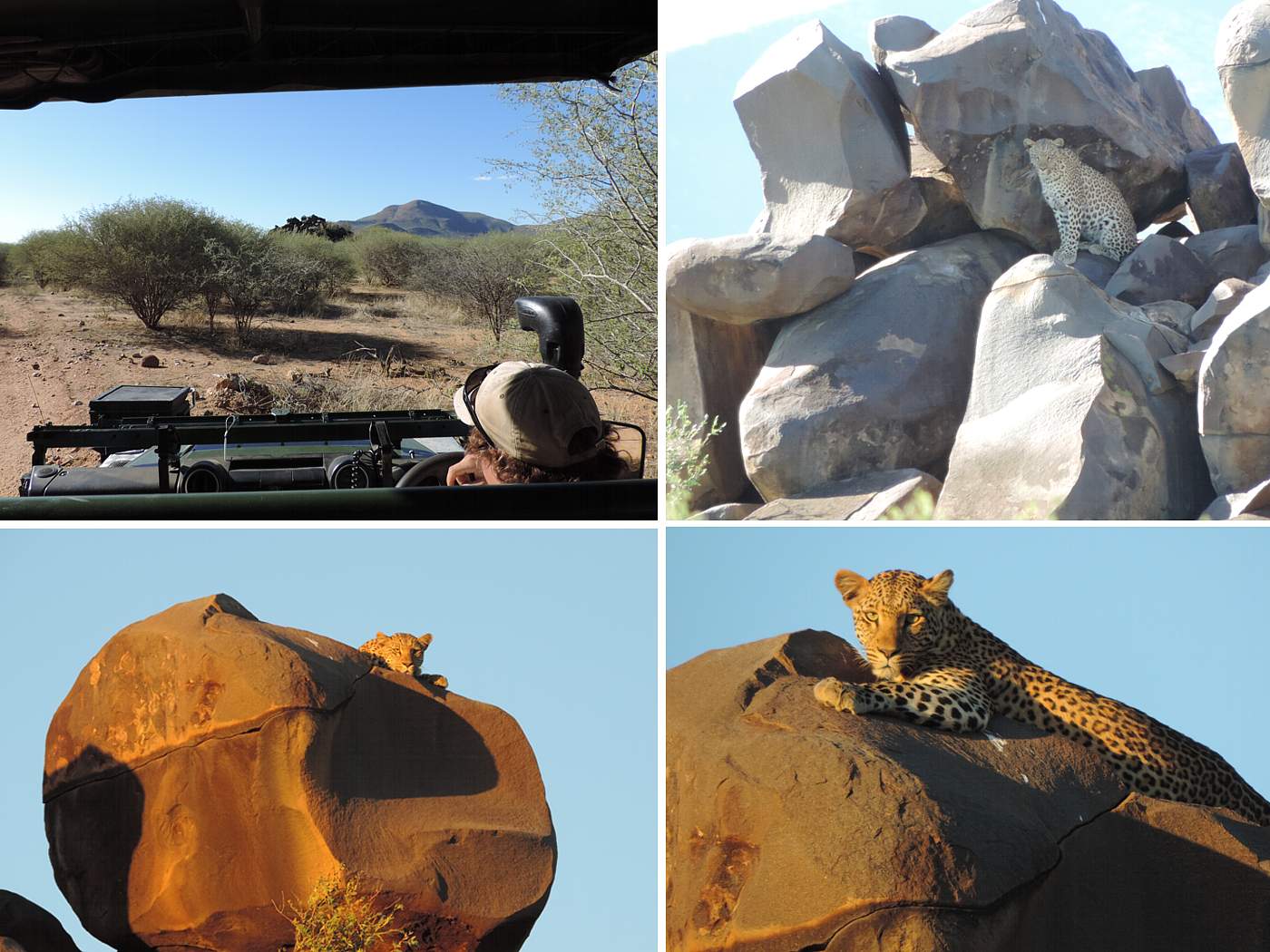 150215 - In the afternoon we went for a gamedrive with Tim. We wanted to see a leopard and he managed to find one!!! Leopards are very difficult to spot because most of them are loners and in addition to move around a lot, they are very shy. It was so amazing!!!
150215 - På ettermiddagen dro vi på en gamedrive med Tim. Vi ville se en leopard og han klarte å finne en!!! Leoparder er vanskelig å få øye på fordi de fleste er alene og i tillegg vandrer de mye rundt og gjemmer seg. Helt fantastisk!!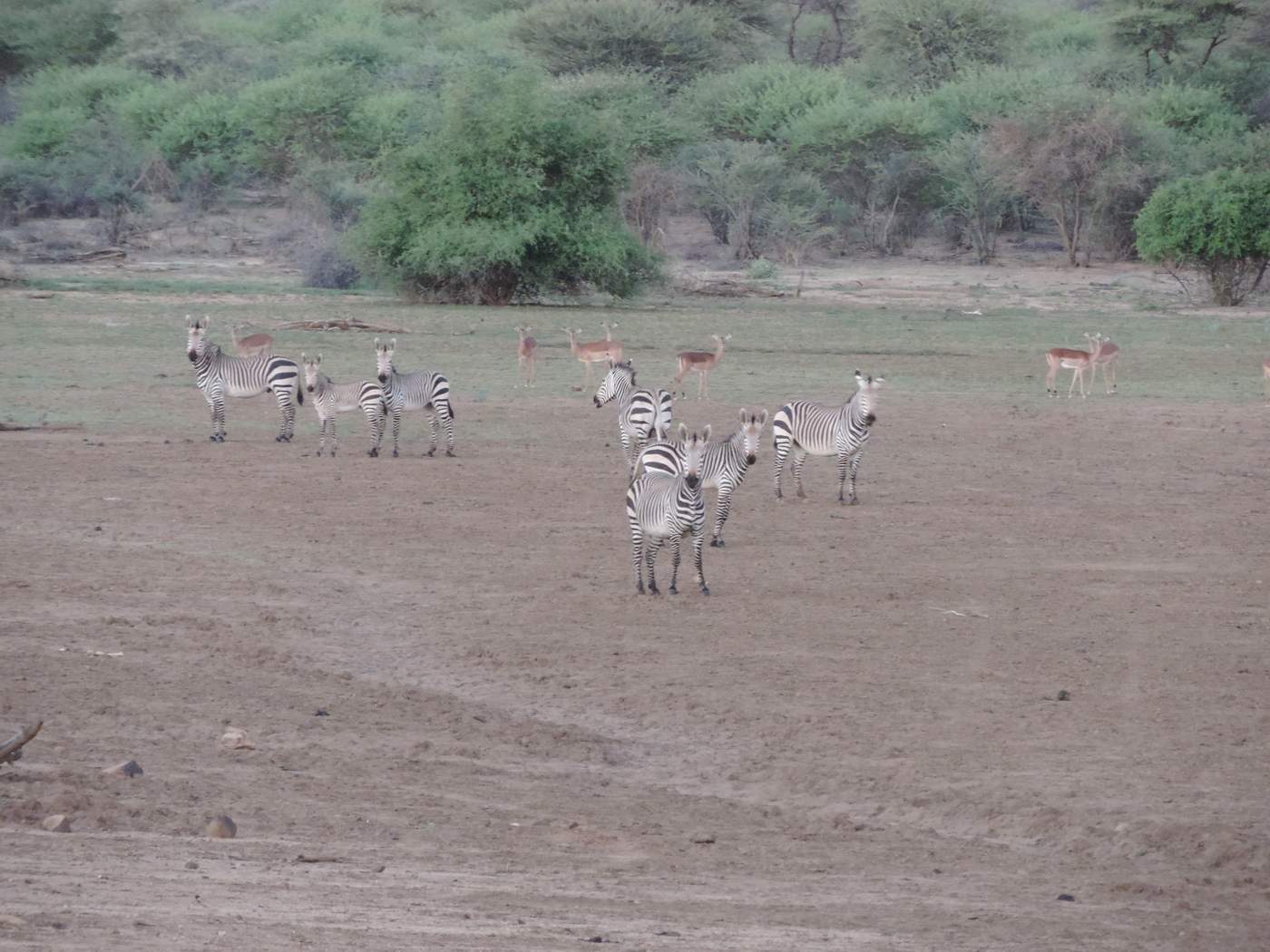 150215 - Here is a few striped horses and some impalas near one of the waterholes. Later when it got dark a male lion and a rhino came to the waterhole near our room to drink.
150215 - Her er noen stripete hester og noen impalaer ved et av vannhullene. Etter at det var blitt mørkt kom det ei hanløve og et neshorn til vannhullet ved rommet vårt.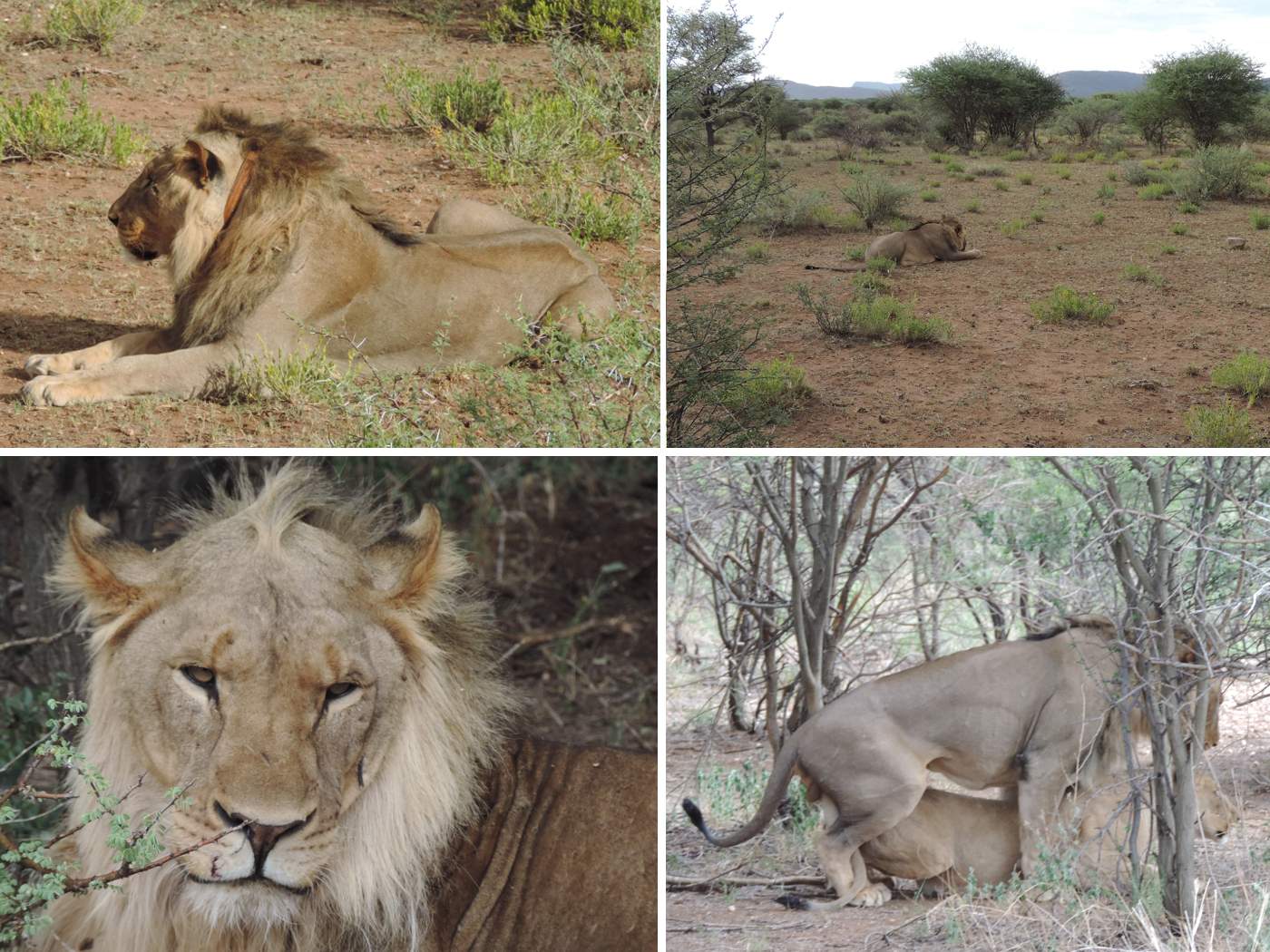 160215 - Today's gamedrive was different from yesterday. We encountered 3 young male lions and one female - ....and they were doing their stuff......
160215 - Dagens gamedrive var helt forskjellig fra gårsdagens. Vi traff på 3 unge hannløver og ei hunløve - ...og de holdt på med sitt.....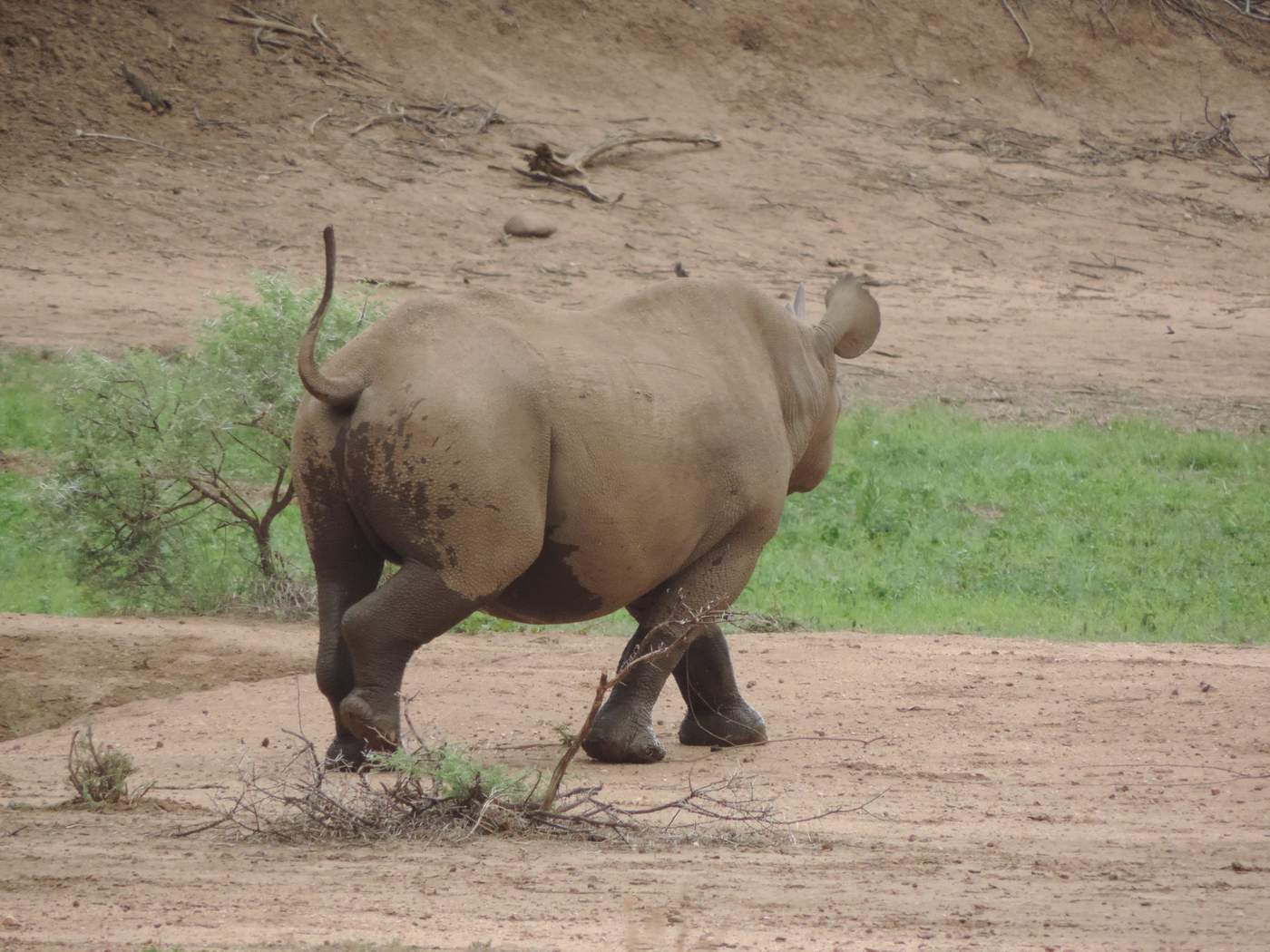 160215 - For the first time in Erindi we encountered a black rhino in dayight. They are very shy so it disappeared within seconds. The white rhinos are less shy.
160215 - For første gang i Erindi møtte vi på et neshorn (black rhino) i dagslys. De er veldig skye så det forsvant etter sekunder. De hvite neshorna er mindre sky.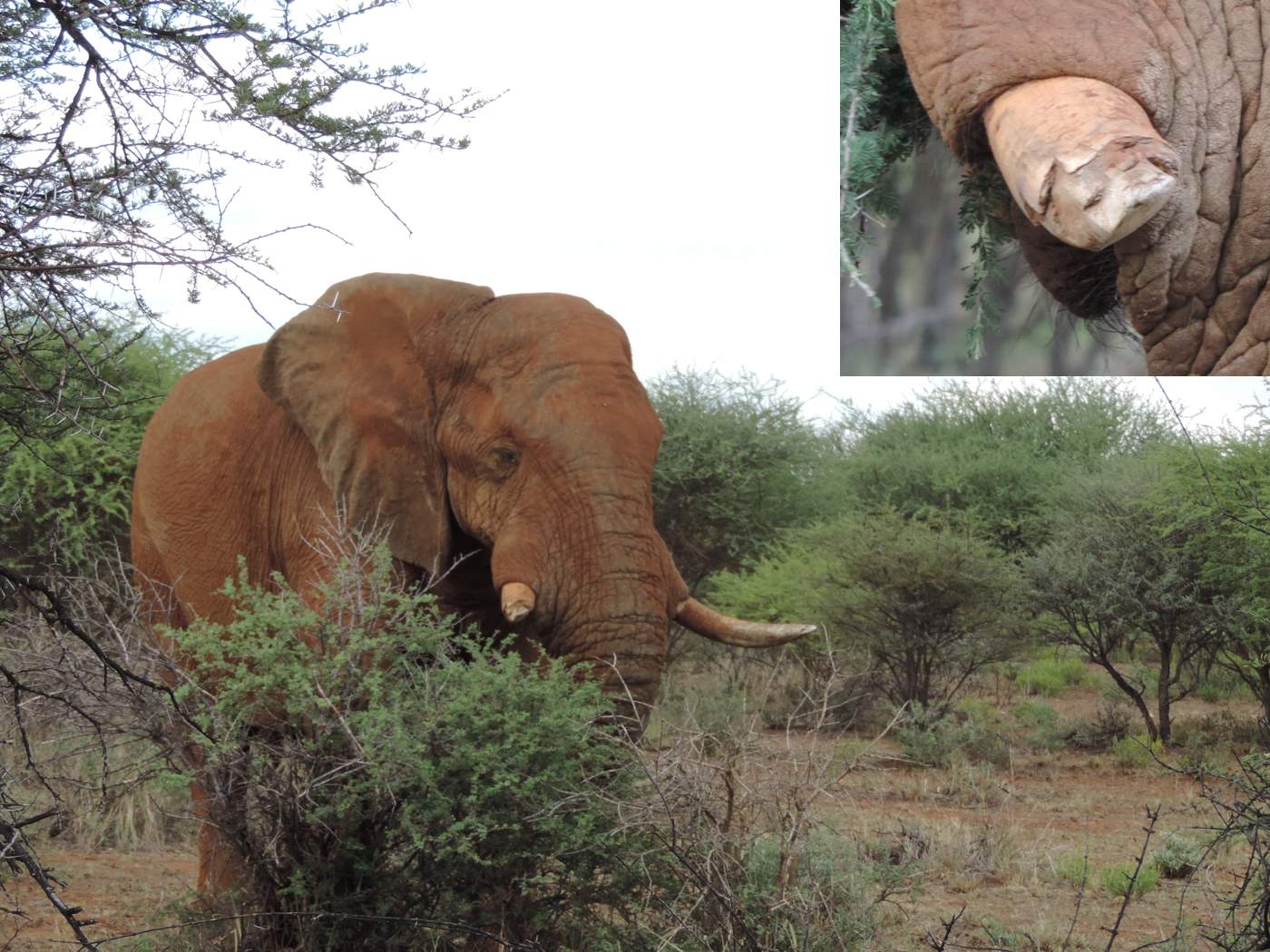 160215 - This feeding elephant has a broken tusk. They sometimes break their tusks when pushing over a tree. They feed on the bark. Later on we encountered another elephant which unfortunately was grumpy so we had to take off in a rush....
160215 - Denne buskspisende elefanten har ei brukket støttann. Noen ganger brekker støttanna når de velter et tre. De spiser barken av treet. Senere traff vi på en annen elefant som var grinete så vi måtte bare stikke av i full fart....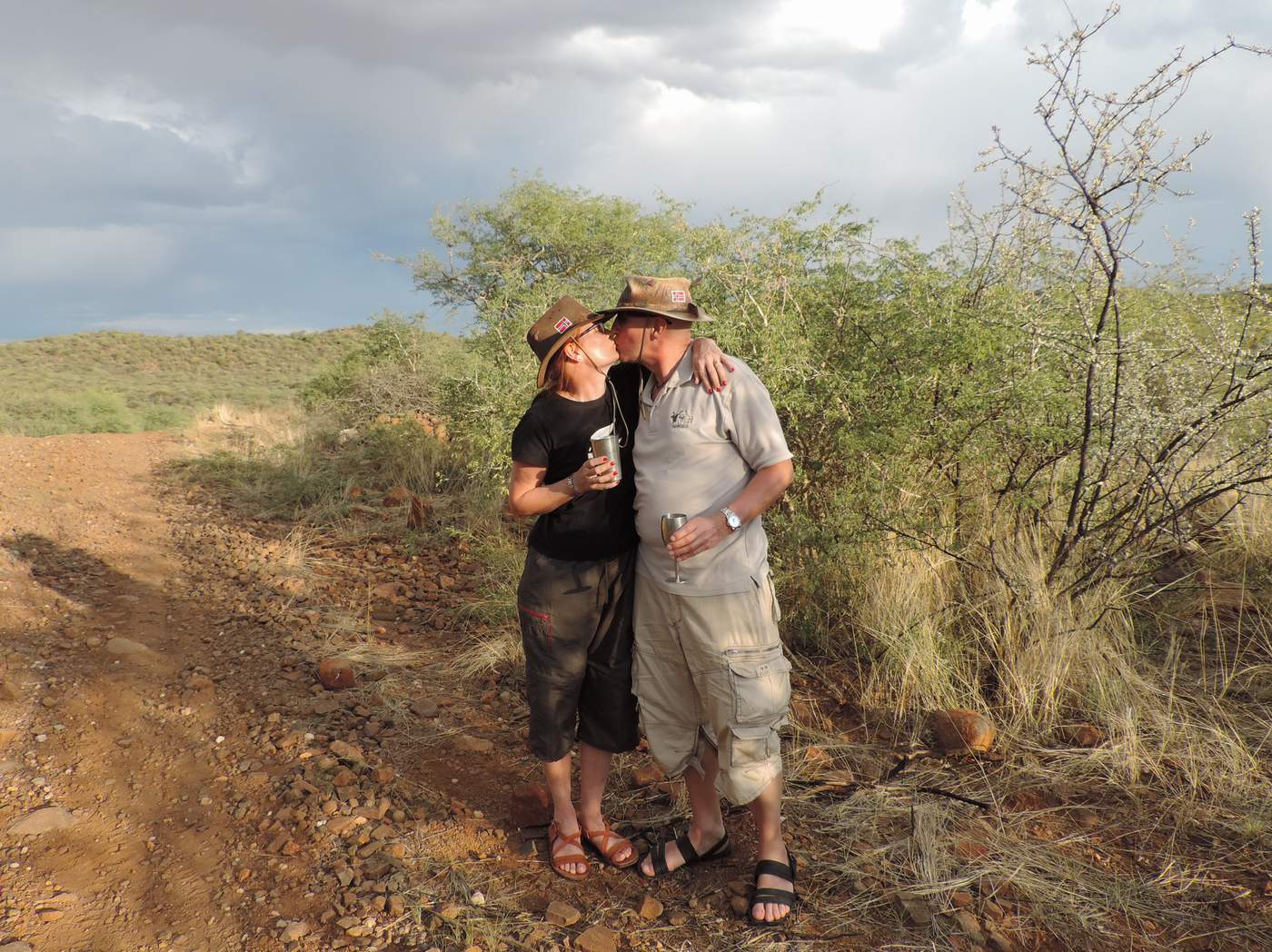 160215 - Sundowner! Amarula and whisky. Every afternoon gamedrive ends with a sundowner. Sundowner = one drinks while the sun sets behind the hills.
160215 - Sundowner! Amarula og whisky. Hver ettermiddags gamedrive ender med en sundowner. Sundowner = man drikker mens sola går ned bak åsene.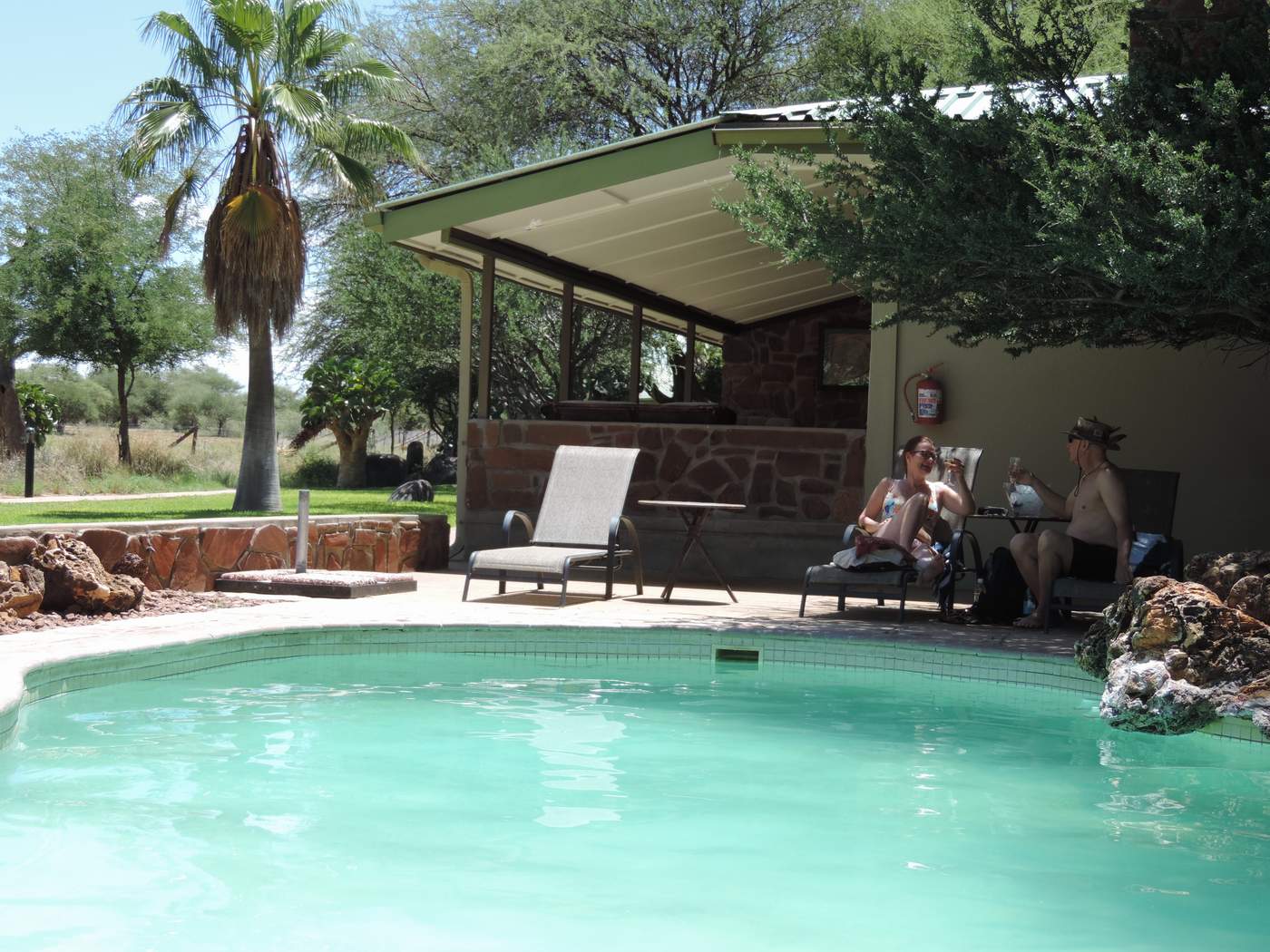 170215 - Life is not bad at Erindi - cold bubbly wine and a swimming pool to cool down - yes, we did nothing today.
170215 - Livet ække så værscht på Erindi - kald boblevin og svømmebasseng for en rask nedkjøling - ja, og vi gjorde ingen ting idag.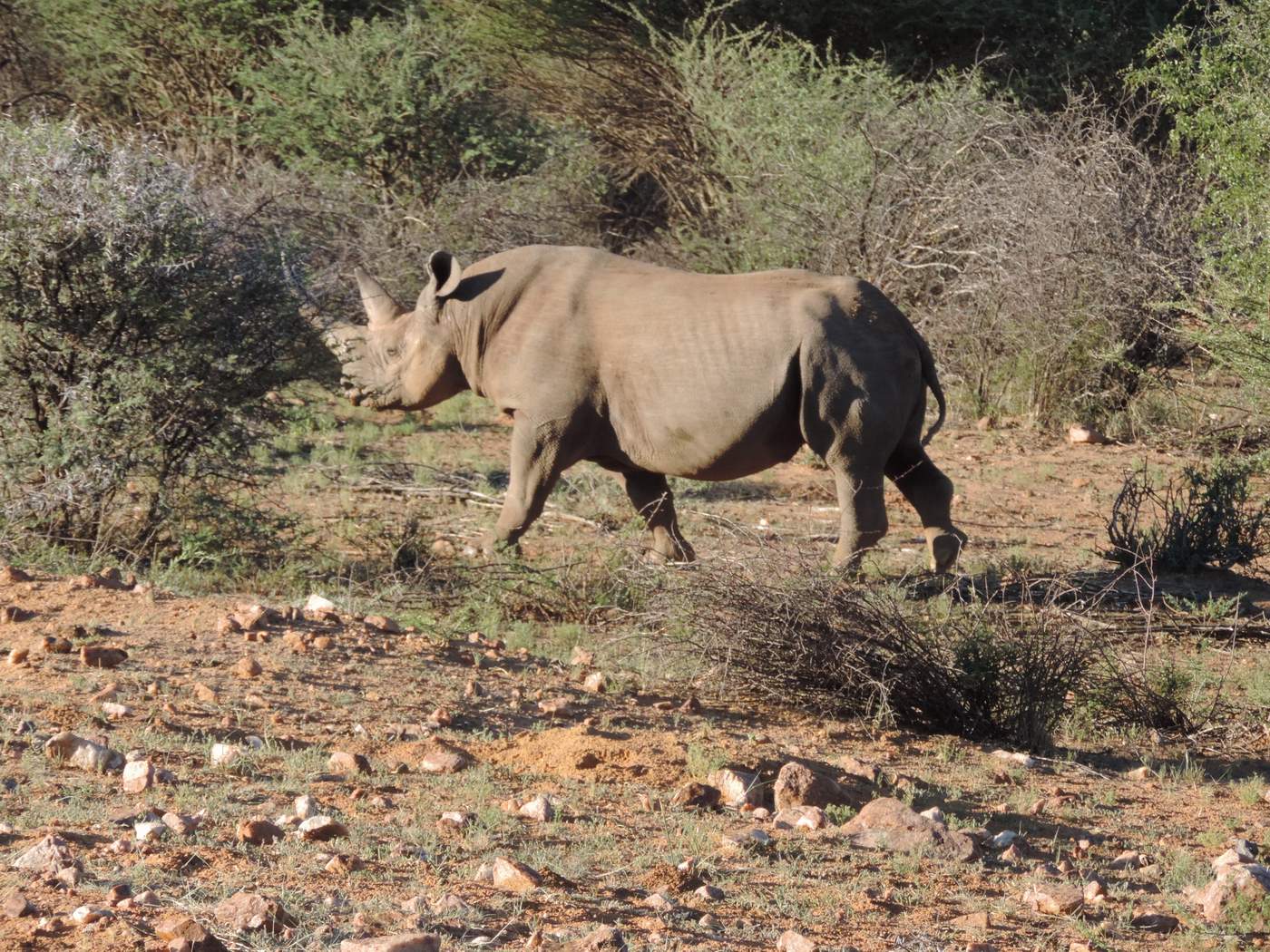 180215 - On today's gamedrive we had close encounters with a black rhino twice. What a muscular, fantastic animal.
180215 - På dagens gamedrive kom vi tett innpå en black rhino to ganger. For et muskulært, fantastisk dyr.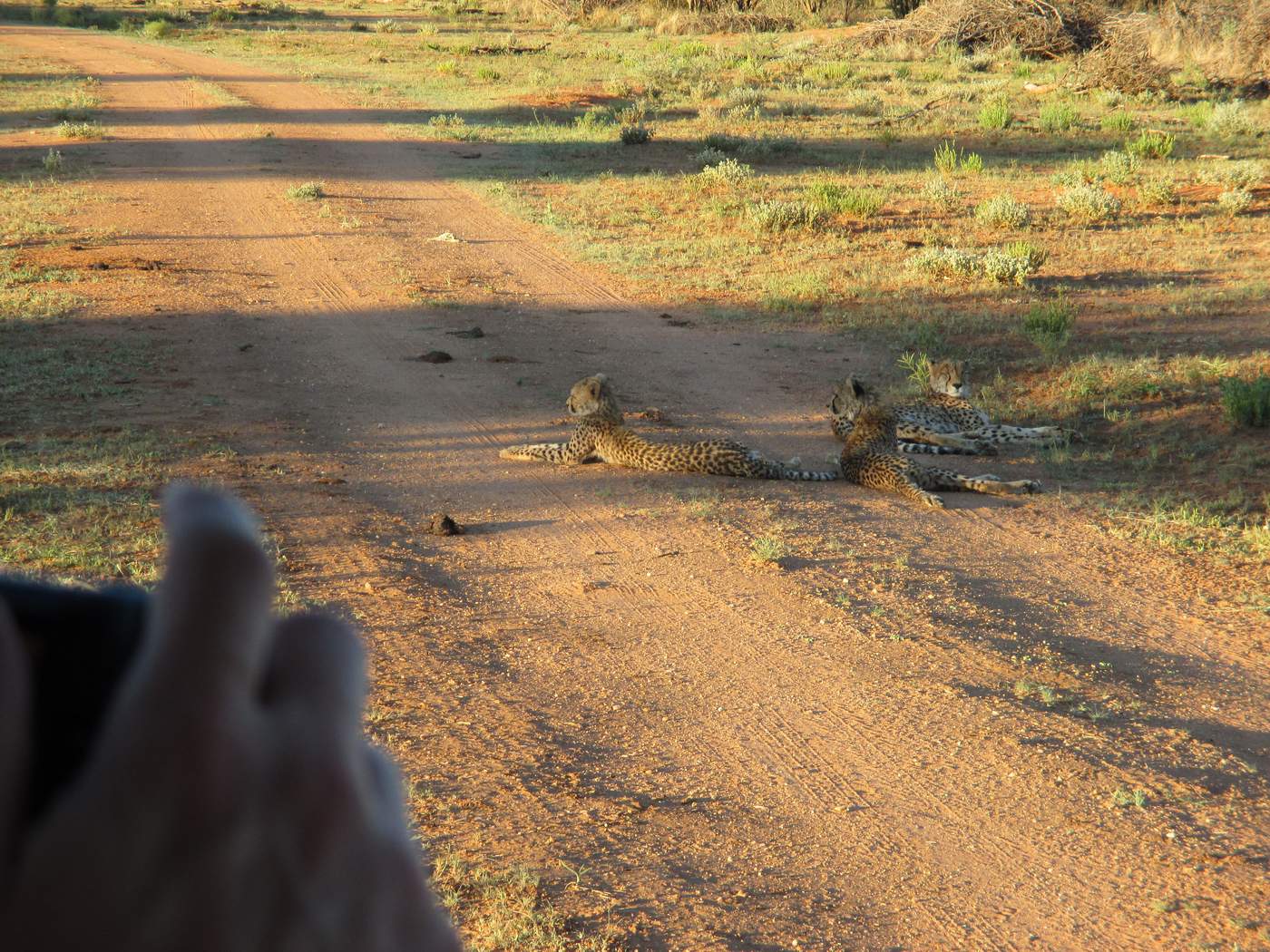 180215 - A cheetah family was resting in the middle of the road. They heard and smelled some warthogs in the bushes so suddenly they went hunting...
180215 - En gepard familie lå og hvilte midt i veien. De hørte og luktet noen vortesvin i buskene og plutselig dro de på jakt....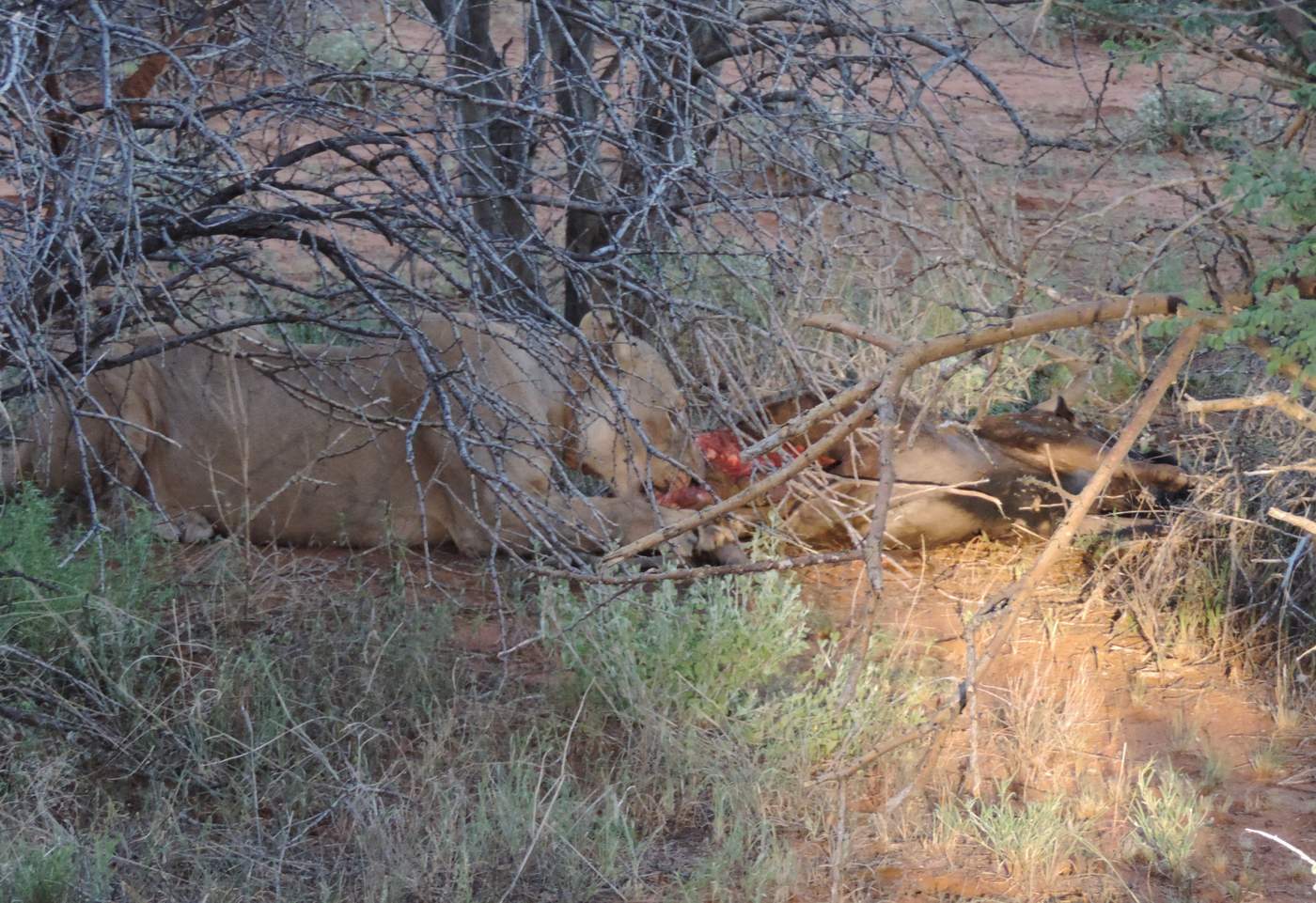 180215 - Right before sunset we watched this lion feed on a black wildebest calf the lion family had killed. According to the guide the lions had killed several wildebest on that that day and one was already in their tummies. It's quite unique to watch a lion eating it's kill.
180215 - Rett før solnedgang kikket vi på denne løva om spiste på en svart gnukalv som løvefamilien hadde drept. I følge guiden hadde løvene drept flere gnuer den dagen og en var allerede i magene deres. Det er ganske unikt å kunne se ei løve spise sitt bytte.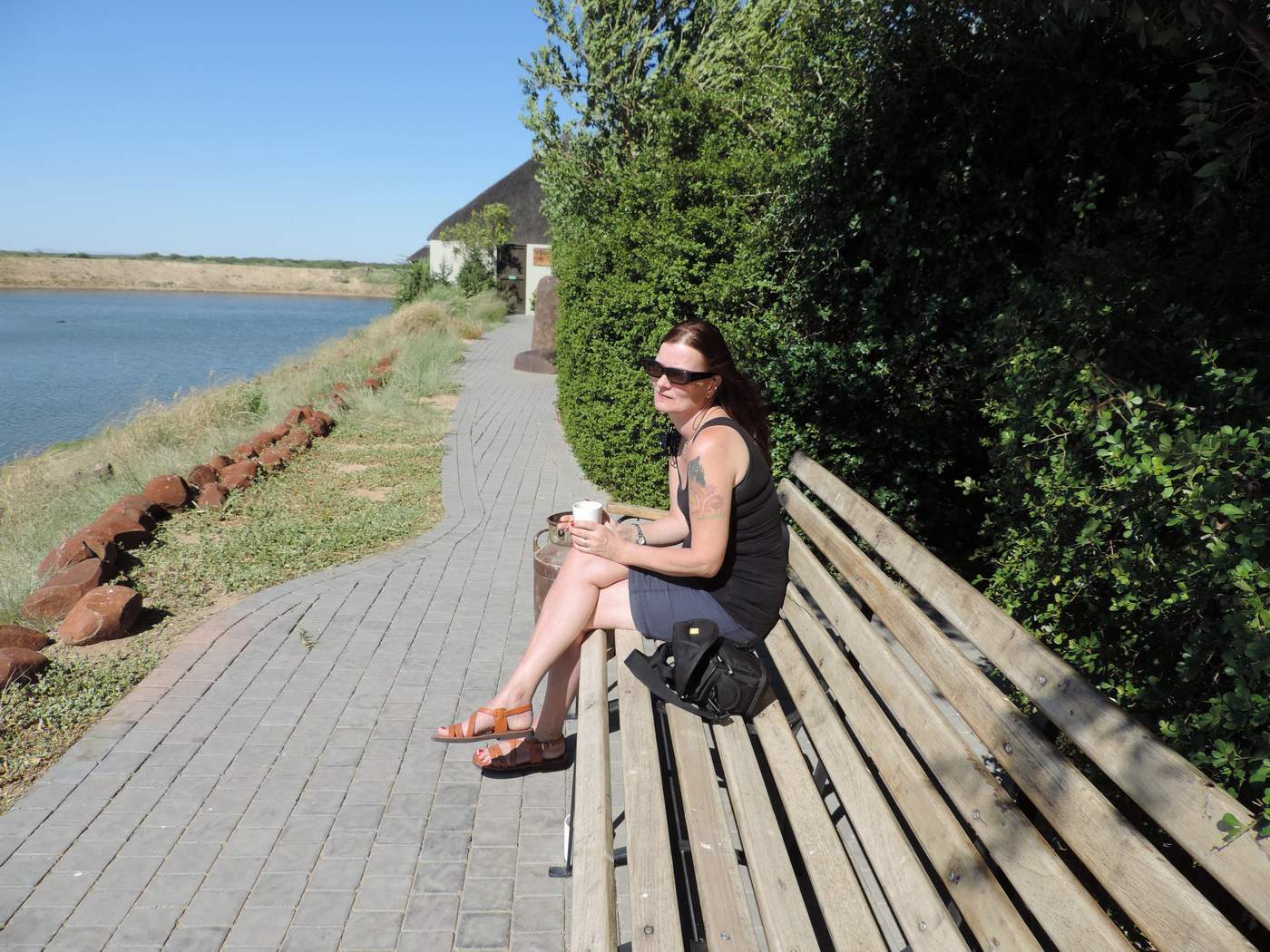 190215 - I have named this photo "The Tourist"
190215 - Jeg har kalt dette bildet "Turisten"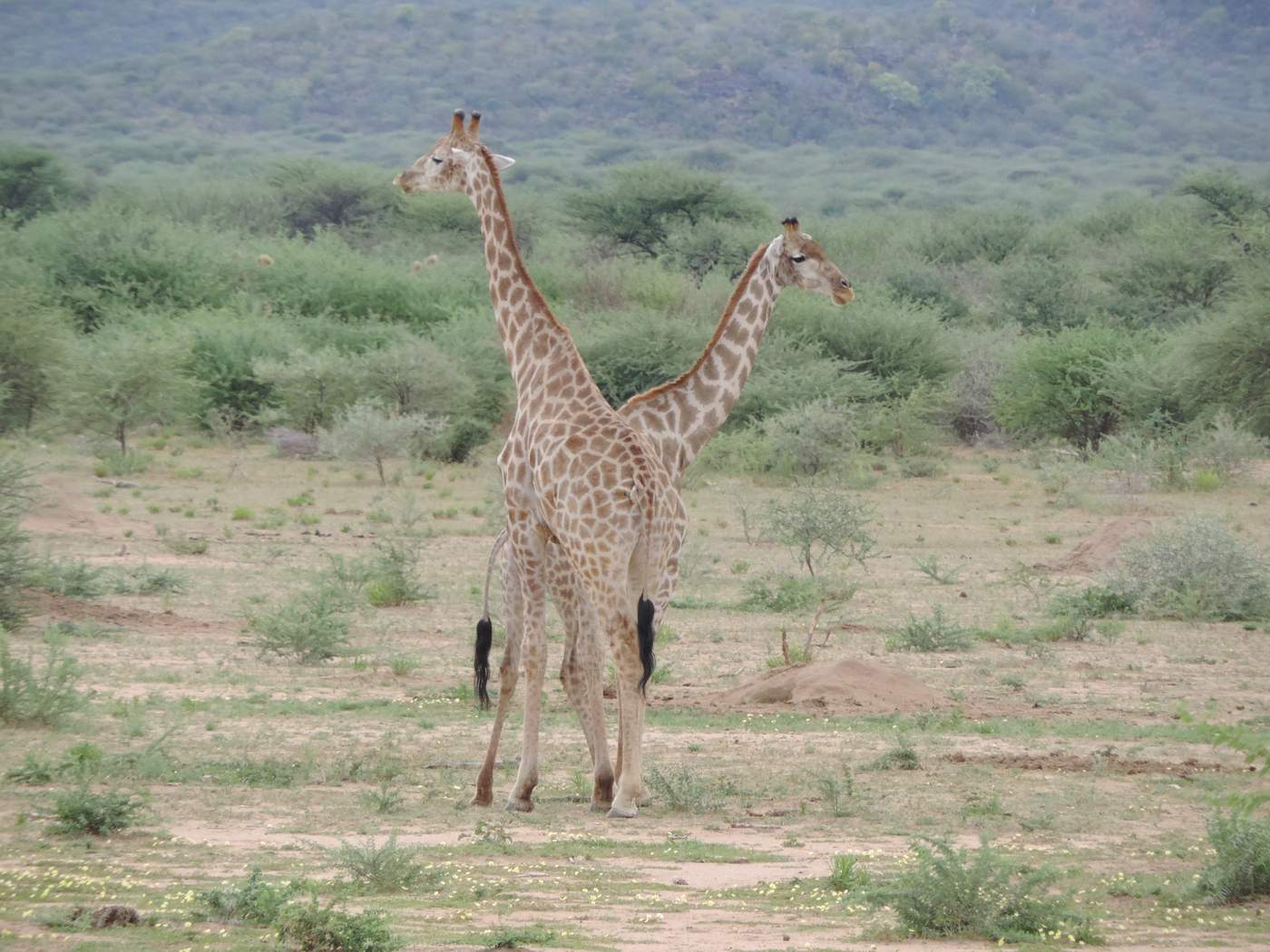 200215 - Two longnecks posing just for me...?
200215 - To langhalser som poserer bare for meg...?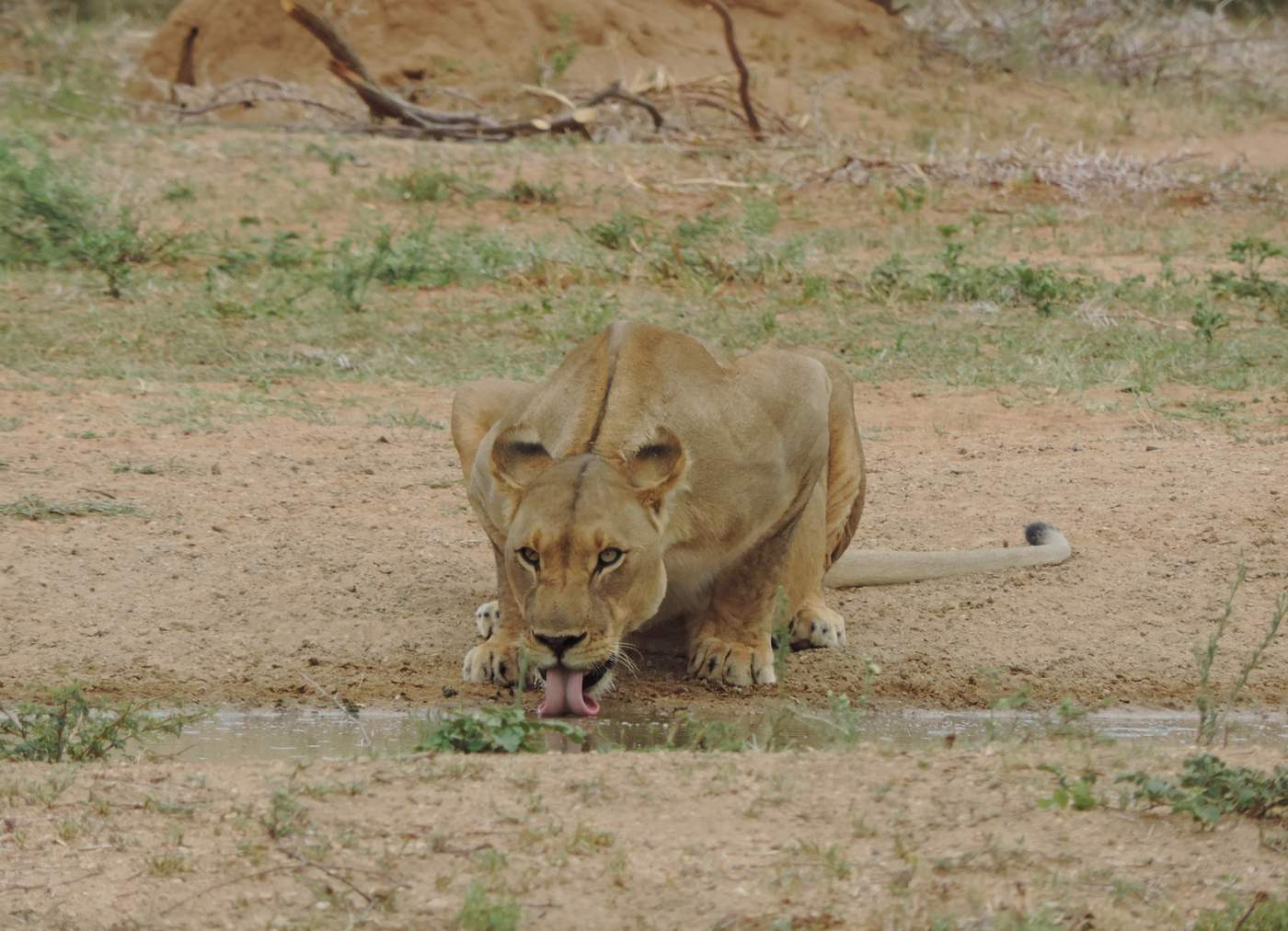 200215 - This lion came to the waterhole in the middle of the day. Apparently she just had cub because her belly skin was nearly hanging all the way to the ground. Father lion was lurking in the bushes and came out a little later on.
200215 - Denne løva kom til vannhullet midt på dagen. Hun hadde tydligvis fått unger for mageskinne hang nesten ned på bakken. Løvefar lurte i buskene og kom ut litt senere.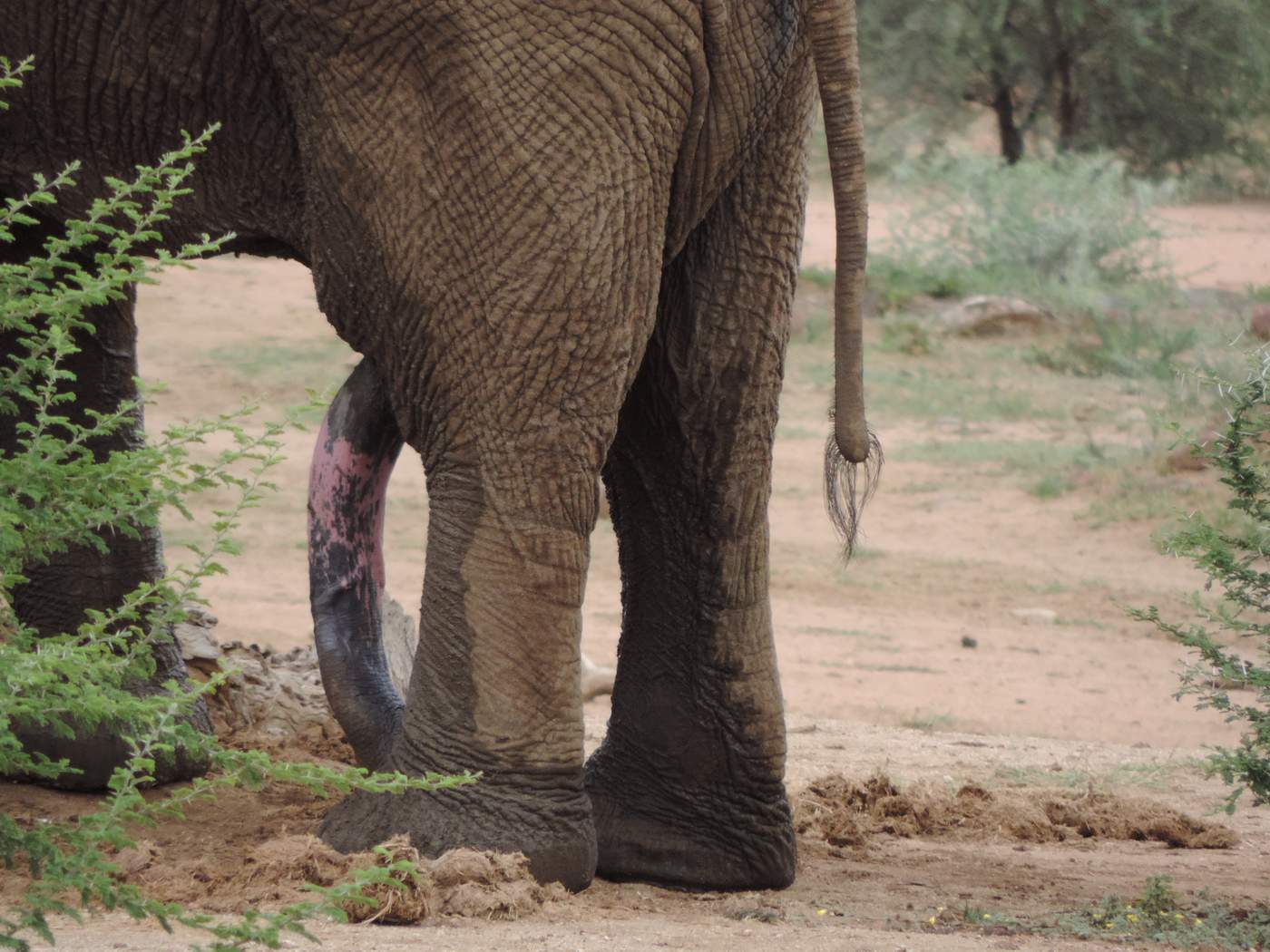 200215 - An elephant bull with 5 legs???
200215 - En hannelefant med 5 bein????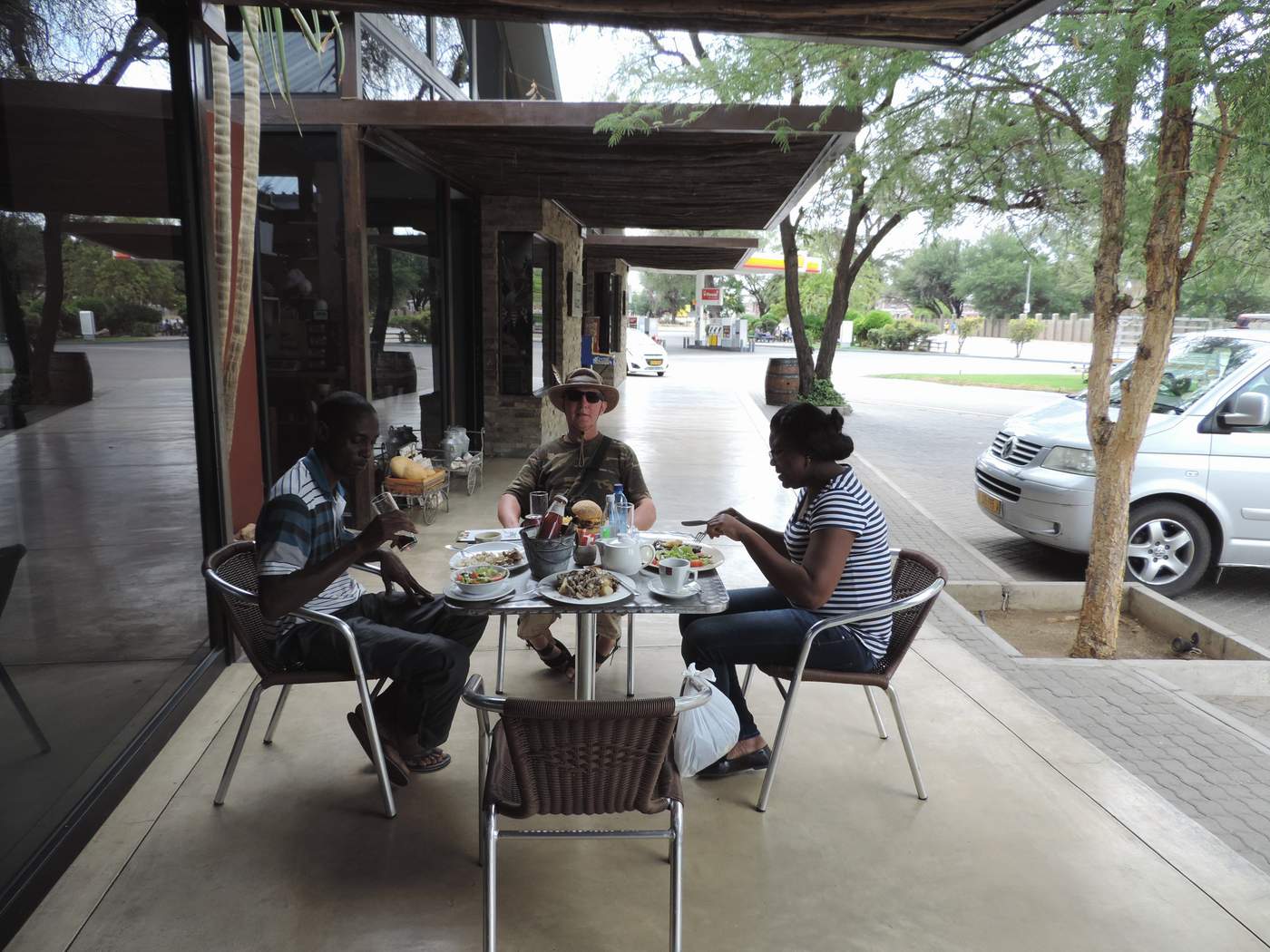 210215 - On our way back to Windhoek Temus, Rauha and ourselves had a lunch break in Okahandja.
210215 - På vei tilbake til Windhoek spise Temus, Rauha og vi lunch i Okahandja.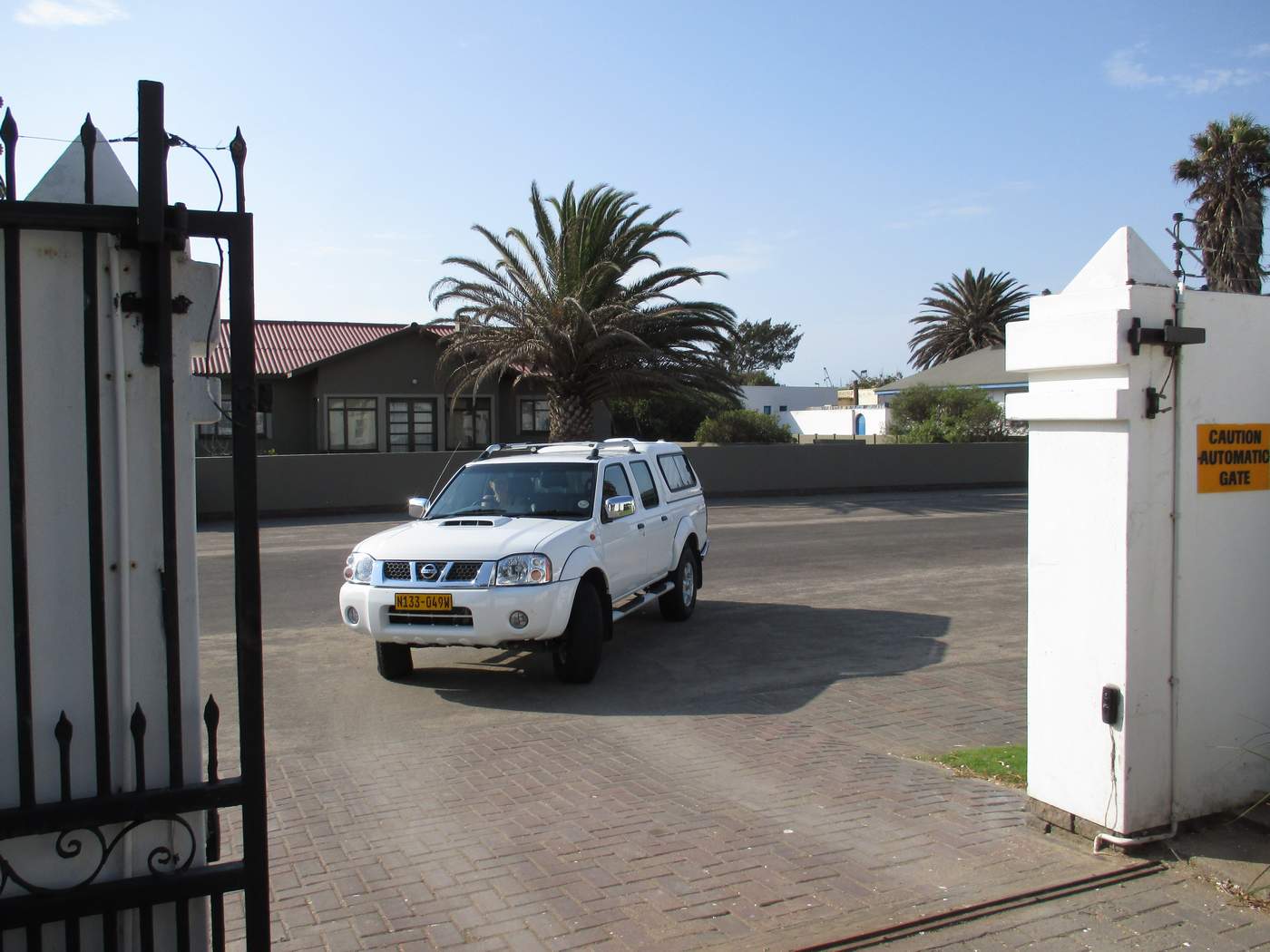 230215 - Finally we're entering the parking lot of Hotel Langholm, Walvis Bay. It was a long and tiresome drive through the desert from Windhoek. We have rented a Nissan Hardback 4x4. It's good to be "home" at Langholm!
230215 - Endelig kjører vi inn på parkeringsplassen til Hotel Langholm, Walvis Bay. Det var an lang og slitsom tur gjennom ørkenen fra Windhoek. Vi har leid en Nissan Hardback 4x4. Det er fint å komme "hjem" til Langholm!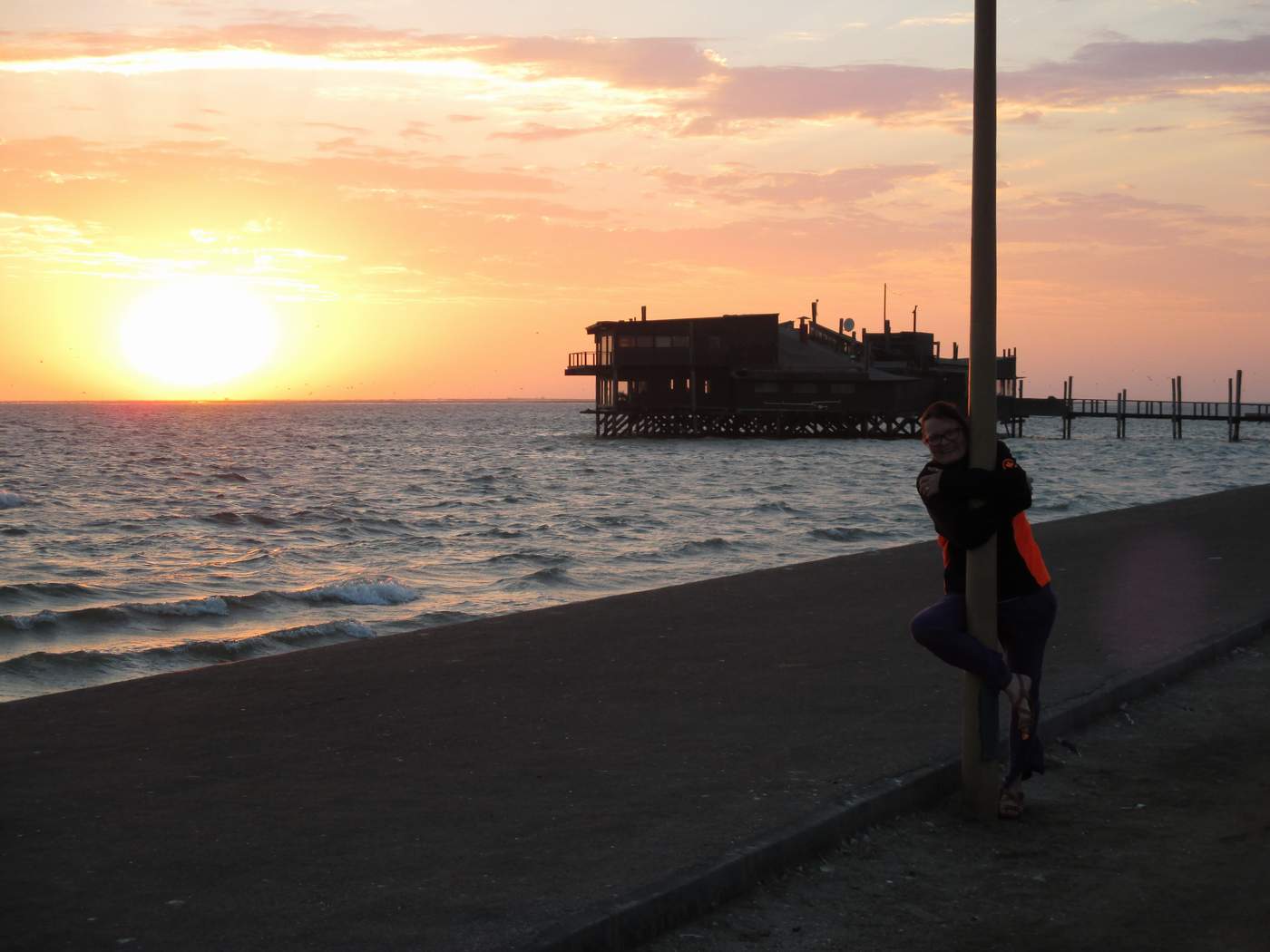 230215 - Sunset at the lagoon, Walvisbaai - The Raft in the back ground. It was really windy and a bit chilly compared to Windhoek.
230215 - Solnedgang ved lagunen, Walvisbaai - The Raft i bakgrunnen. Det var sterk vin og litt kaldt sammenlignet med Windhoek.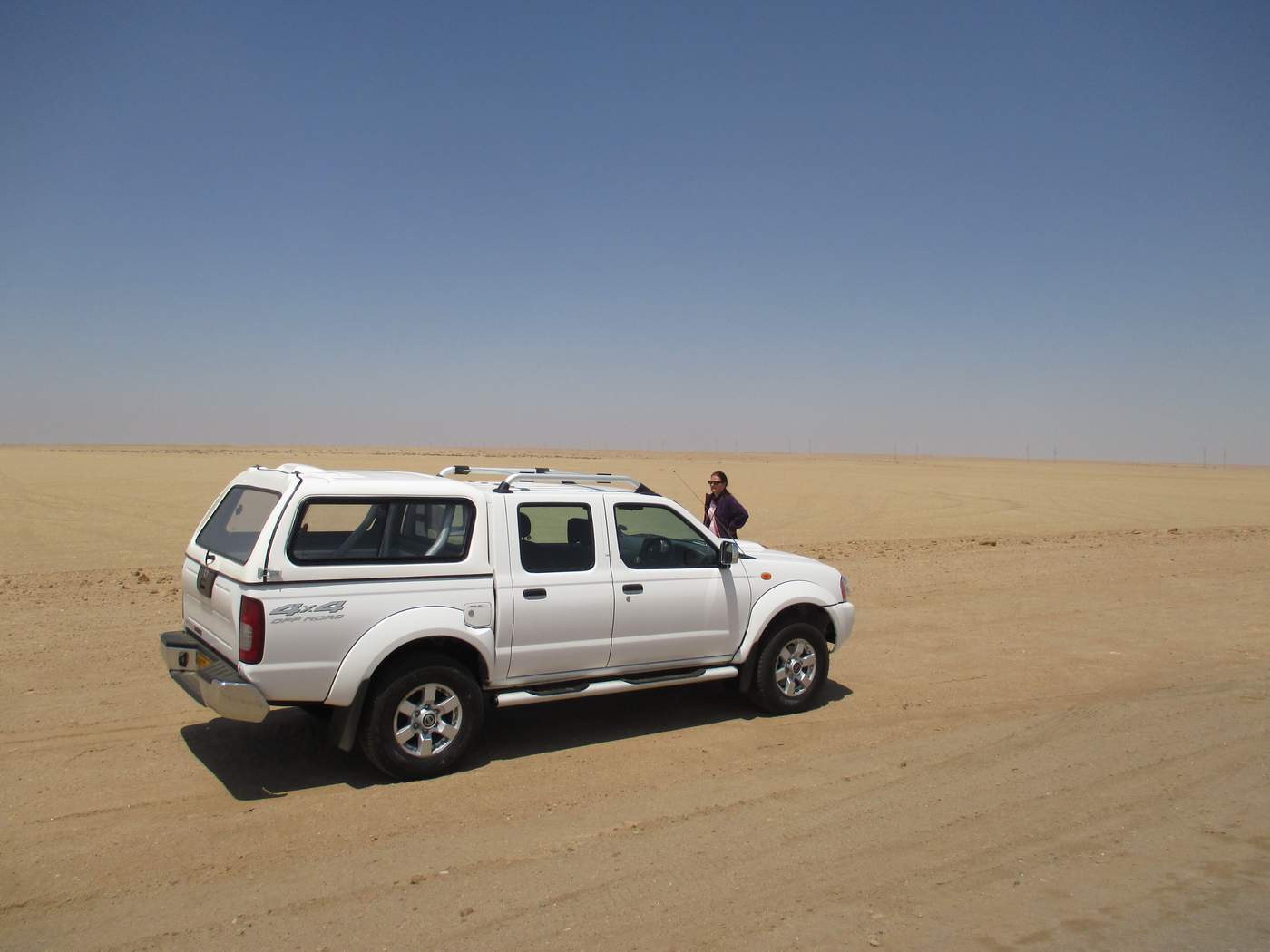 240215 - Out in the Namib Desert - no, we are not lost.....
240215 - Ute i Namibia ørkenen - nei, vi har ikke kjørt oss bort......