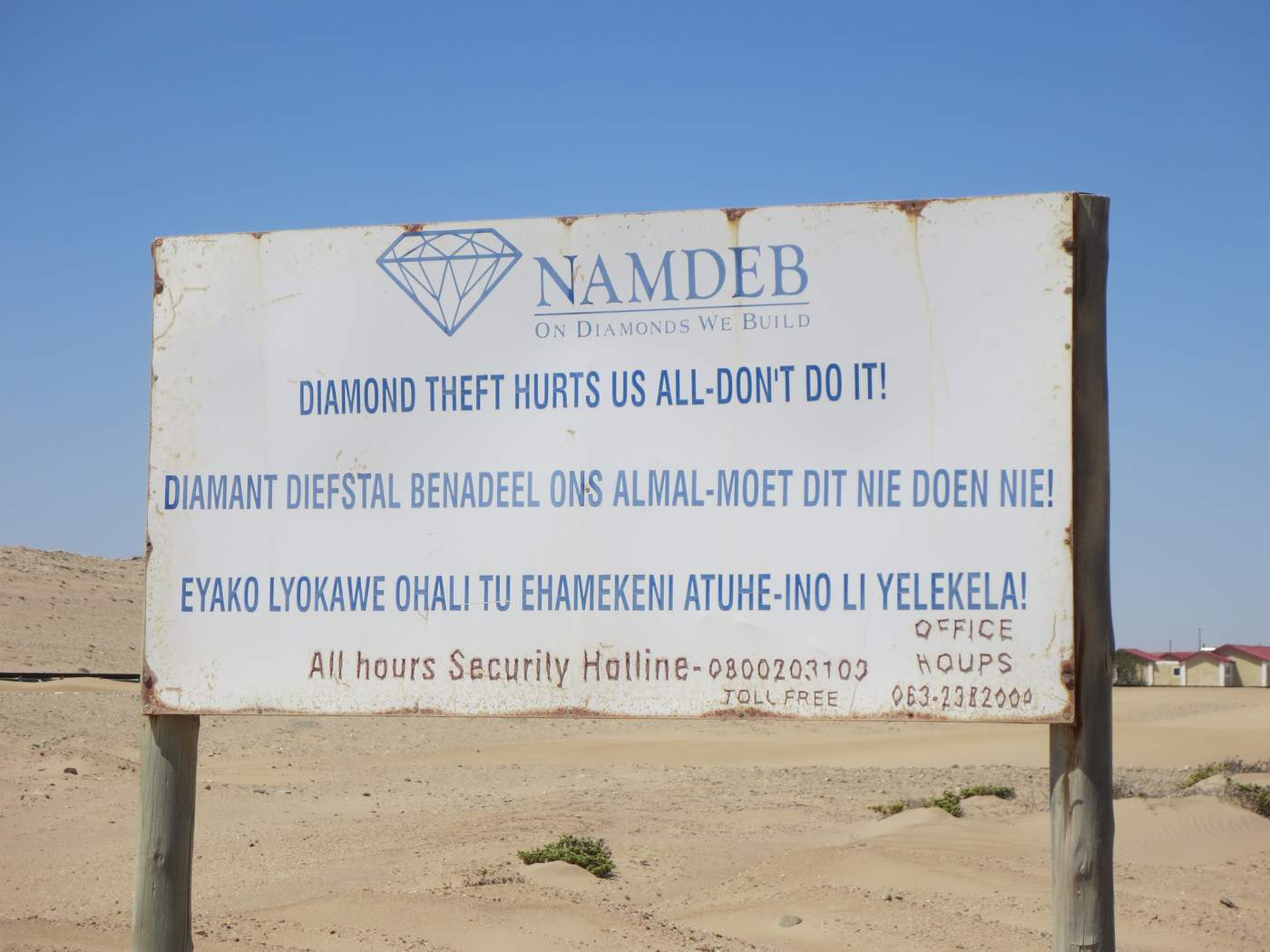 01.03. We're on our way to Kolmanskop before going to Lüderitz. Kolmanskop is a ghost town; it used to be a diamond town.
01.03. Vi er på vei til Kolmanskop før vi skal til Lüderitz. Kolmanskop er en spøkelsesby; den var en diamantby før.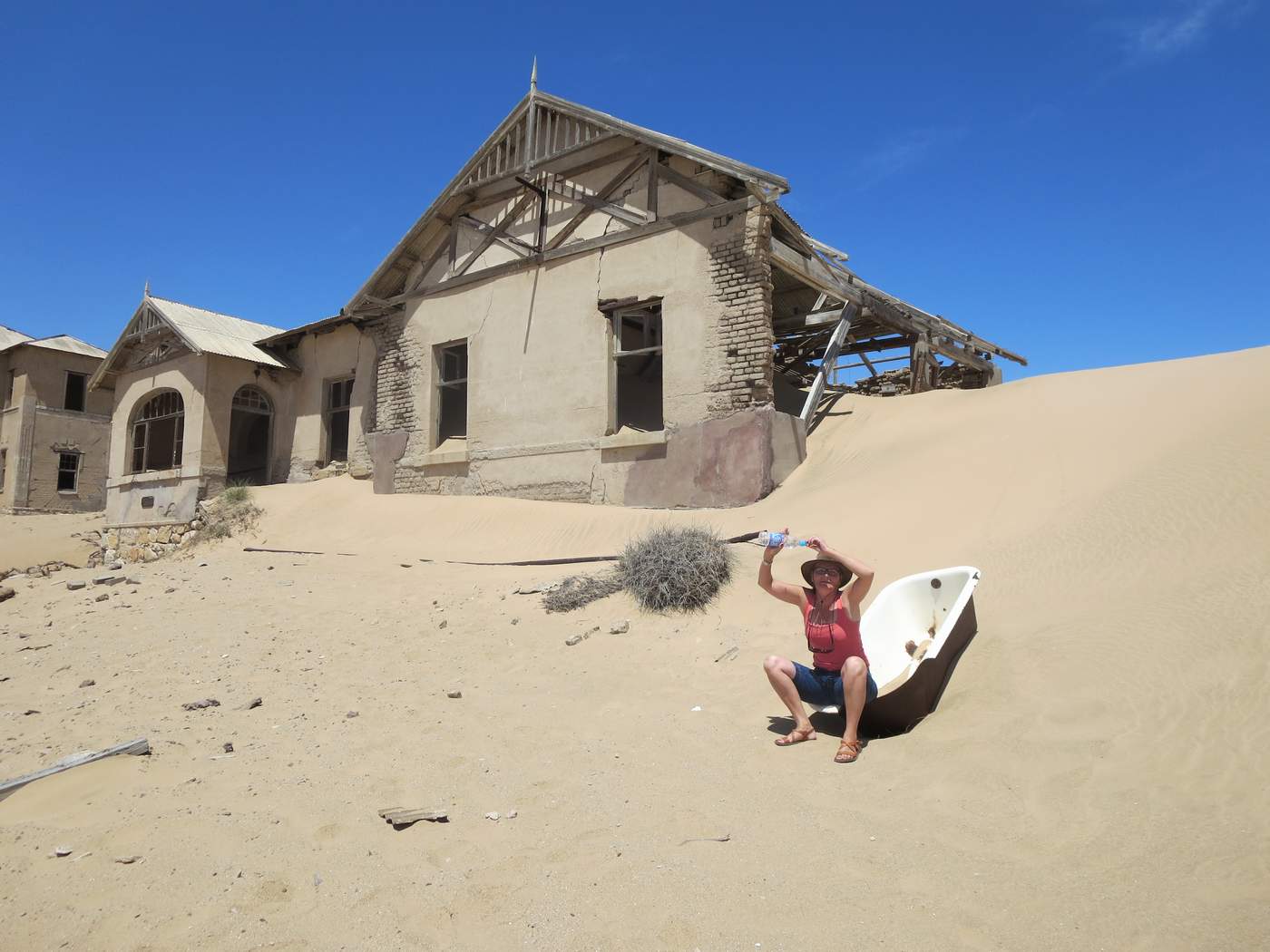 01.03. The sand and the desert has taken over the houses in Kolmanskop. Big, beautiful houses, now full of sand.
01.03. Sanda og ørkenen tar tatt over husene i Kolmanskop. Store, flotte hus, fulle av sand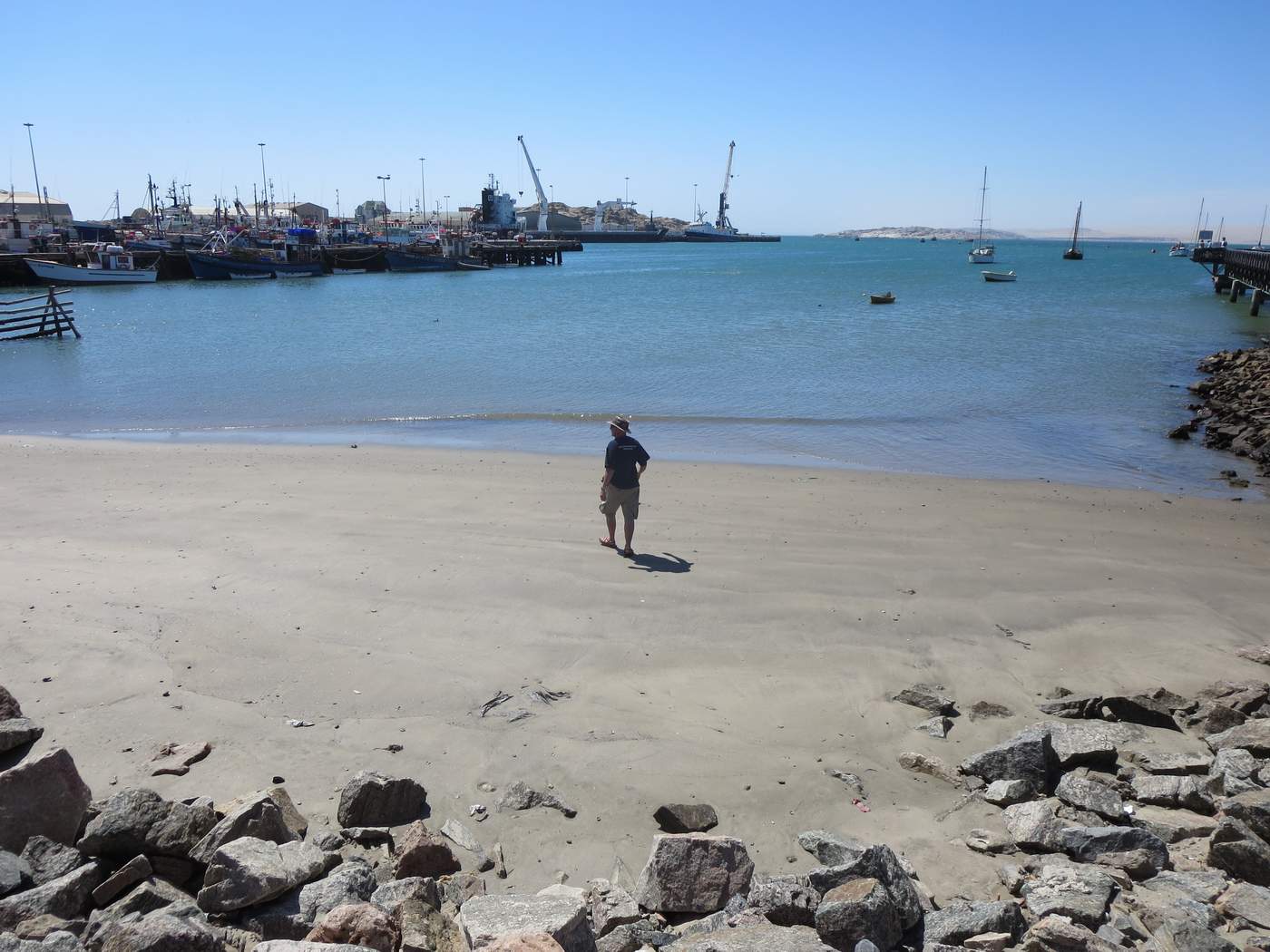 01.03. Lüderitz harbor - Lüderitz is a windswept town with a very beautiful waterfront. The water is clear, but cold.
01.03. Lüderitz havn - Lüderitz er en liten by som bærer preg av mye vind men har en nydelig waterfront. Vannet er klart, men kaldt.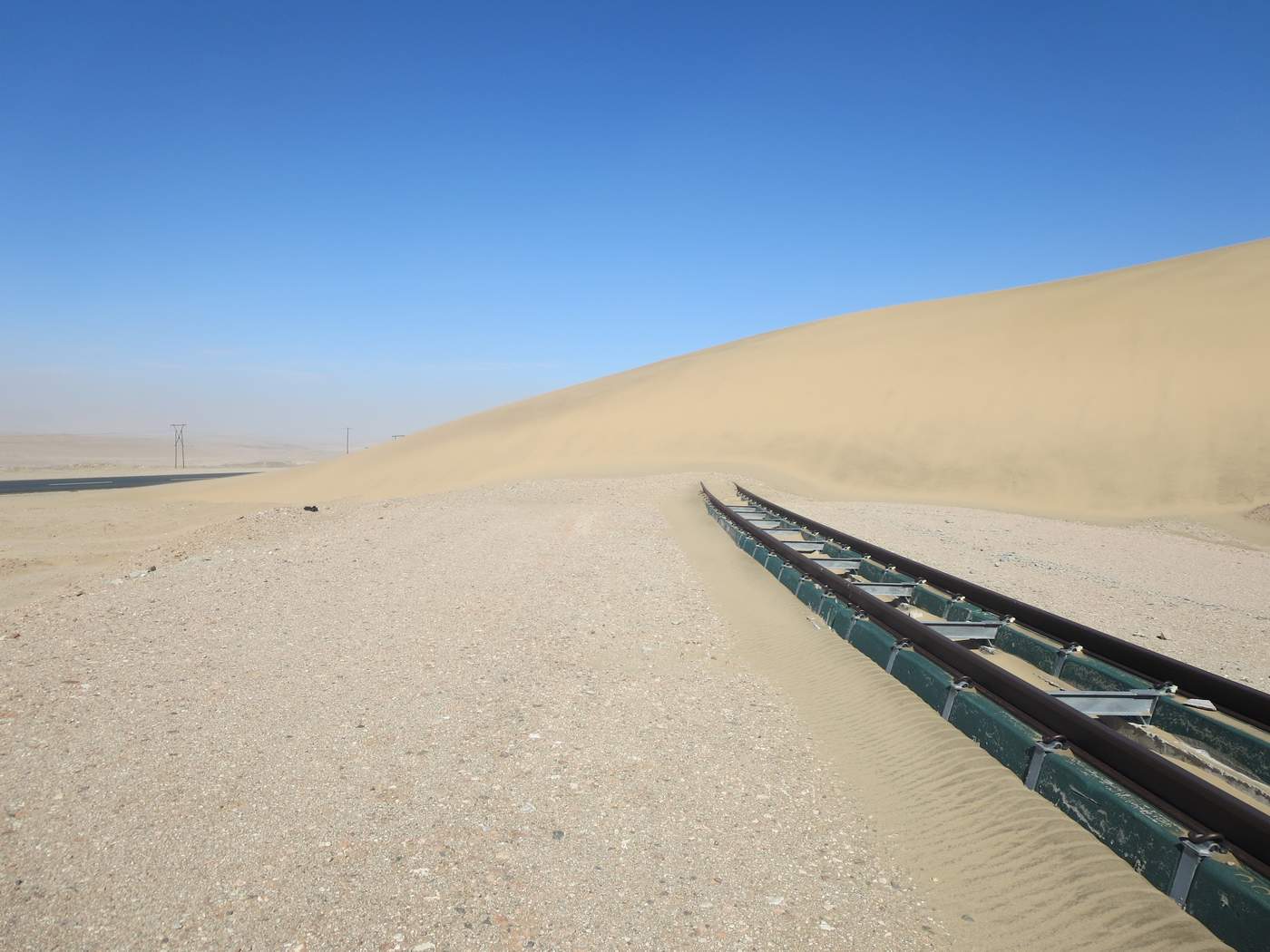 01.03. The railway track from Lüderitz. The train will definitely encounter problems here....
01.03. Togspore fra Lüderitz. Toget kommer definitivt til å møte på problemer her....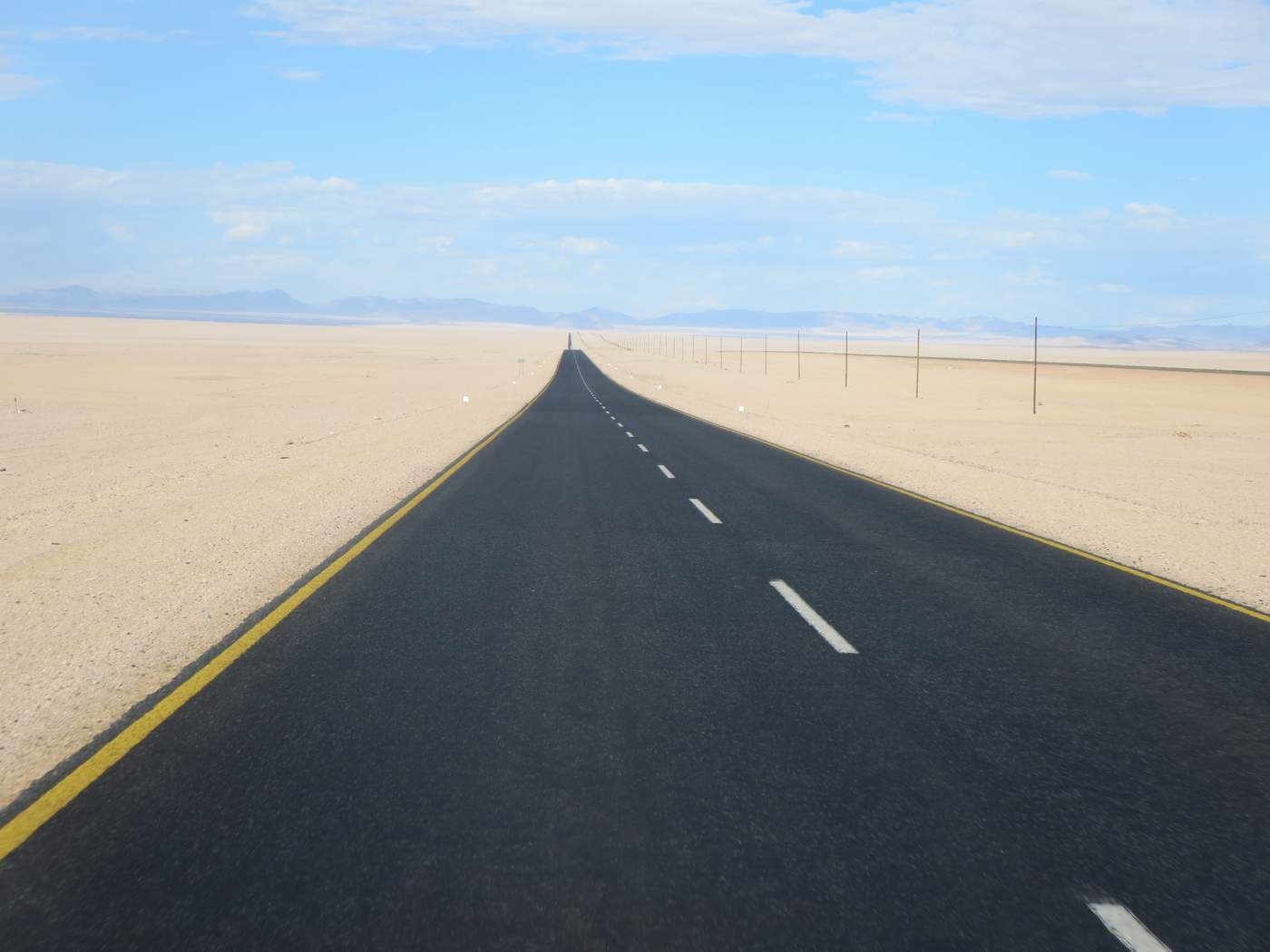 01.03. We're on our way back to Keetmanshoop - the road through the desert is veeeeery straight.
01.03. Vi er på vei tilbake til Keetmanshoop - veienn gjennom ørkenen er veeeeeeeeeldig rett.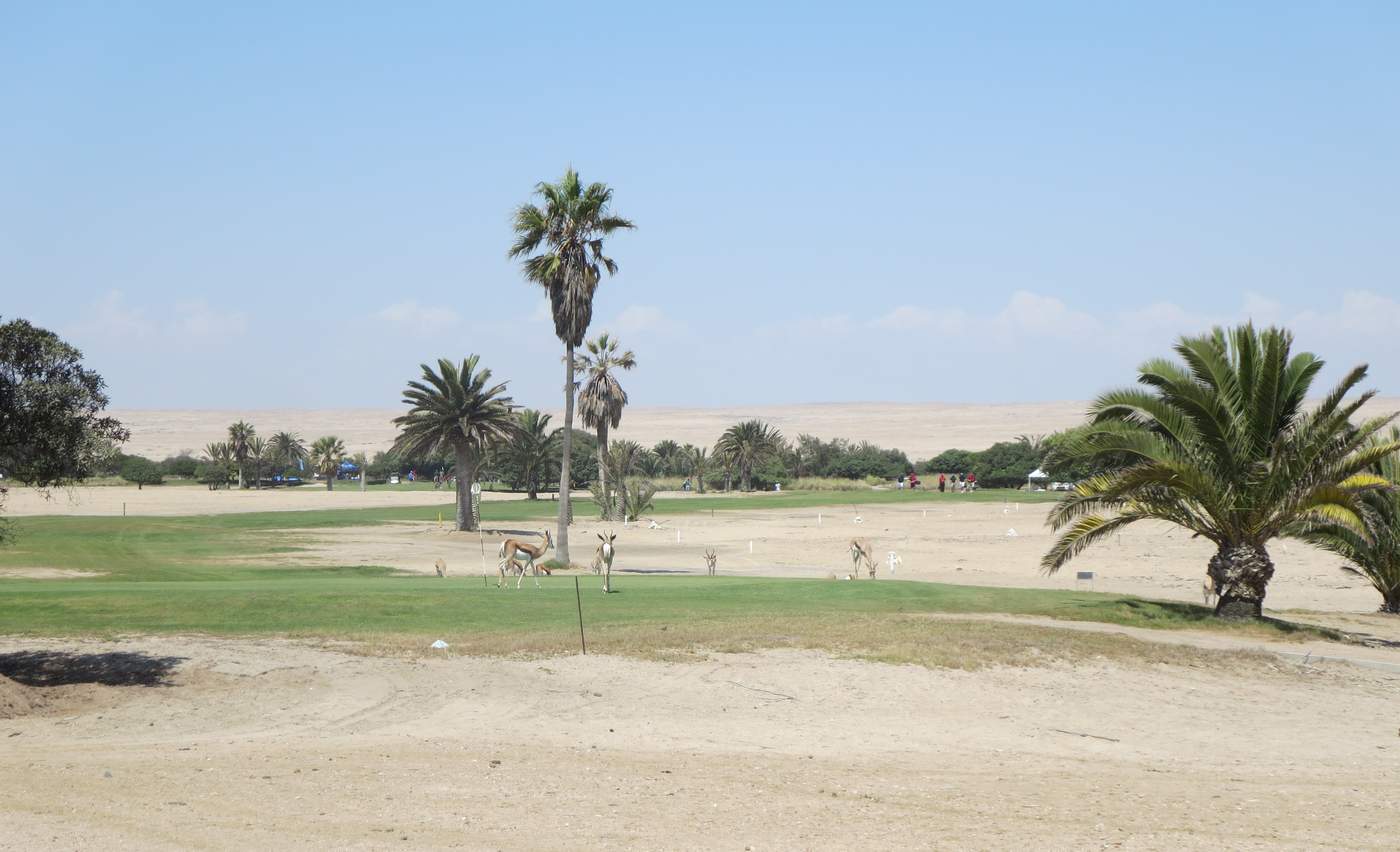 05.03. We've been in Swakopmund for a few days doing nothing... this is a photo from a golf course outside Swakopmund. Golfers and springbok side by side.
05.03. Vi har vært i Swakopmund noen dager og gjort ingenting... dette er et bilde fra ei golfbane utafor Swakopmund. Golfere og springbok side om side.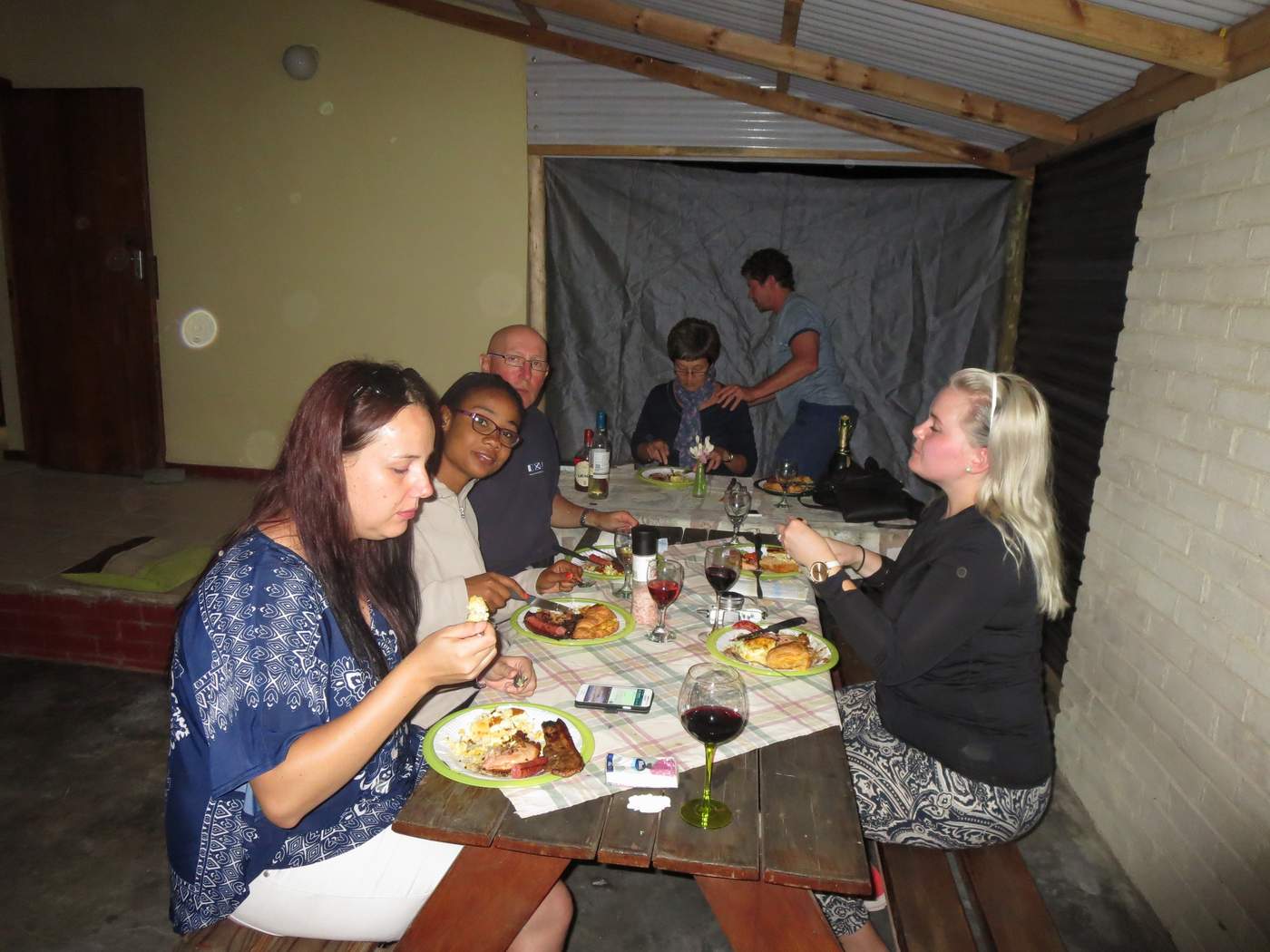 05.03. Braai time at the Visser family. Great food, great company and lots to drink. We had a very good time - that you guys!
05.03. Braai hos Visser familien. God mat, godt selskap og masse å drikke. Vi hadde det kjempehyggelig - takker!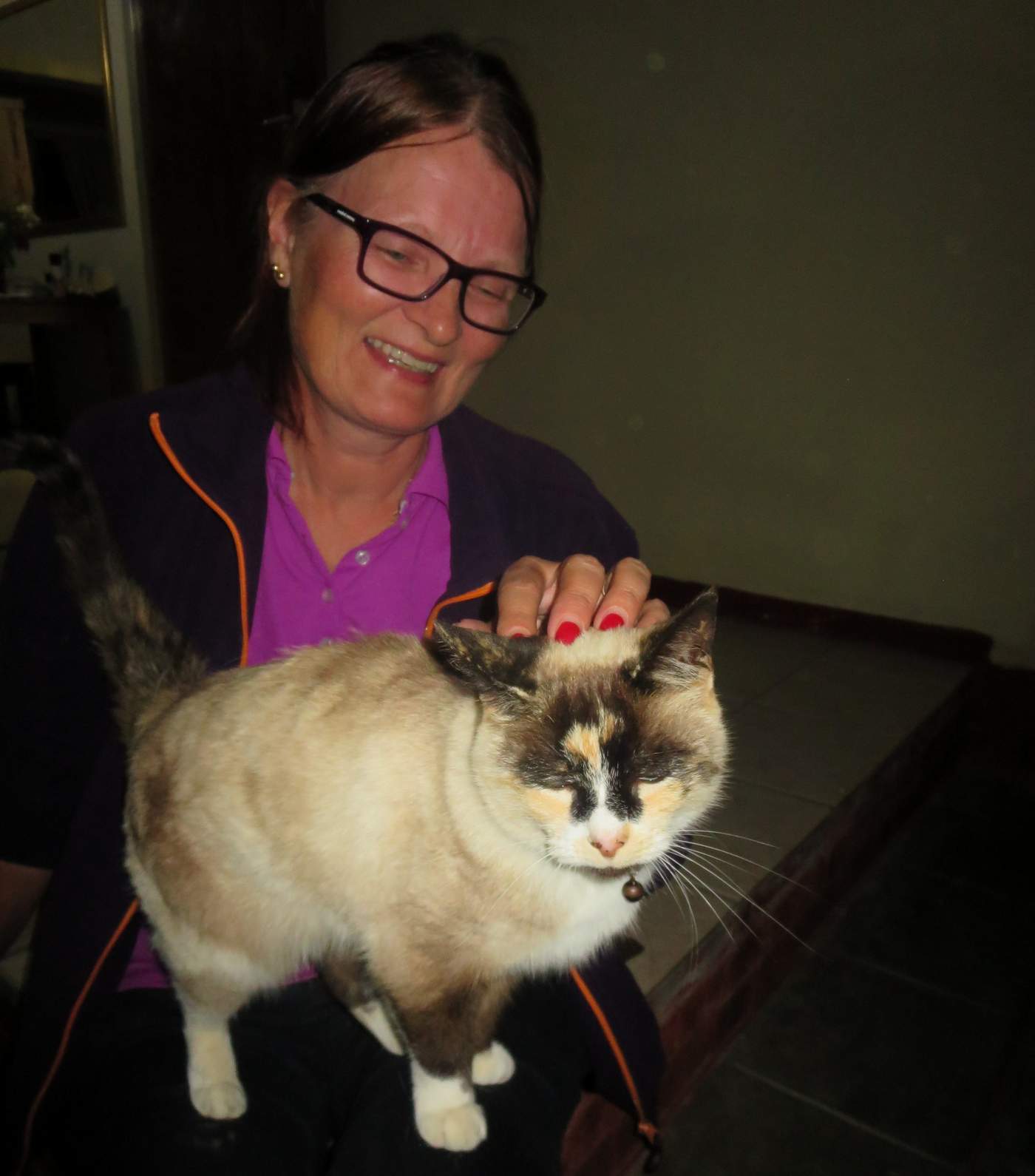 05.03. Pussy cat time! We have not petted a cat (except for a cheetah..) for a very long time so it felt good!
05.03. Tid for pusekatt! Vi hadde ikke klappa en katt (bortsett fra en cheetah...) på veldig lenge så det føltes godt.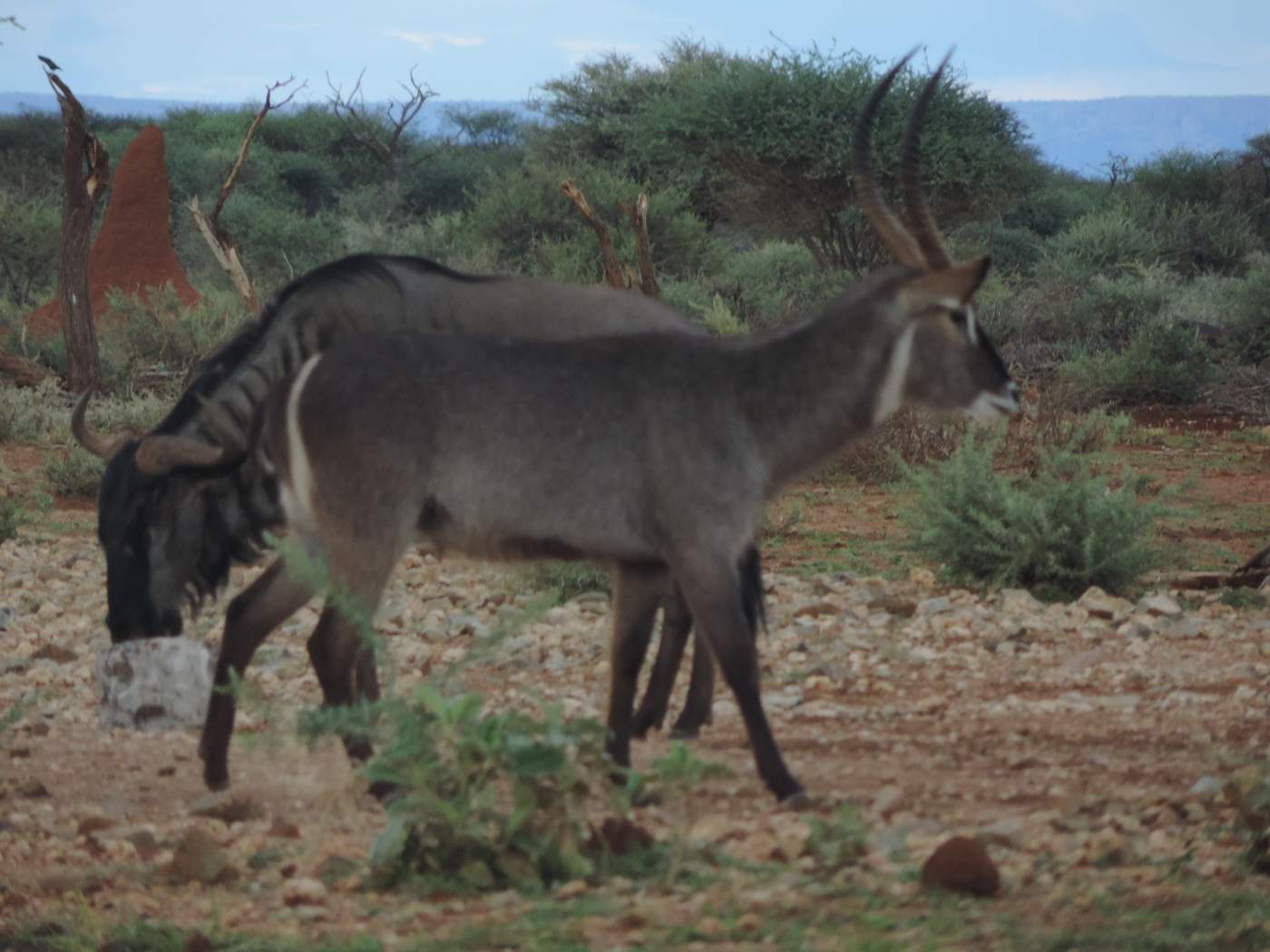 06.03. We're in Erindi. This time we are staying at Camp Elephant, the self catering part of Erindi. We were greeted by this waterbuck and blue wildebeest by the waterhole.
06.03. Vi er på Erindi. Denne gangen bor vi på Camp Elephant, self catering delen av Erindi. Vi ble møtt av denne waterbuck'en og gnuen som var ved vannhullet.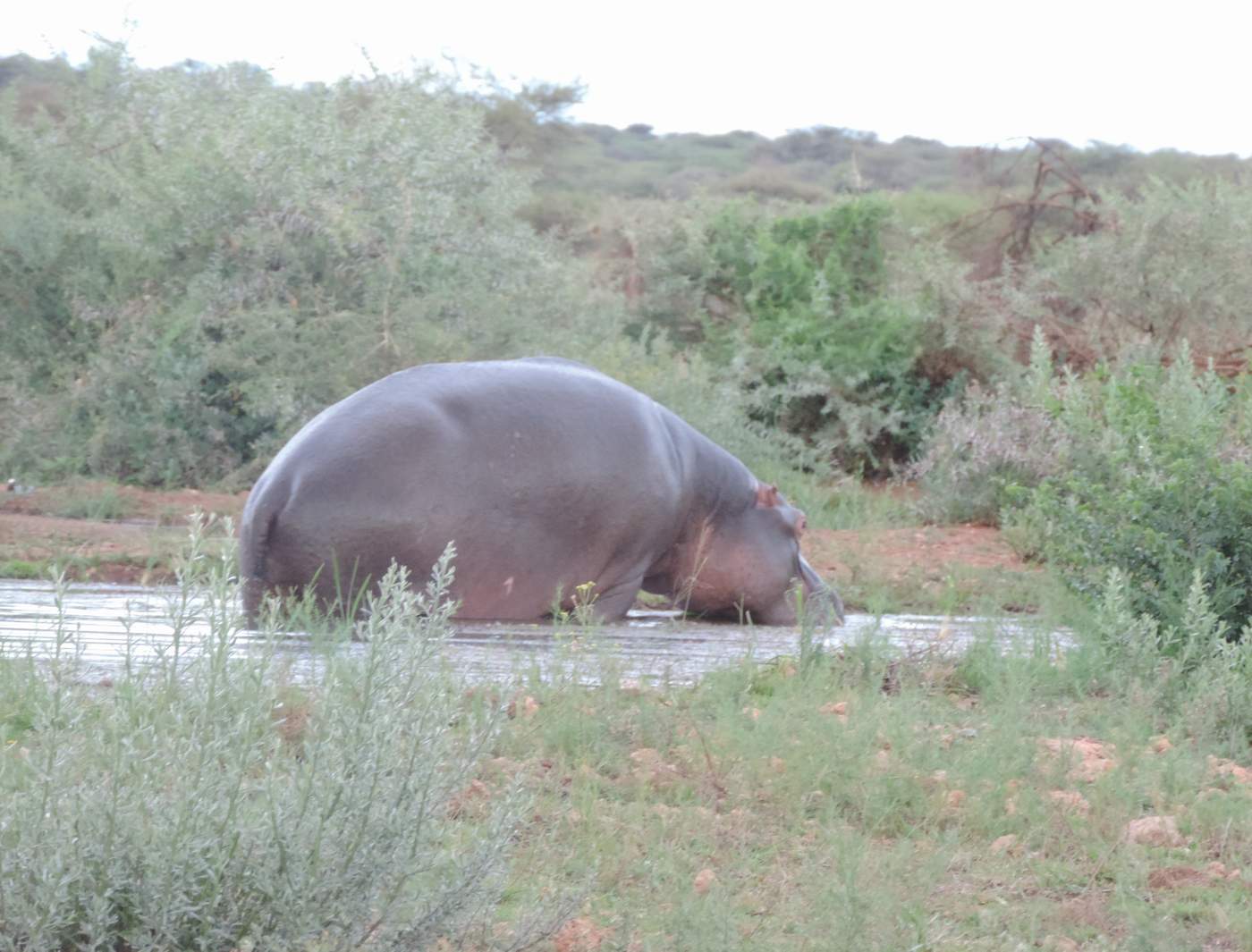 06.03. The hippos tend to go grazing in the afternoon. This fatso was just abut to leave the waterhole to go for a walk-about.
06.03. Flodhestene bruker å spise gress om ettermiddagen. Denne tjukken er i ferd med å forlate vannhullet for å gå seg en tur.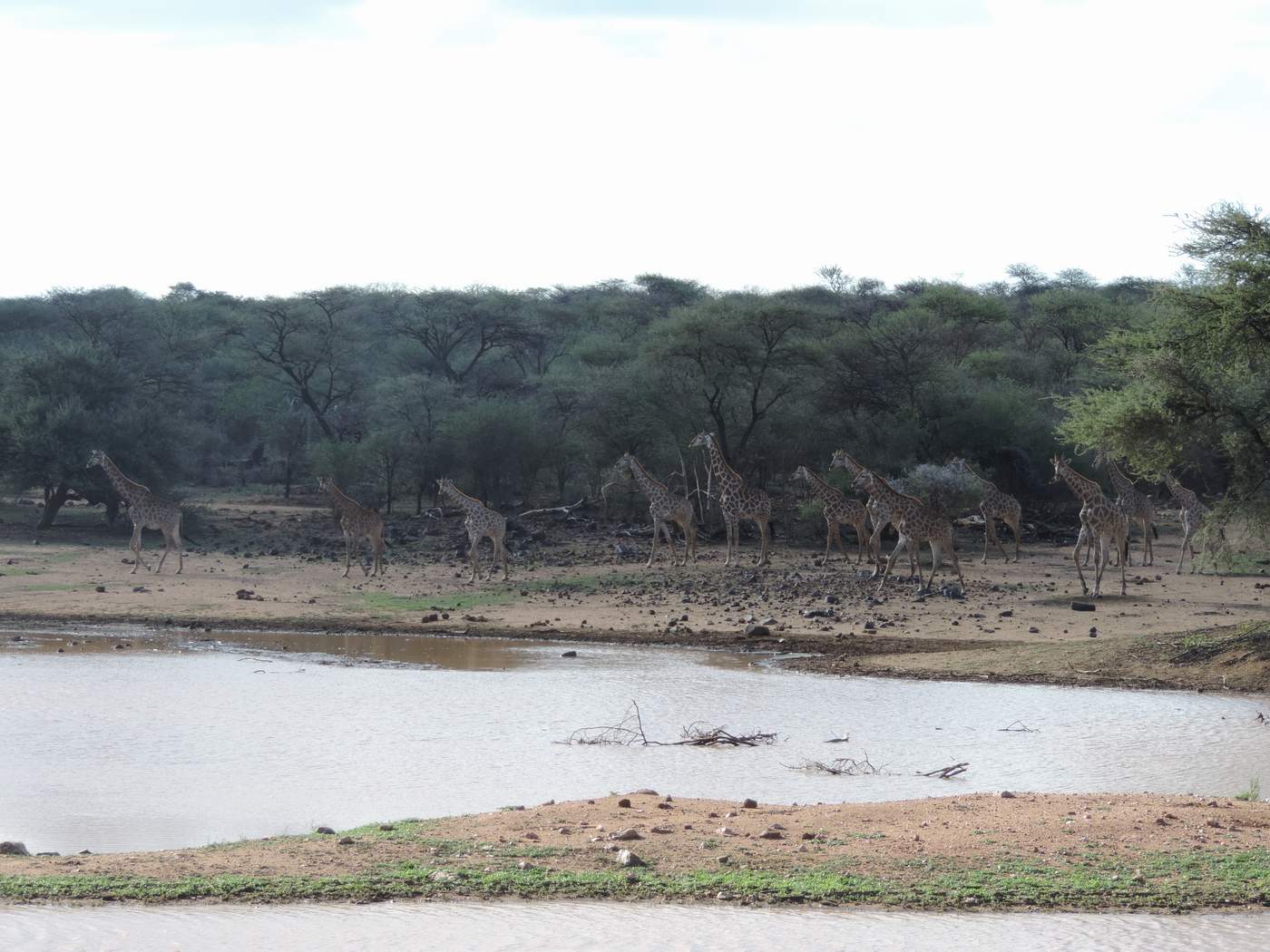 07.03. When passing a waterhole suddenly 16 tall horses approached the water. A quite unique sight!
07.03. Idet vi passerte et vannhull kom det 16 lange hester mot vannet. Et unikt skue!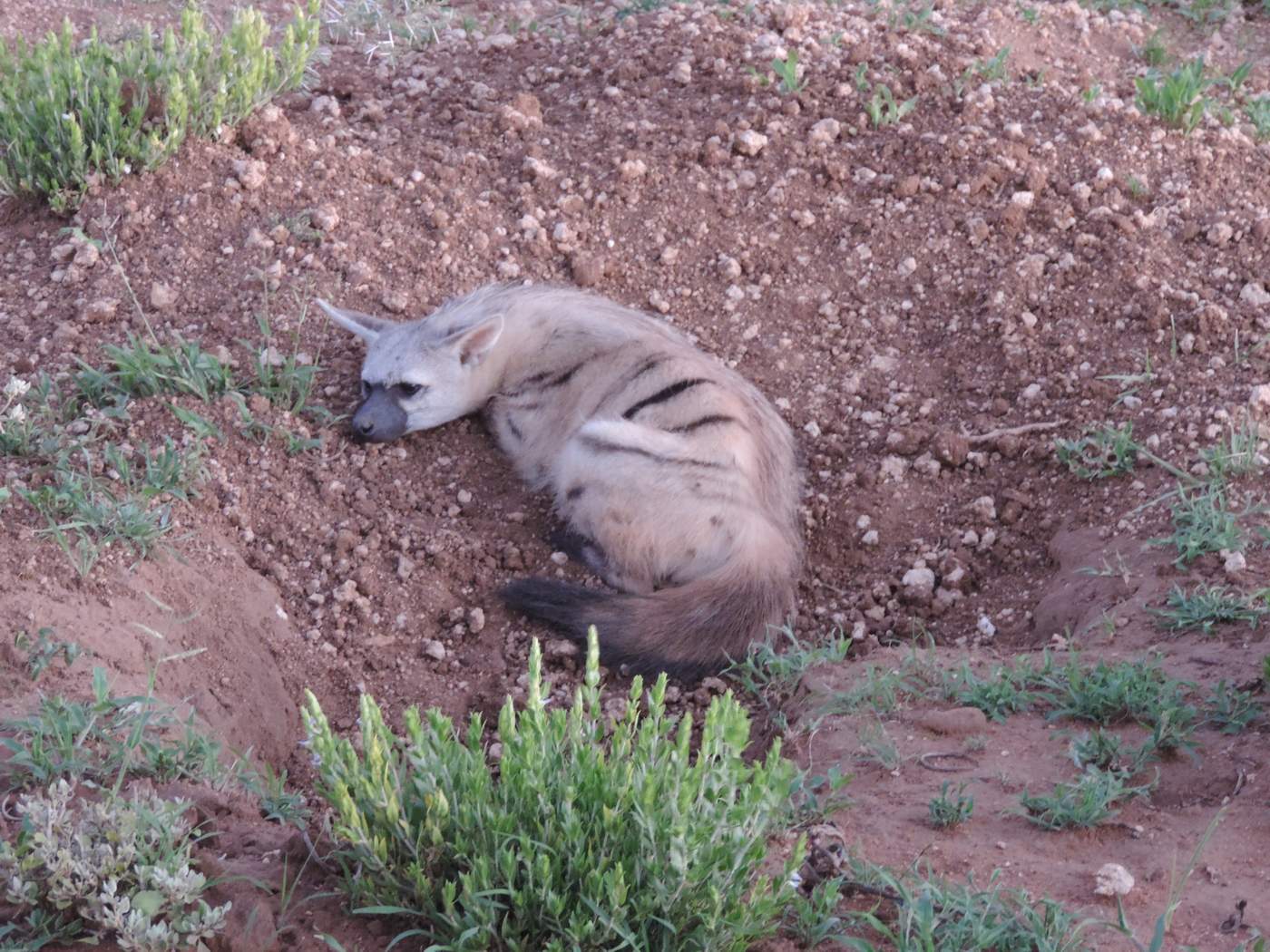 07.03. Aardwolf - a quite rare hyena. This is a male. The female was a little bit further away tending for her 3 puppies.
07.03. Aardwolf - en sjelden hyene. Dette er en hanne. Hunnen holdt seg litt lenger bort mens hun passet på de 3 hvalpene sine.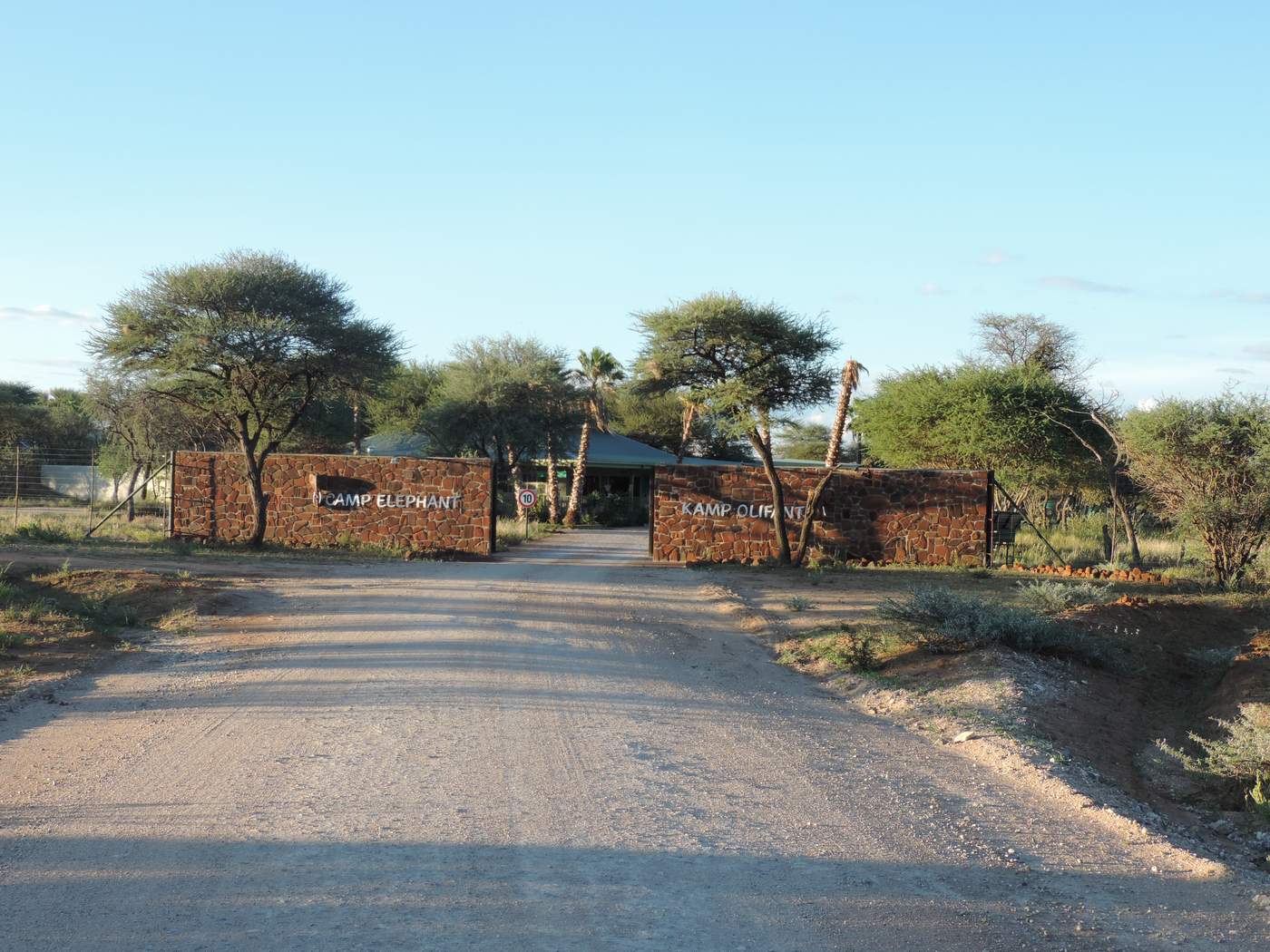 08.03. Camp Elephant, where we are staying at the moment.
08.03. Camp Elephant hvor vi bor for tiden.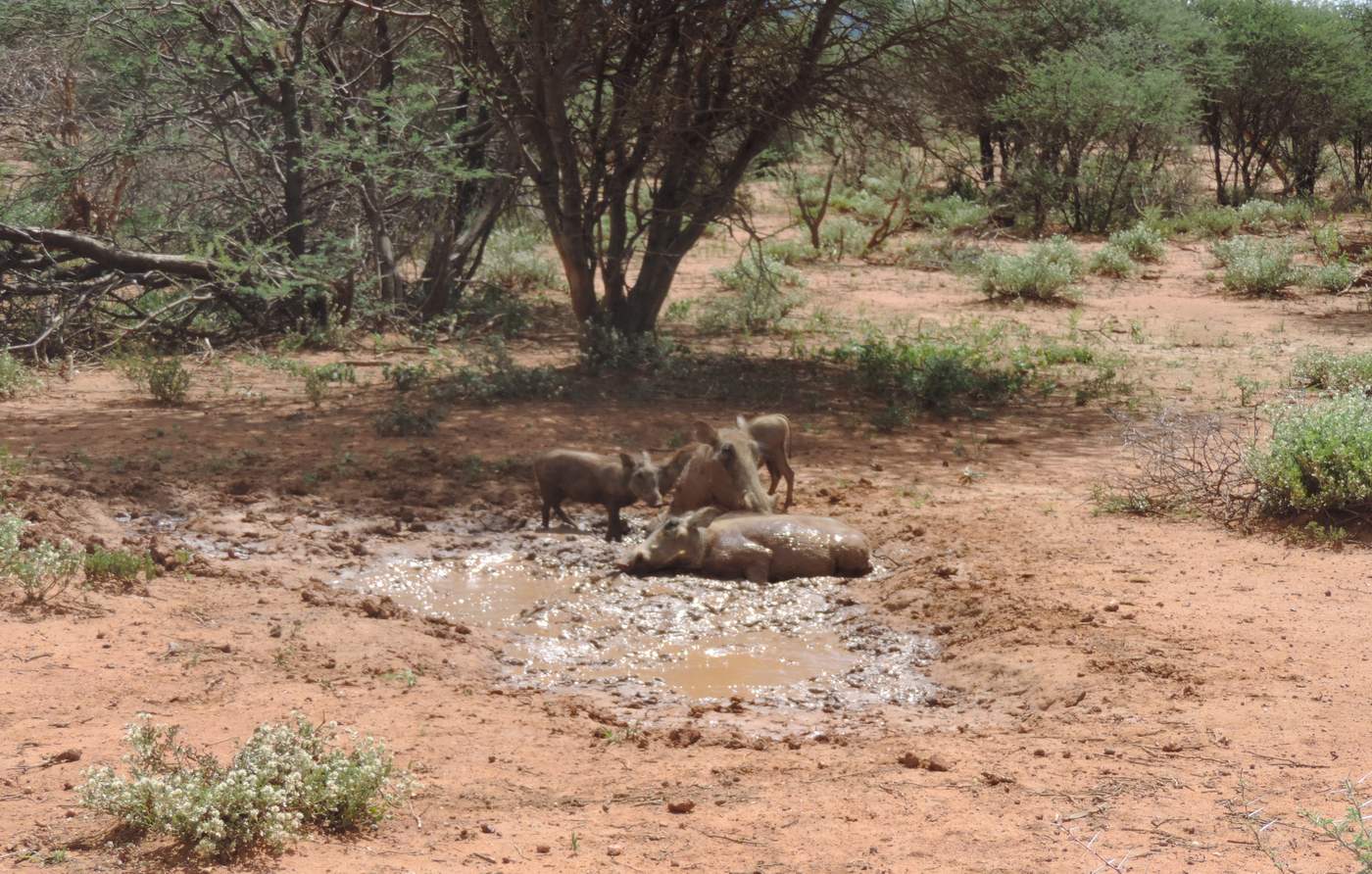 08.03. We went for a self-drive for 4 1/2 hours and saw a LOT of wildlife. These warthogs were enjoying a mud bath in the sun.
08.03. Vi tok en self-drive i 4 1/2 timer og så MASSE vilt. Disse vortsesvina kosa seg i gjørmehullet i solskinnet.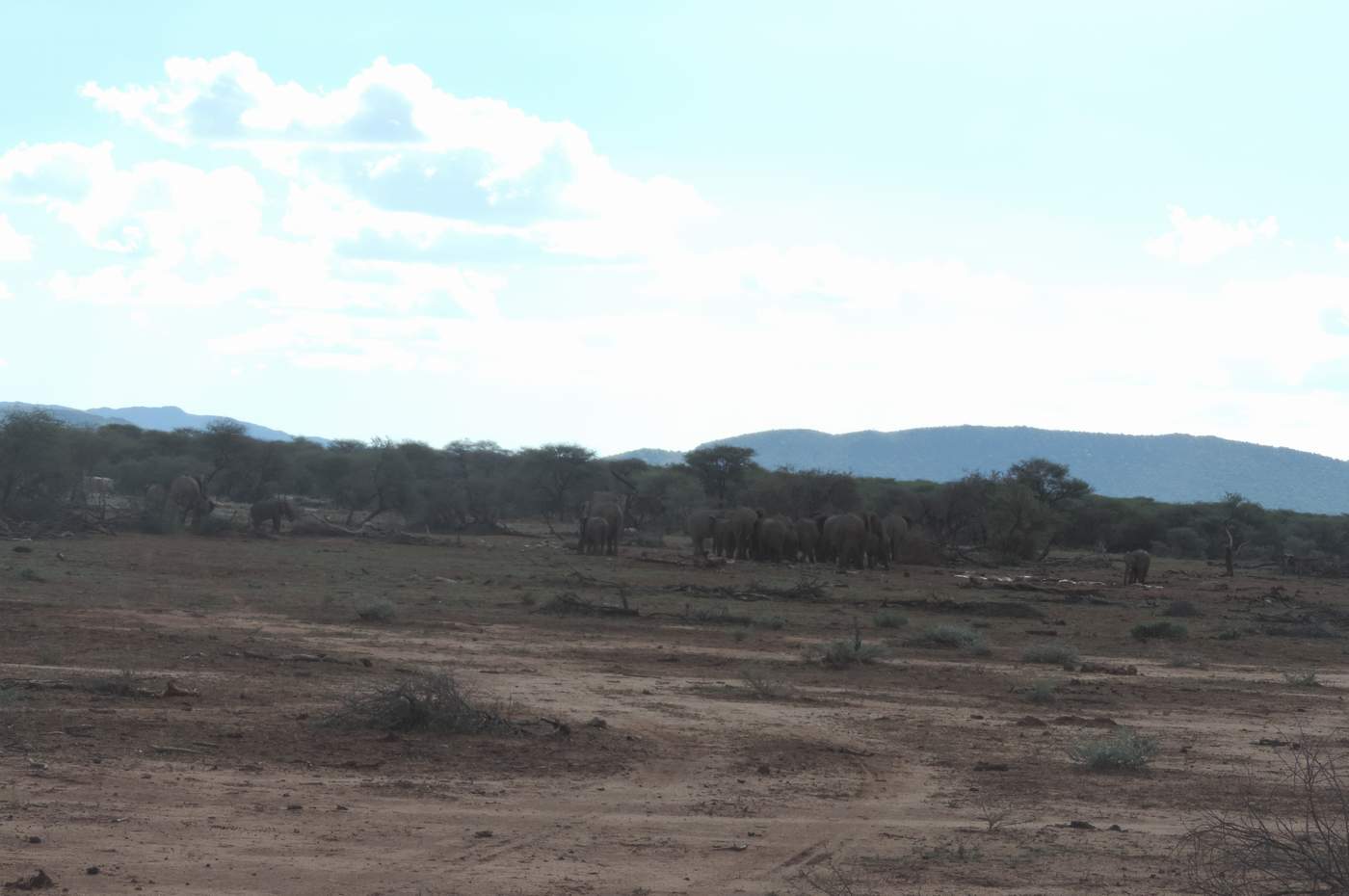 08.03. Elephants! 23 of them actually. They were all gathered on this clearing. Elephants are very protective of their youngsters.
08.03. Elefanter! Faktisk 23 stykker. De var alle samlet på denne lystningen. Elefanter er veldig beskyttende overfor de unge dyra.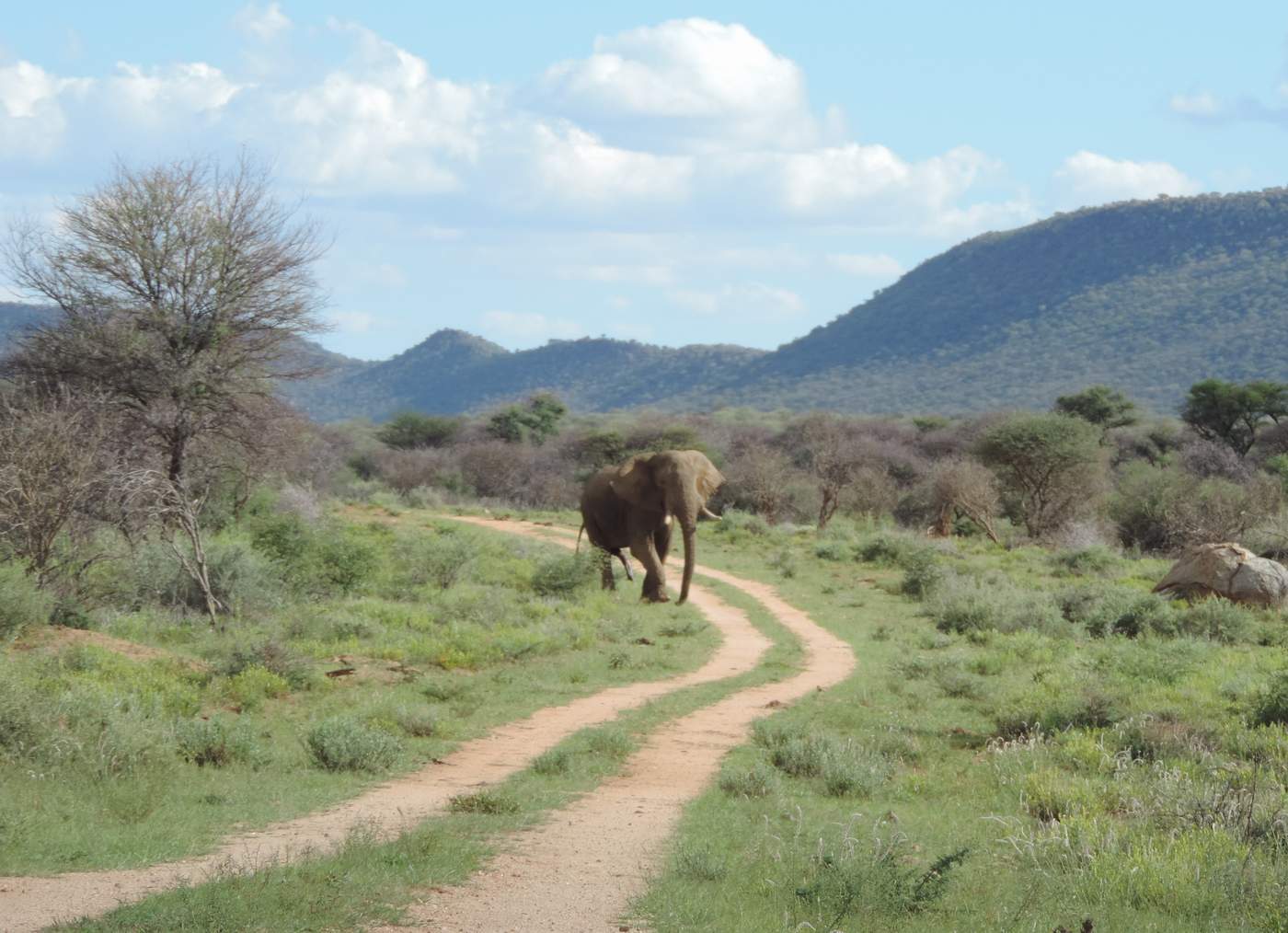 08.03. This lonely elephant bull gave us an adrenaline kick. He started charging us so we had to back away fast. Lonely, horny bulls can be aggressive. We were worried he would rape our tailpipe because his second trunk was standing out hard ready for action.
08.03.Denne ensomme elefanthannen ga oss et adrenalin kick. Han begynte å angripe oss så vi måtte rygge tilbake fort som fy. Ensomme, kåte hannelefanter kan være agressive. Vi var bekymra for at han skulle voldta eksosrøret vårt, for snabel nummer 2 var skikkelig hard og klar for action.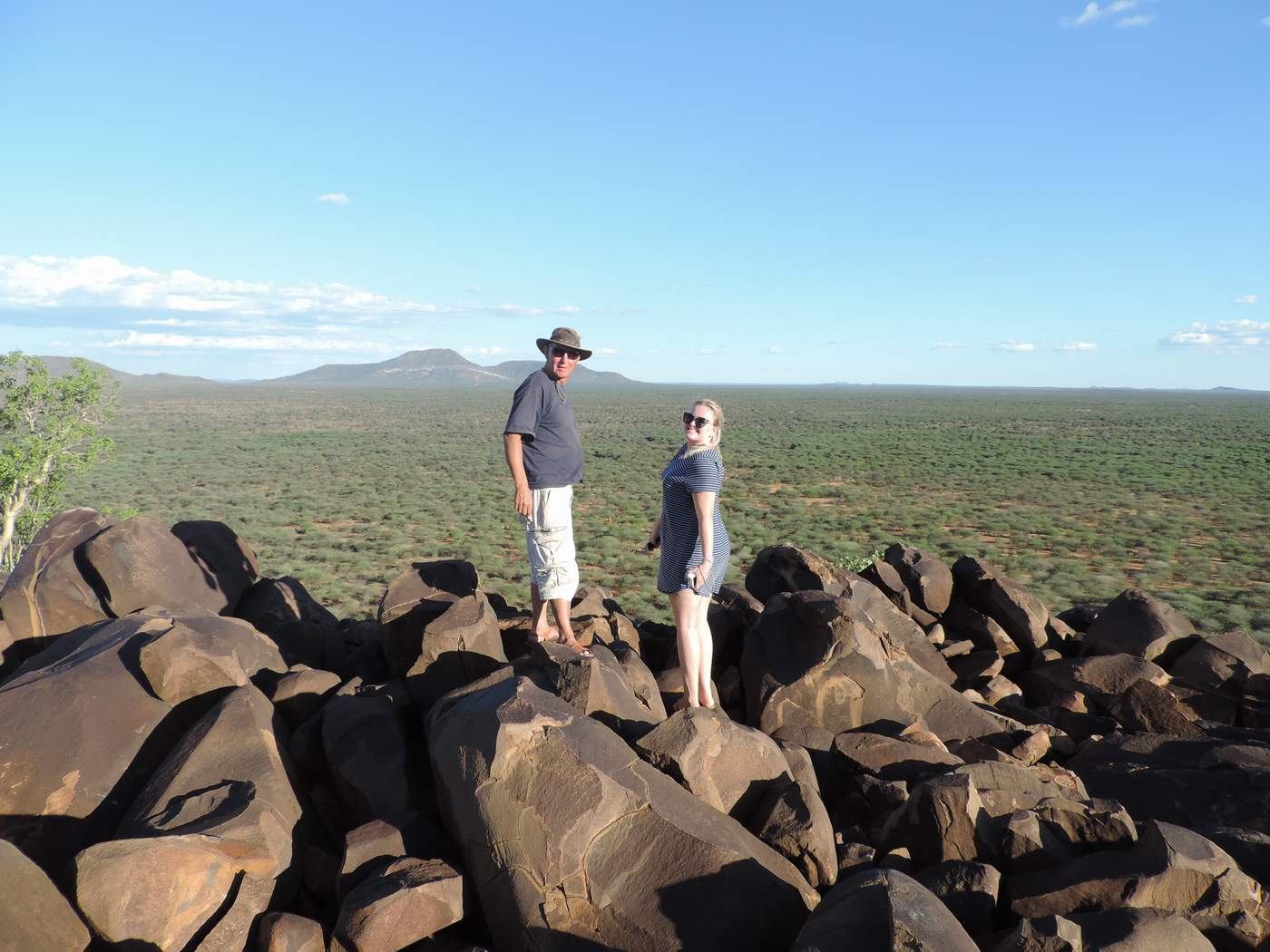 08.03. Aloe Hill Viewpoint. From here we can see a little part of Erindi. Impressively large!
08.03. Aloe Hill utsikspunkt. Herfra kan vi se litt av Erindi. Imponerende stort!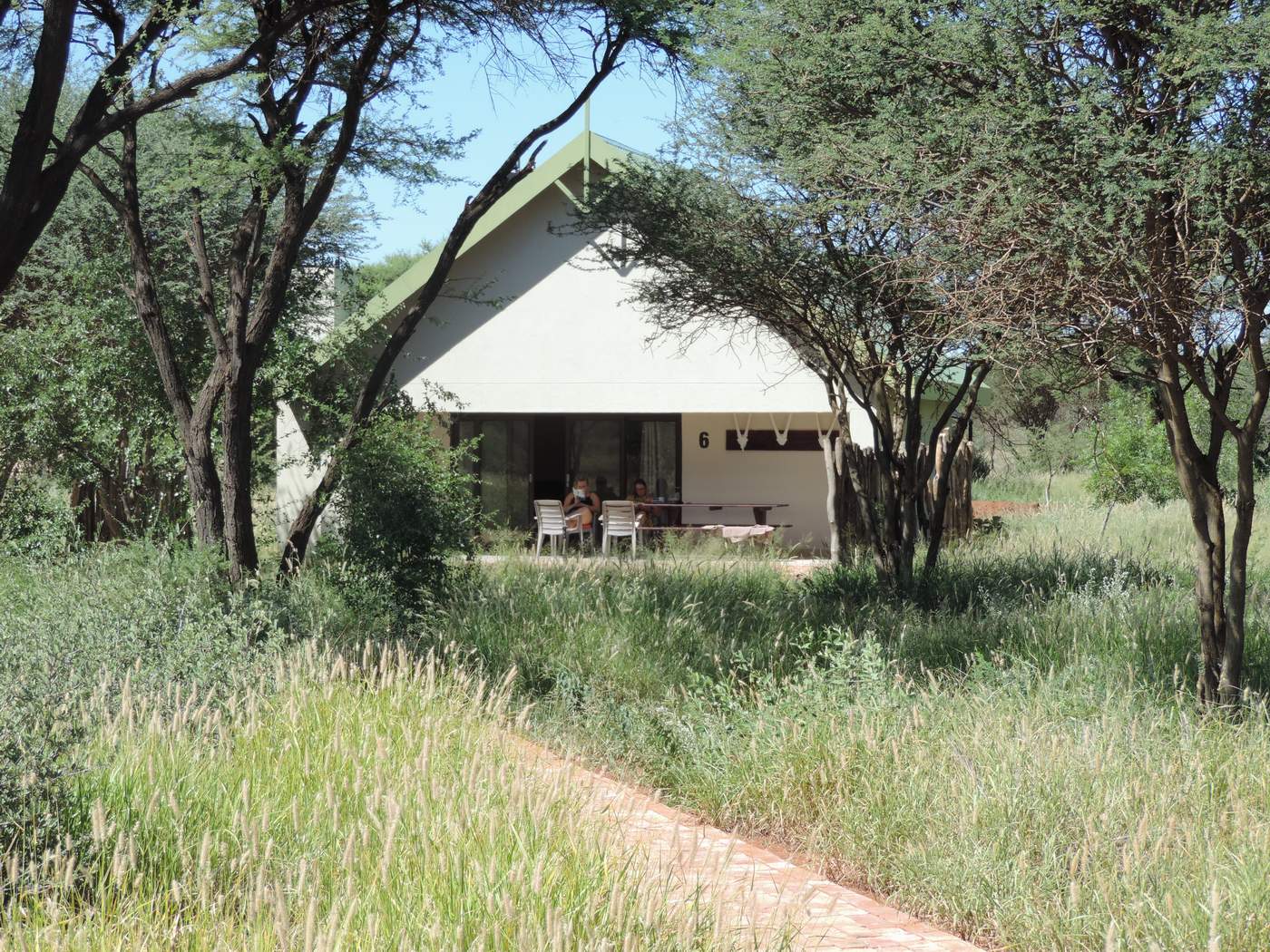 09.03. Our self catering house at Camp Elephant. It's located approx 100 meters from the water hole.
09.03. Vår self catering hus på Camp Elephant. Det ligger ca 100 meter fra vannhullet.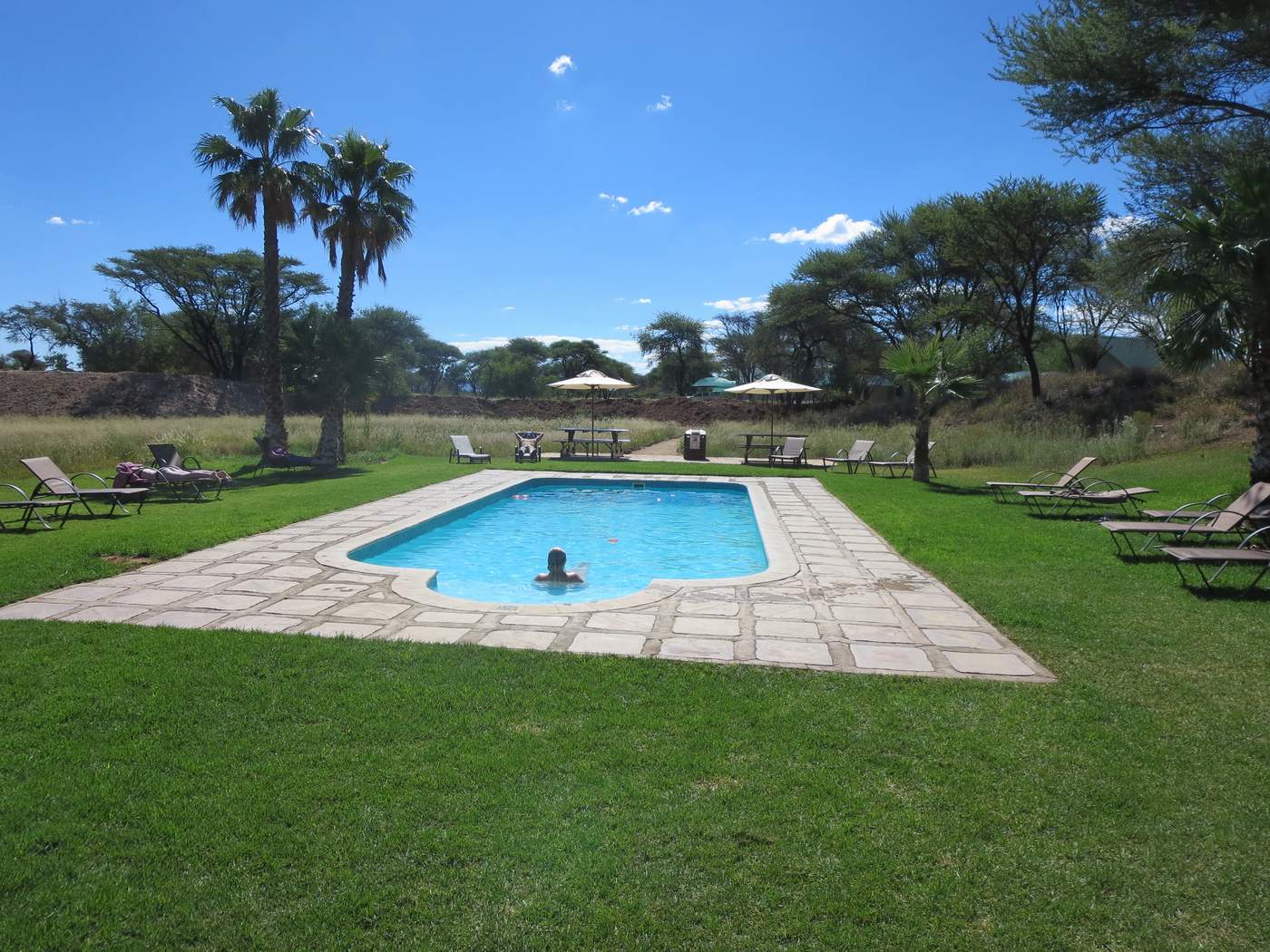 09.03. The swimming pool at Camp Elephant. Fortunately there are some trees where we can find shade in the hot African sun.
09.03. Svømmebassenget på Camp Elephant. Heldigvis finnes det noen trær der som kan gi oss litt skygge i den varme afrikanske sola.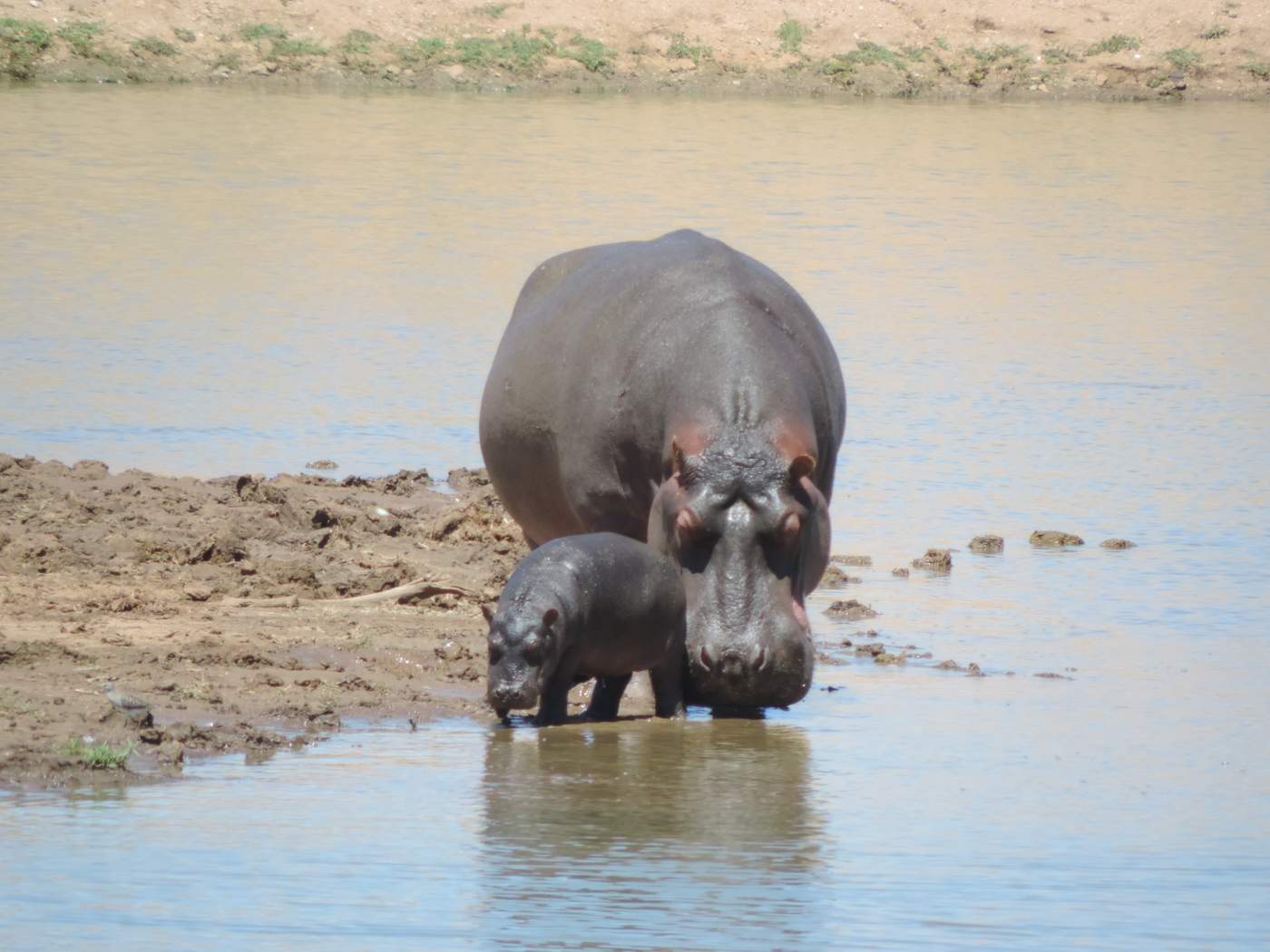 09.03. Hippo mother with baby at the Old Traders Lodge, Erindi.
09.03. Flodhestmor med barn på the Old Traders Lodge, Erindi.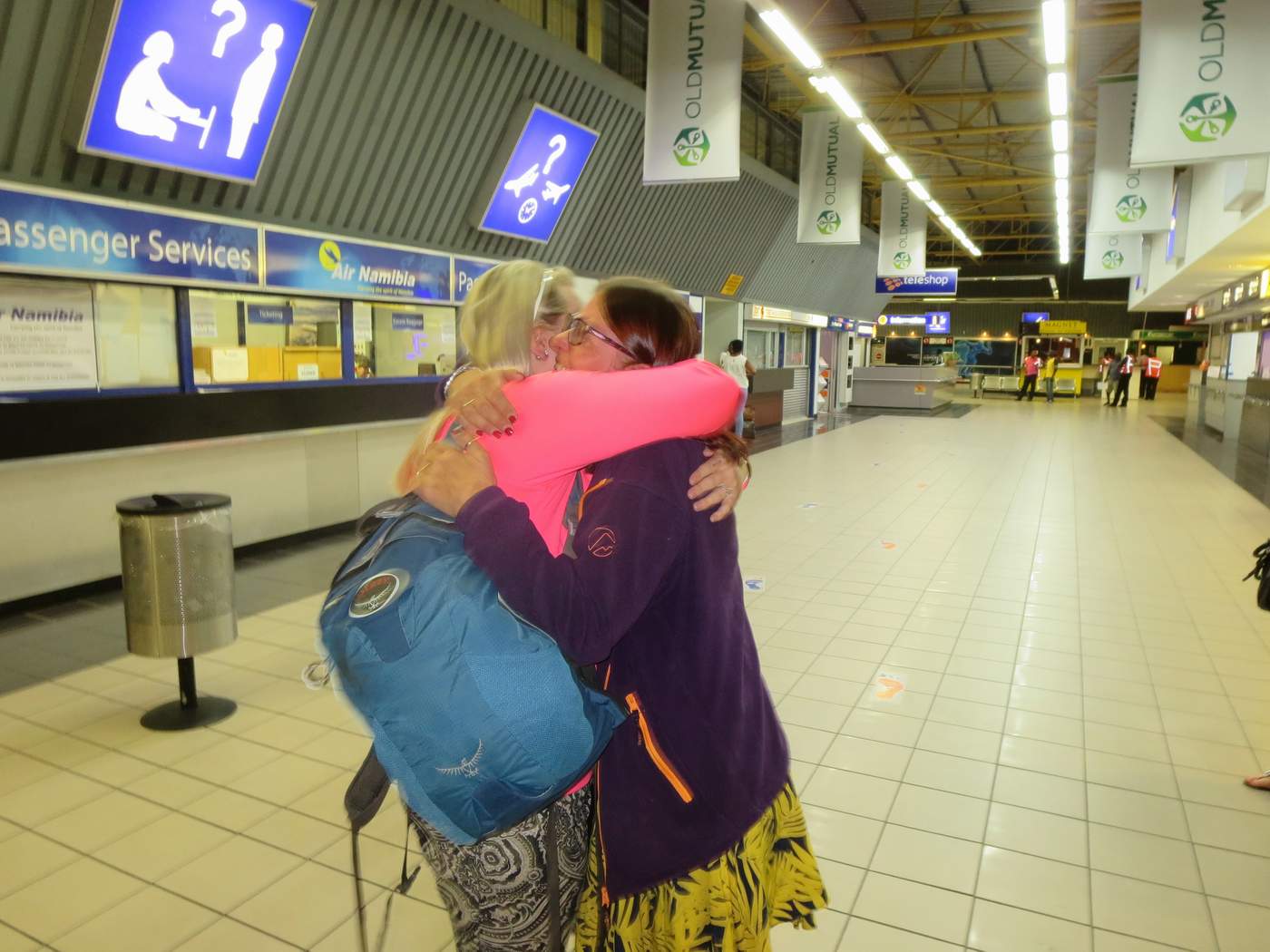 10.03. It's good bye time for Hilde. She spent 4 pleasant weeks with us. It's going to be weird not having her around...
10.03. På tide å si ha det til Hilde. Hun tilbragte 4 koselige uker med oss. Det blir rart å ikke ha henne her...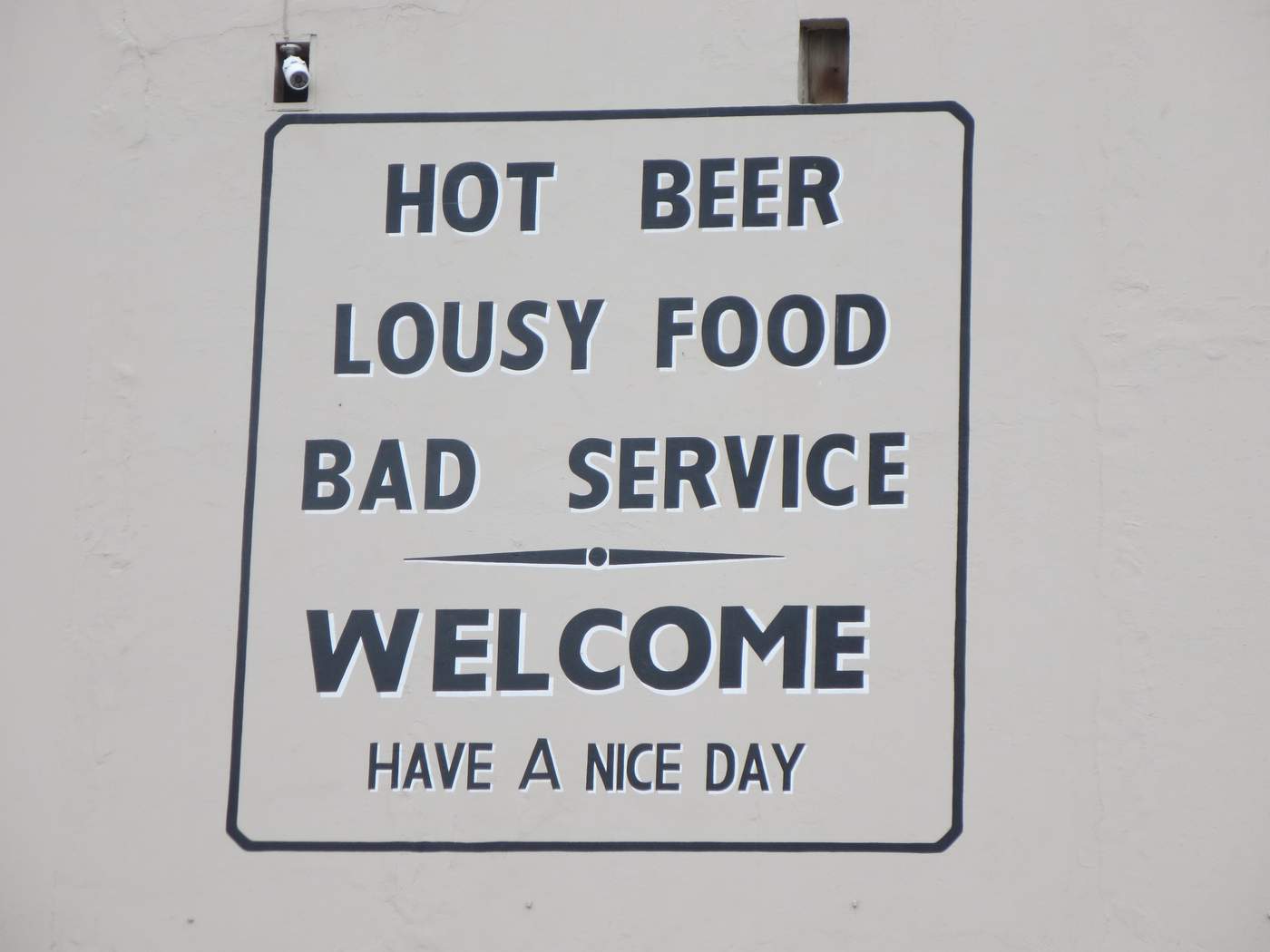 13.03. Painted on the wall of a restaurant in Swakop...
13.03. Malt på veggen til en restaurant i Swakop...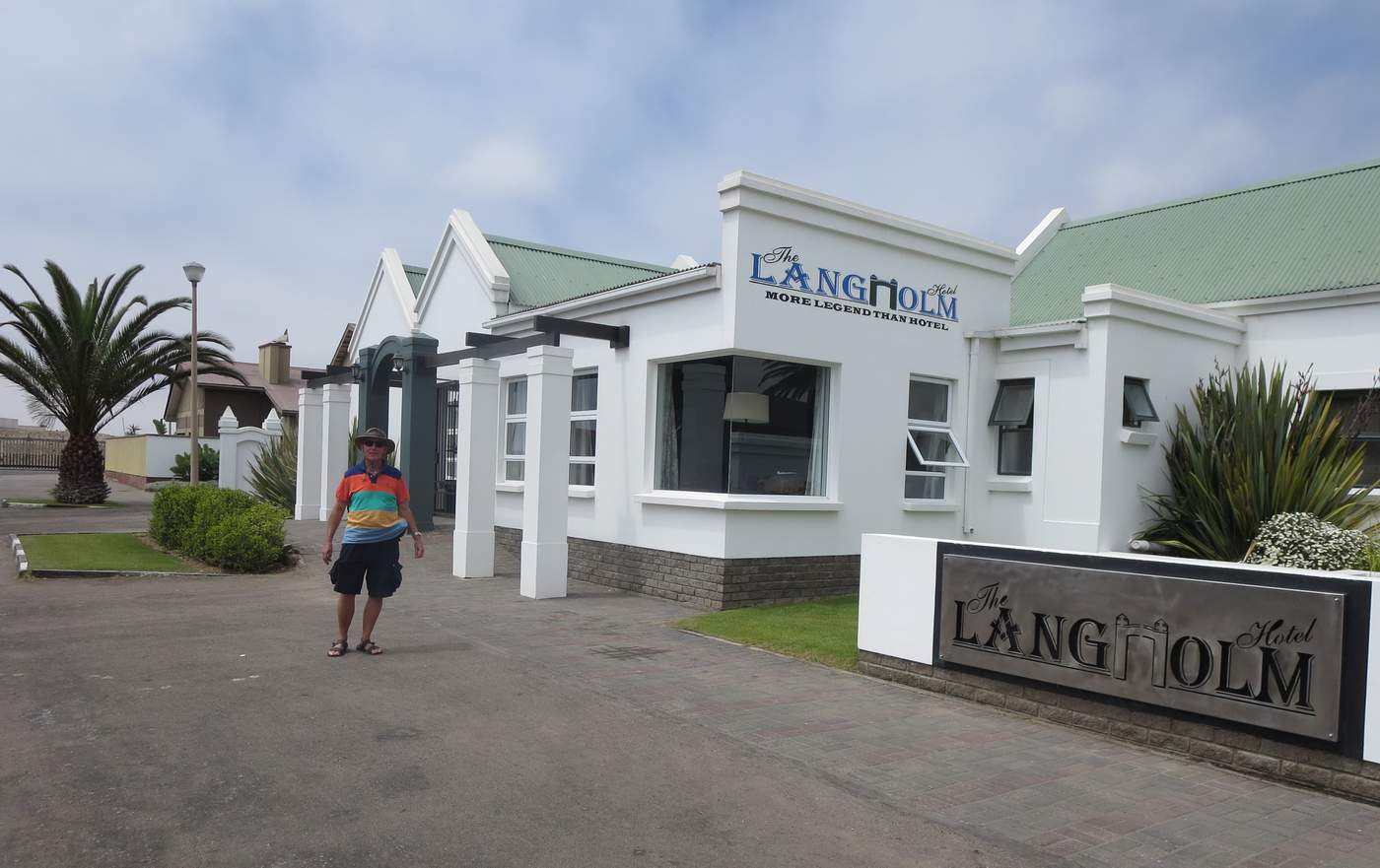 15.03. We have left Swakopmund for Walvis Bay. The Langholm is a natural choice of accommodation.
15.03. Vi har forlatt Swakopmund og kjørt til Walvis Bay. The Langholm er et naturlig hotellvalg.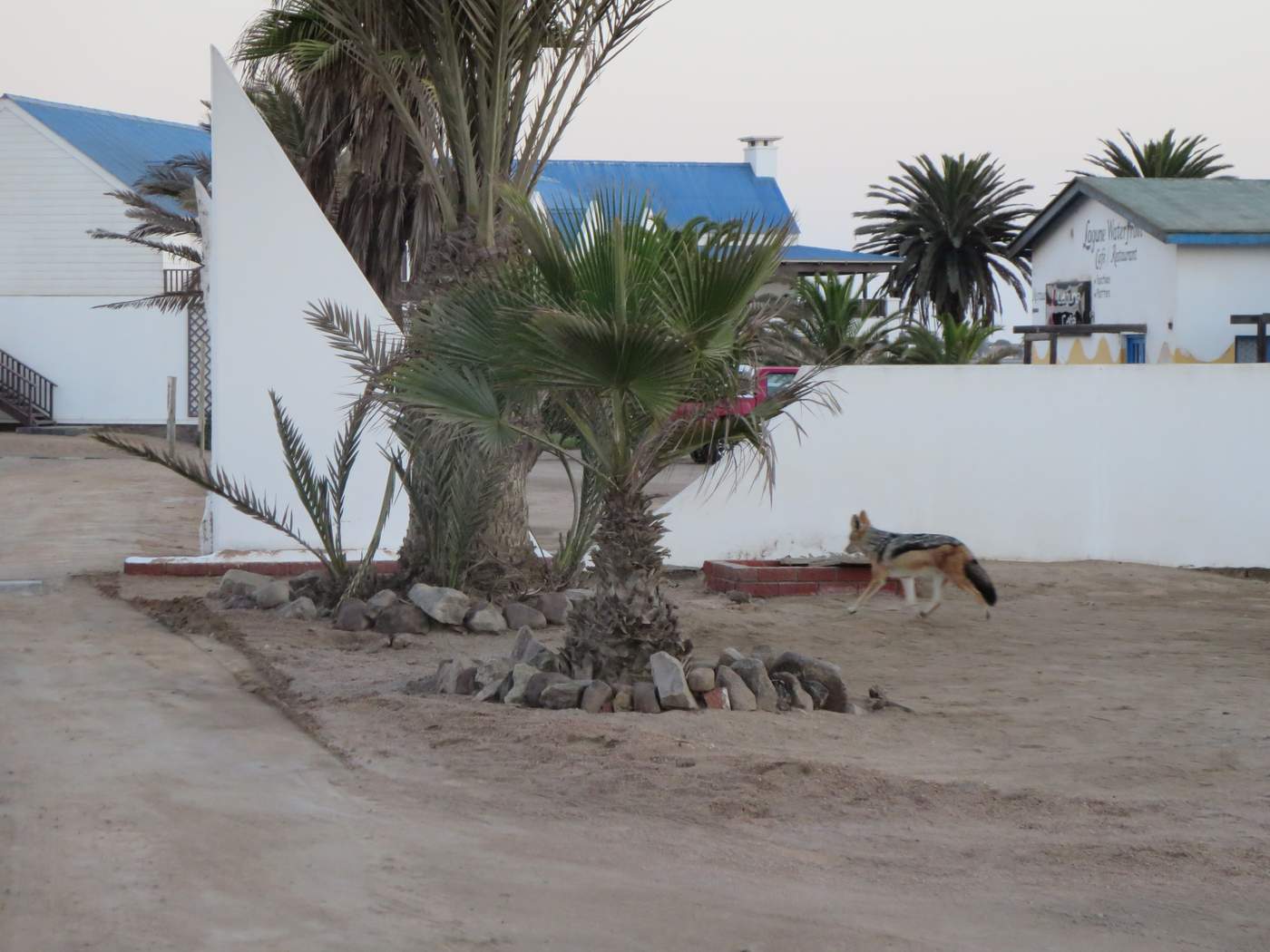 15.03. A jackal at the Yacht Club in Walvis Bay. It was probably looking for dead flamingos on the beach.
15.03. En sjakal på Yachklubben i Walvis Bay. Det lette trolig etter døde flamingoer på stranda.