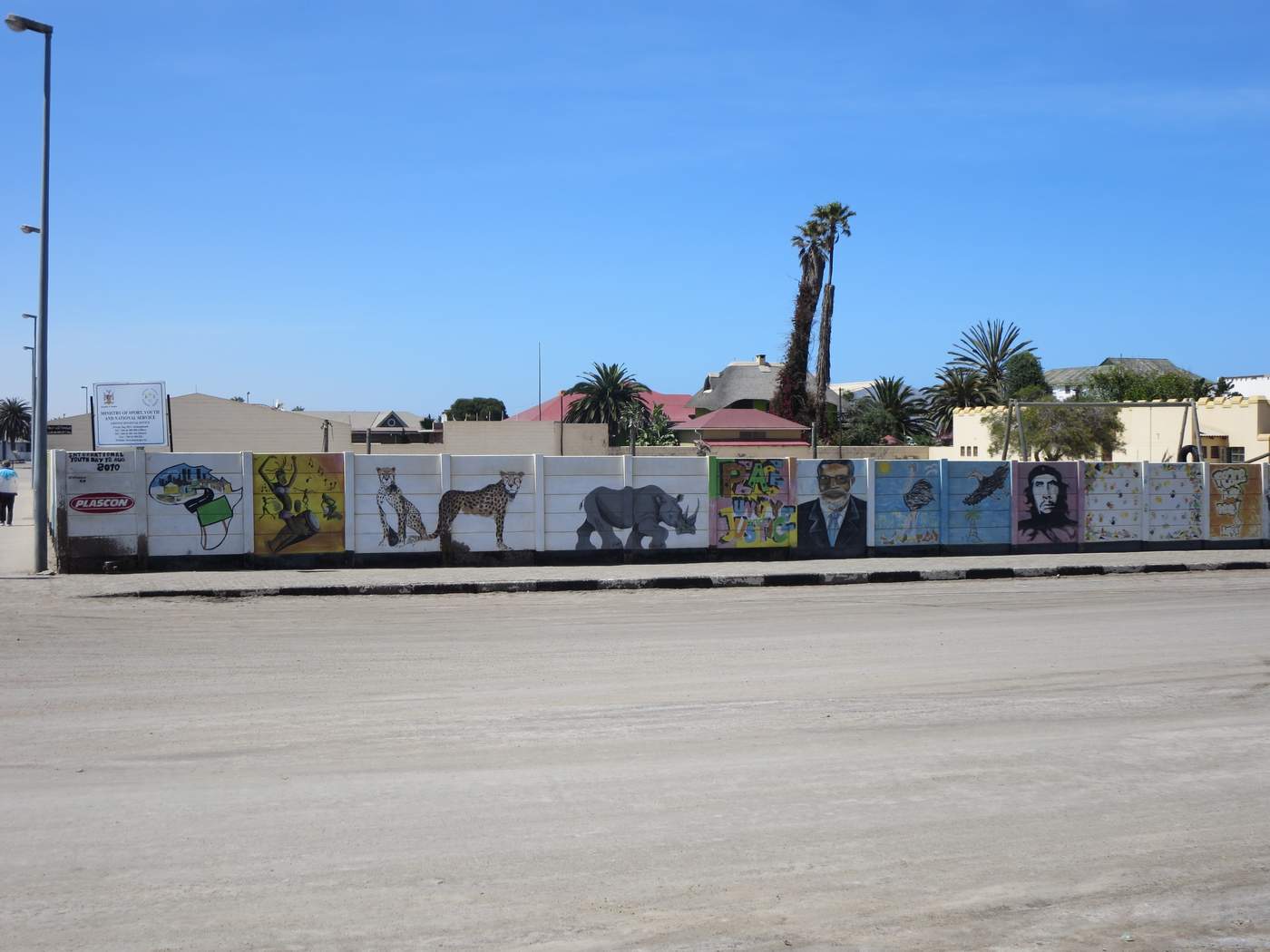 23.11. Street art inn Swakopmund - it looks much better than a dull grey concrete wall.
23.11. Gatekunst i Swakopmund - det ser mye bedre ut enn en grå, kjedelig mur.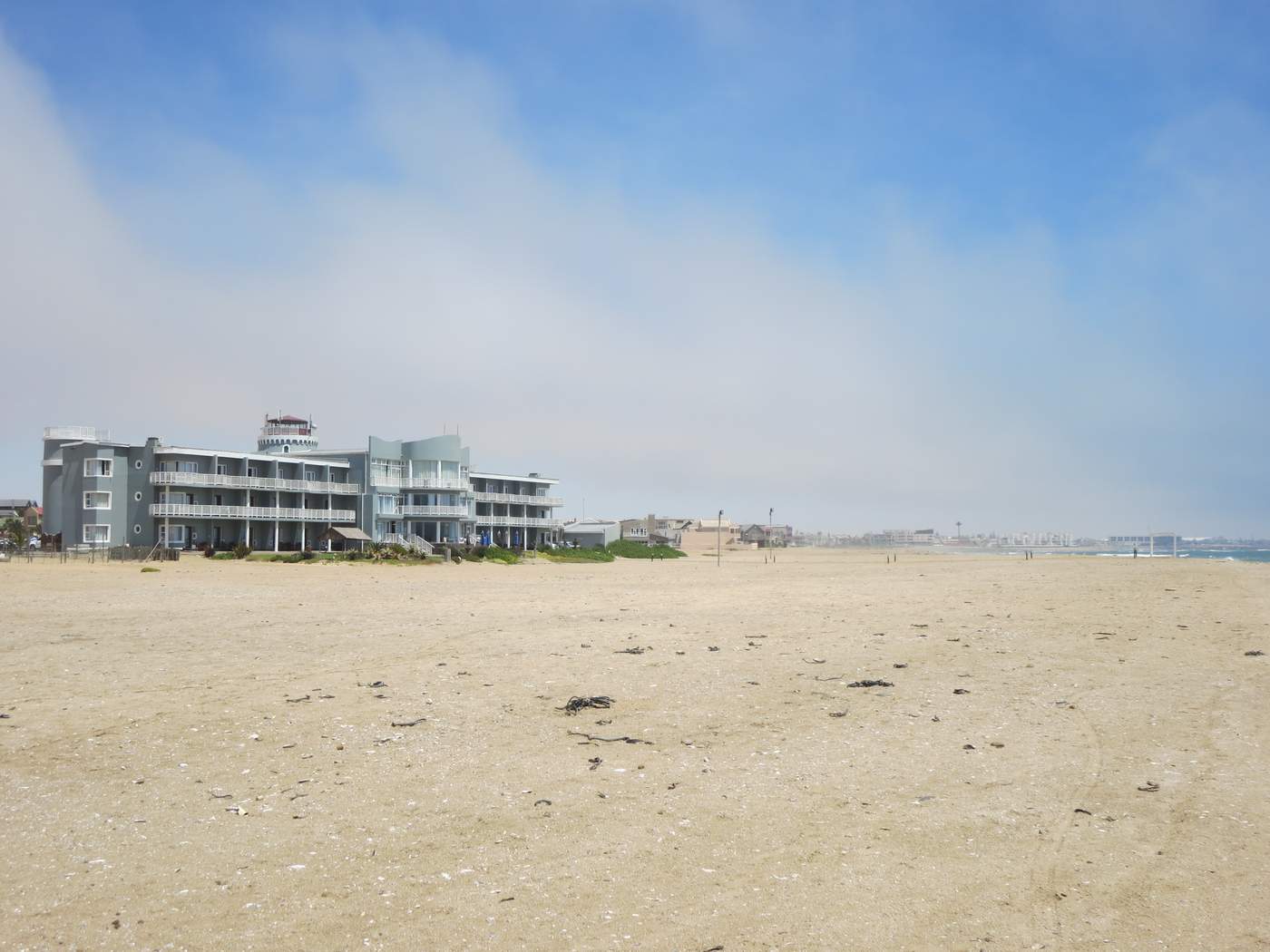 23.11. Sea Side Hotel and Spa Swakopmund at mile 4 where people go to have a relaxing time. The Namibian Armed Forces had a convention today so it was filled to the brim with military people in camo uniforms. (The camo did not help much...I managed to see them anyway....)
23.11. Sea Side Hotel and Spa Swakopmund på mile 4 hvor folk drar for å slappe av. Det namibiske militæret hadde møte der idag så det var smokk fullt med folk i camo uniformer. (Camo klærne hjalp ikke stort for jeg klarte å se dem likevel......)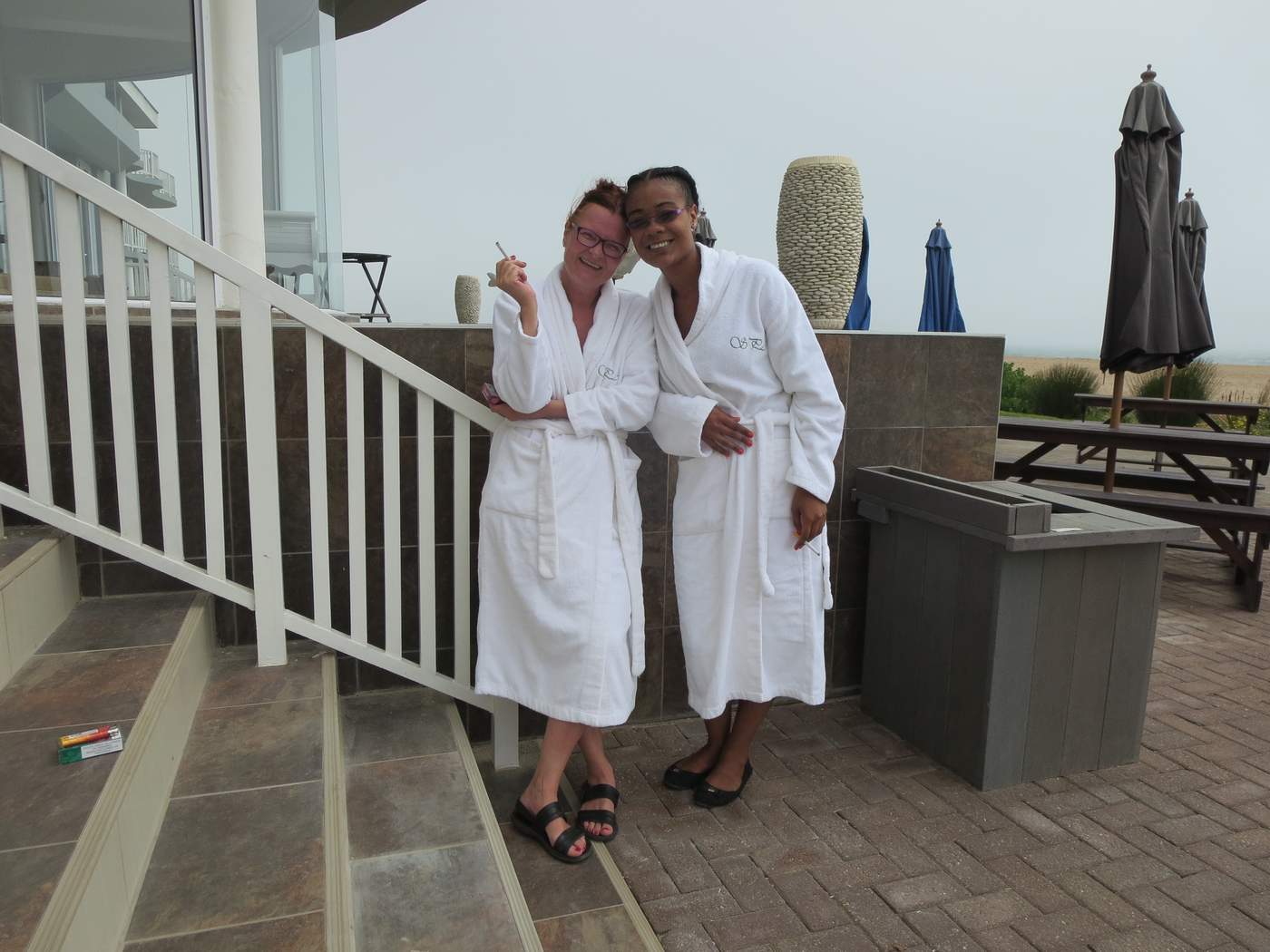 23.11. The two spa girls - Sylvi and Jamie-Lee - they really enjoyed the massage and a lengthy stay in the Jacuzzi with ciggi breaks in between. What did I do...?...I went for a drive in the desert.
23.11. De to spa jentene Sylvi og Jamie-Lee - de nøt virkelig massasjen og et lengre opphold i jacuzzi'en med røyepauser inni mellom. Hva gjorde jeg...?..jeg tok meg en kjøretur i ørkenen.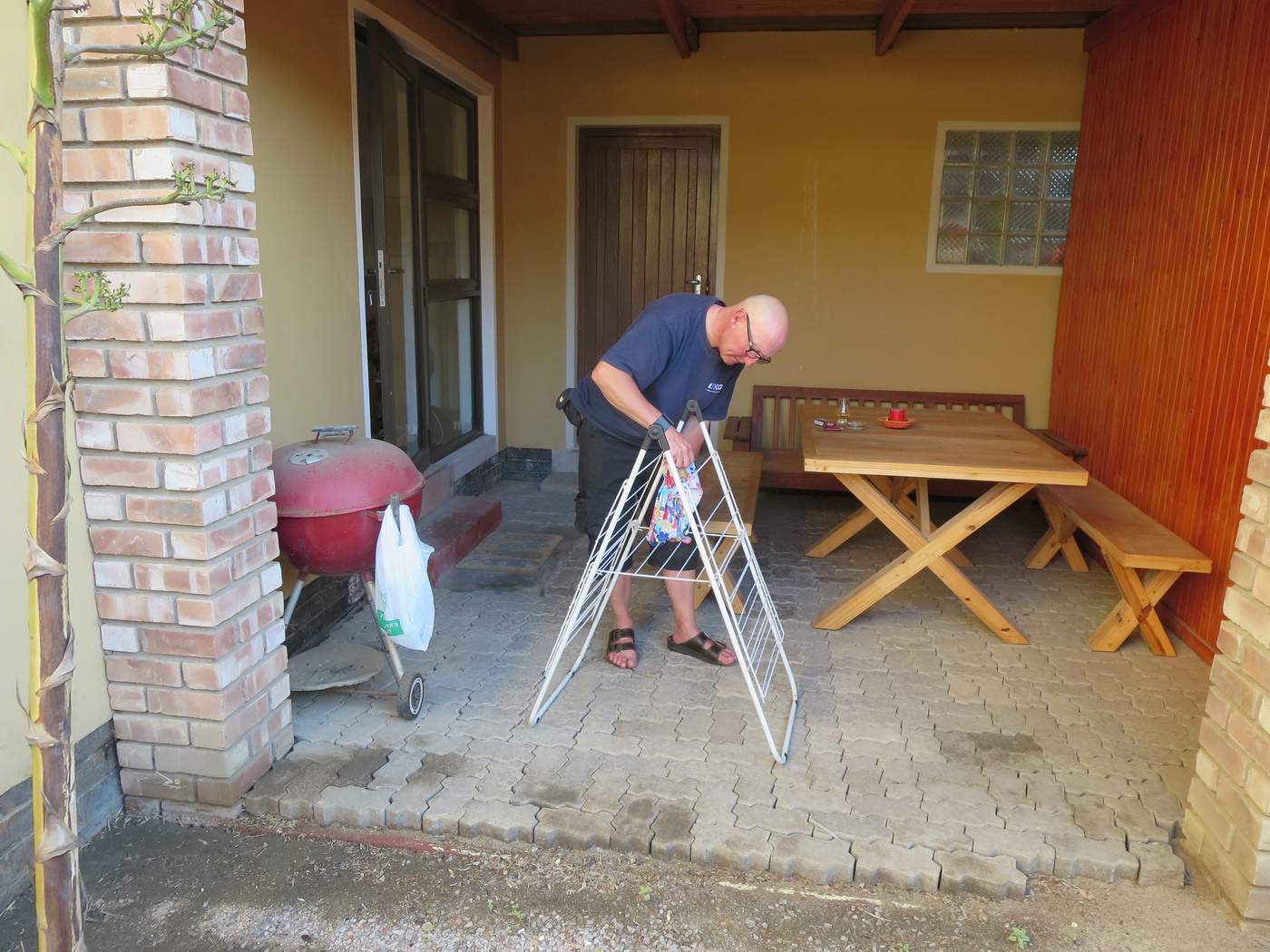 23.11. Yupps, even while on vacation I am in charge of the laundry, while Sylvi is doing nasty stuff like picking up the dog shit in the garden. I prefer the laundry part...he,he
23.11. Yupp, til og med på ferie har jeg ansvaret for klesvasken, men Sylvi har drittarbeidet som å plukke opp hundebæsjen i hagen. Jeg foretrekker klesvaskinga..he,he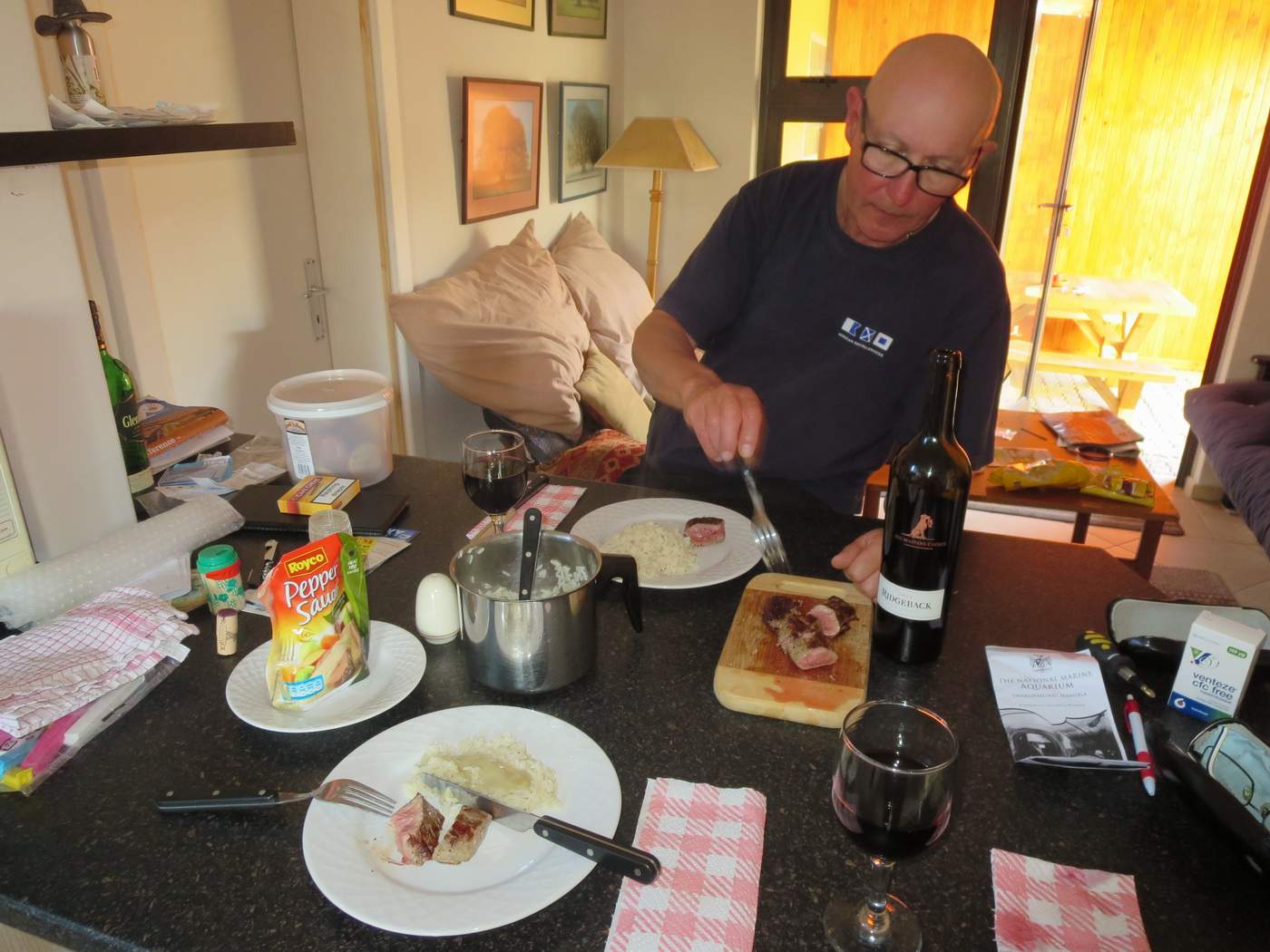 24.11. Dinner at home - oryx filet with rice and pepperssauce prepared by chef Andersen - the South African Ridgeback red wine is VERY good.
24.11. Middag hjemme - oryx indrefilet med ris og peppersaus tilberedt av chef Ændersen - den Sørafrikanske rødvinen Ridgeback er VELDIG god.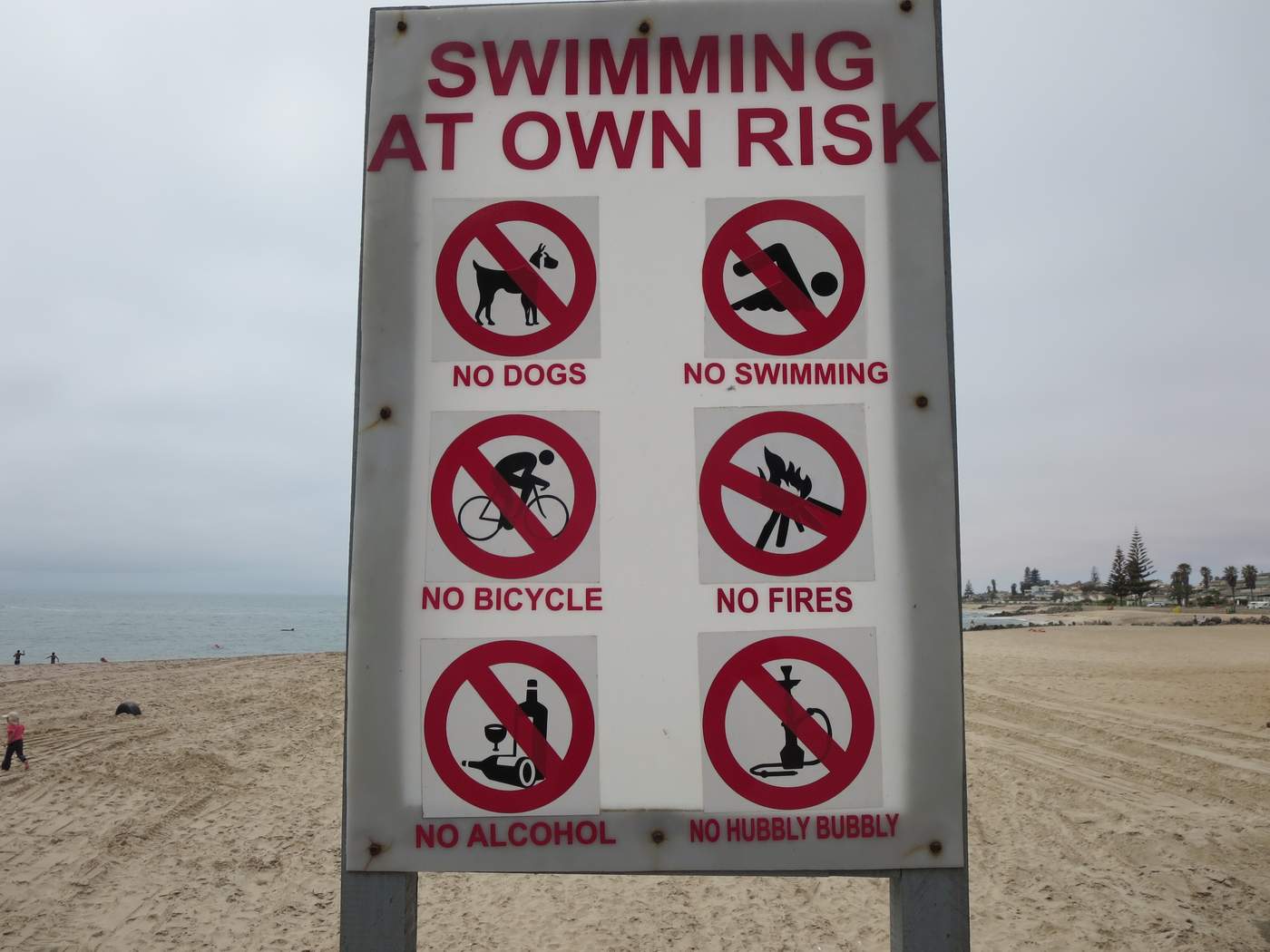 25.11. No Hubbly Bubbly at the beach in Swakopmund? Now..where is the fun in that..he,he
25.11. Itt'no Hubbly Bubbly på stranda i Swakopmund? Skal de ta fra folk moroa..? he,he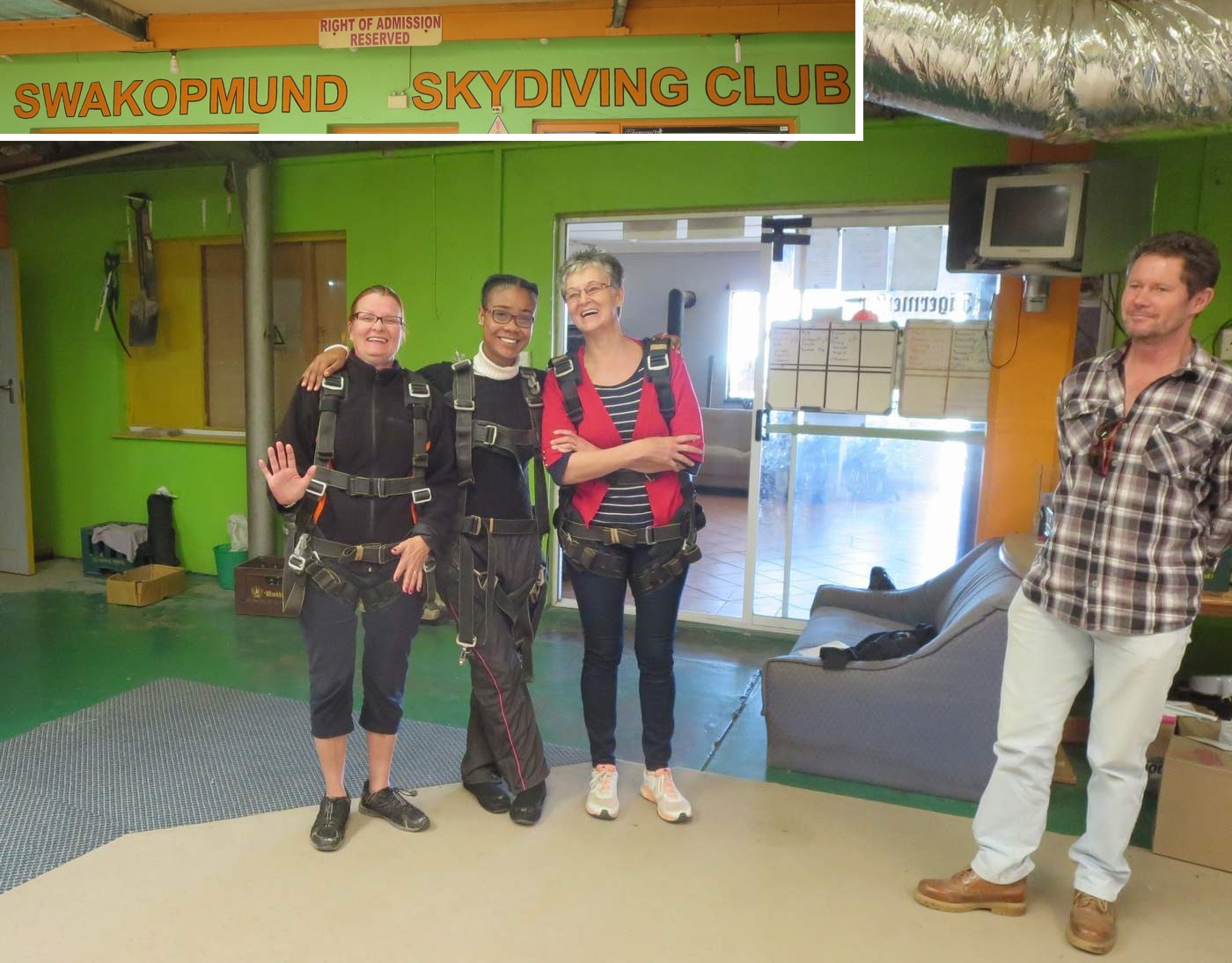 26.11. Now...what's going on here....????? Harnesses??? Yes, Sylvi and Huipie are going to fly into the sky to jump out and Jamie-Lee is going to obeserve.
26.11. Nå...hva foregår her da..???? Seler??? Ja, Sylvi og Huipie skal fly opp til himmelen for å hoppe ut og Jamie-Lee skal være med som observatør.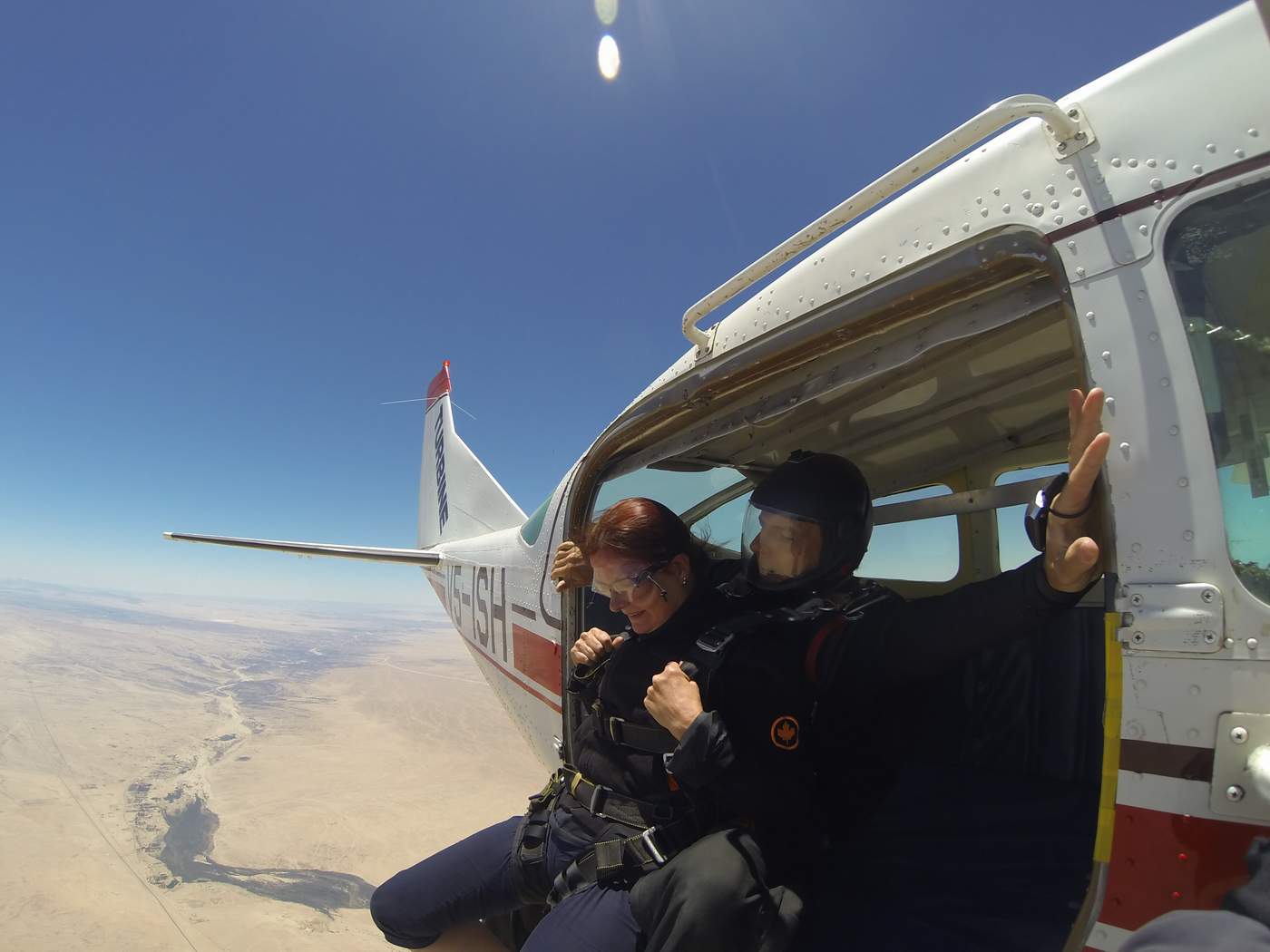 26.11. Yupps..... what a beautiful day to slide out of a perfectly working aircraft - and yes... it IS Sylvi; the scared-of-hights-wife!!!!
26.11. Yupp...en fin dag til å skli ut av et fly som fungerer aldeles utmerket - og ja... det ER Sylvi; høydeskrekk-kona!!!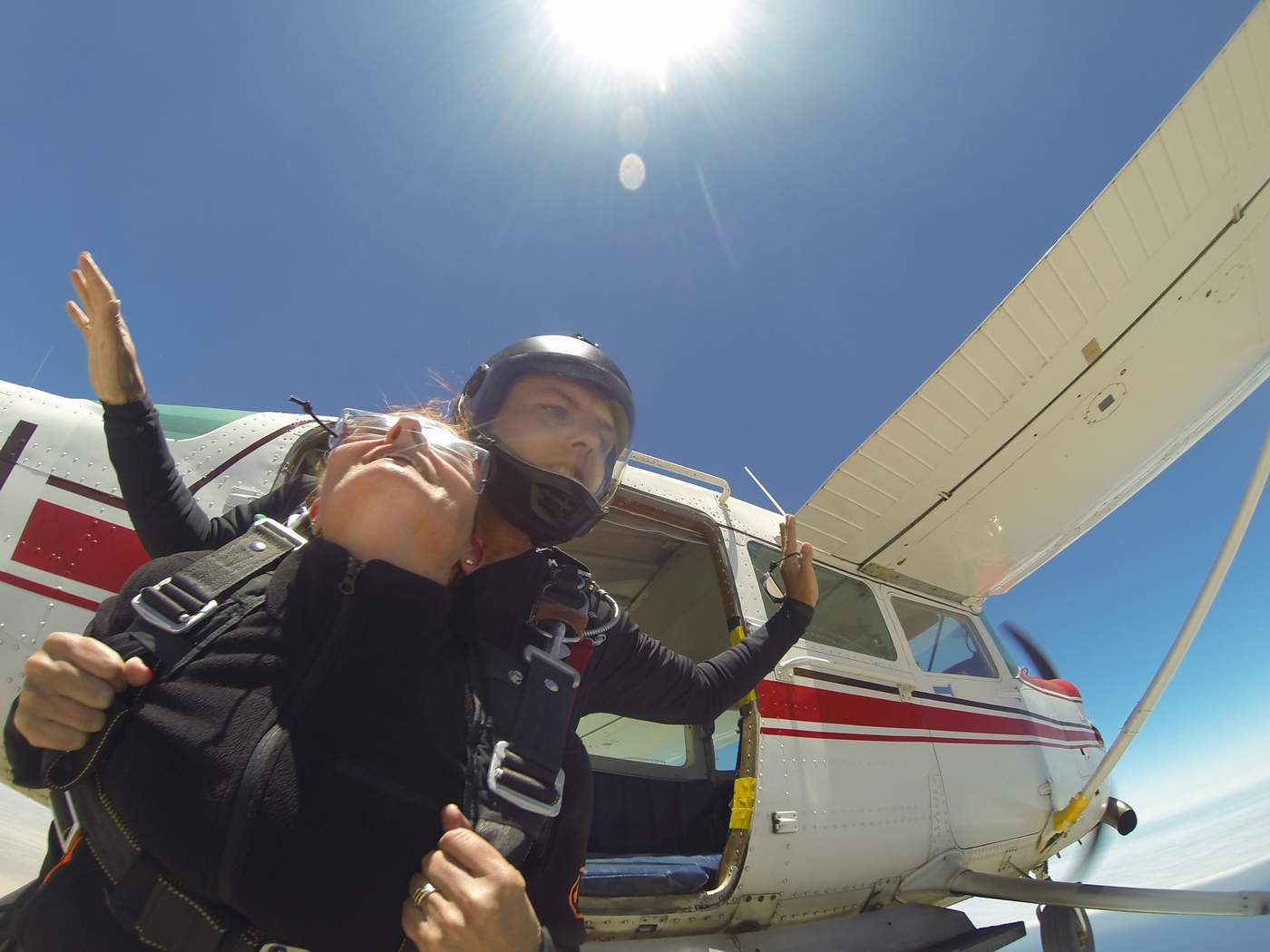 26.11. Look at that smile!
26.11. Se på det smilet!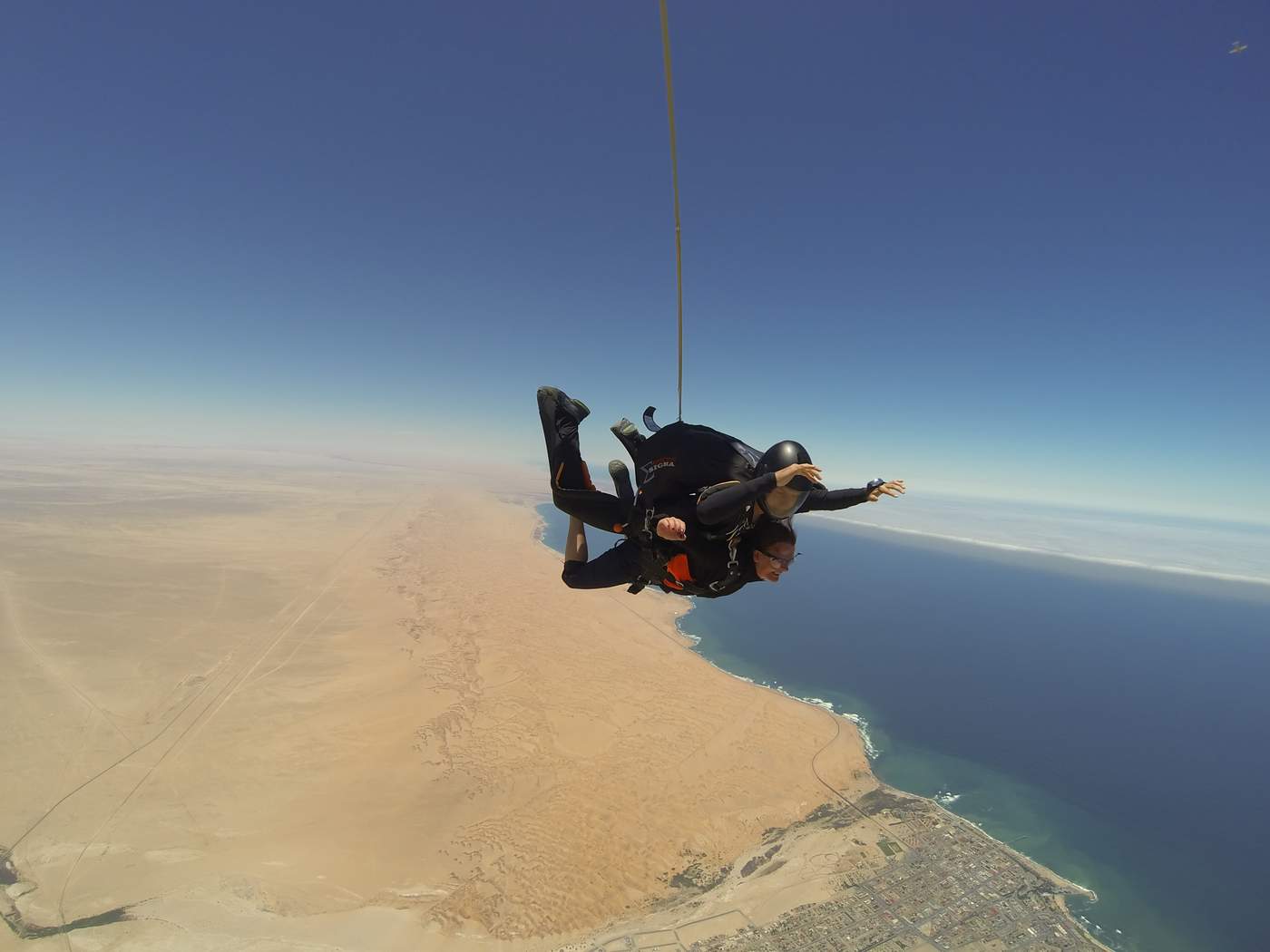 26.11. Floating in the air 10.000 ft somewhere above Swakopmund - look at her stare - does she have a sushi restaurant in sight?
26.11. Flytende rundt i lufta over Swakopmund i en høyde av 10.000 fot. Se på blikke hennes - har hun oppdaget en sushi restaurant?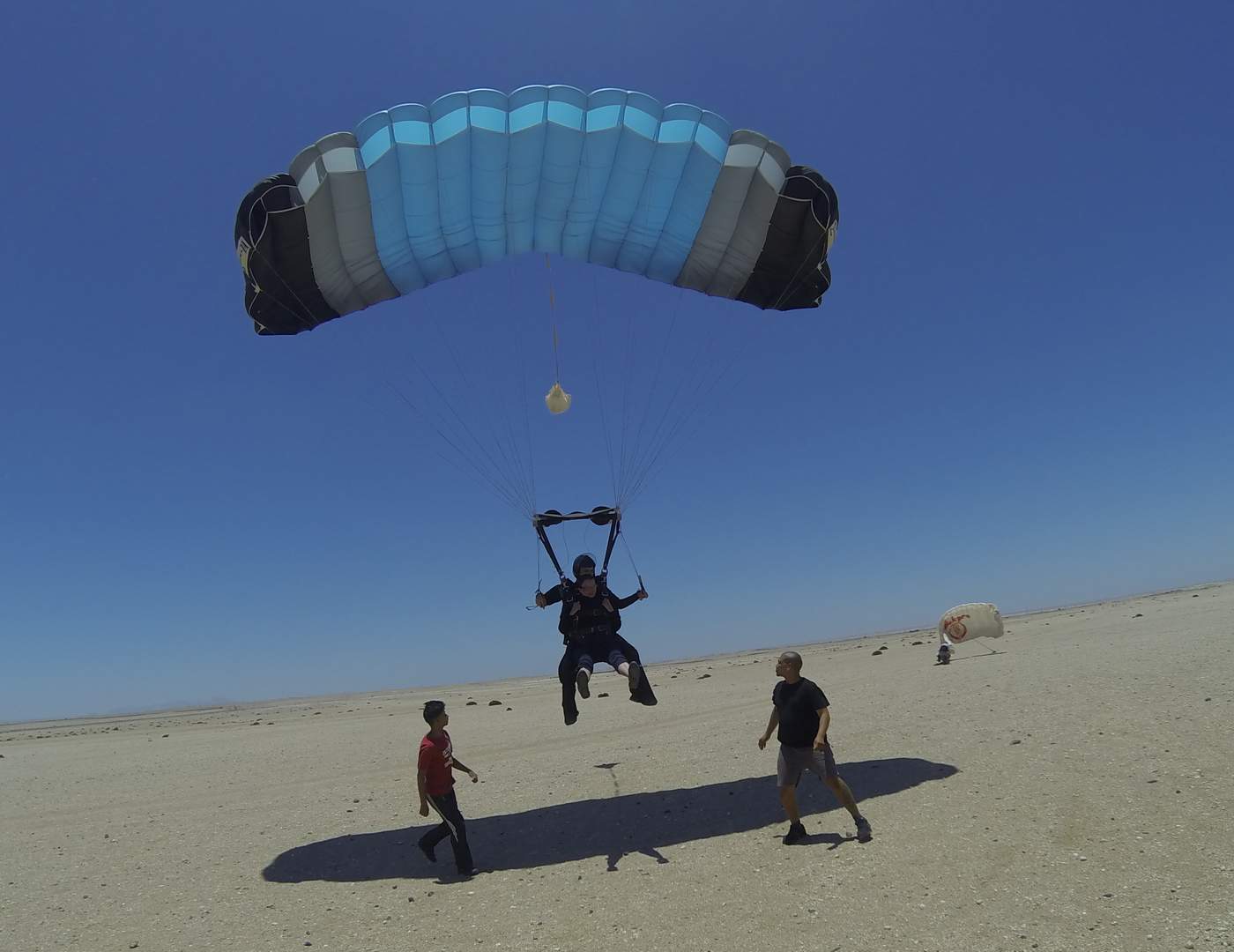 26.11. "Cabincrew, prepare for landing" as they say.... the landing went very smoothly.
26.11. "Cabincrew, prepare for landing" som de sier...en myk, fin landing.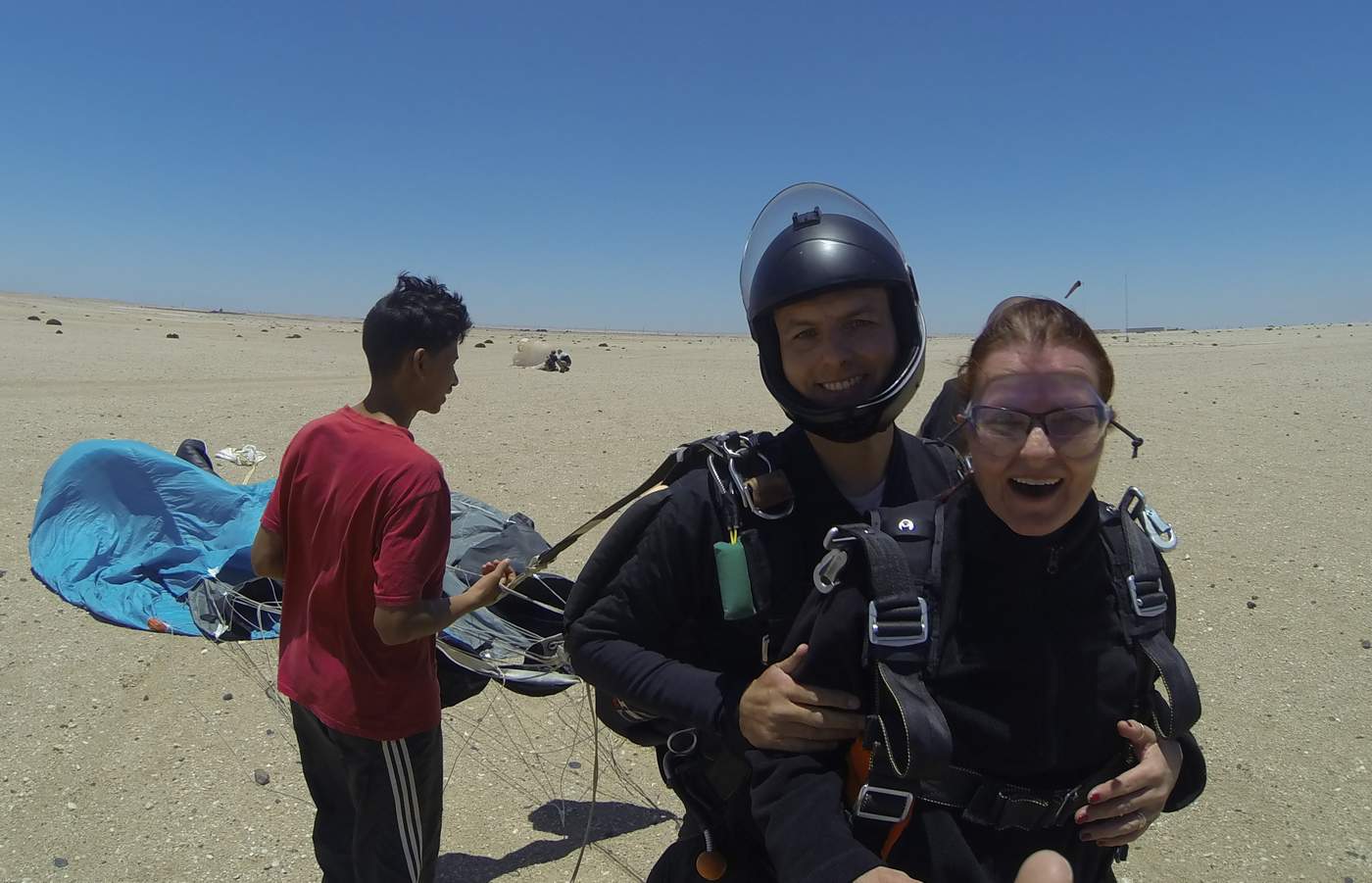 26.11. Sylvi's words: "This was fucking awesome!"
26.11. Sylvi's ord: "det hærrana va jækla bra!"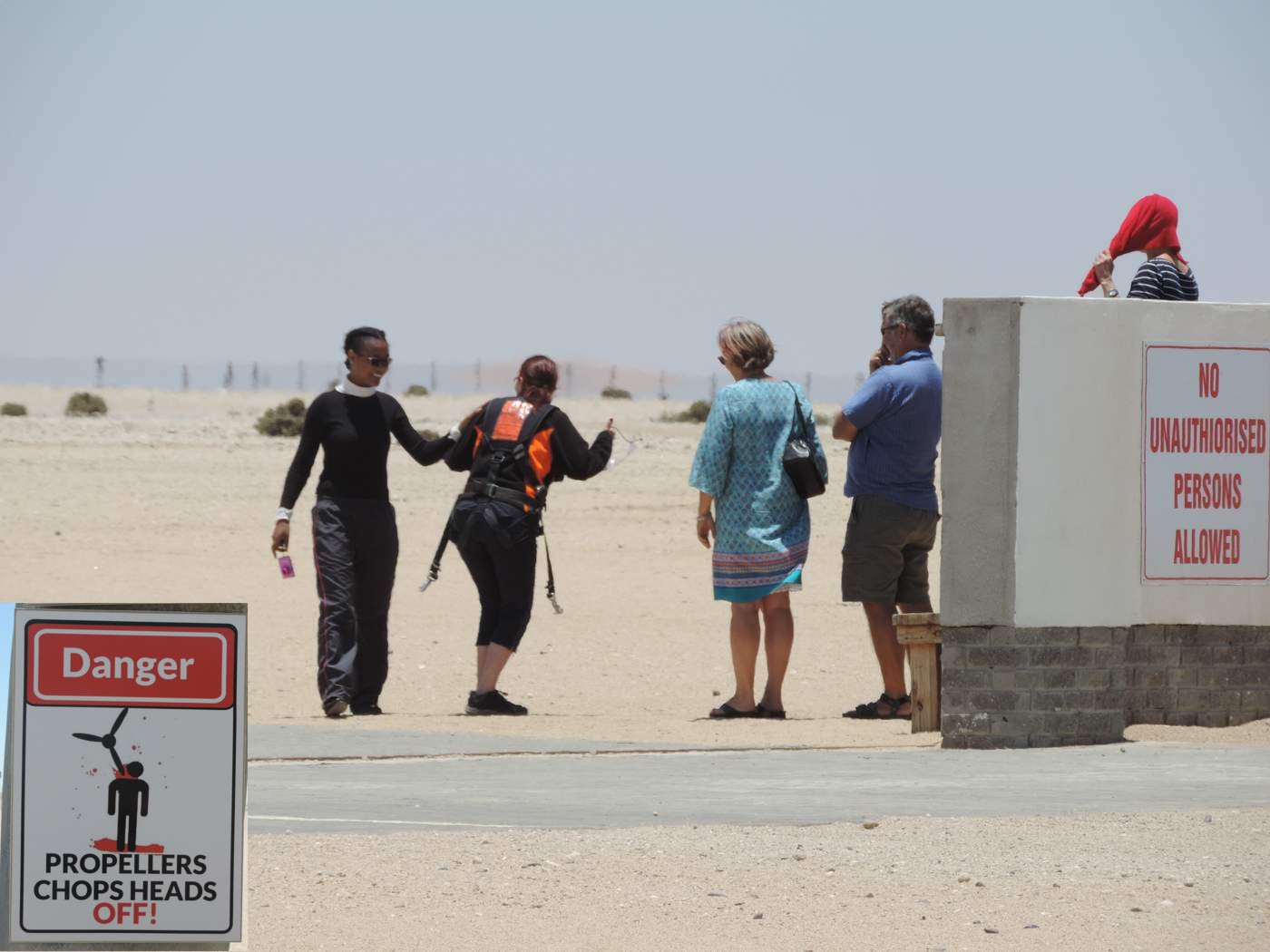 26.11. Jamie-Lee, Sigrid and Berti were waiting for her on the ground - I was in the background snapping pix all the time. Sylvi as soooo happy for the rest of the day, and so was Jamie-Lee because she got to tag along on the flight and got to see Swakopmund and the sand dunes from the air.
26.11. Jamie-Lee, Sigrid og Berti ventet på henne på landingsplassen - Jeg var i bakgrunnen og tok masse bilder here tiden. Syllen var så glad hele resten av dagen, men deg var Jamie-Lee også for hun hadde fått være med opp i flyet og sett Swakopmund og sanddynene fra lufta.
26.11. The video shot during her jump. - for firefox users
26.11. Videoen fra hoppet hennes. - for firefox brukere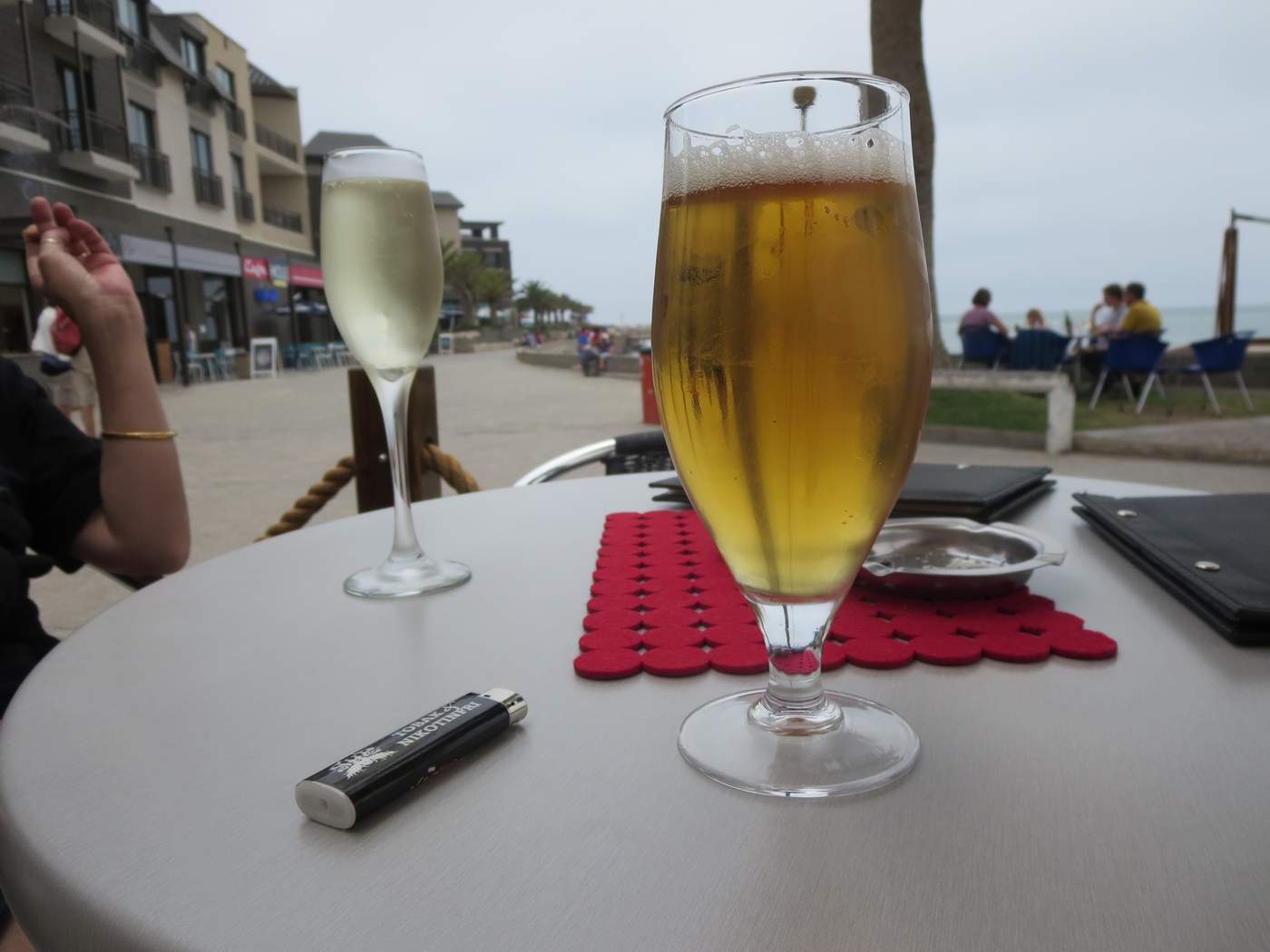 27.11. Life is not that bad......
27.11. Livet er ikke så ille.....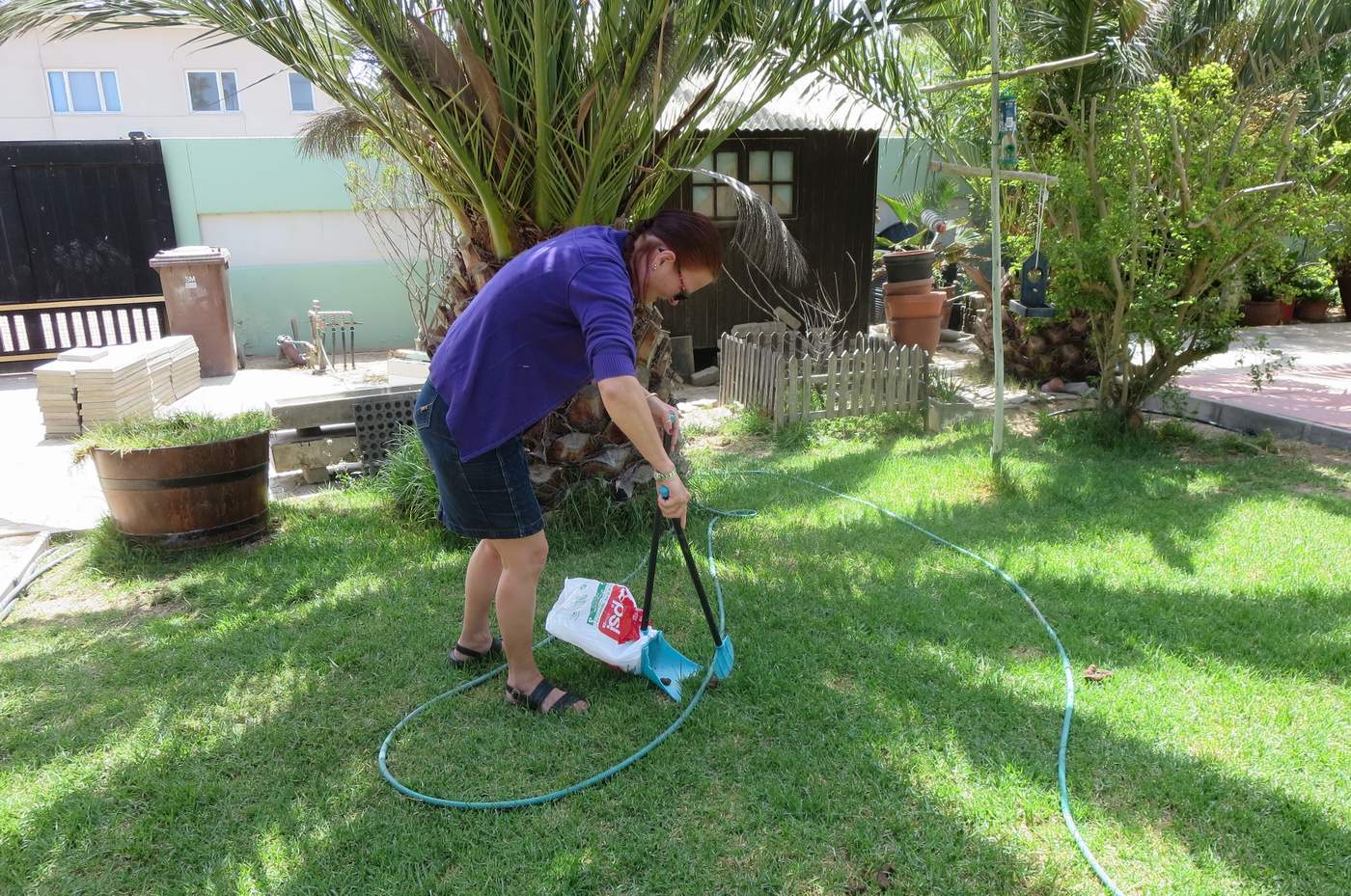 28.11. Imported labour: Professional dogshit picker!
28.11. Importert arbeidskraft: Profesjonell hundebæsj plukker!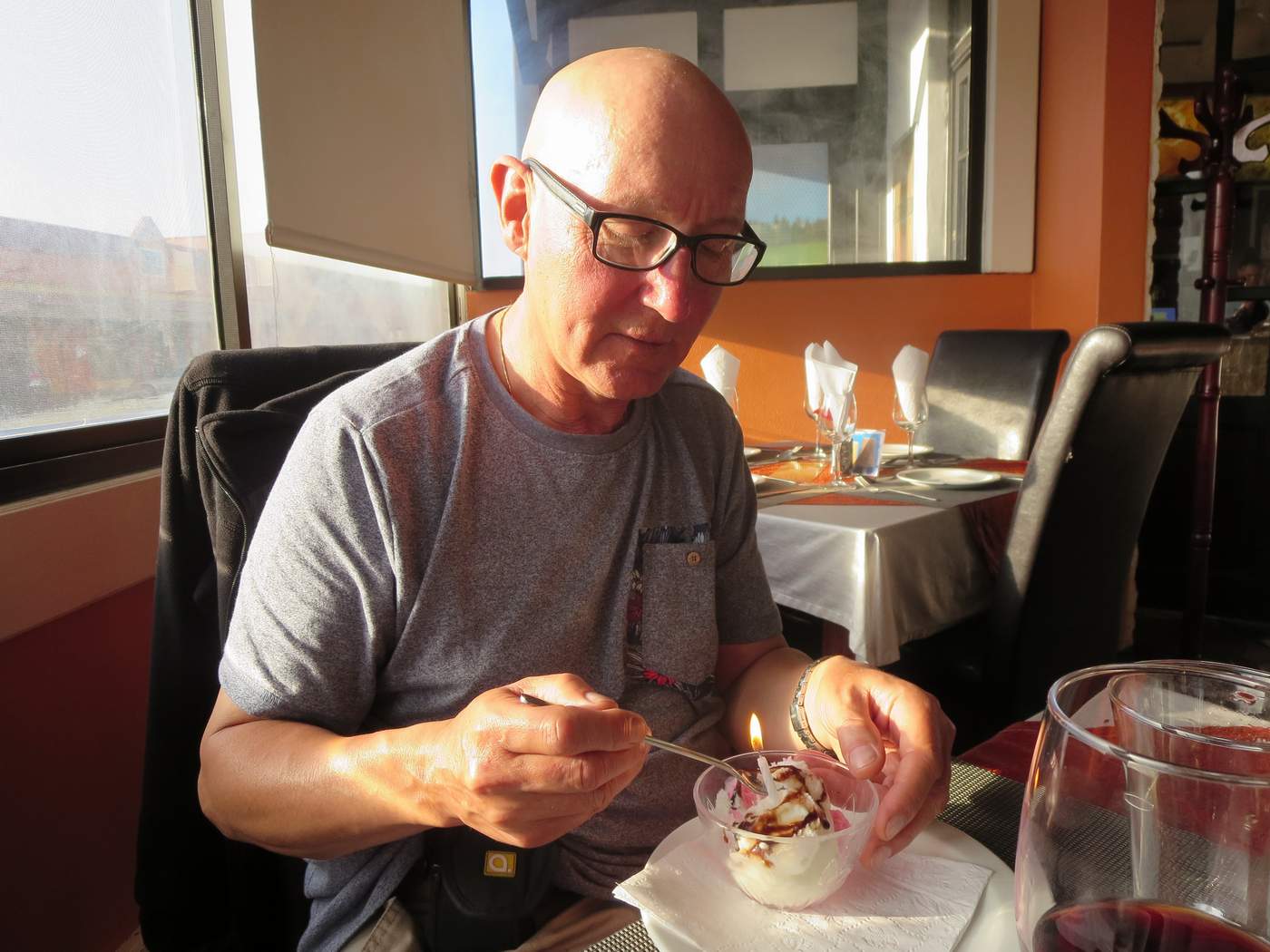 28.11. We had my birthday meal at an Indian Restaurant in Swakop and they gave me a birthday treat - ice cream with one candle - I guess they could not fit the remaining 56 candles...
28.11. Vi hadde bursdagmiddagen min på en indisk restaurant i Swakop og de ga meg en liten gave - is med et lys - Regner med at de ikke fikk plass til de resterende 56 lysa....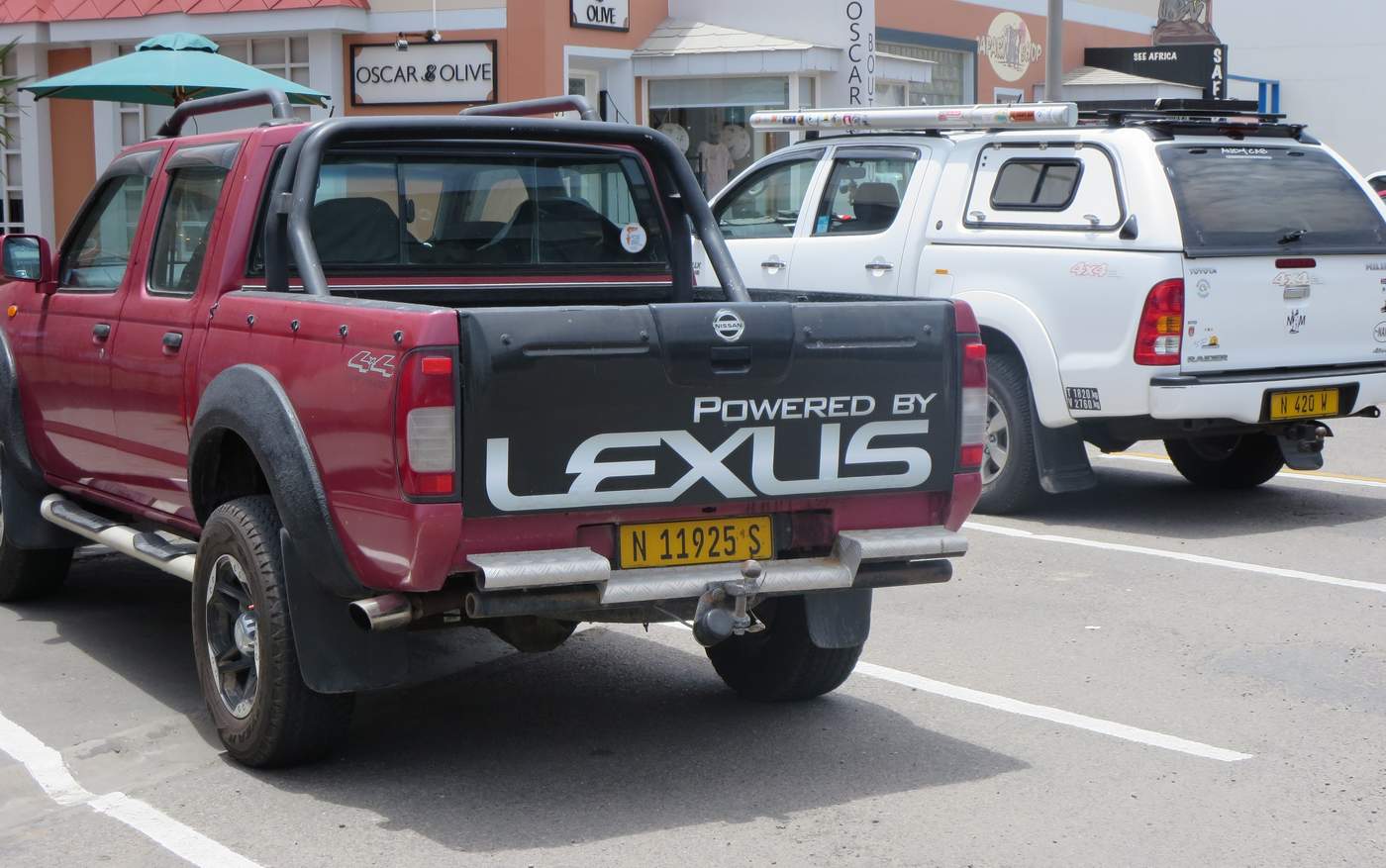 01.12. It seems like Nissan has started to use proper quality parts in their cars...?
01.12. Det ser ut som om Nissan har begynt å bruke skikkelige kvalitetsdeler i bilene..?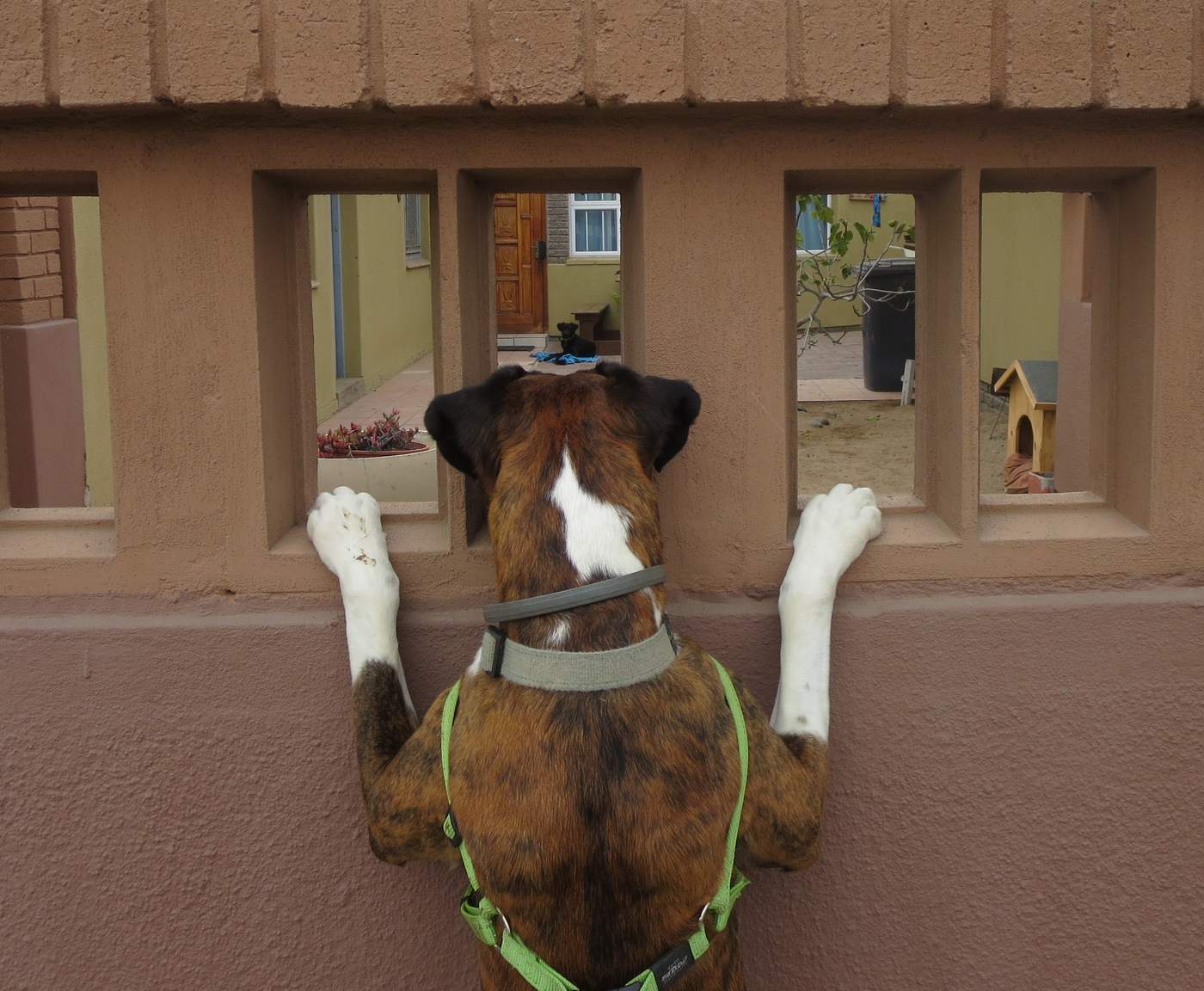 02.12. Poor Franz - howling... he so badly wants to play with the doggy inside the fence!
02.12. Stakkars Franz - han hyler... han vi så gjerne leke med bissevoven på innsiden av gjerdet!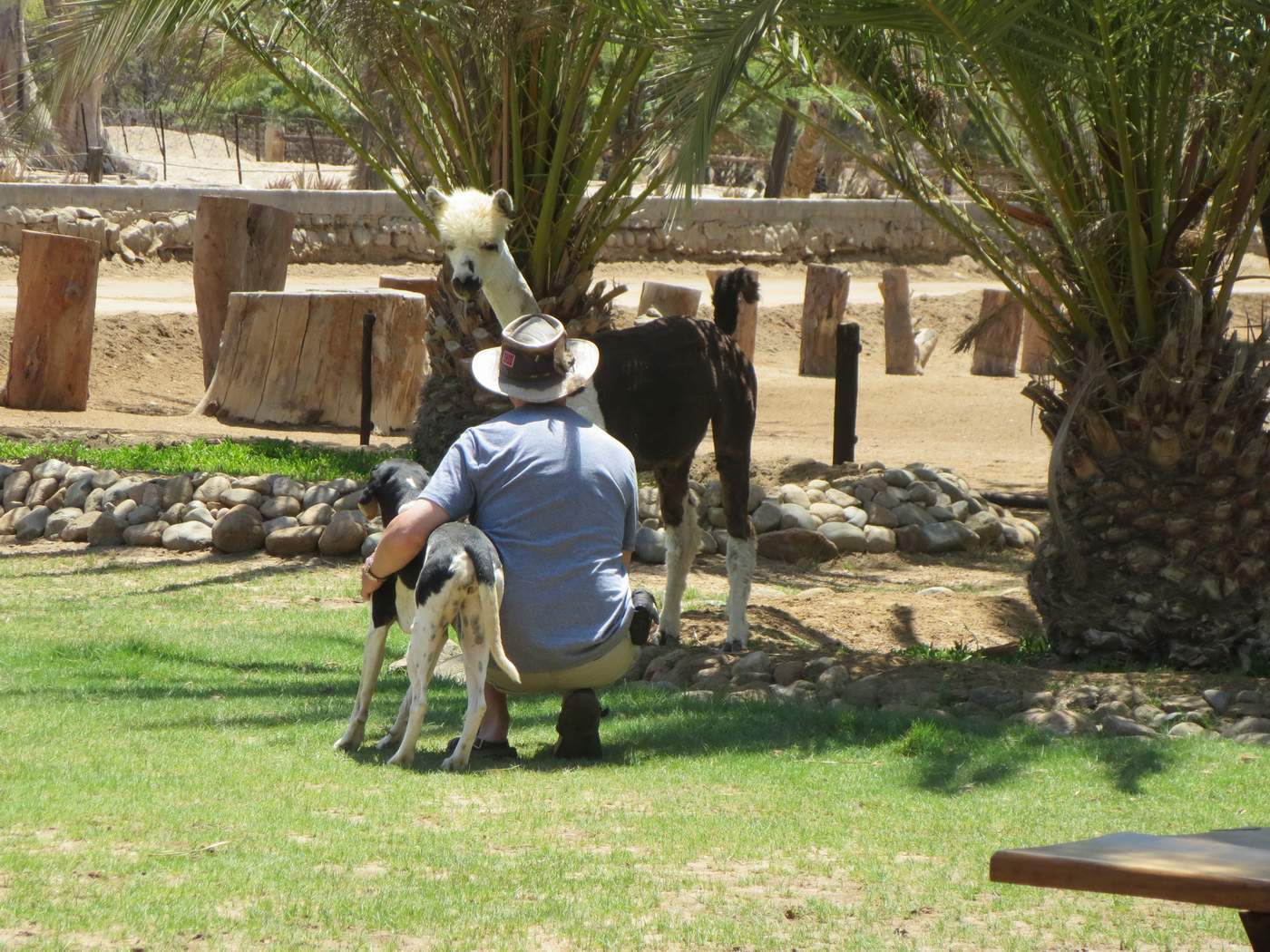 02.12. I have made new friends in Goanikontes! The lama did not like the doggy and was charging her all the time.
02.12. Jeg har fått nye venner i Goanikontes! Lamaen likte ikke doggien og jaget henne hele tida.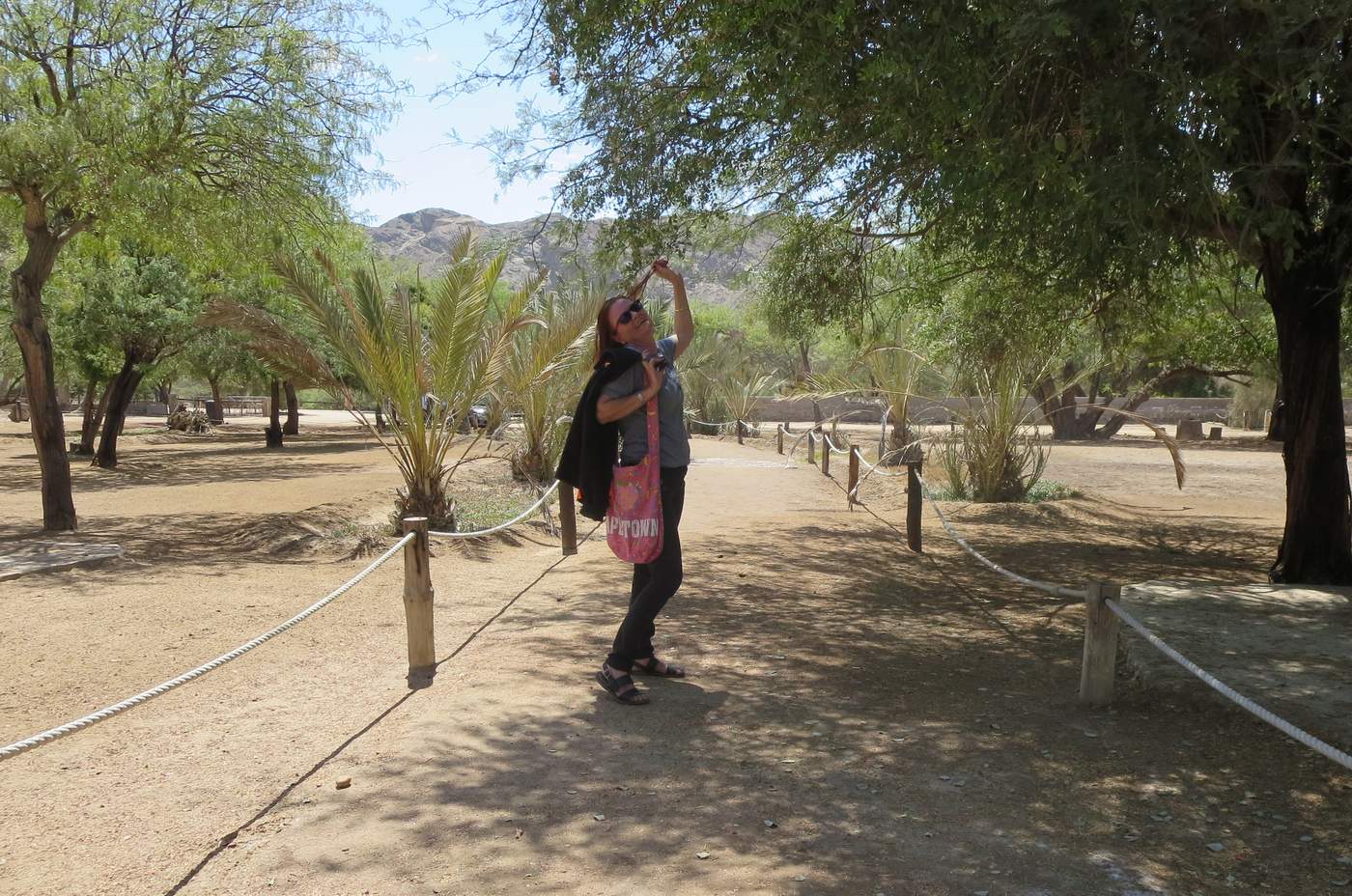 02.12. Sylvi is happy!
02.12. Syllen er glad!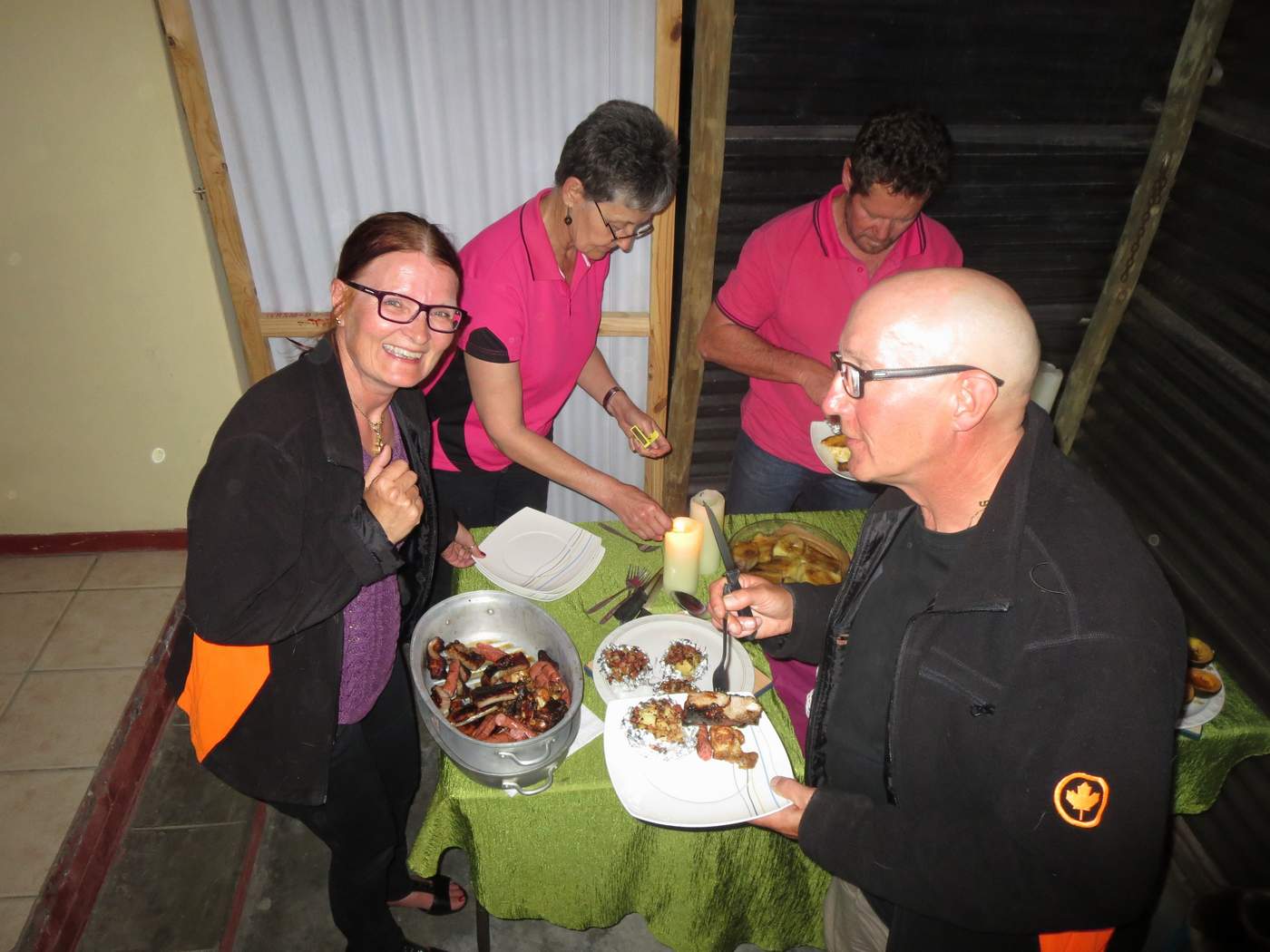 03.12. Our last night in Namibia for this time; we're having a braai with the Visser family - again, the Master of Braais, Anton showed us his skills!
03.12. Vår siste kveld i Namibia for denne gang; vi har en braai med Visser familien - Braai Mester Anton har igjen vist sine ferdigheter!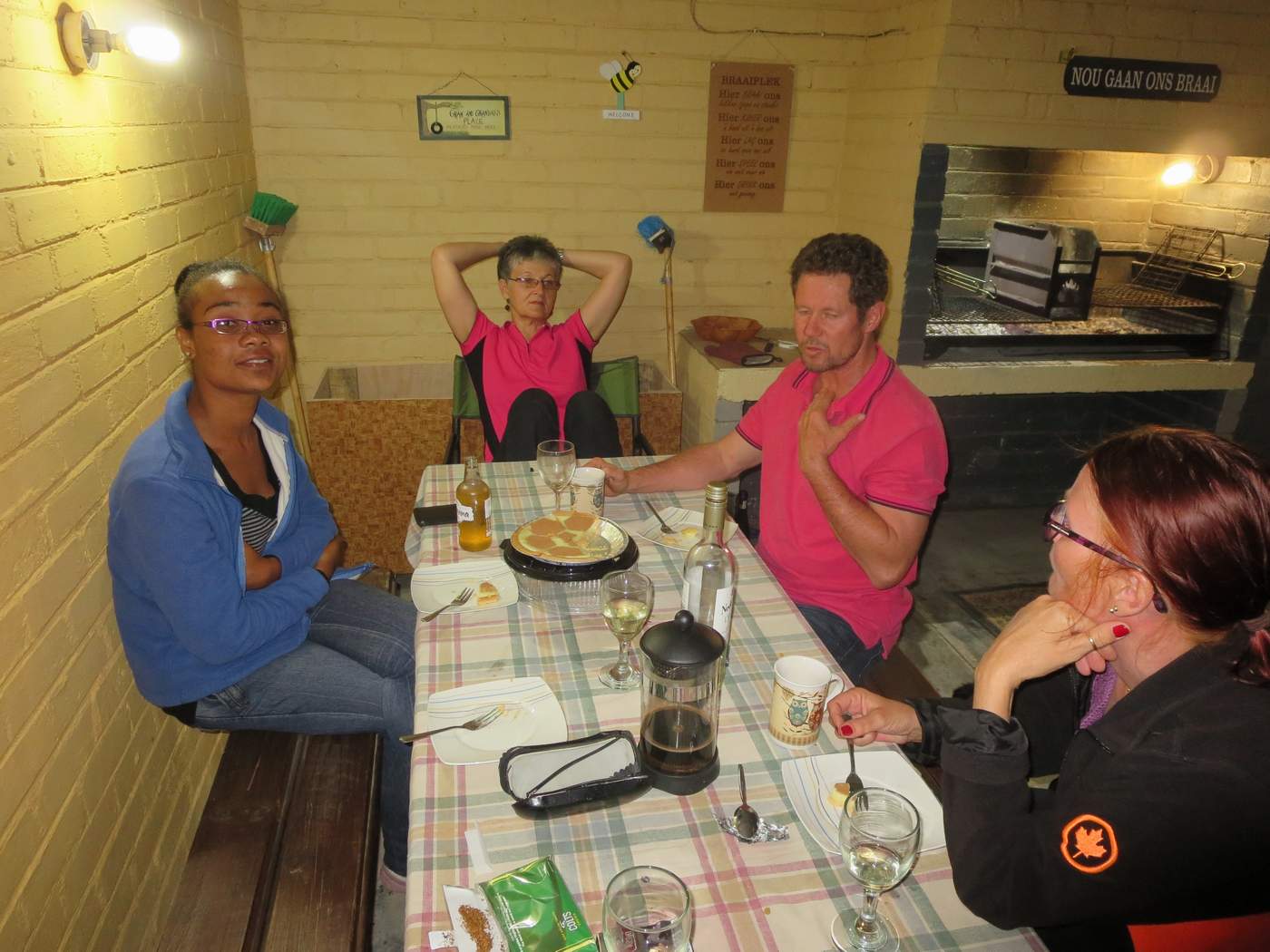 03.12. The braai has been completed and we have a nice chat before we head back home to our apartment just down the road.
03.12. Braaien er ferdig og vi snakker litt før vi drar tilbake til leiligheten våre rett ned i gata.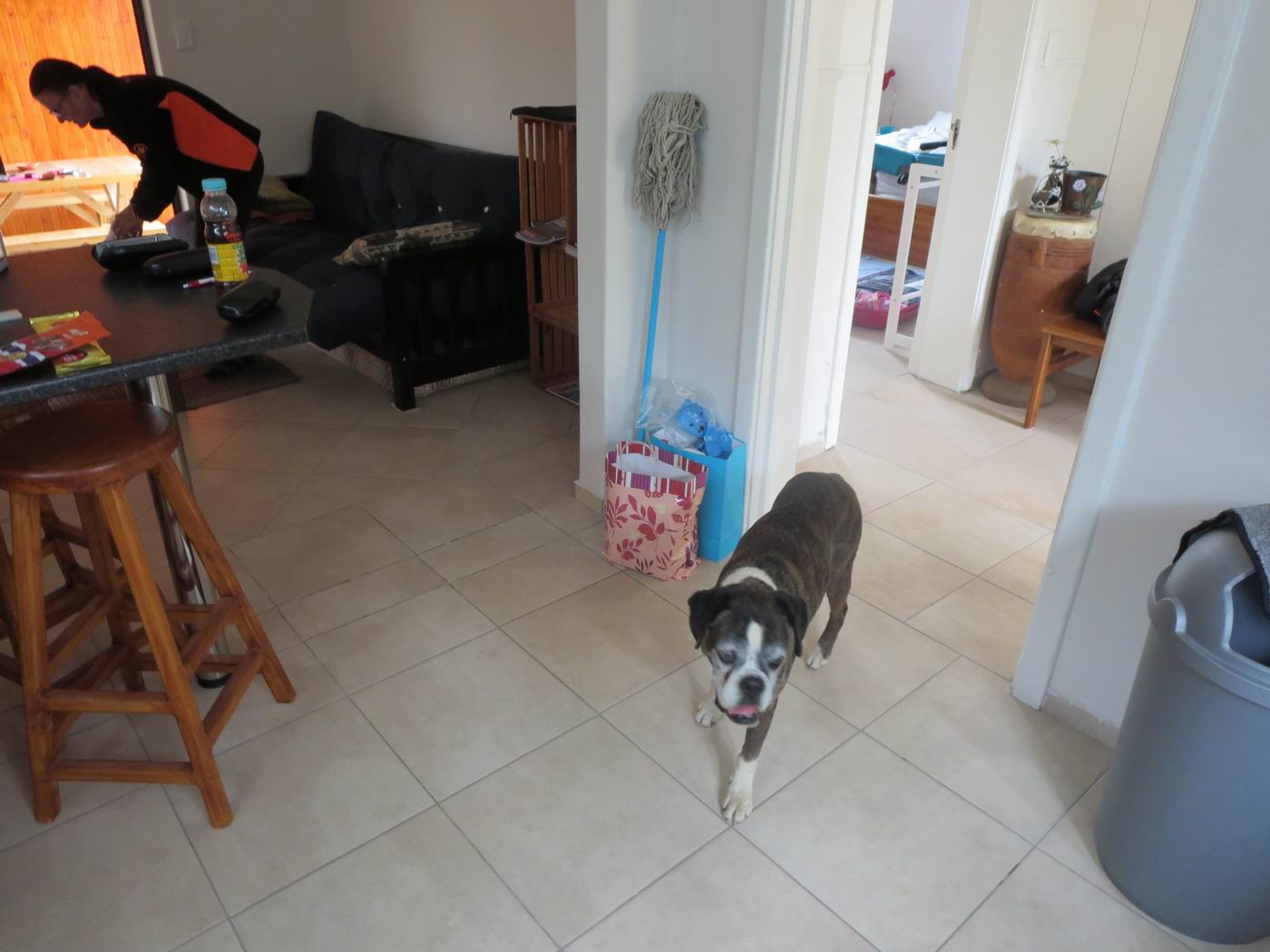 04.12. Our last day in the apartment - Resi is helping us packing by eating our left over salami and other goodies in the fridge. It's sad to leave Swakop, our friends, the doggies and the apartment - but.. WE WILL BE BACK!!!
04.12. Vår siste dag i leiligheten - Resi hjelper oss med å pakke ved å spise restene av salami og andre godterier i kjøleskapet. Det er trist å forlate Swakop, våre venner, doggisene og leiligheten - men... VI KOMMER TILBAKE!!!