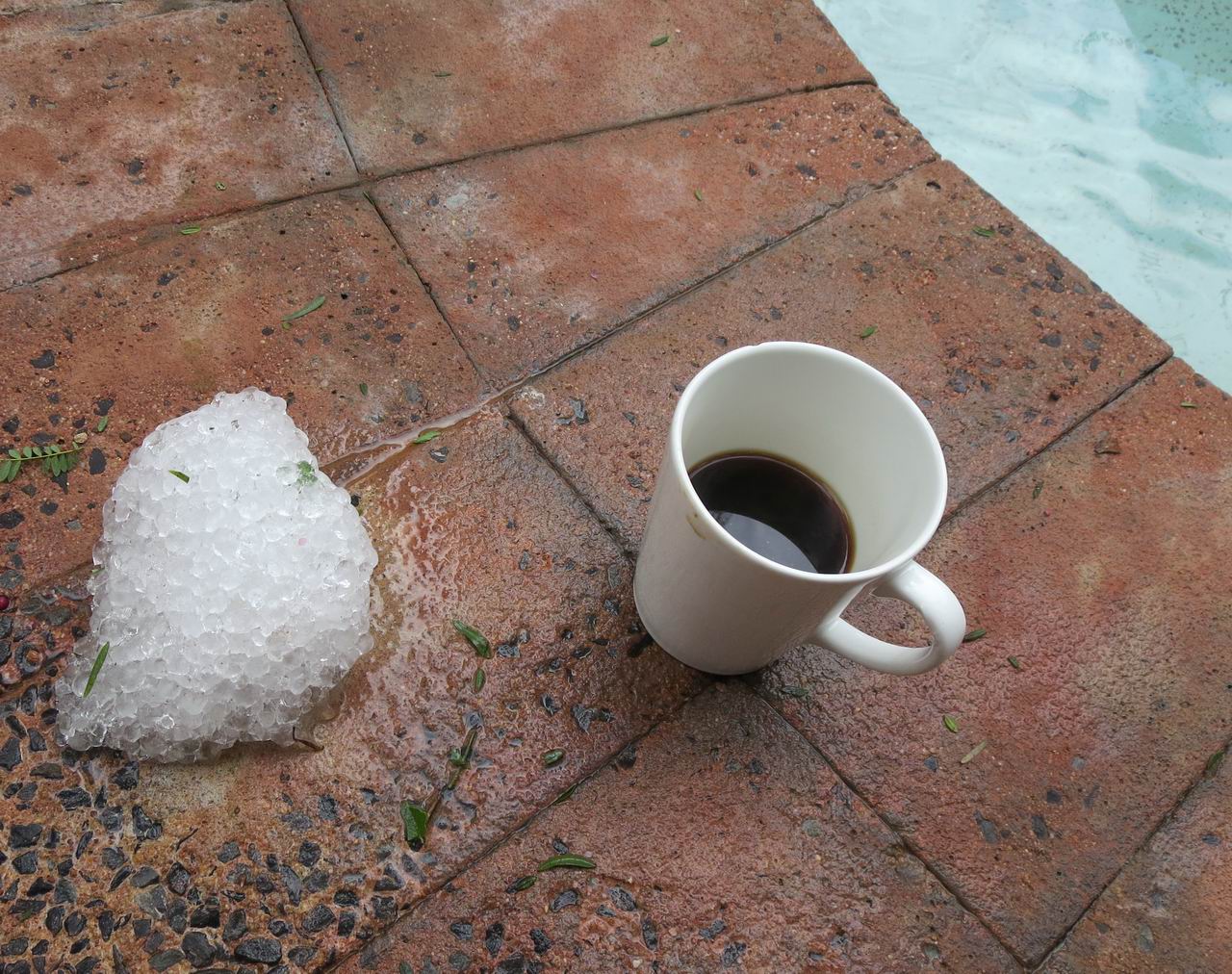 1703 - Last night there was a hailstorm in the Roof of Africa - apparently... the hail was still on the ground in the morning.
1703 - I går kveld var det visst nok haglstorm på the Roof of Africa... halg lå fremdeles på bakken om morgenen.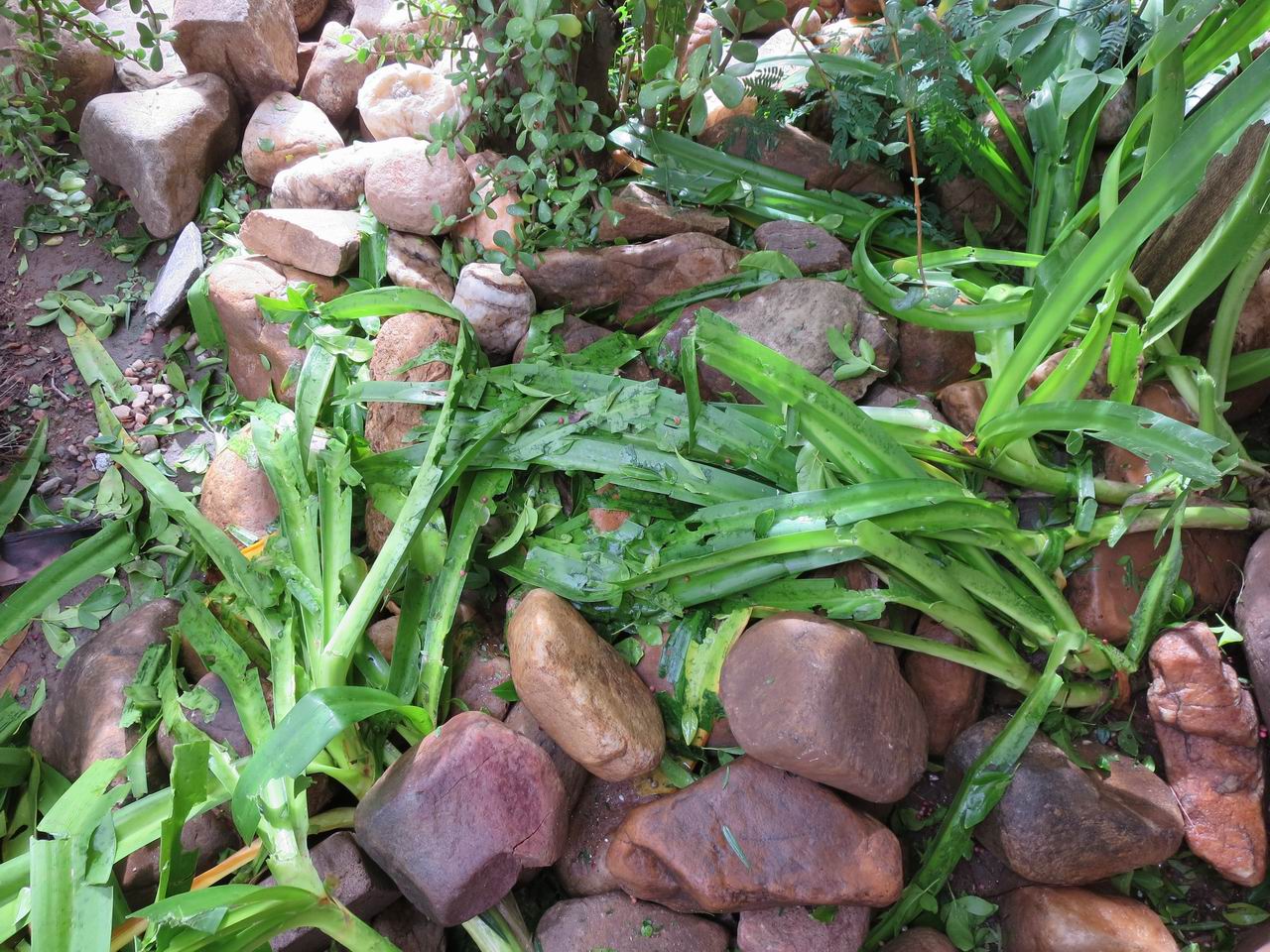 1703 - The hailstorm damaged a lot of the plants in the garden - some of the plants look like chopped lettuce.
1703 - Haglstormen ødela mange av plantene i hagen - noen av plantene ser ut som opphakket salat.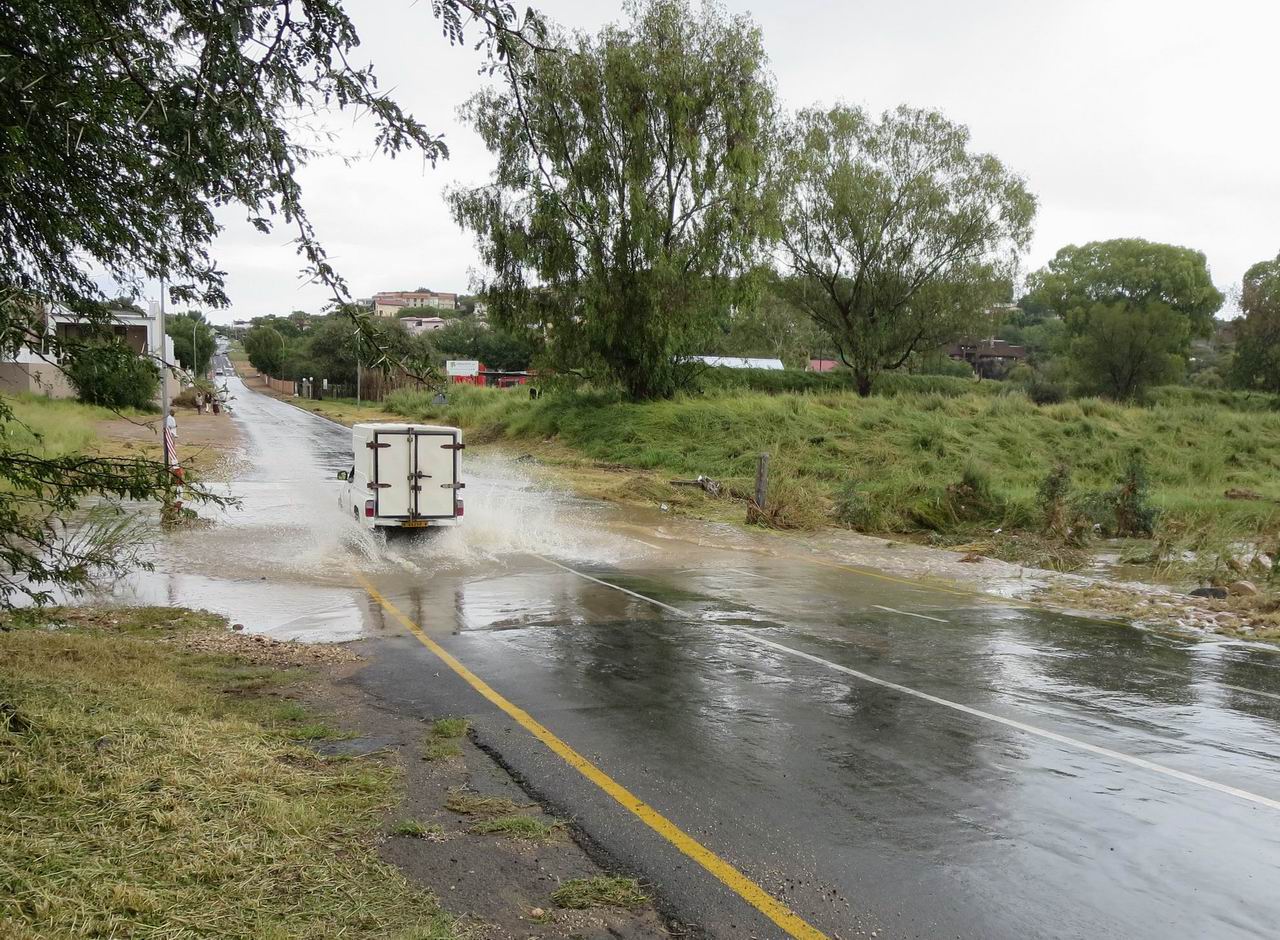 1703 - This is quite normal when it rains in Windhoek - the streets are flooded and sometimes the cars cannot even pass.
1703 - Dette er ganske normalt når det regner i Windhoek - veiene er oversvømte og noen ganger kommer ikke bilene over.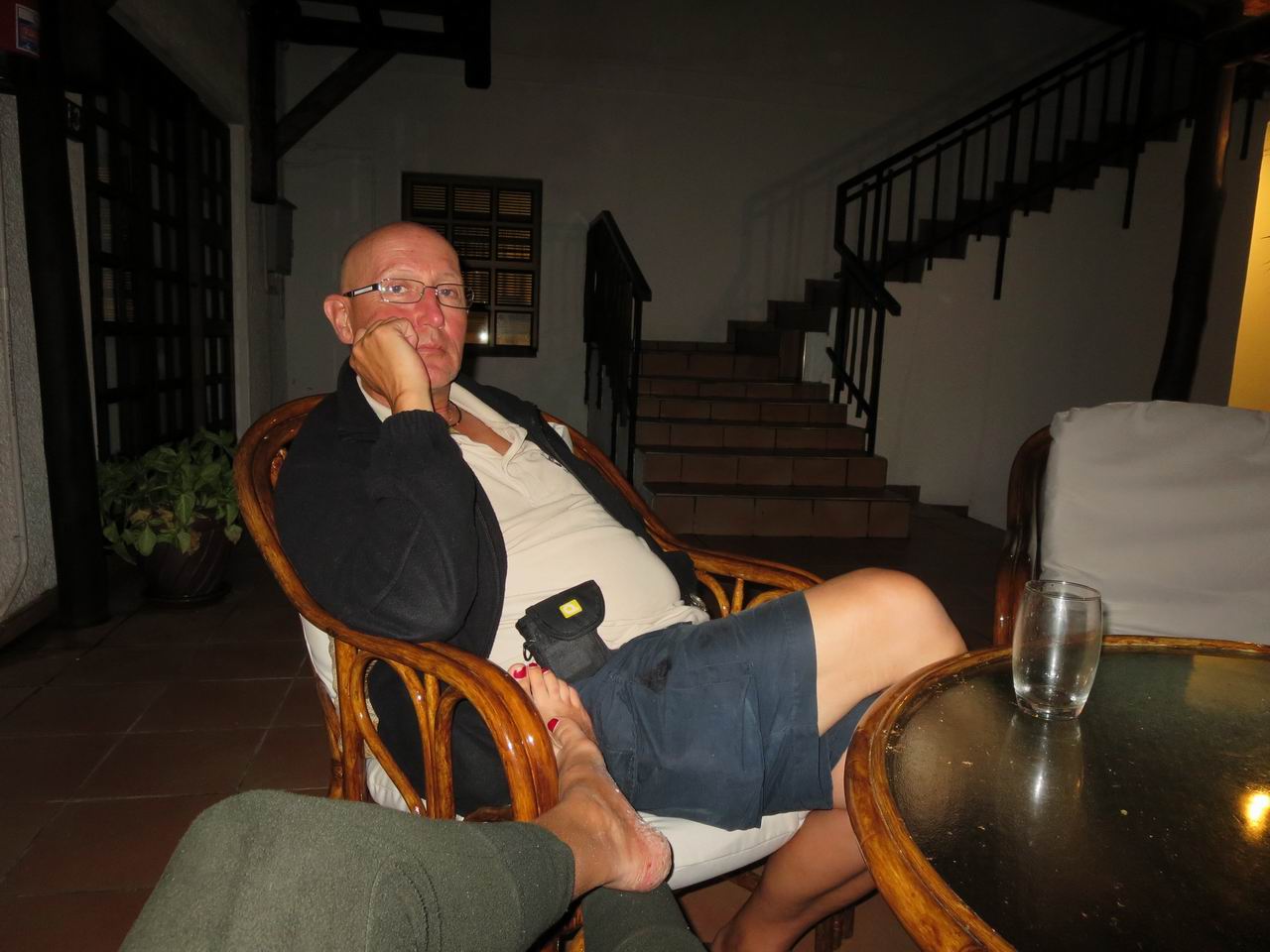 1803 - Why the sad face? It's because there is no Amarula in my glass!!!
1803 - Hvorfor hengehue? Det er fordi det ikke er noe mer Amarula i glasset!!!
1903 - Temus took med to the township to pick up the staff for the 3 o'clock shift - a very educationald and interesting drive. Thanks, Temus!. Oh, Sylvi was busy shopping in the centre of WDH - all by herself.
1903 - Temus tok meg til township for å plukke opp 3 skiftet - veldig lærerikt og interessant. Takker, Temus! Og, Sylvi var opptatt med å shoppe nede i sentrum av WDH - helt på egenhånd.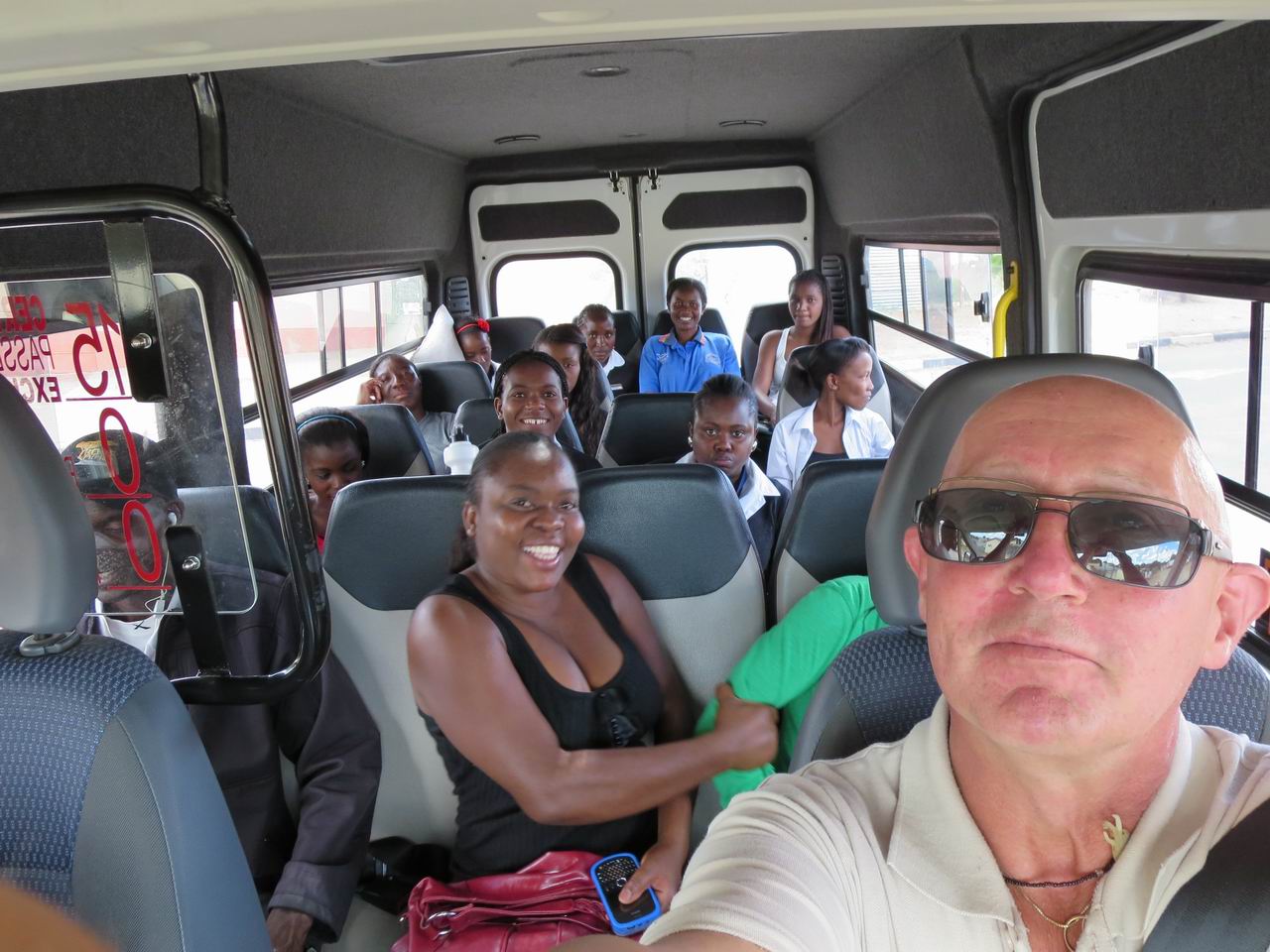 1903 - The evening shift of the Roof of Africa - what a cheerful gang!!!
1903 - Kveldsskiftet til Roof of Africa - for en munter gjeng!!!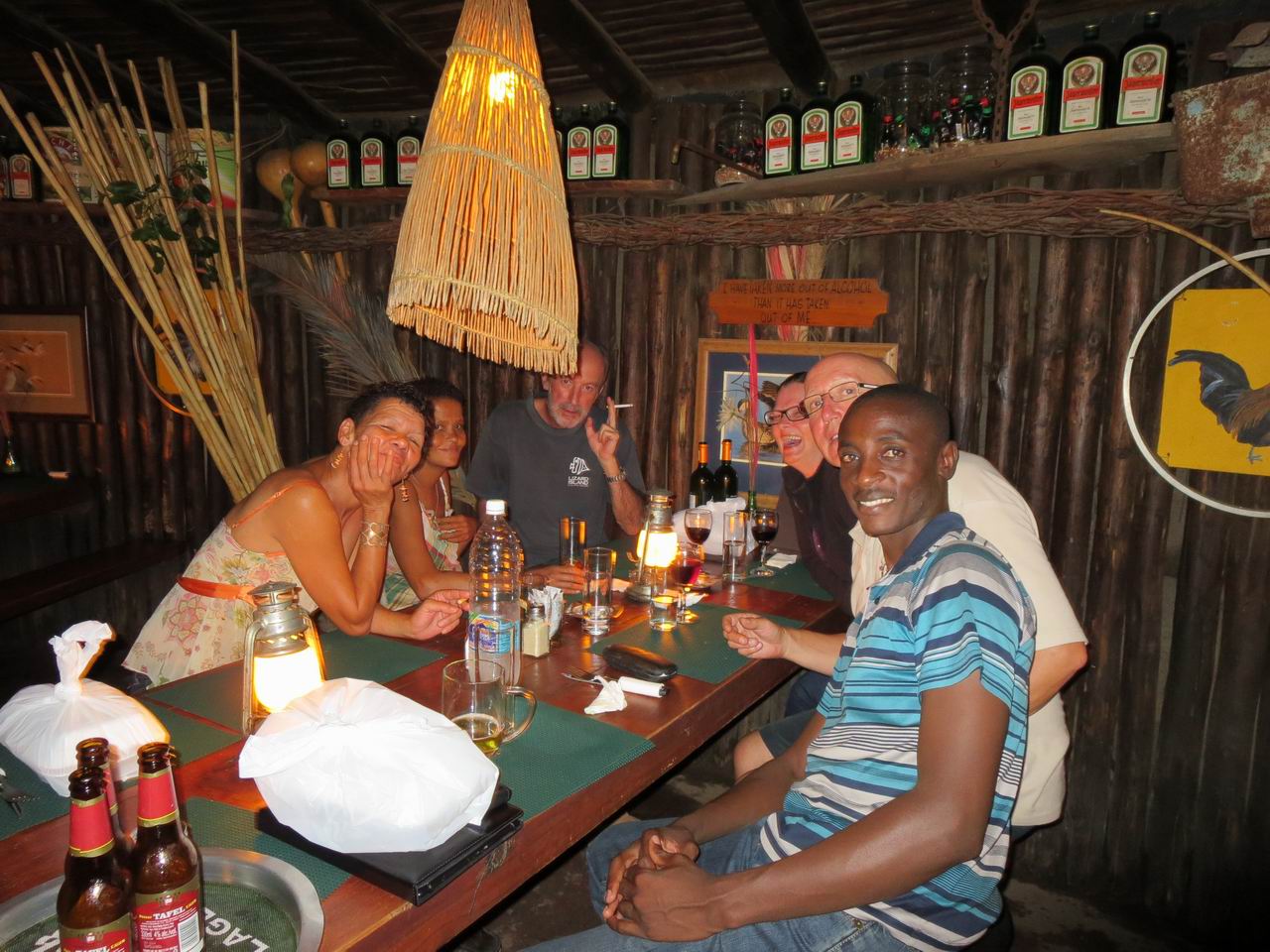 1903 - Our last night in Windhoek (for now) and it's Sylvi's night - we met up with Dave, Tess, Monica and Temus for a meal and a little drink at Joe's Beerhouse. What an evening to remember...
1903 - Vår siste kveld i Windhoek (for nå) og det er Sylvi's kveld - we møtte Dave, Tess, Monica og Temus for å spise litt og en liten drink på Joe's Beerhouse. En kveld vi kommer til å huske....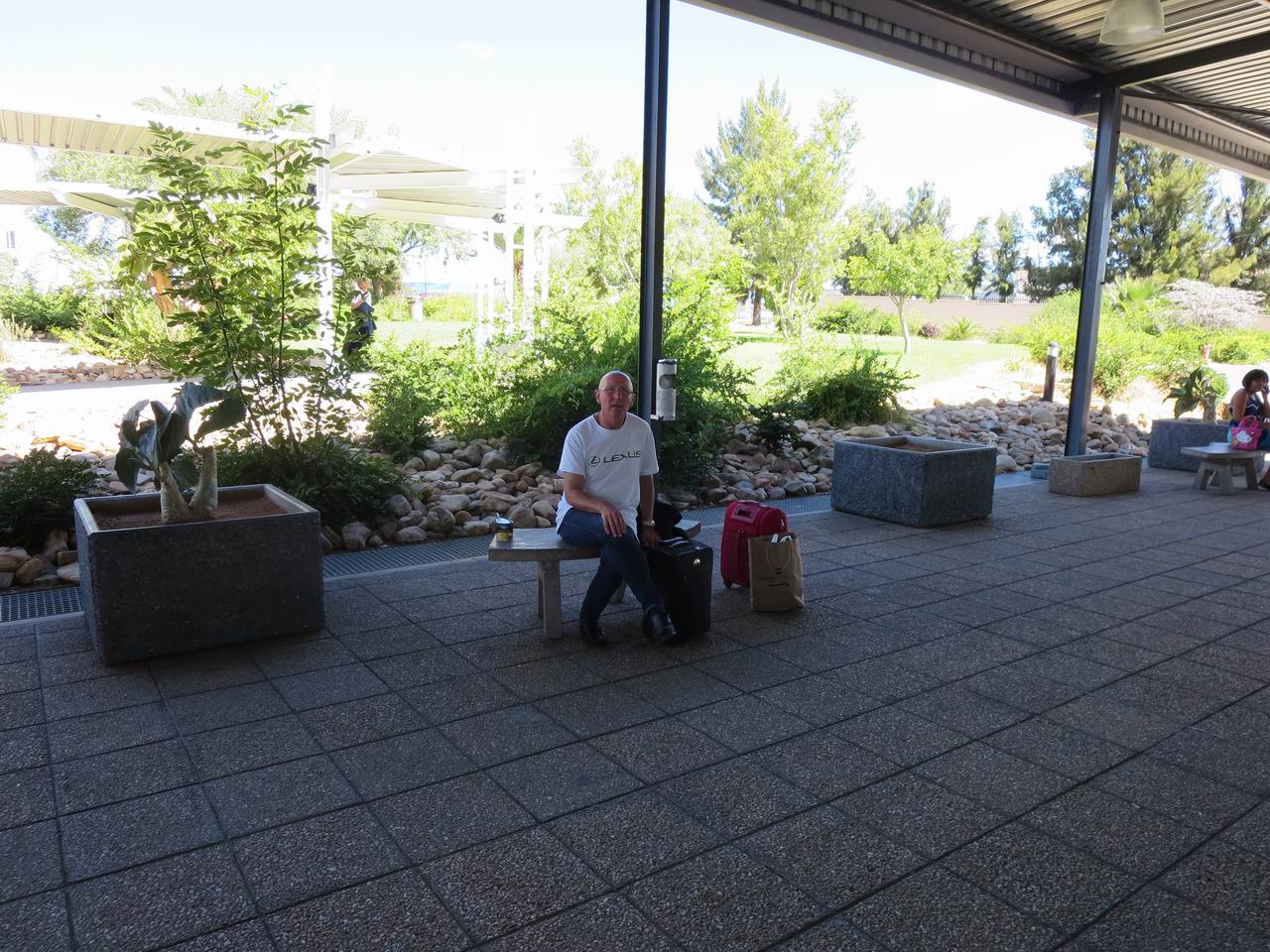 2003 - Outside Hosea Kutako - we have just checked in and said good bye to Temus.
2003 - Utafor Hosea Kutako - vi har sjekket inn bagasjen og sagt ha det til Temus.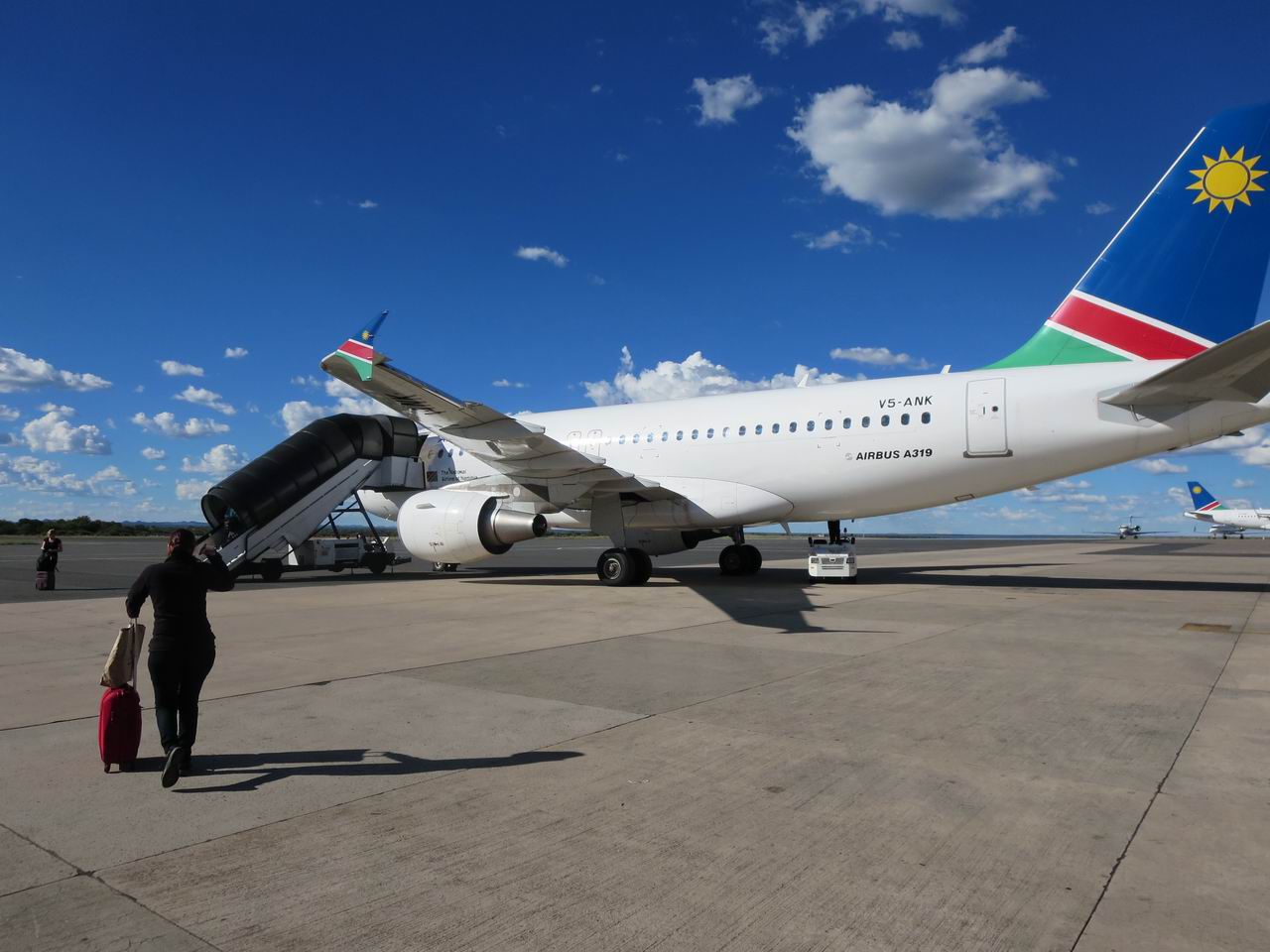 2003 - On our way to out flight to Jo'burg - first time flying Air Namibia. A very positive experience indeed! Lots of space for the legs and great food. Now... why did we not fly Air Namibia directly from Frankfurt to Windhoek..? We'll probably do it next year. Good bye friends, good bye Namibia - we already miss you!
2003 - På veien ut til flyet som skal ta oss til Jo'burg - første gang vi flyr Air Namibia. En veldig positiv erfaring! Masse plass til bena og god mat. Så.. hvorfor fløy vi ikke Air Namibia direkte fra Frankfurt til Windhoek..? Trolig gjør vi det neste år. Ha det venner, ha det Namibia - vi savner dere alerede!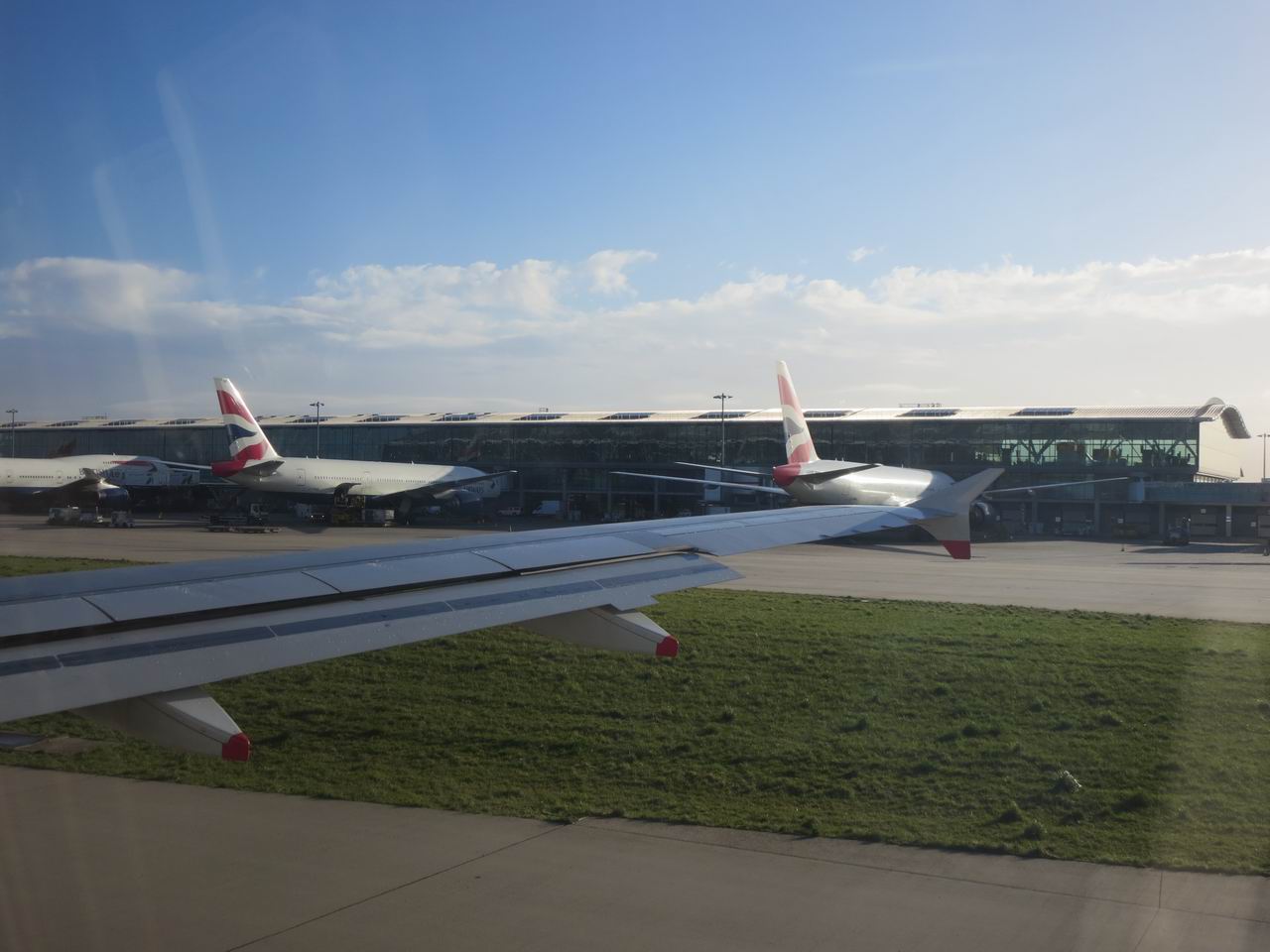 2103 - We're about to leave London Heathrow, terminal 5 - airport security in LHR sucks - they actually confiscated Sylvi's scary tooth paste tube. Shame on you!
2103 - Vi er i ferd med å forlate London Heathrow, terminal 5 - security i LHR er no dritt.. - de konfiskerte Sylvi's farlige tannkremtube. Drittsekker!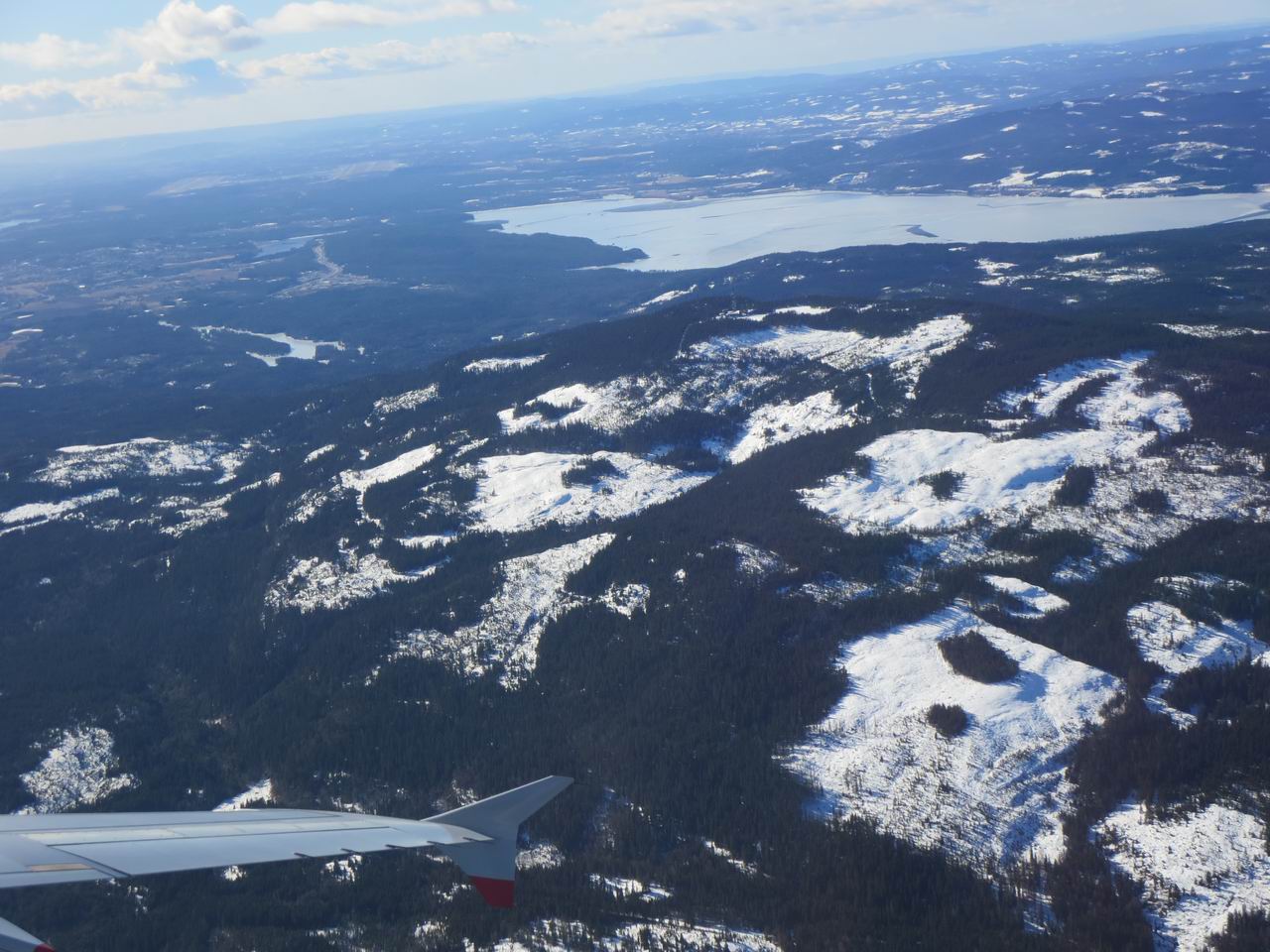 2103 - Approaching Oslo airport Gardermoen - 3 degrees celcius and sunny - there is still some snow in the hills, but fortunately this cold white stuff was gone in Oslo.
2103 - Vi nærmer oss Gardermoen Oslo - 3 grader og sol - det er fremdeles litt snø i høydene, men heldigvis har dette hvite kalde greiene forsvunnet i Oslo.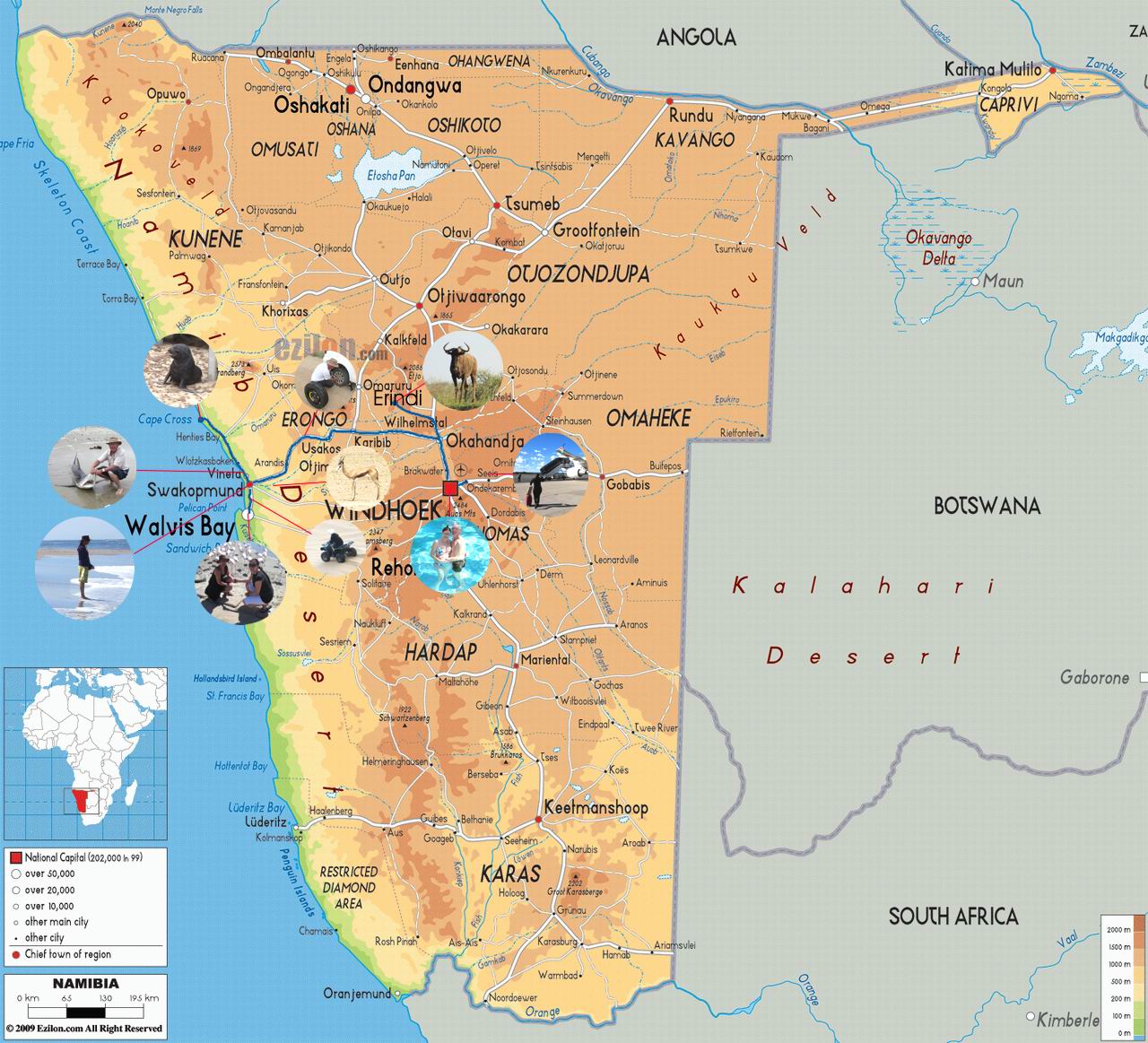 Home! - We're home after 6 weeks in Namibia and everything is fine, except it's cold.. We've had a wonderful time; full of new experiences and we have of course met lots of interesting people. Was this trip better than last year's trip? Hard to tell since it was different. Different in the way that we knew more about the country and the people and that we had already made friends there. We feel we cannot wait to return to Africa and Namibia next year. Who wants to join us?
Hjemme! - Vi er hjemme etter 6 uker i Namibia og alt er ok, bortsett fra at der er kaldt. Vi hadde en flott tid; full av nye erfaringer og vi møtte selvfølgelig masser av interessant memmensker. Var denne turen bedre enn turen ifjor? Vanskelig å si siden den var annerledes. Annerledes siden vi visste mer om landet og menneskene og at vi allerede hadde venner der. Vi gleder oss til å komme tilbake til Afrika og Namibia neste år. Noen som vil være med?

-- THE END -- (FOR NOW....)