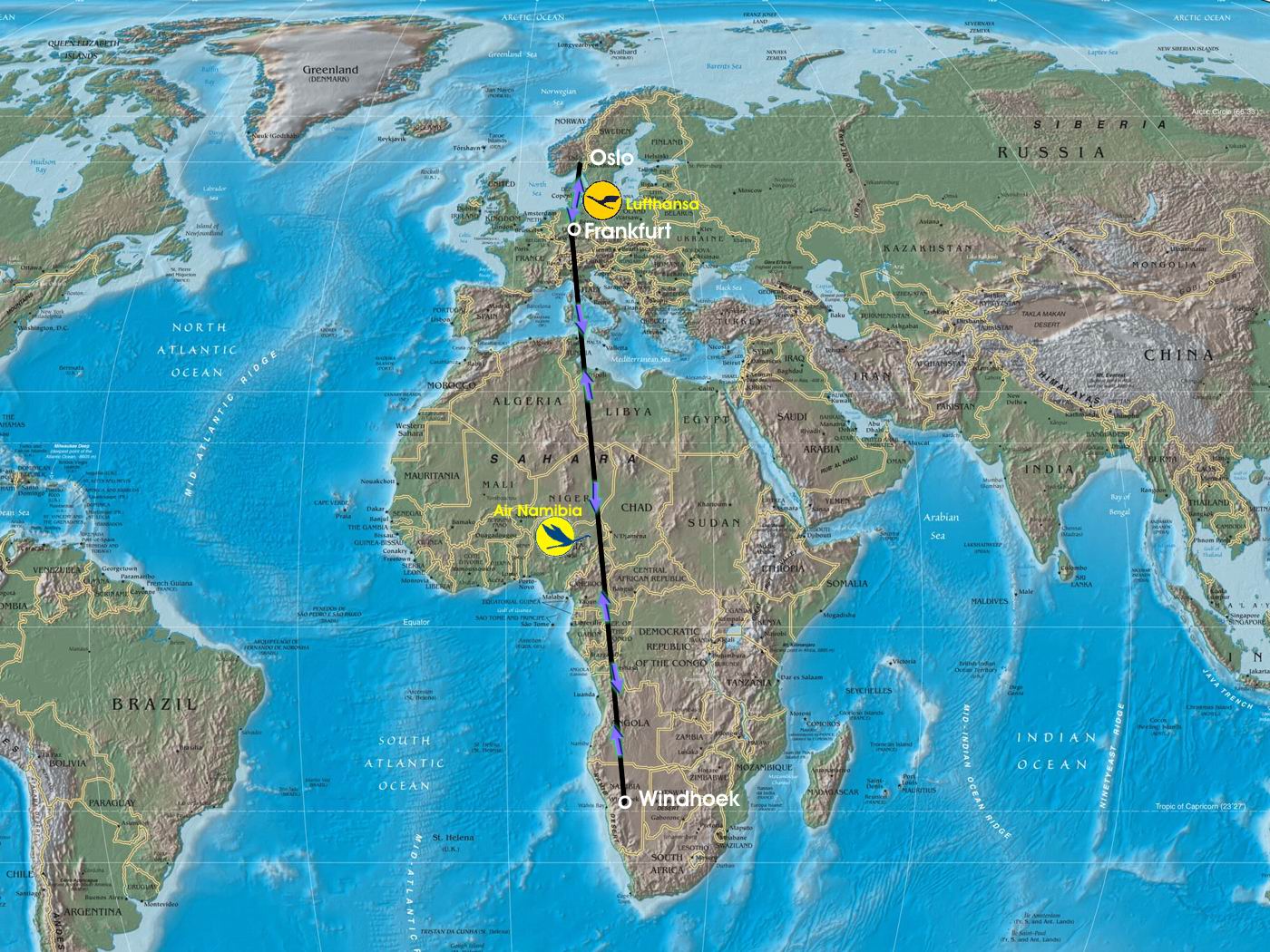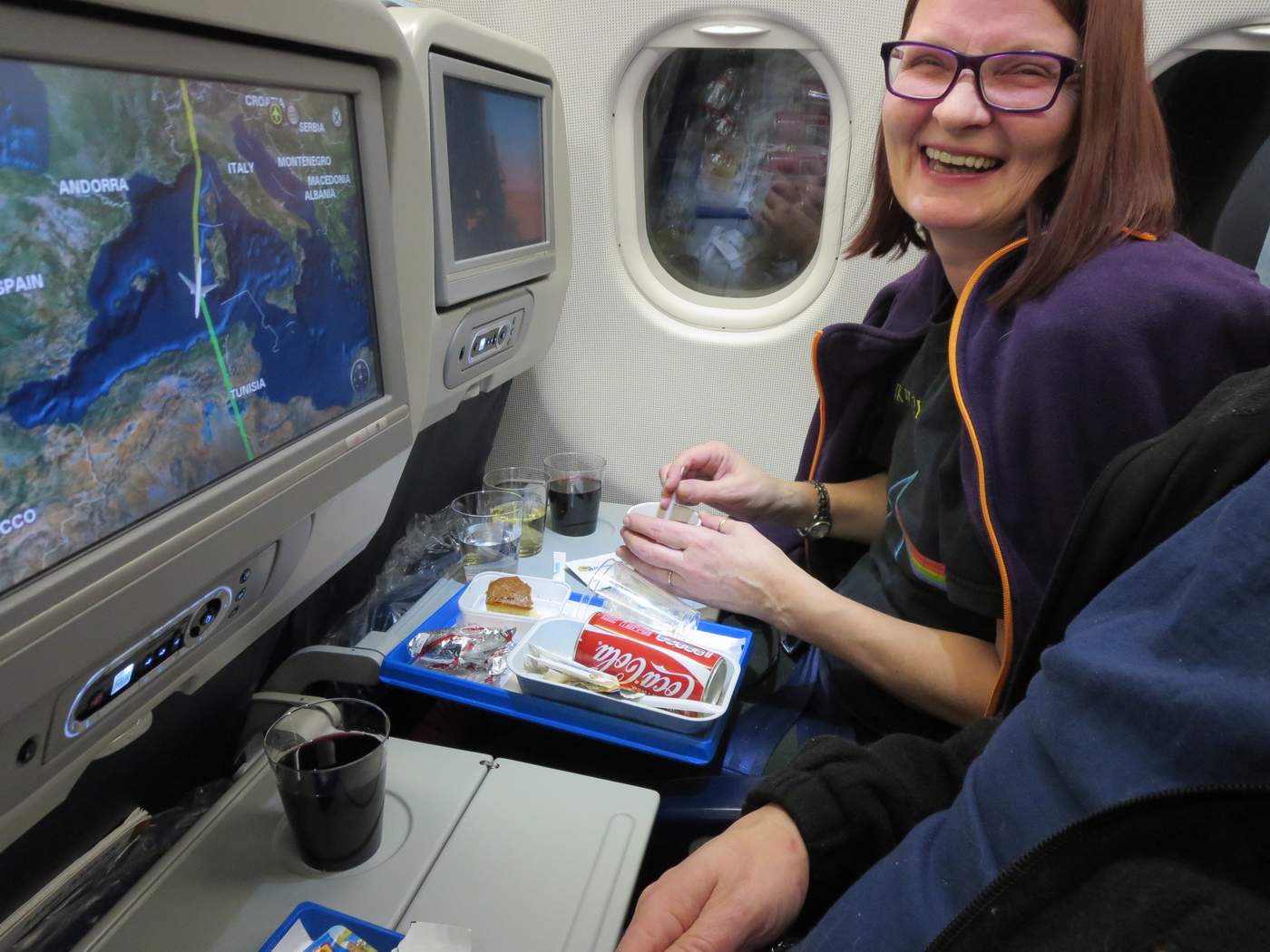 18.01. On our way to Windhoek - this year we are flying Air Namibia - Frankfurt - Windhoek directly
18.01. På vei til Windhoek - i år flyr vi Air Namibia - Frankfurt - Windhoek direkte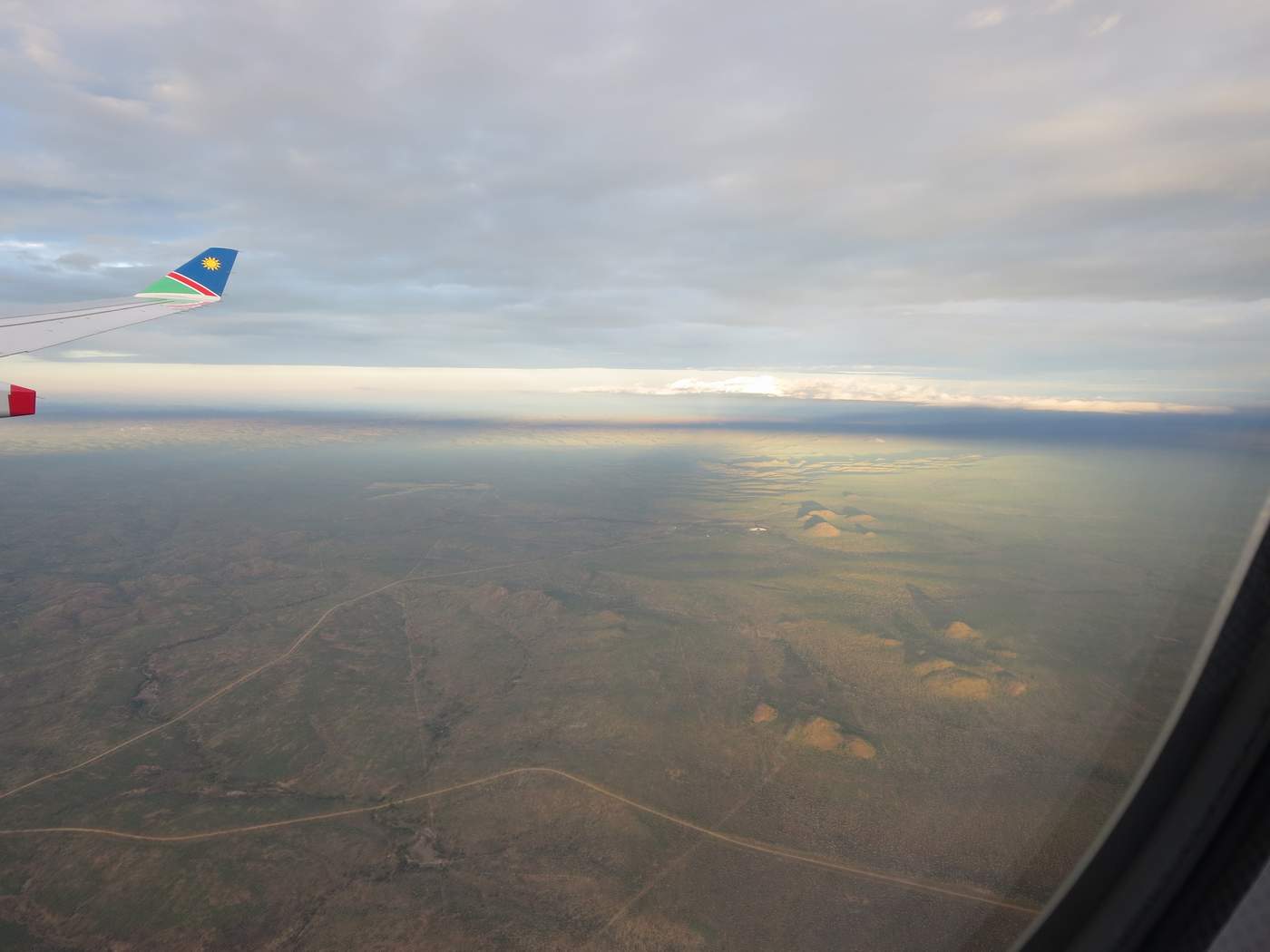 18.01. Approaching Hosea Kutako airpot - it's overcast but the sun is breaking through the clouds creating a wonderful view. Temp 20 degrees.
18.01. På vei til Hosea Kutako flyplass - det er overskyet men sola bryter igjennom skyene og skaper et fantastisk syn. Temp 20 grader.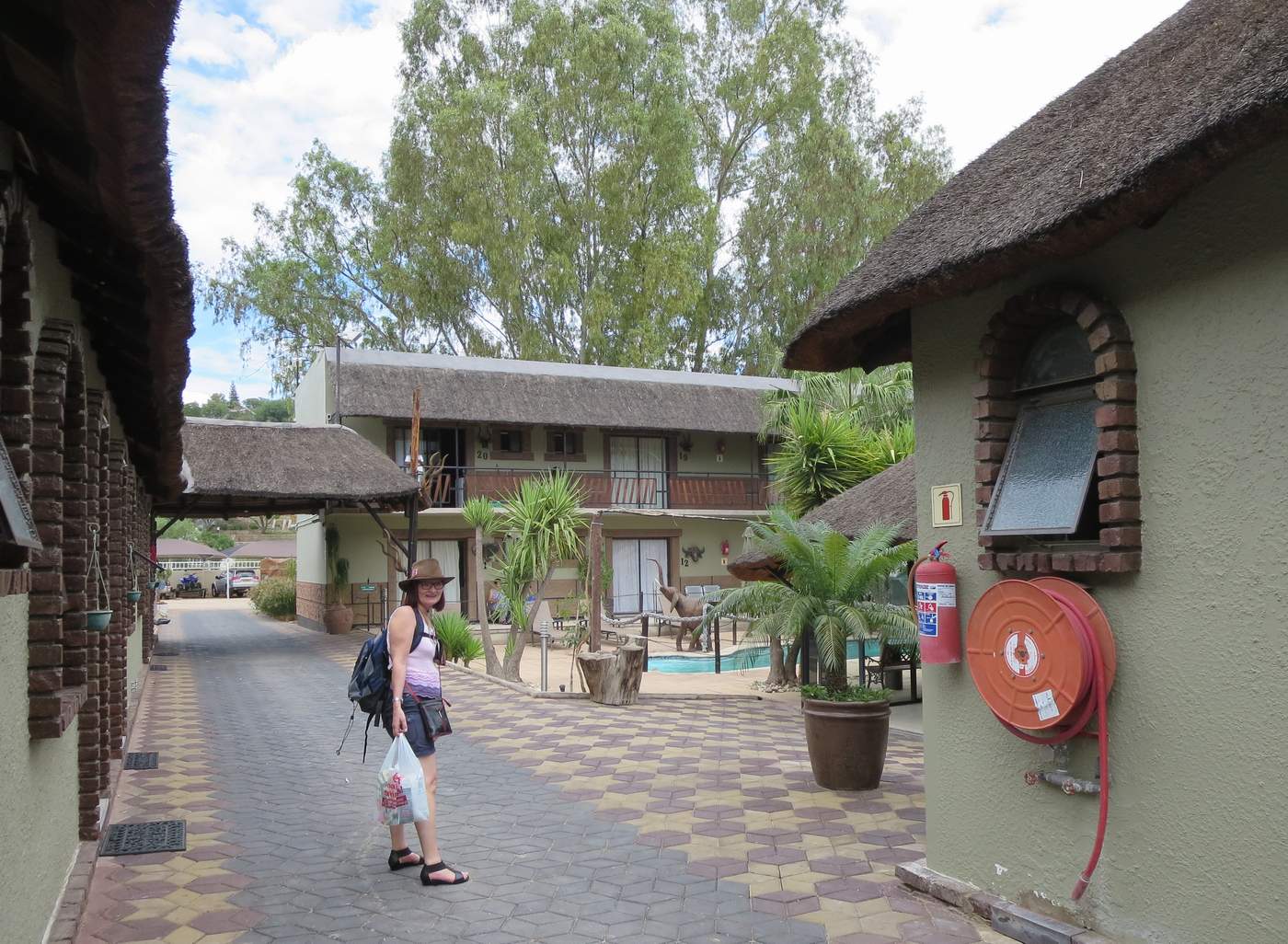 20.01. Pale Norwegian tourist at the Kubata Hotel Windhoek. http://www.kubata.com.na/cityhotel/
20.01. Bleik norsk turist på Kubata Hotell Windhoek. http://www.kubata.com.na/cityhotel/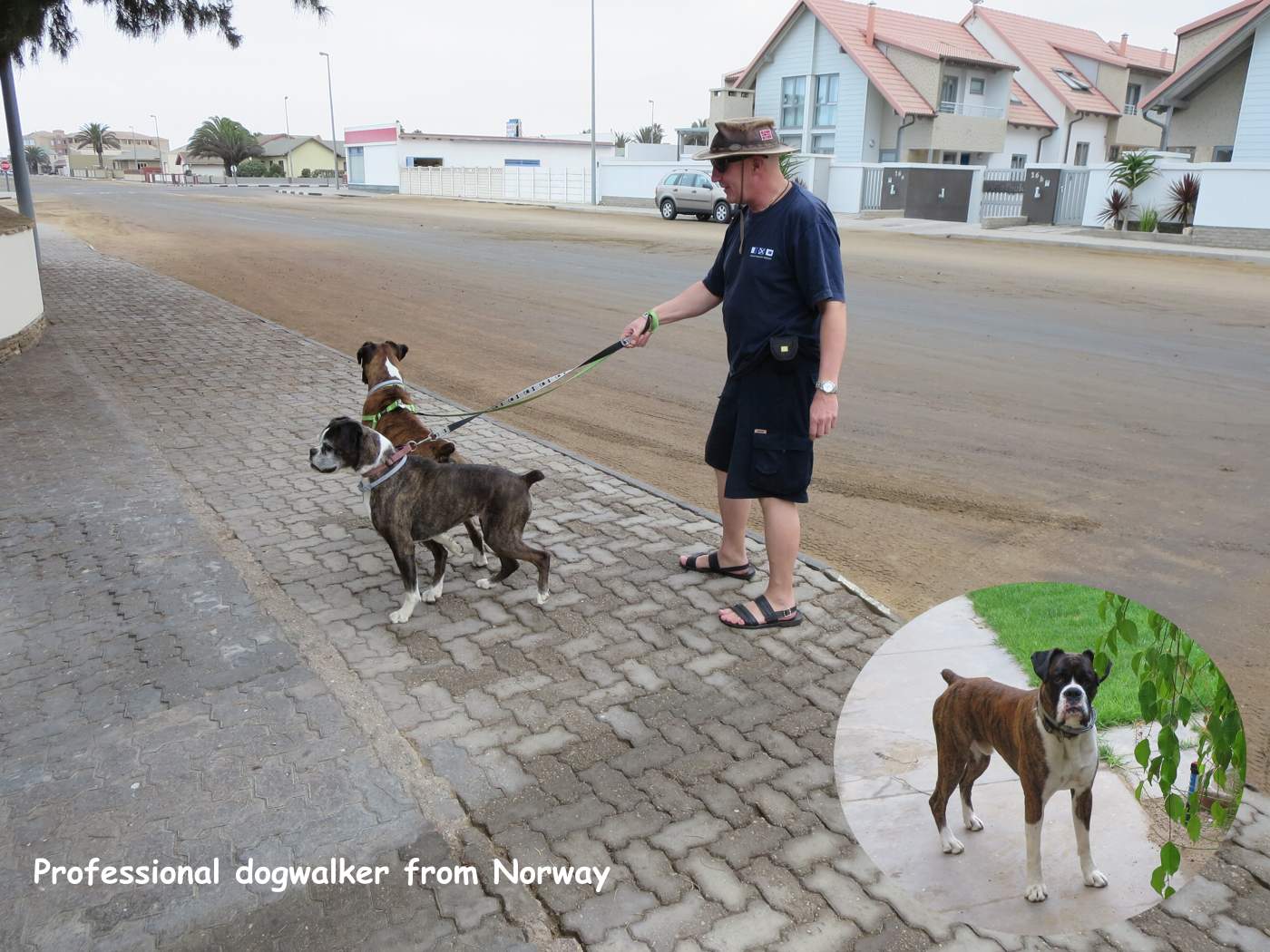 23.01. We are now in our new home in Swakopmund and these dogs are keeping us safe. Franz looks scary but he just wants to be scratched.
23.01. Vi er nå i det nye hjemmet vårt i Swakopmund og disse hundene passer på at vi er trygge. Franz ser litt skremmende ut men han vil bare bli klødd.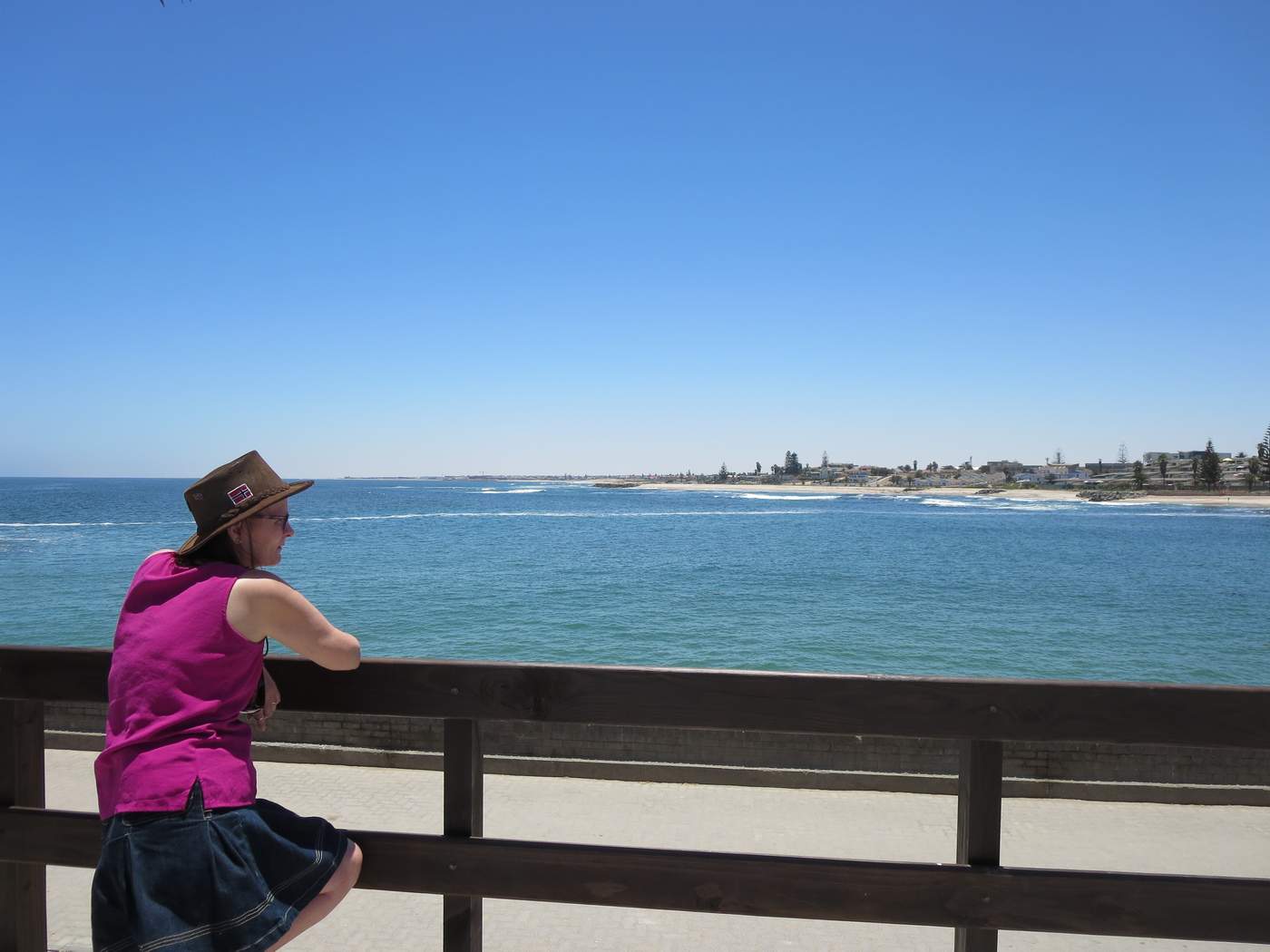 23.01. The sky is blue, the sea is blue and the turist is still pale but soon she will get a nice red tan.....
23.01. Himmelen er blå havet er blått og turisten er fremdeles bleik men hun får vel snart en fin rød farge....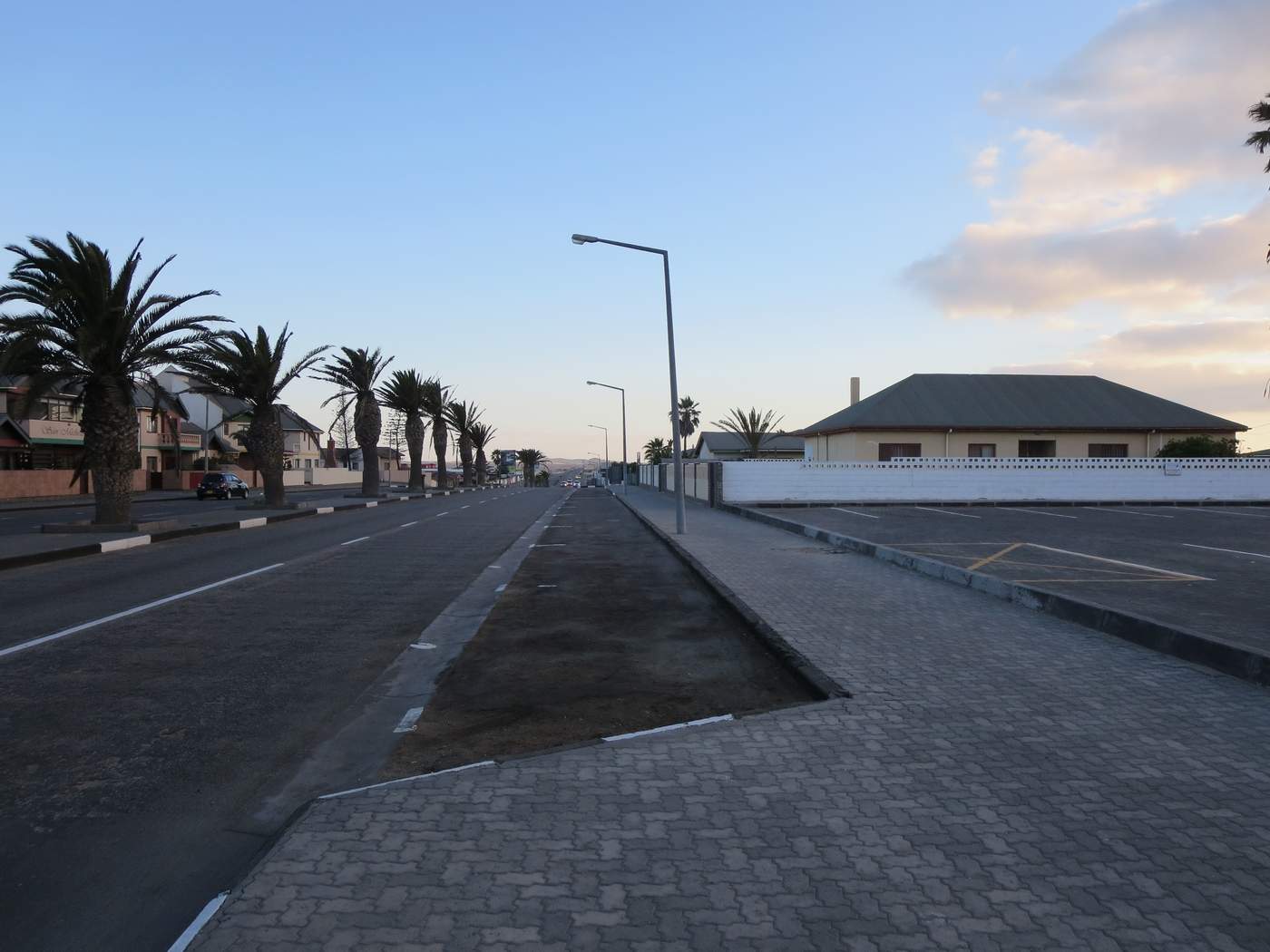 25.01. Sunset in Swakopmund and the road to Walvisbaai - the bridge over Swakop river (there is no water; just sand) and the sanddunes of the Namib Desert in the background. Yes, we are relaxing and enjoying ourselves.
25.01. Solnedgang i Swakopmund og veien til Walvisbaai - brua over Swakop elva (det finnes ikke noe vann; bare sand) og sanddynene i Namib Ørkenen i bakgrunnen. Ja, vi slapper av og har det bra.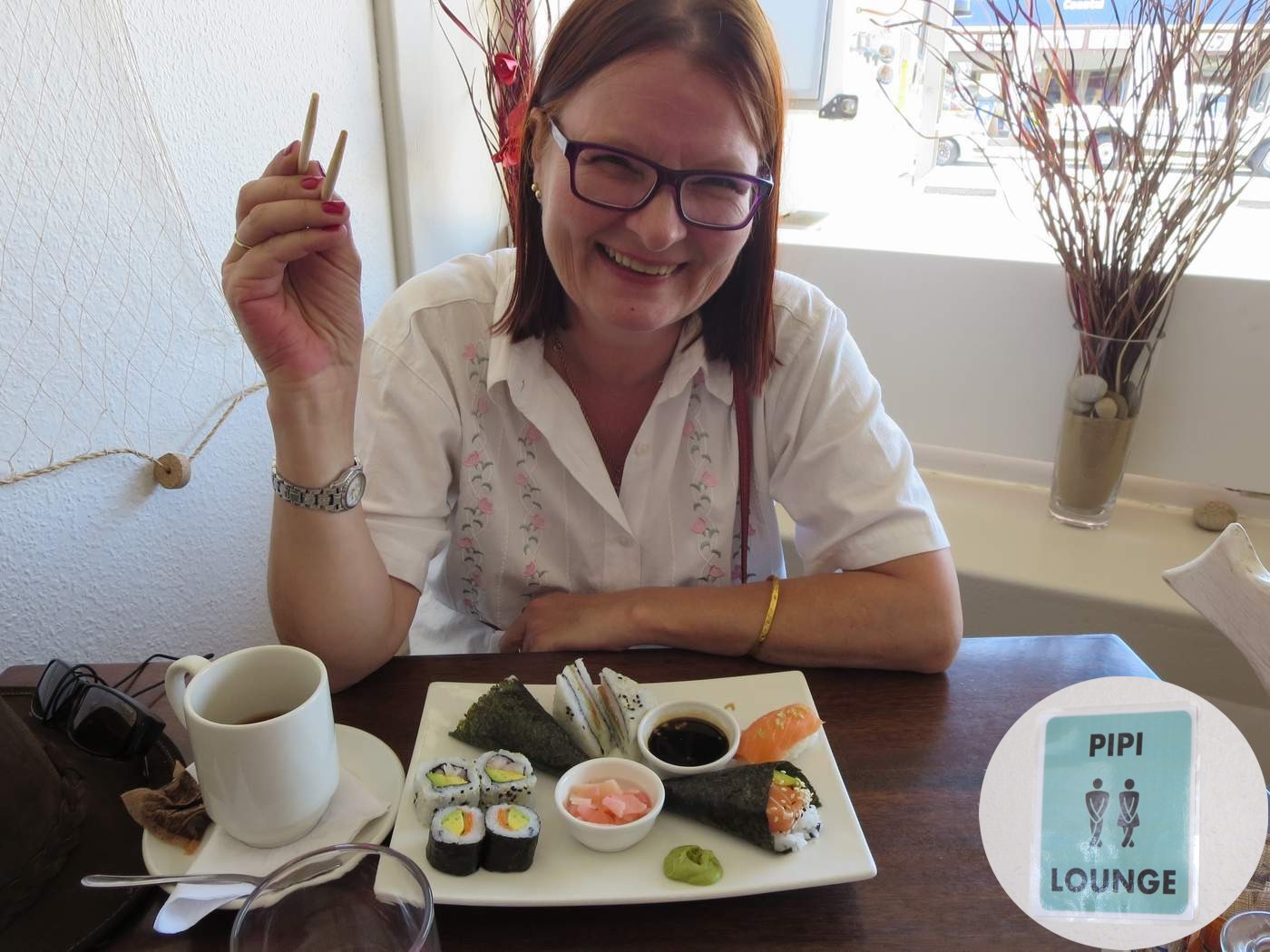 26.01. A typical tourist photo - a photo of food... here some sushi from The Fish Deli in Swakopmund, which is very fresh by the way. Their toilet is called the pipi lounge!
26.01. Typisk turist foto - et bilde av mat... her er det fersk, god sushi fra The Fish Deli i Swakopmund. Toalettet heter pipi lounge'en!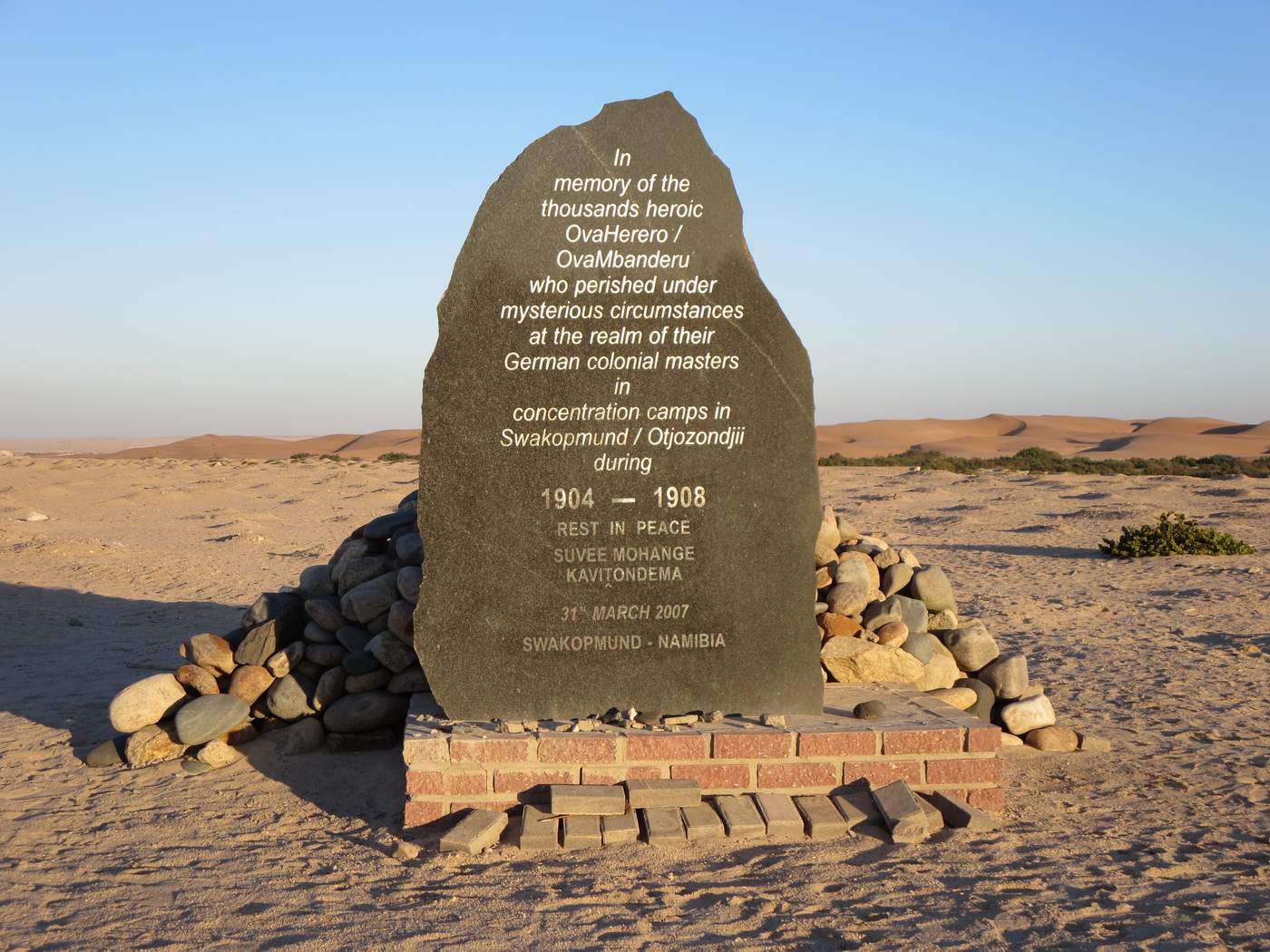 26.01. A Herero graveyard. I wonder what happened here and why they use the words "concentration camps" and "mysterious circumstances"?
26.01. En Herero gravlund. Jeg lurer på hva som skjedde her og hvorfor de bruker ordene "konsentrasjonsleir" og "mystiske omstendigheter"?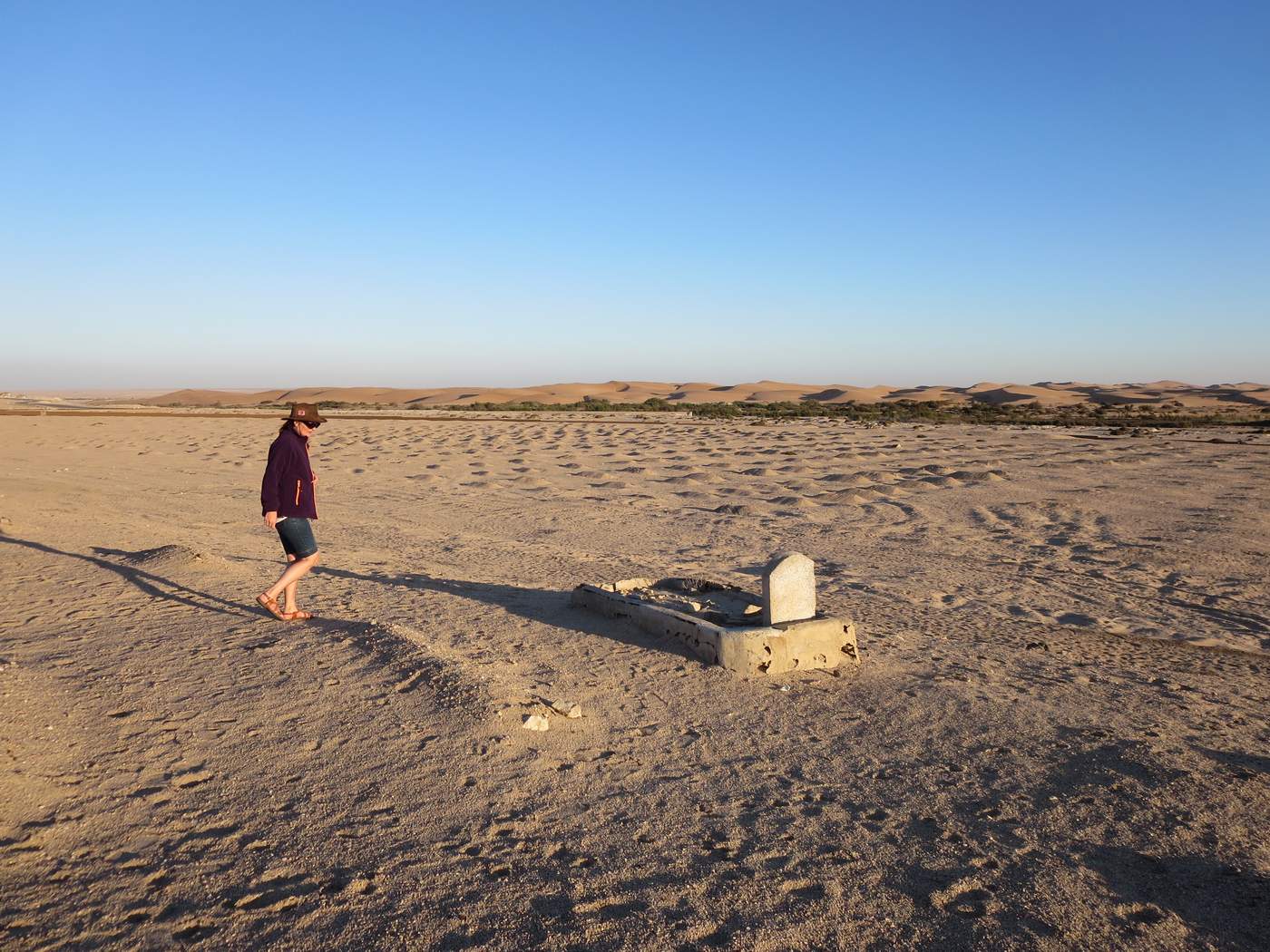 26.01. A walk amongst the dead. There are hundreds of Hereros who found their final resting place in the sand next to the Swakop river.
26.01. En vandring blandt de døde. Det er hundrevis av Hereroer som fant sitt siste hvilested i sanda ved siden av Swakop river.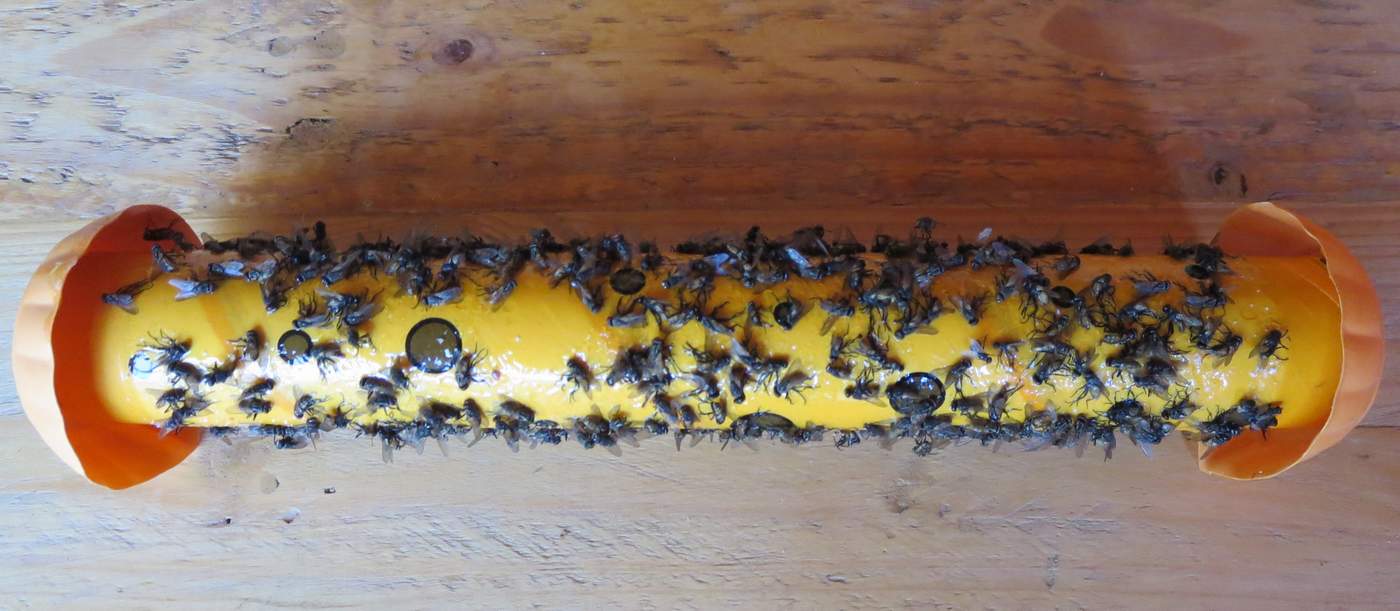 28.01. The fly catcher - our best friend.... there are lots of flies in the heat but fortunately they are not as annoying as the Norwegian flies.
28.01. Fluefangeren - vår beste venn.... det er masse fluer i varmen, men heldigvis er de ikke så irriterende som de norsk fluene.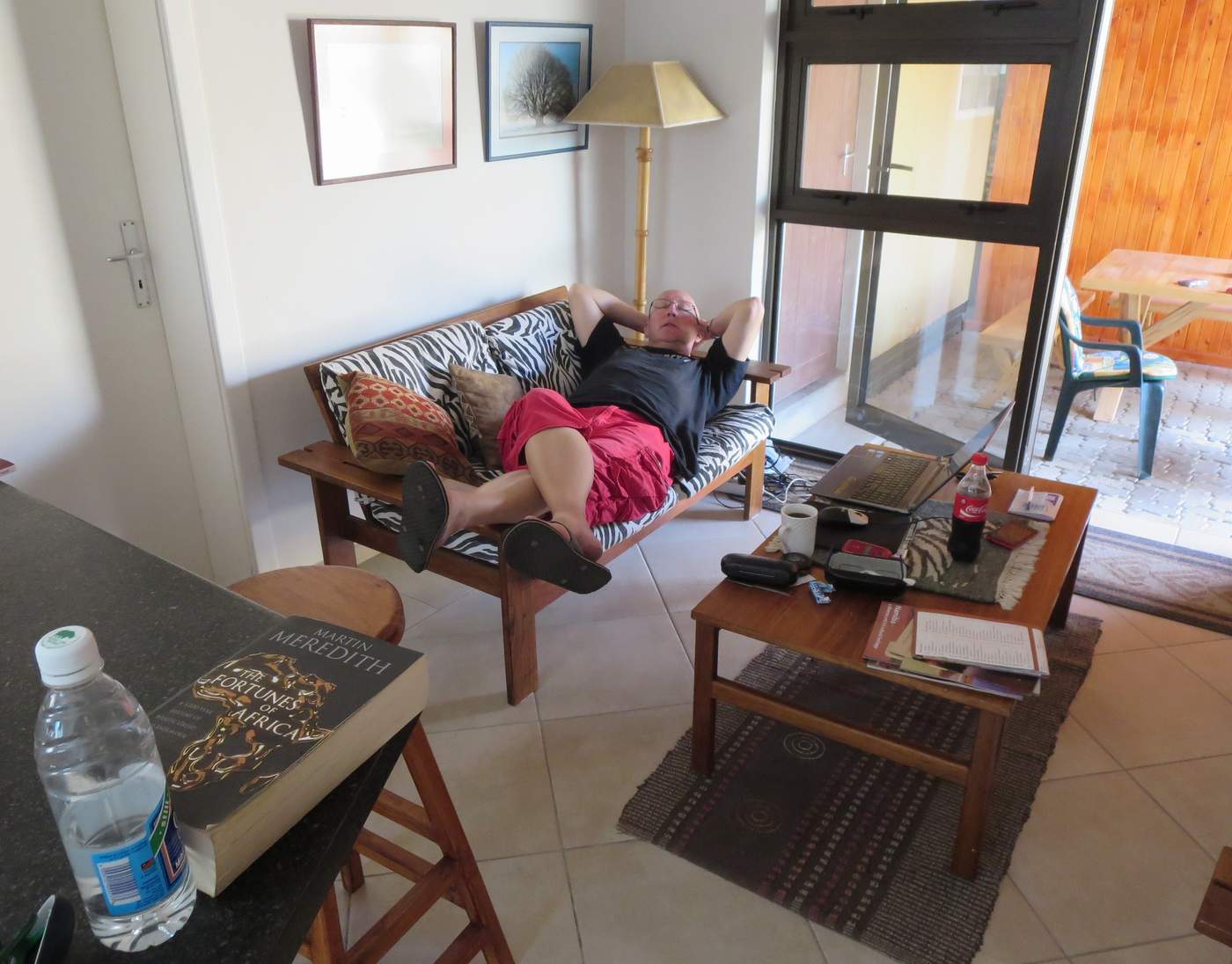 30.01. We've had a couple of relaxing days with no appointments - it feels good to have a little rest on the couch after breakfast. Next week is going to be more adventurous.
30.01. Vi har hatt noen slappe dager uten avtaler - det kjennes godt å ta sæg en strækk på sofan' etter frokost. Neste uke har vi masse å gjøre.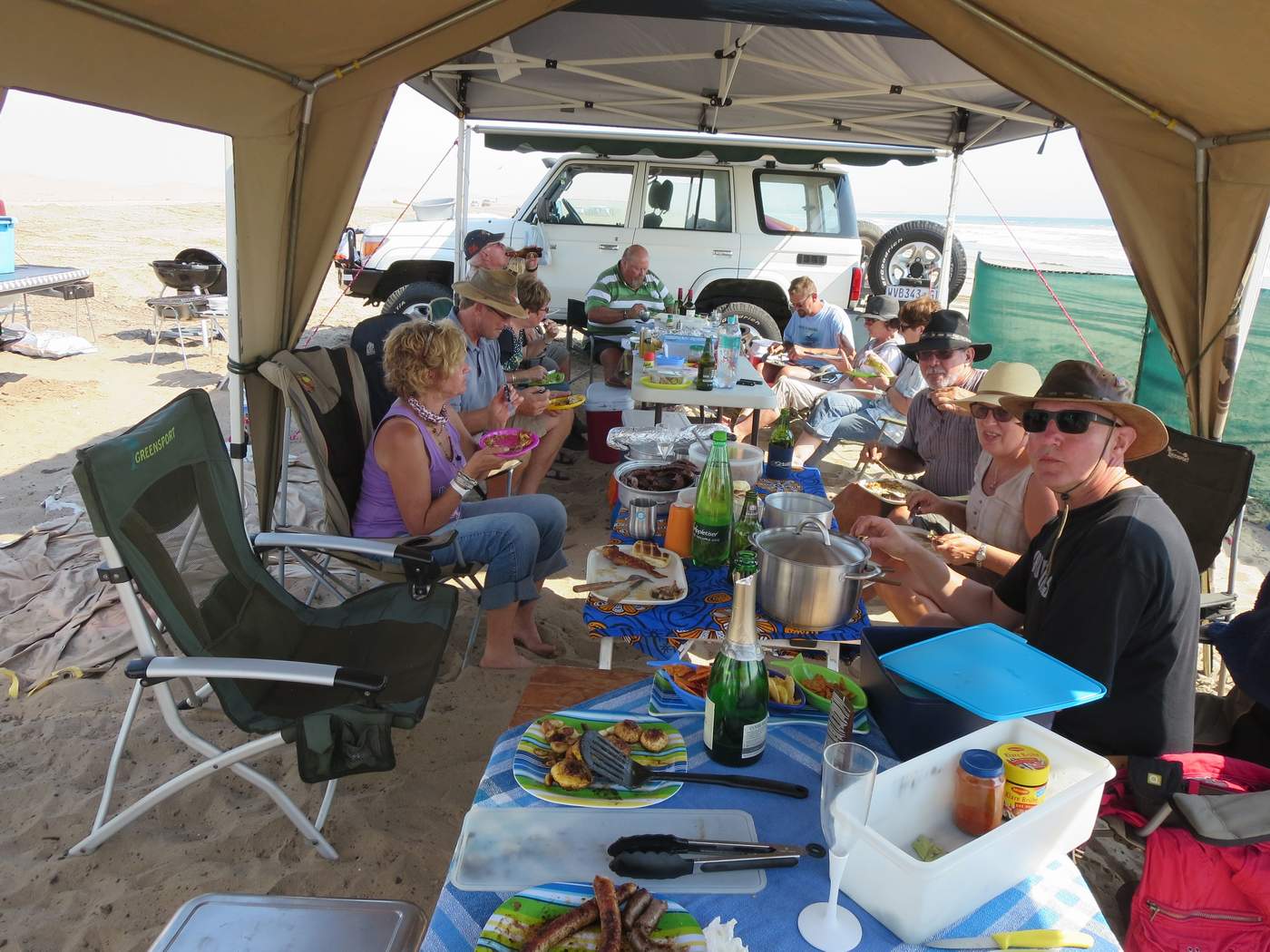 30.01. Beach party time! We were invited to a birthday party on the beach between Swakopmund and Langstrand. Of course there was a lot of good food, braai, drinks and great people. The weather was nice and warm so I could walk in the sea but not swim, due to the high waves.
30.01. Tid for strand fest! Vi var invitert til fødselsdagsfest på stranda mellom Swakopmund og Langstrand. Det var selvfølgelig masse god mat, braai, drikke og hyggelige mennesker. Godt og varmt i været, så vi kunne vasse i sjøen men det var for høye bølger til så svømme.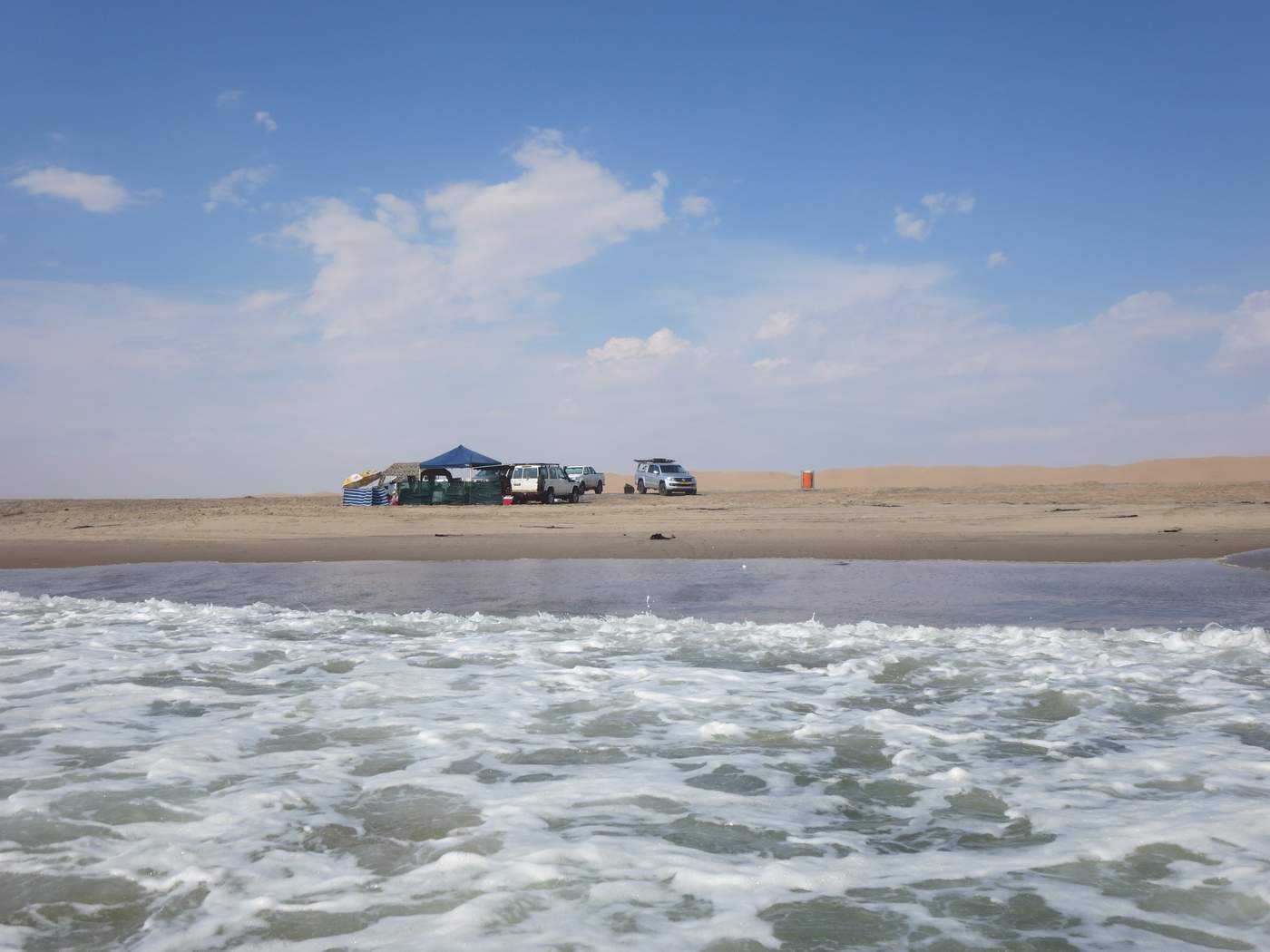 30.01. The Namib desert meets the ocean. This is a very popular area for beach parties and it's only 10 minutes away from Swakopmund.
30.01. Namibiaørkenen møter havet. Dette er en popular plass for strandfester og den ligger bare 10 minutter utafor Swakopmund.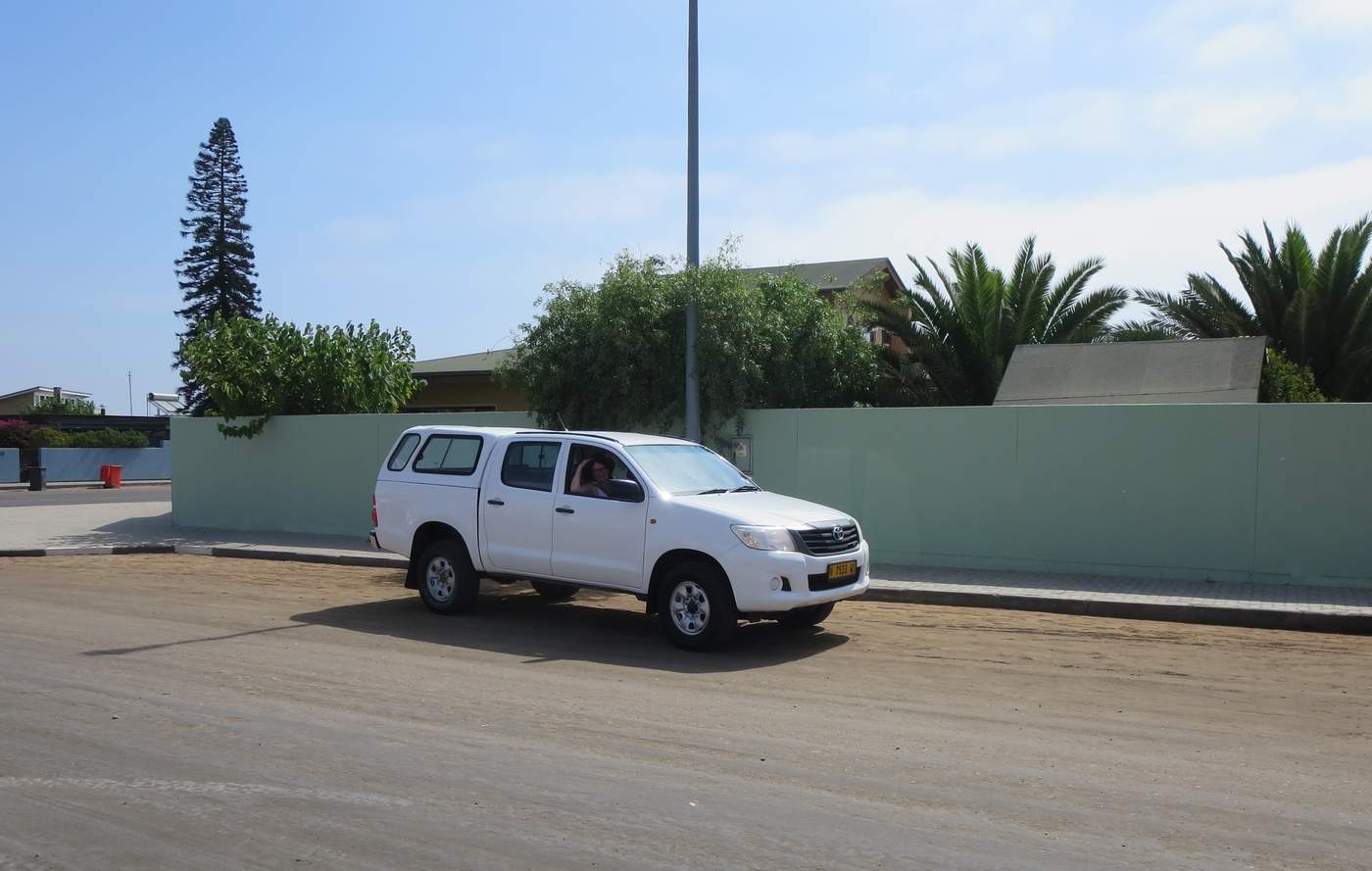 01.02. BAKKIE! Sylvi finally got her bakkie - a Toyota 4x4 which we will have for the next 6 weeks. Tomorrow we're off to Keetmanshoop.
01.02. BAKKIE! Sylvi har endlig fått seg en bakkie - en Toyota 4x4 som vi skal ha de neste 6 ukene. Imorra skal vi kjøre til Keetmanshoop.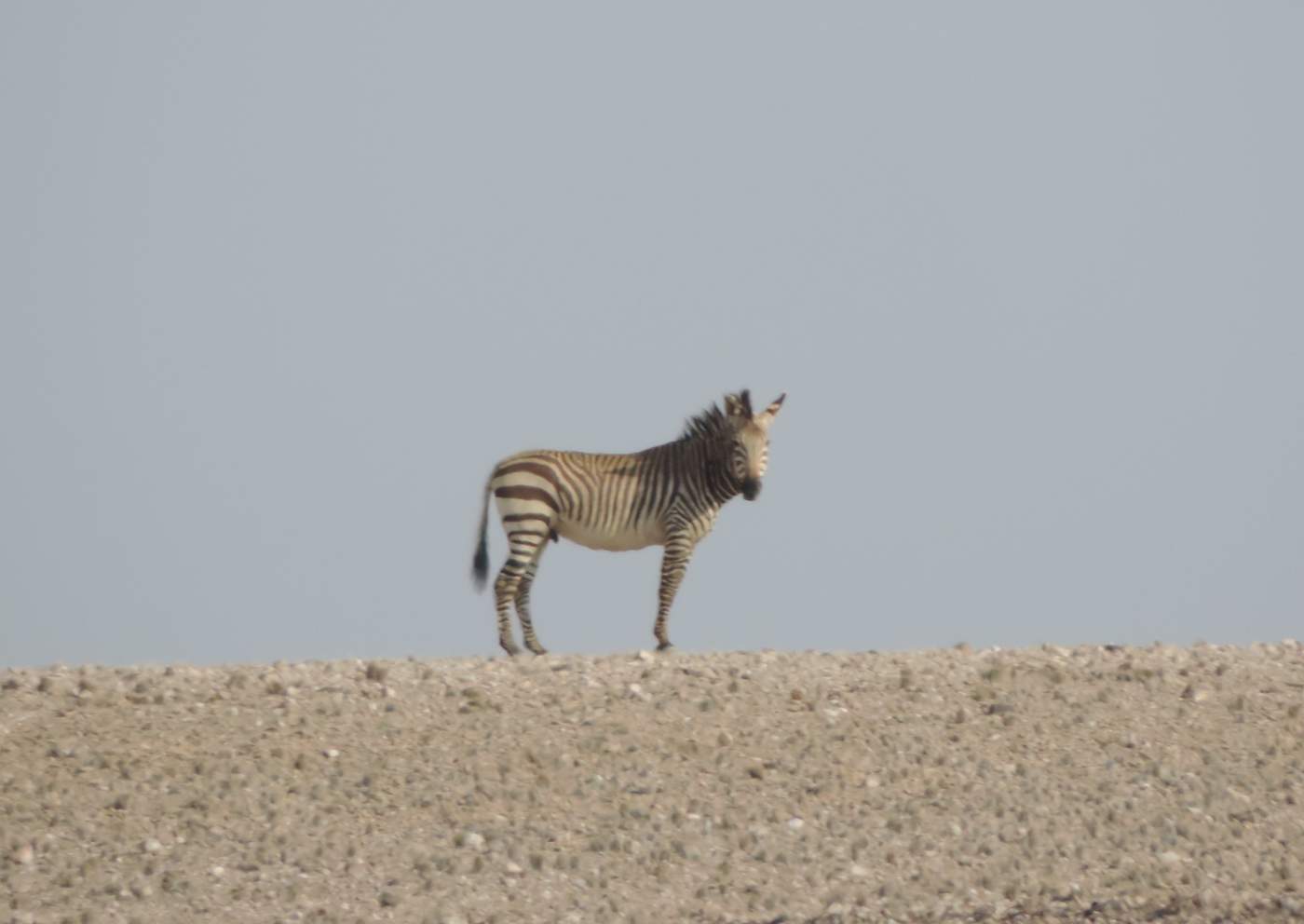 03.02. We're on our way to Keetmanshoop - and of course there are zebras everywhere in the desert. I wonder if they eat rocks and drink sand. We saw a lot of oryx, zebras, ostriches and baboons driving through the desert and the valleys.
03.02. Vi er på vei til Keetmanshoop - og selfølgelig er zebraer over alt i ørkenen. Jeg lurer på om de spiser stein og spiser sand. Vi så masse oryx, zebraer, strutser og bavianer på turen gjennom ørkenen og dalene.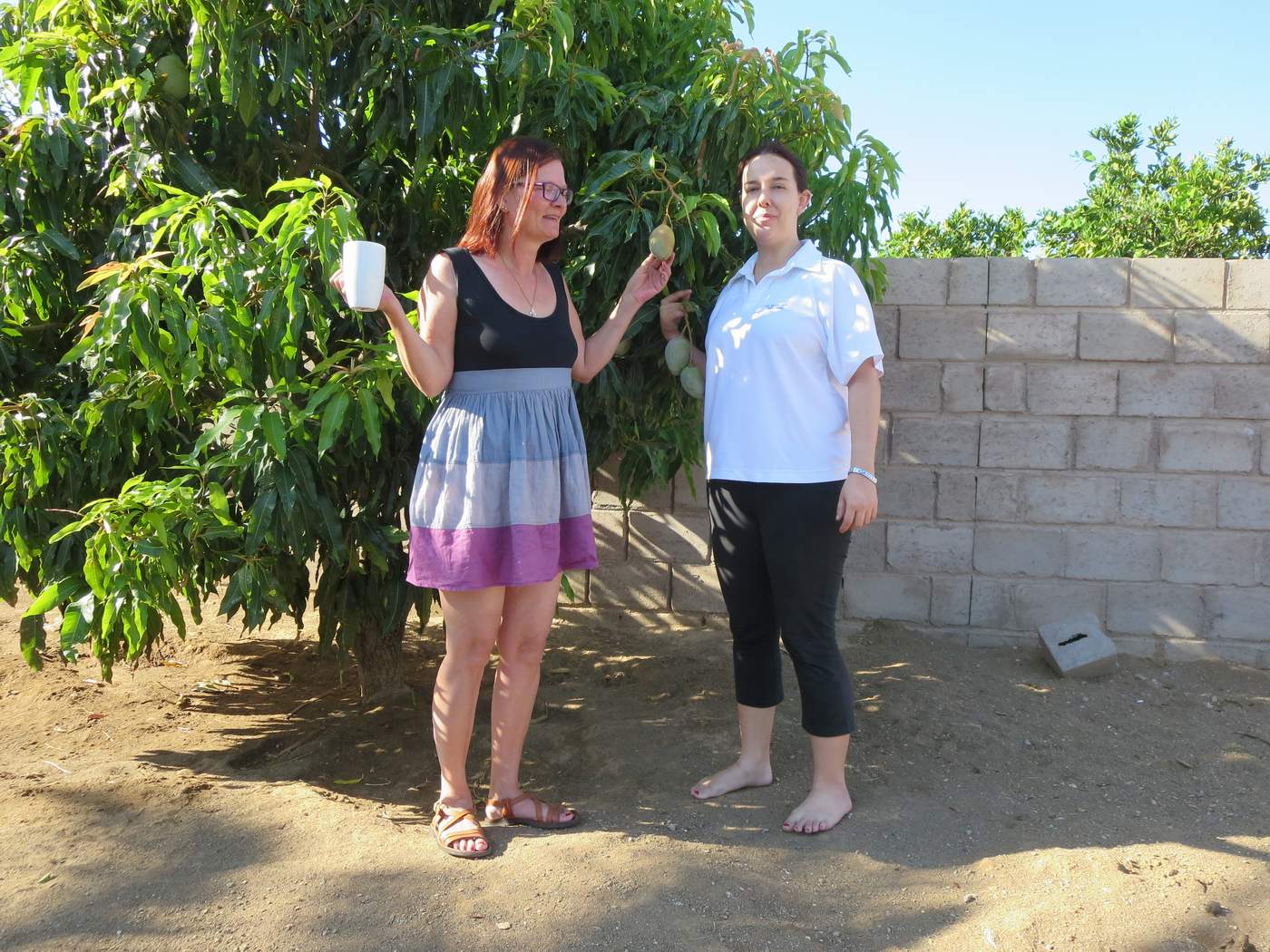 03.02. We are presently at the Poller family house in Keetman - Sylvi and Maryke are posing in front of one of the mango trees.
03.02. Vi er nå i Keetman hos familien Poller - Sylvi og Maryke poserer framfor en av mangotrærne.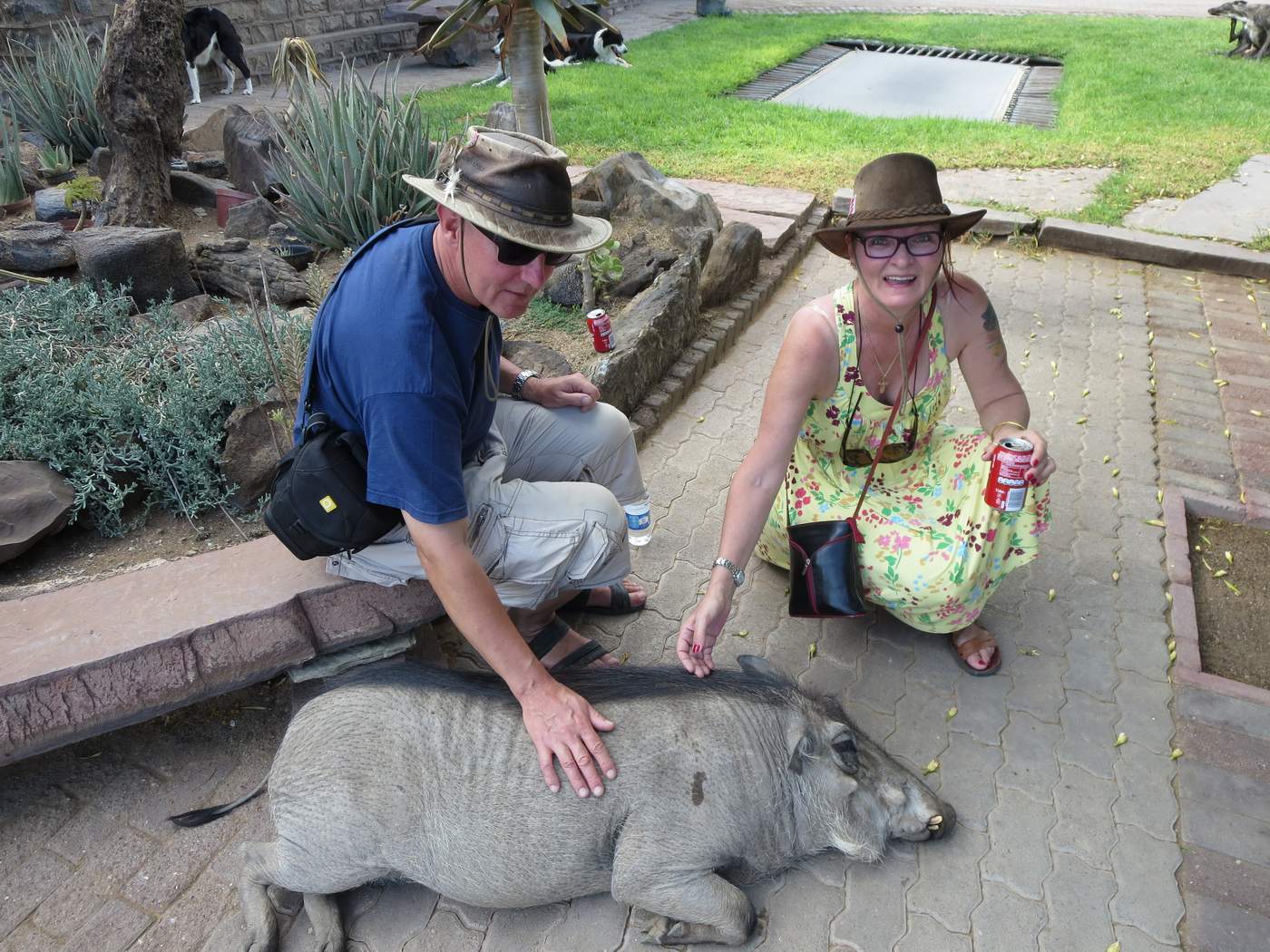 03.02. Warthog time! This warthog is 1 years old and he is used to humans so we could pet. She was so grateful for us petting her that she started to chew on my pants. She made a big hole on my shorts. Naughty miss Piggy!
03.02. Tid for vortesvin! Dette vortesvinet er 1 år gammelt og hun er vant til mennesker. Hun var så glad for at vi klappet henne at hun begynte å tygge på buksene mine. Hun lage et stort hull i shortsen min. Slemme miss Piggy!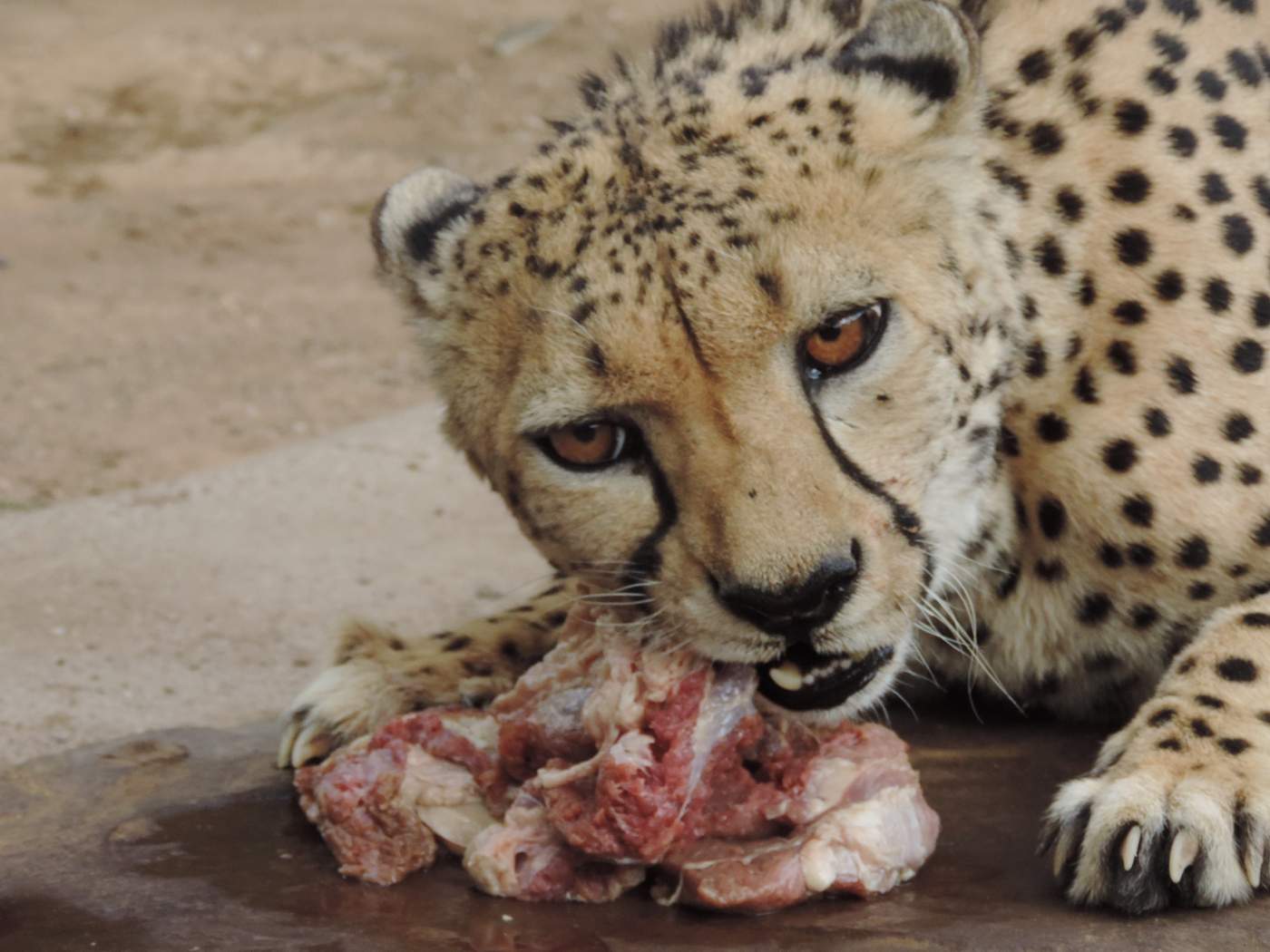 03.02. We got to see how the cheetahs got fed - we were actually standing inside the fence only 3 meters away - they did not care about chewy Scandinavians - they just wanted to enjoy their beef.
03.02. Vi fikk se at gepardene ble matet - vi var faktisk innafor gjerdet bare 3 meter unna - de brydde seg ikke om seige skandinavere - de ville bare nyte oksekjøttet de fikk servert.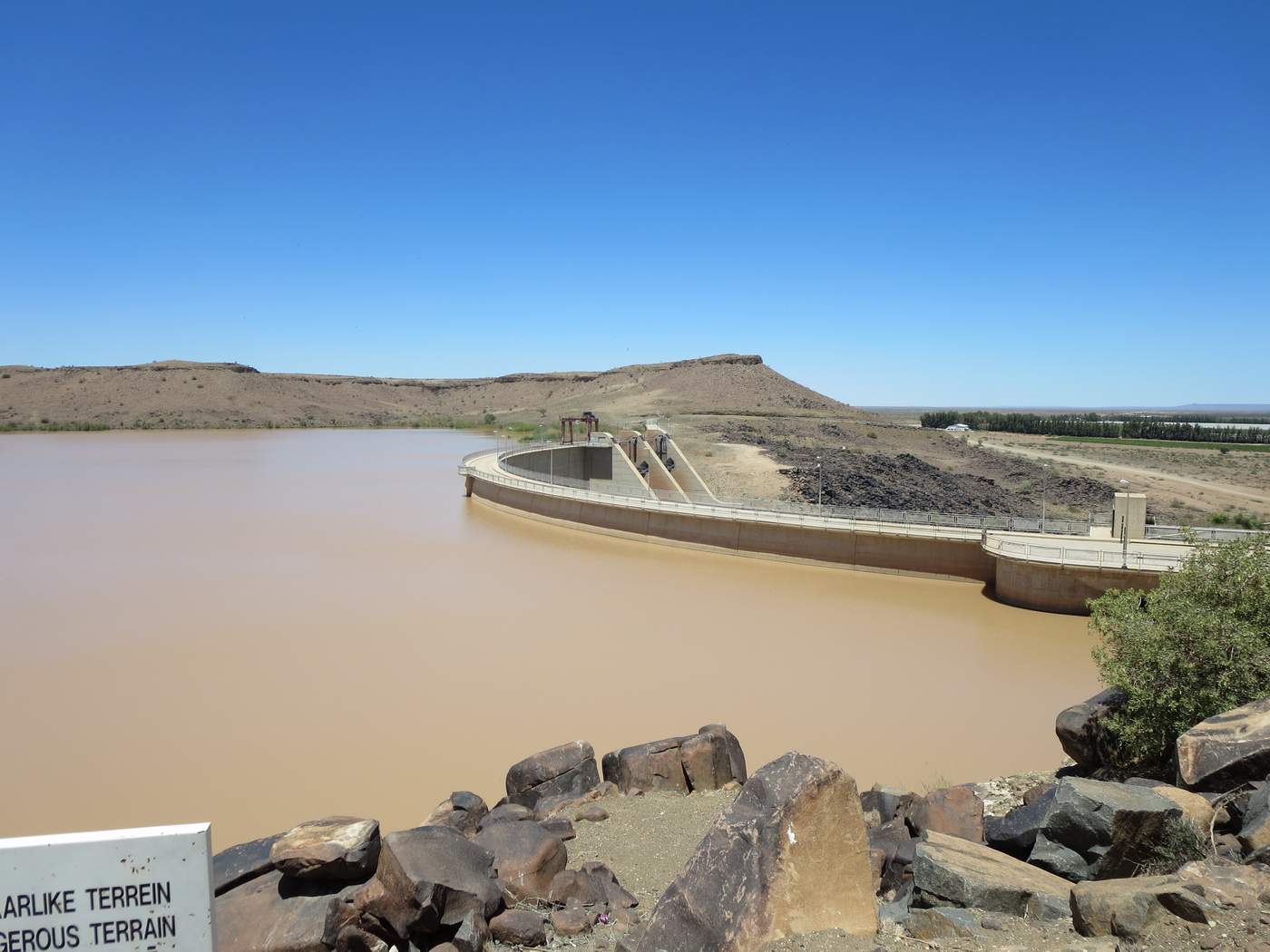 04.02. Naute Dam - a huge water reservoir outside Keetmanshoop. The dam is 100 % full due to the heavy rains.
04.02. Naute Dam - et kjempevannmagasin outafor Keetmanshoop. Dammen er 100 % full pga. masse regn.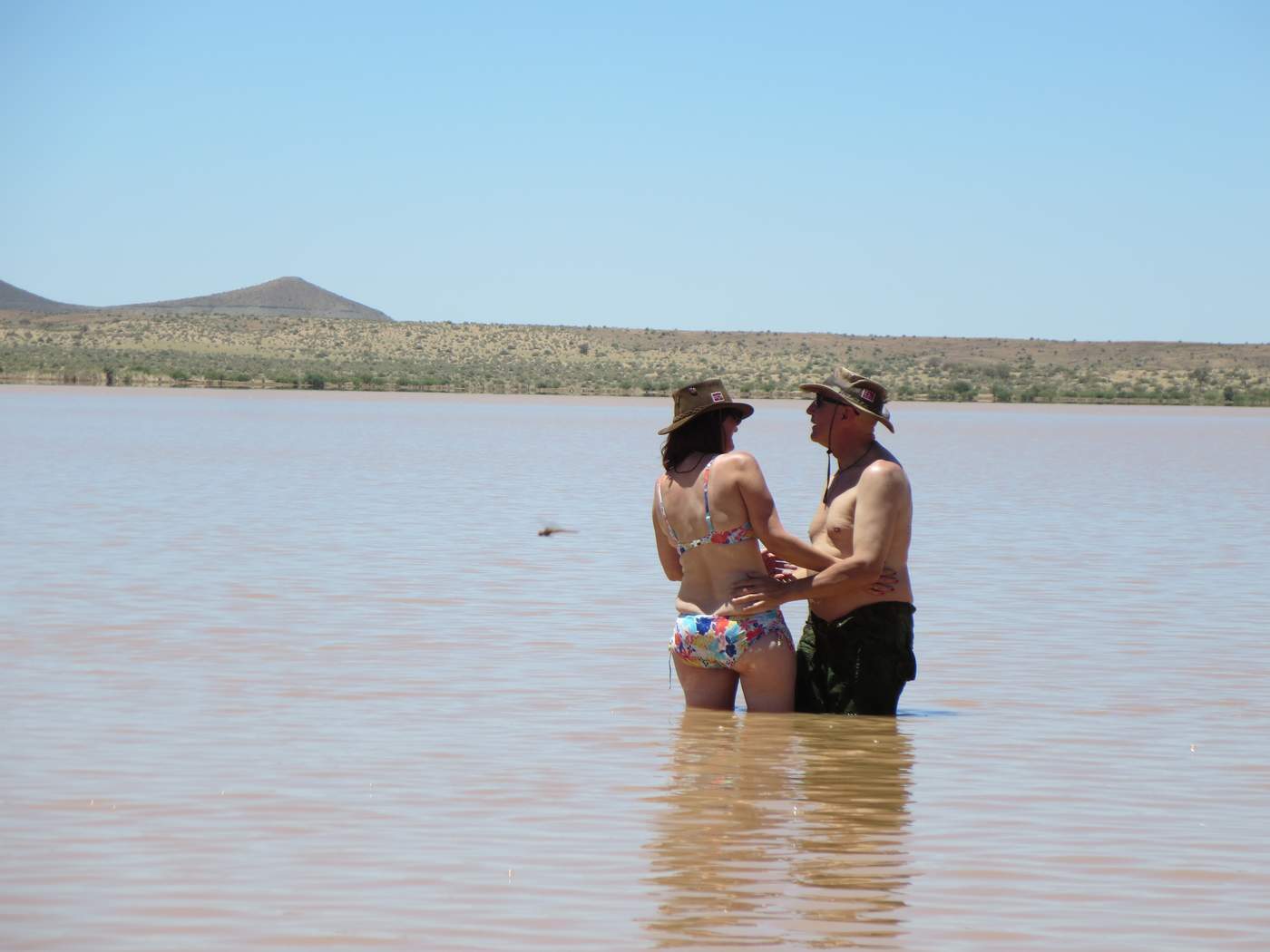 04.02. The water is nice and warm - there are no crocs or hippos here but a lot of huge catfish - they can become 2 meters long.
04.02. Vannet er godt og varmt - det finnes ikke krokodiller eller flodhester her men masse store maller - de kan bli 2 meter lange.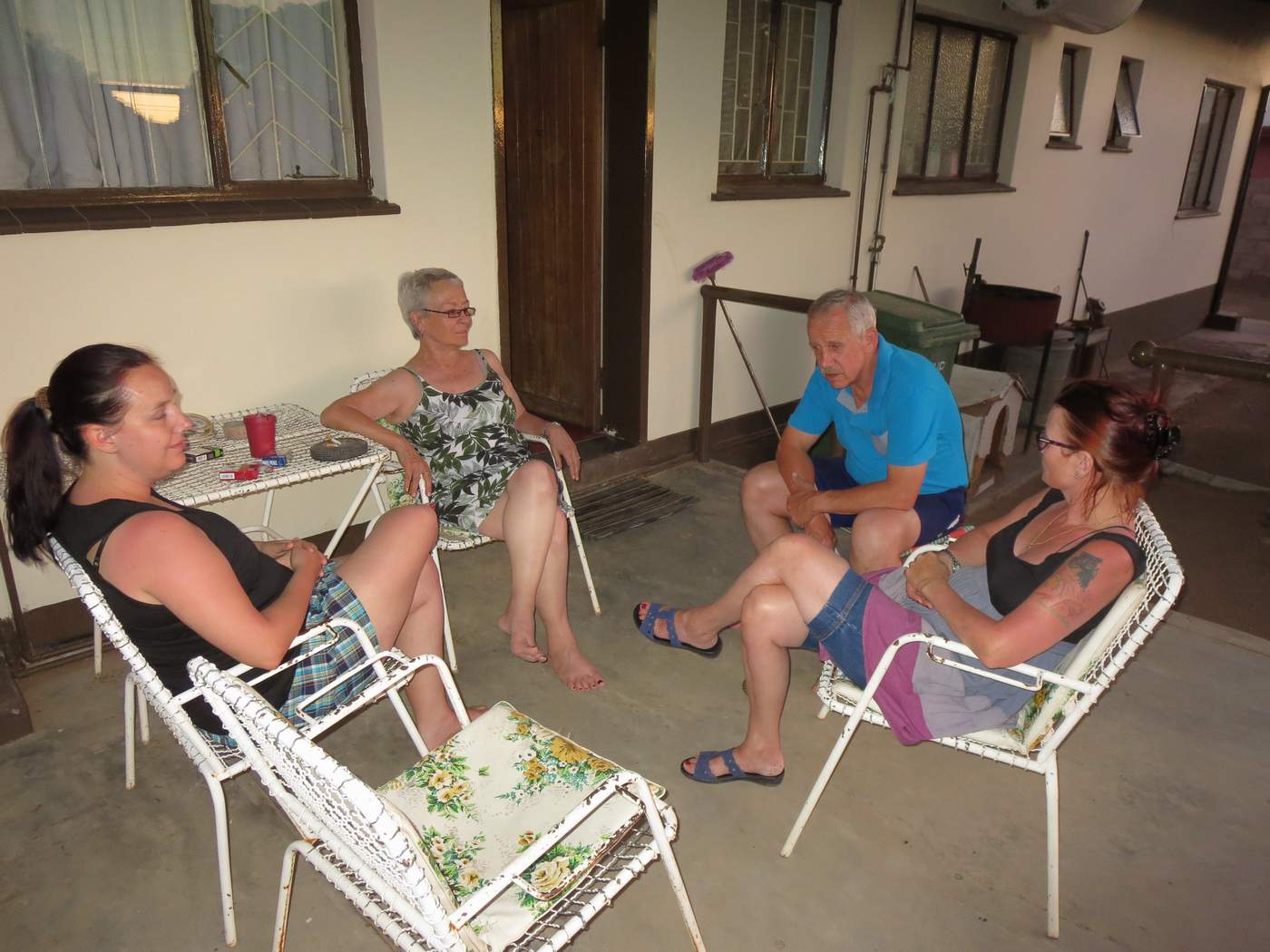 04.02. A pleasant afternoon with the Pollers. It's "cool" outside in the evening so we prefer to sit outside and enjoy the sunset.
04.02. En trivelig kveld med Poller familien. Det er "kjølig" ute om kvelden så vi foretrekker å sitte ute og nyte solnedgangen.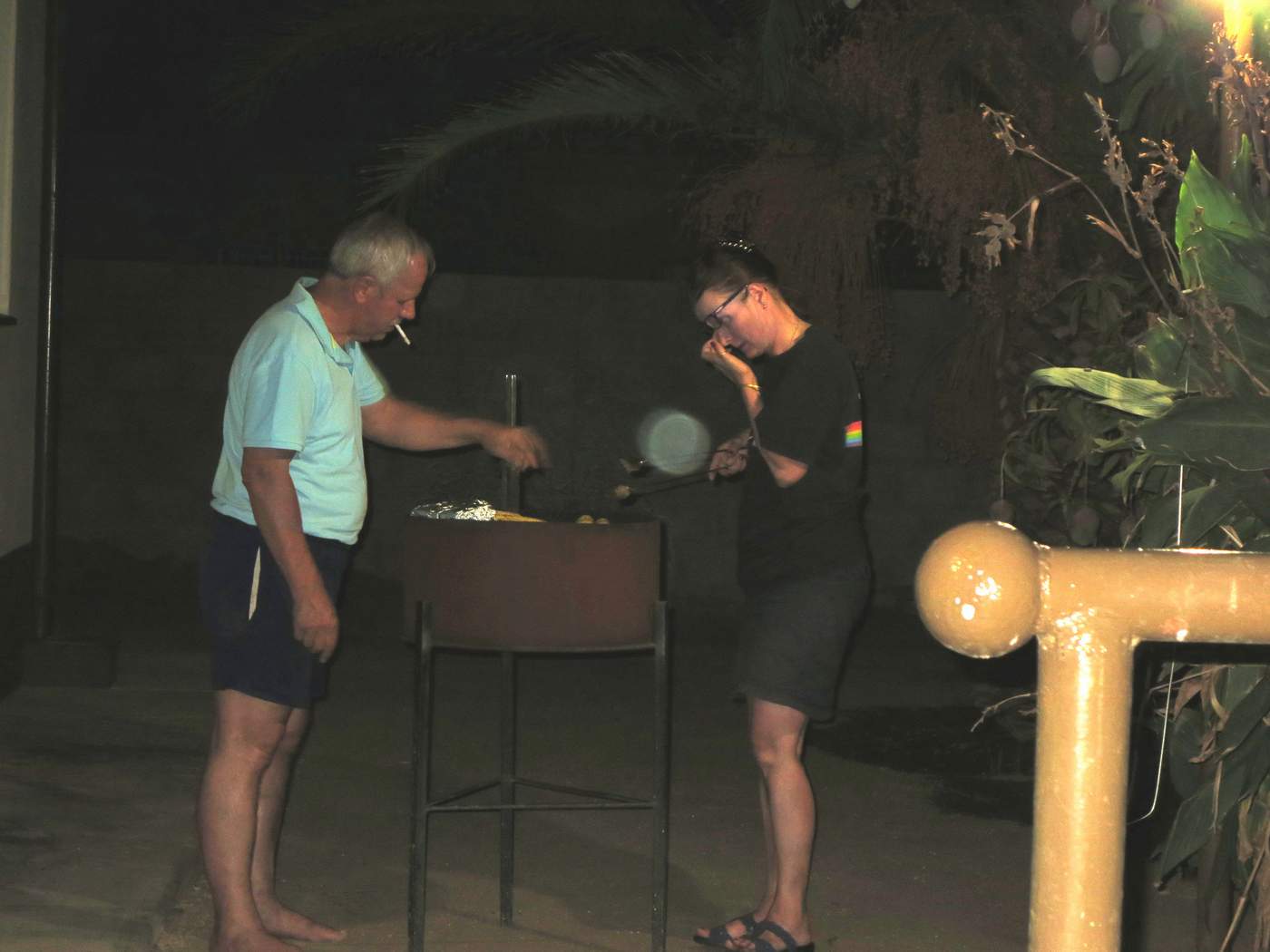 05.02. Braai time at the Pollers - this is a good-bye-for-now braai, because we are about to leave in the morning.
05.02. Tid for braai hos Pollers - dette er en ha-det-for-nå braai, for vi skal reise neste morgen.
06.02. A loooooooong drive - we drove via Windhoek on our return to Swakop - Keetman-Windhoek 4,5 hours; the speed limit being 120 km/h - then there is the additional 320 kms to Swakopmund - so all together we drove more than 800 km in 8 1/2 hours. Not bad!
06.02. Laaaangt å kjøre - vi kjørte via Windhoek på tilbaketuren til Swakop - Keetman-Windhoek 4,5 timer; fartsgrense 120 km/t - så er det enda 320 km til Swakopmund så til sammen kjørte vi mer enn 800 km på 8 1/2 time.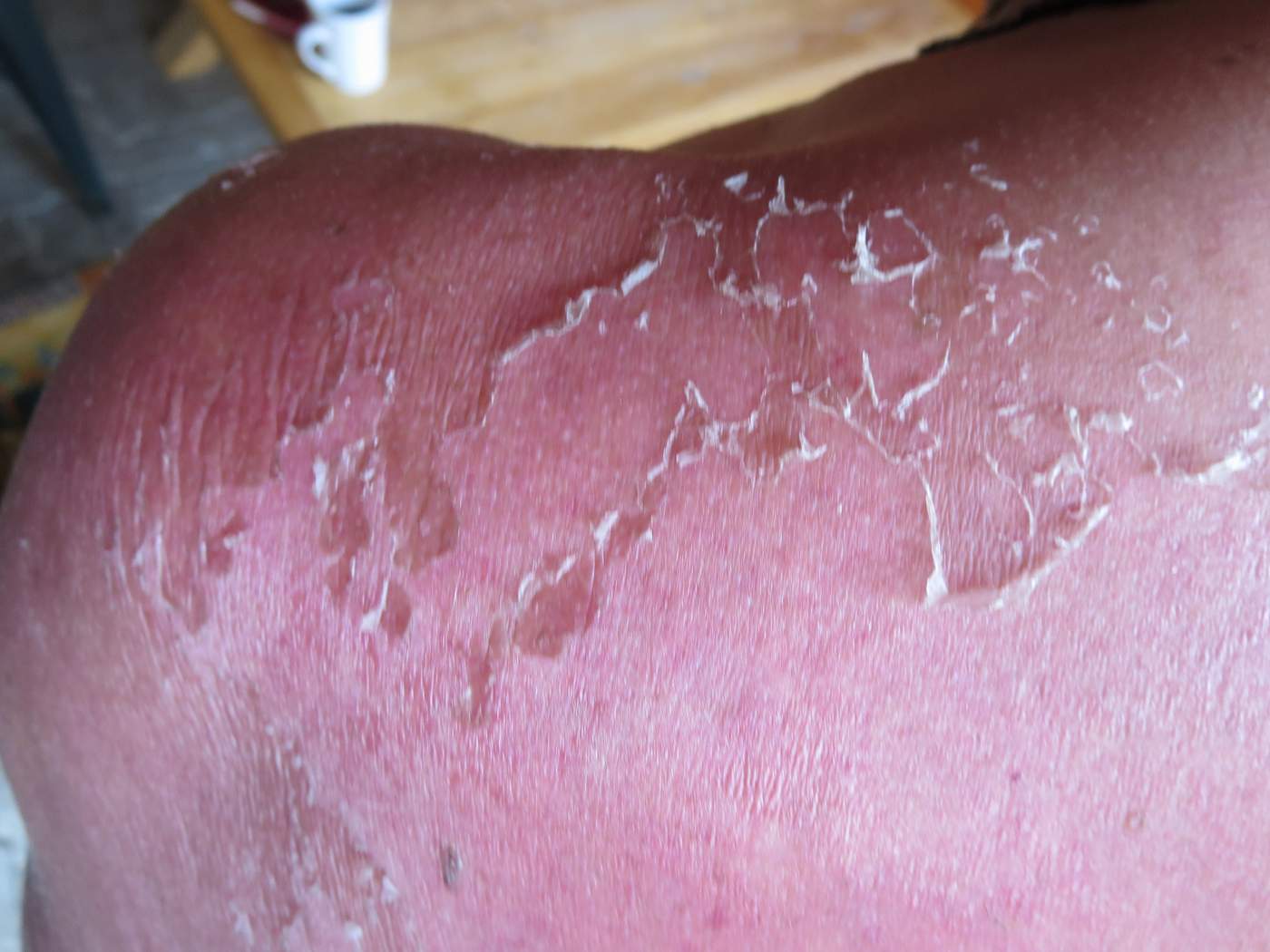 09.02. The sun in southern Namibia can really burn a Norwegian badly...
09.02. Sola i sørnamibia kan virkelig brenne en nordmann skikkelig....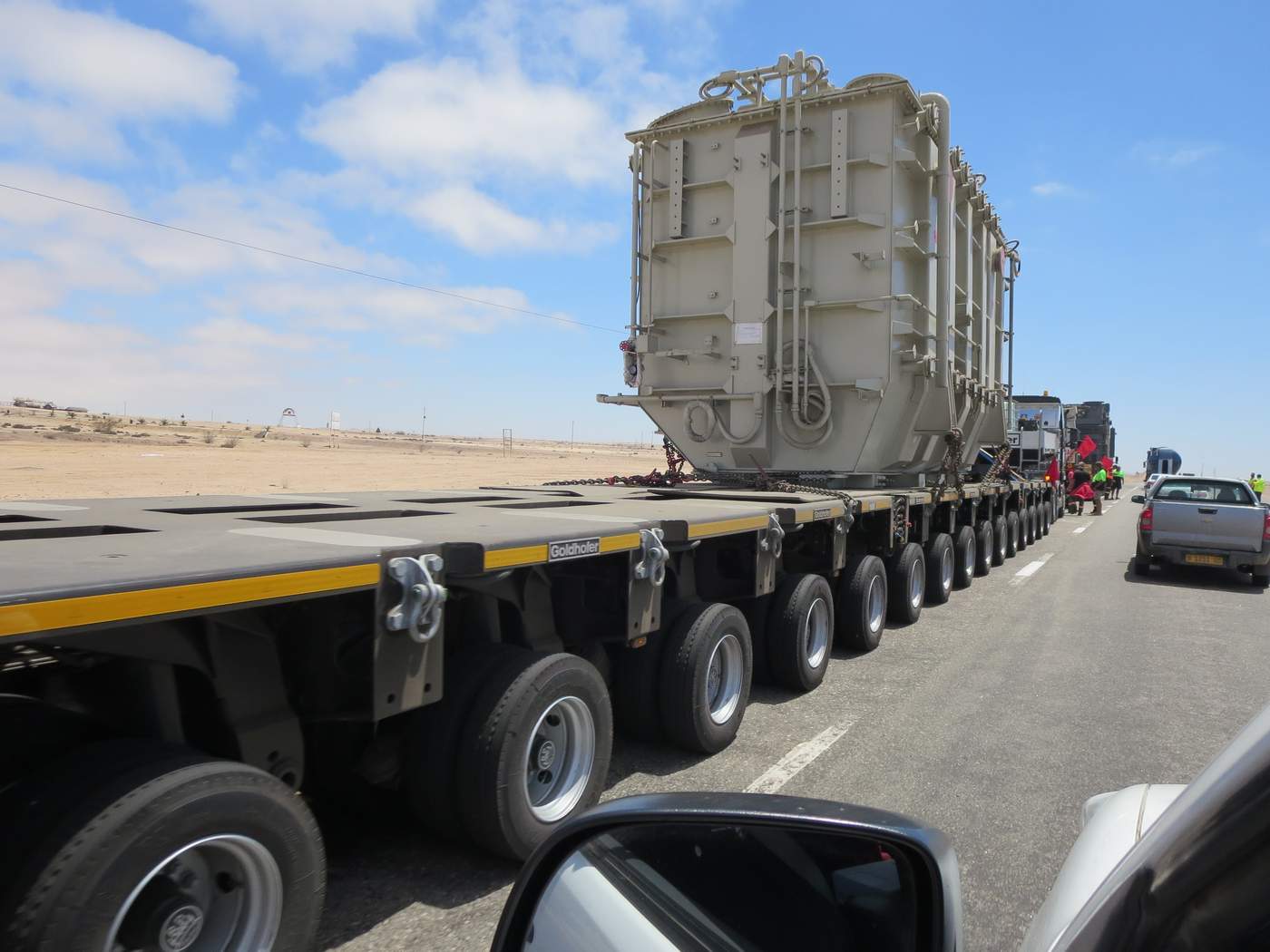 10.02. We are on our way to Windhoek to pick up Hilde, a relative of Sylvi's - two of these trucks were so wide that we could not over take them; they were driving 40 km/h. These pieces of machinery were most likely going to the mining companies outside Arandis.
10.02. Vi er på tur til Windoek for å plukke opp Hilde, en av slektningene til Sylvi - to slike breie lastebiler forhindret oss i å kjøre forbi; de kjørte i 40 km/t. Disse store maskinene skulle antagelig til gruveselskapene utenfor Arandis.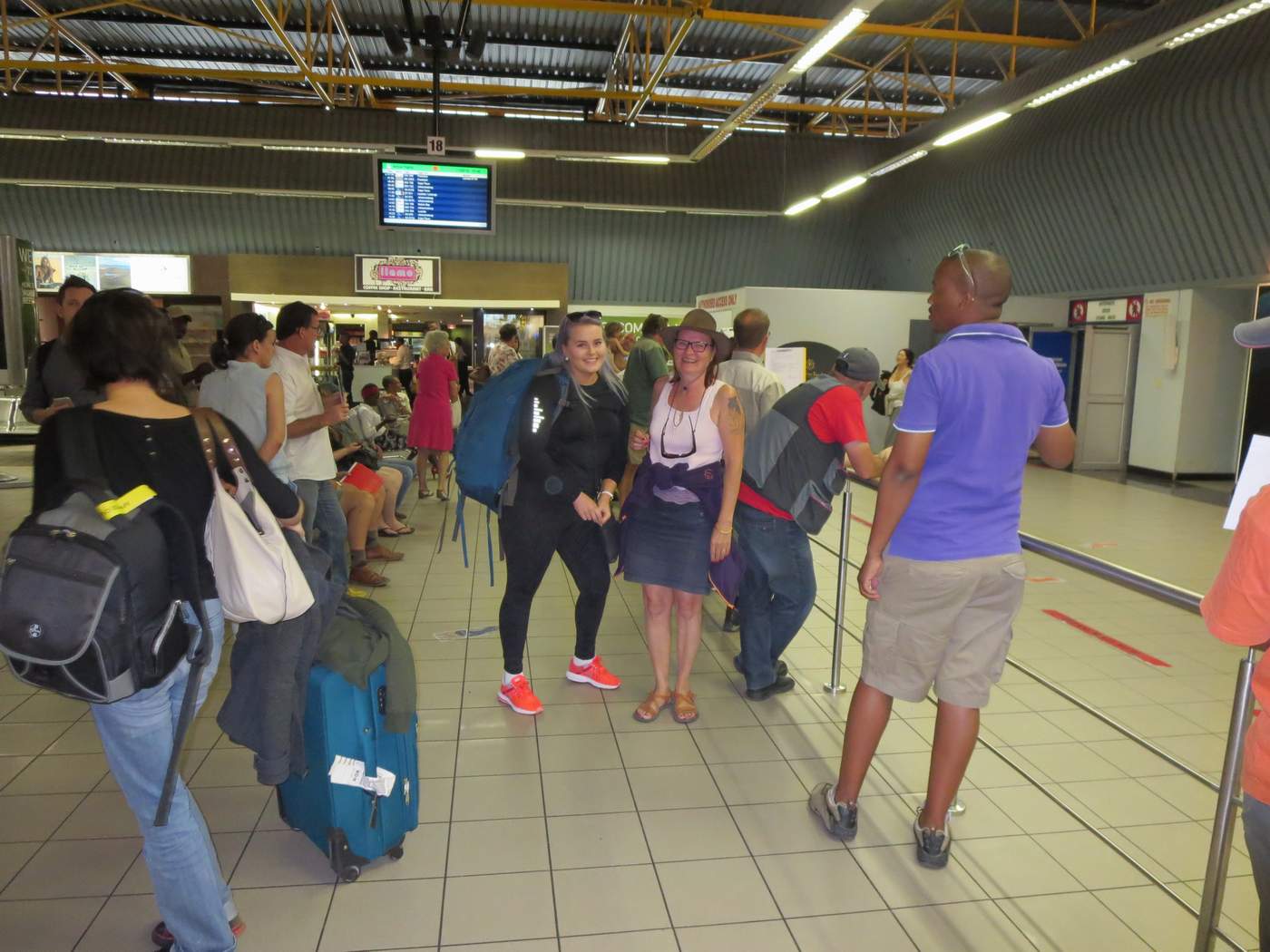 11.02. The Norwegian tourist has landed! This is Hilde's first trip to Africa and she is going to hang around for 4 weeks.
11.02. Turisten fra Sortland har landed! Dette er Hildes første tur til Afrika og hun skal være her i 4 uker.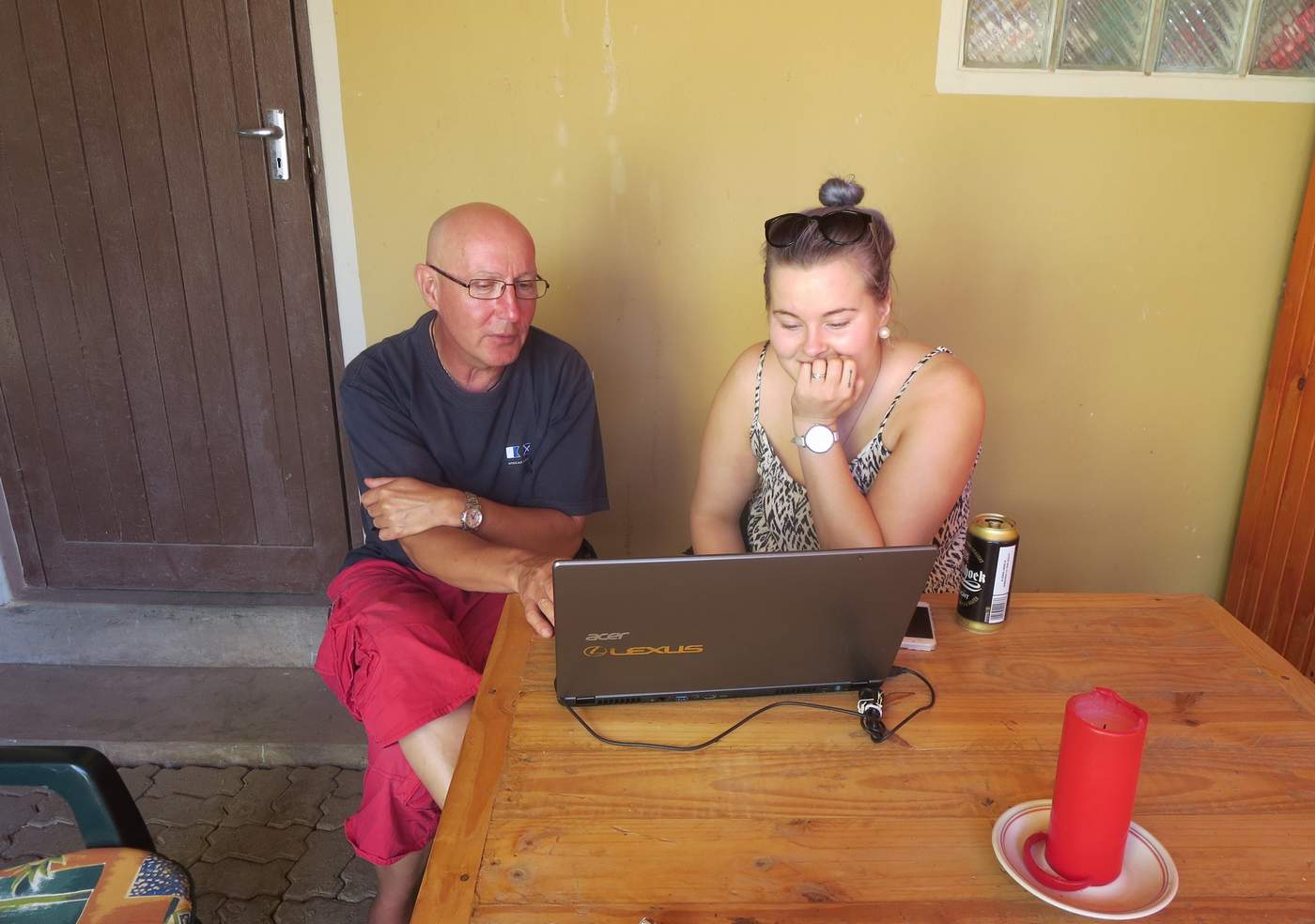 13.02. Finally back in Swakopmund. Windhoek was terribly hot and we are glad to feel the cool breeze from the ocean again.
13.02. Endelig tilbake i Swakopmund. Det var fryktelig varmt i Windhoek og vi er glade for igjen å kjenne den kjølende vinden fra havet.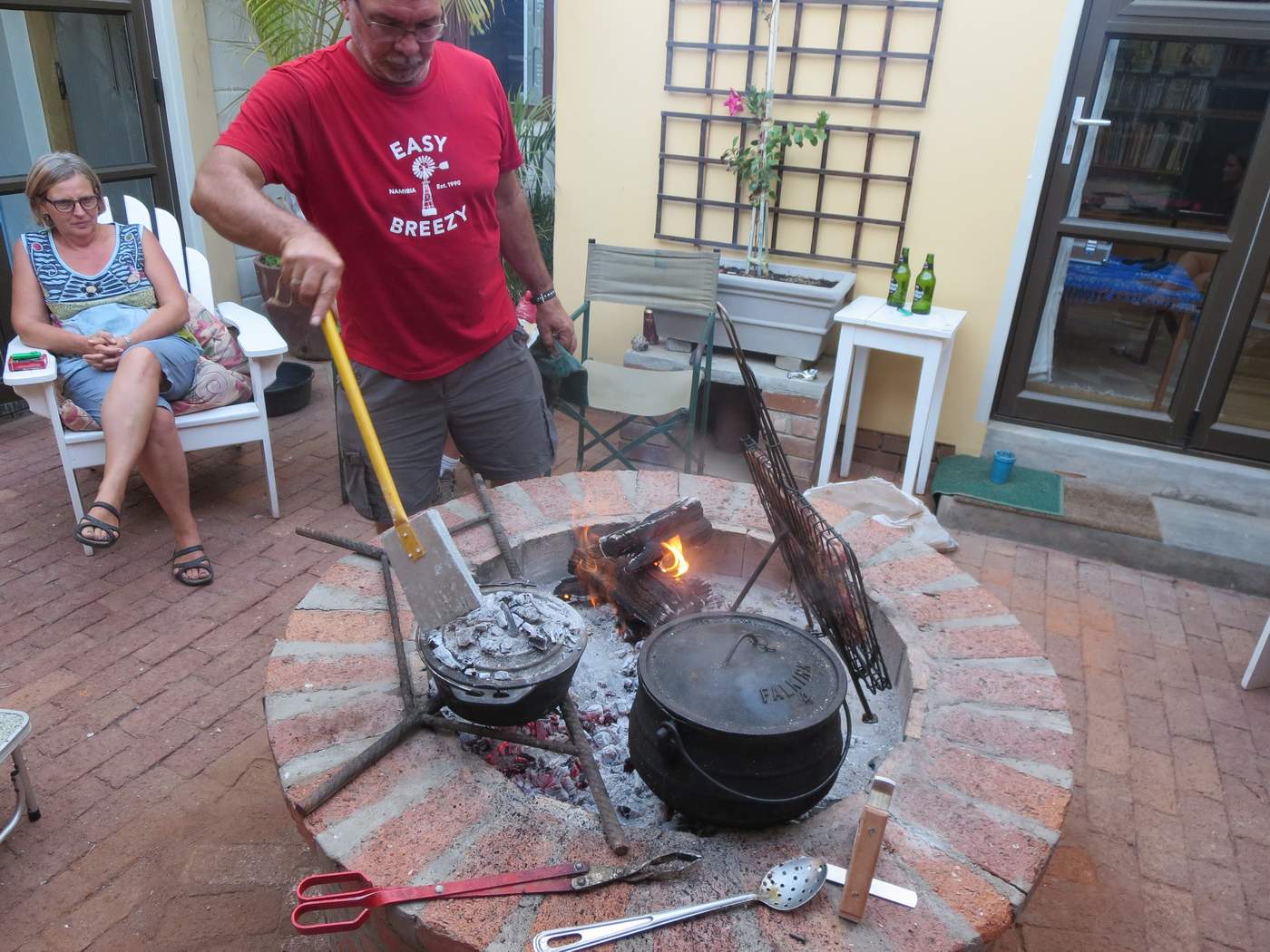 13.02. Braai time again! The master chefs Sigrid and Berti are preparing a delicious meal on their braai. The big pot is full of vegetables, beef and springbok and the small pot contains dough that will soon turn into a freshly baked bread.
13.02. Tid for braai! Mesterkokkene Sigrid og Berti forbereder et nydelig måltid på braai'en. Den store gryta er full av grønnskaer, storfe og springbok kjøtt og den lille gryta inneholder deig som skal bli til et nybakt brød.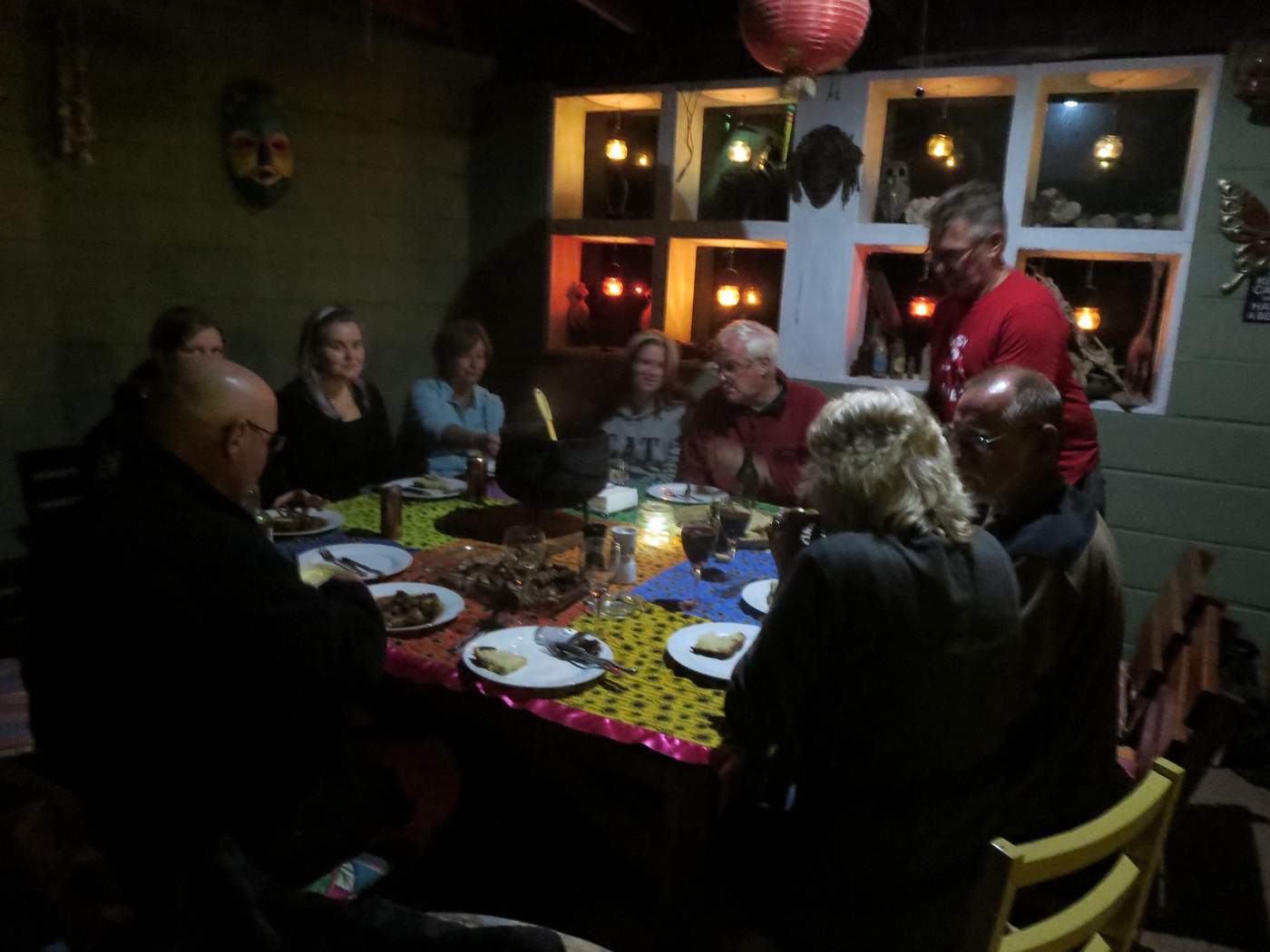 13.02. Enjoying the meal together with friends. After the meal we had to top up our bellies with Norwegian aquavit.
13.02. Her nyter vi mater med venner. Etter maten måtte vi fylle på med litt norsk akevitt.