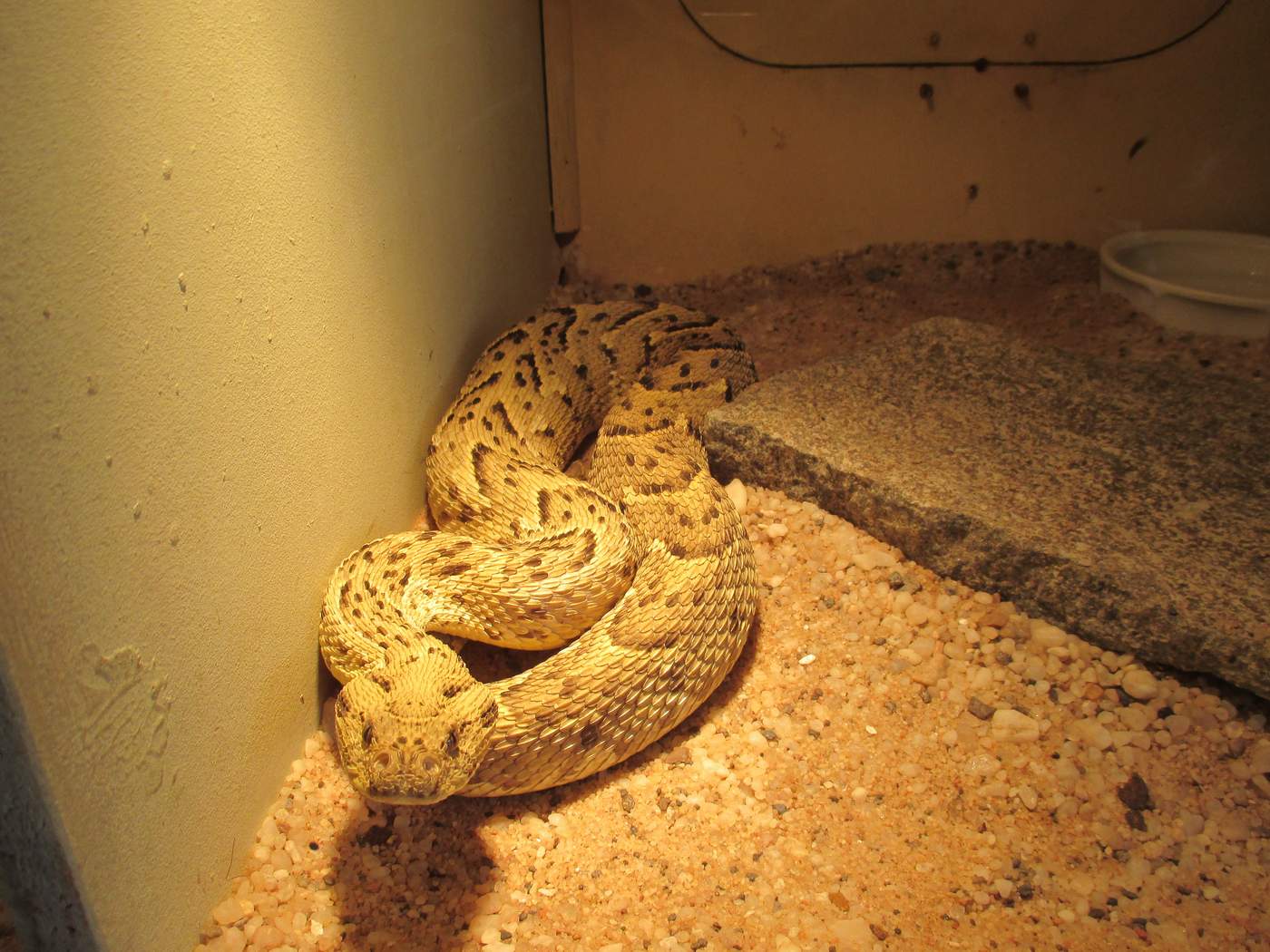 090315 - We visited a snake exibition and met these guys. This is a puff adder - extremely venomous and deadly. I think it wanted to taste Norwegian meat..
090315 - Vi besøkte en slangeunstilling og traff de herrana karran. Dette er en puff adder - ekstremt giftig og dødlig. Jeg tror den hadde lyst å smake norsk kjøtt...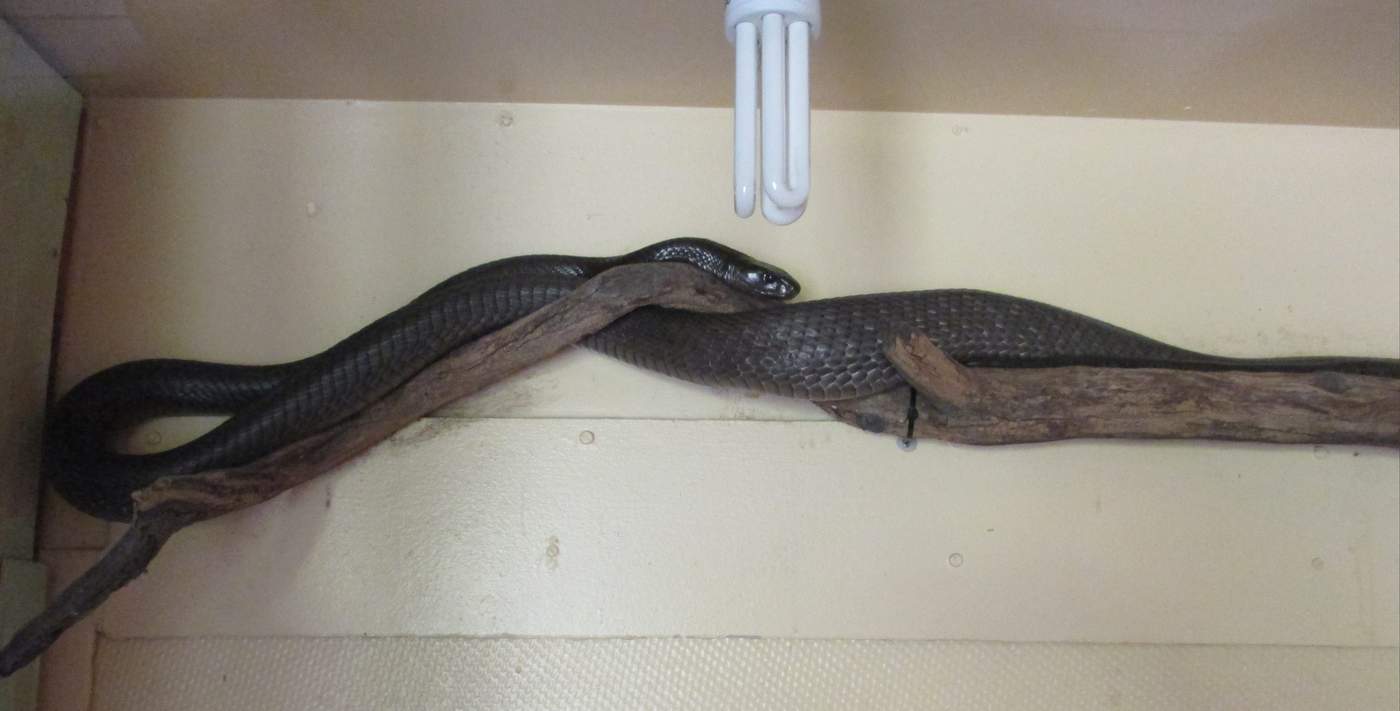 090315 - The nasties of them all? The black mamba. Aggressive and very deadly. They exist many places in Namibia. In addition we saw several species of cobras.
090315 - Den verste av dem alle? Black mamba. Aggressive og veldig dødlig. Finnes mange plasser i Namibia. I tillegg så vi mange cobraarter.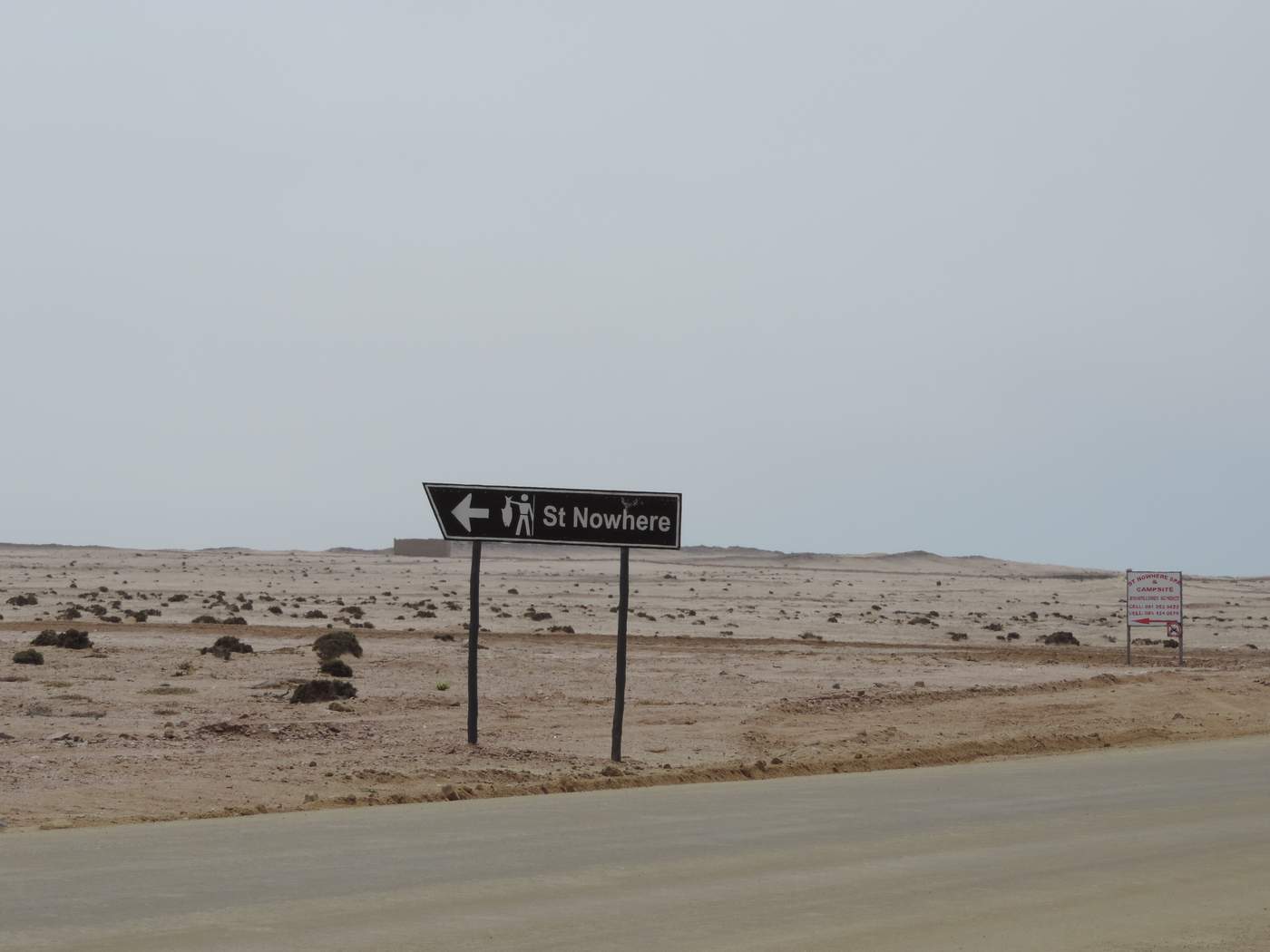 090315 - We are on our way to the Skeleton Coast. In the middle of nowhere we found St Nowhere spa and campsite.
090315 - We er på vei till Skjelettkysten. Ute i huttiheita fant vi denne spa og campingplassen.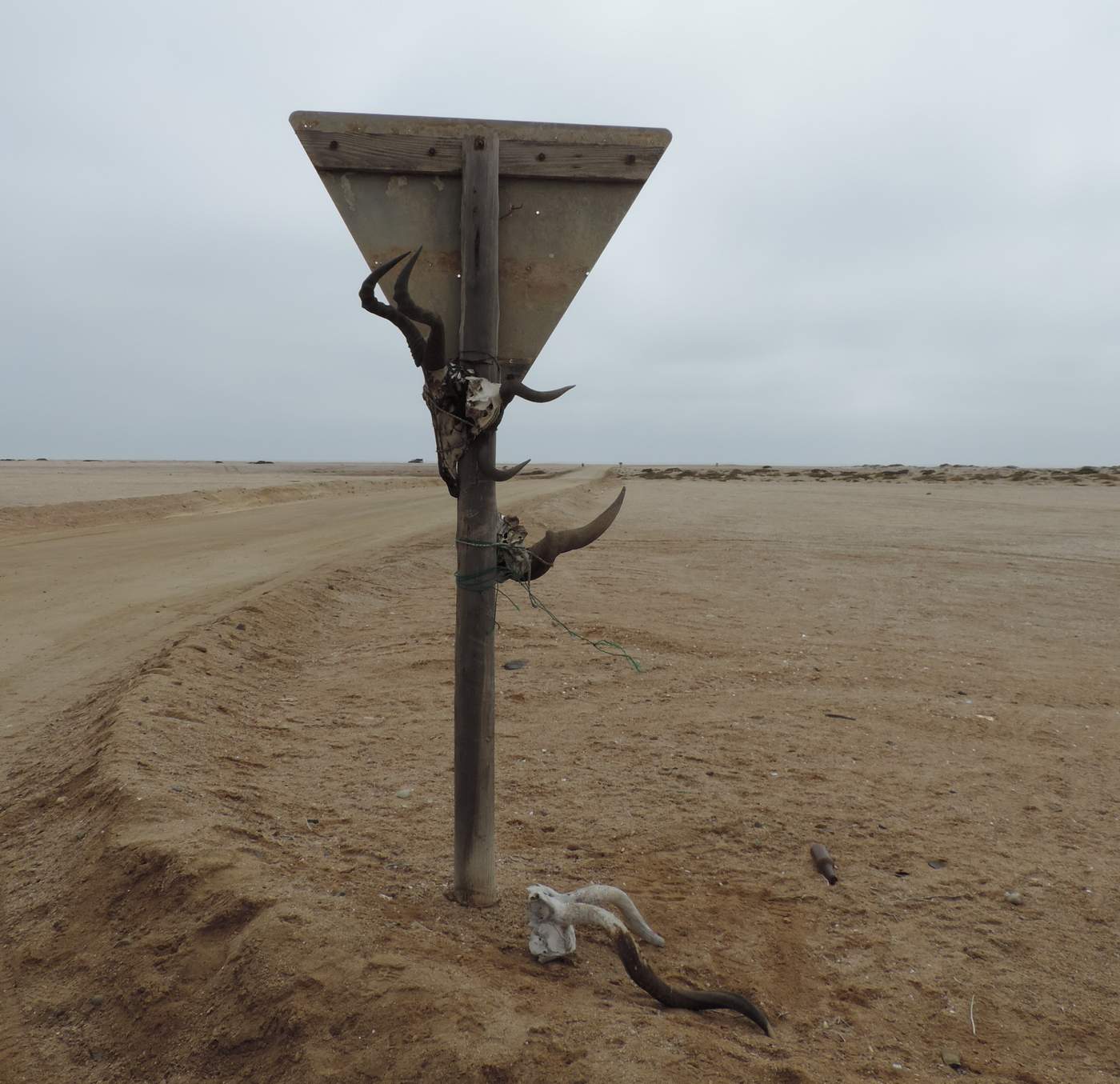 090315 - Roadkills? One hartebest, one springbok and two kudus. They really have to learn how to cross the road near Cape Cross.
090315 - Trafikkdrept? En hartebest, en springbok og to kuduer. De må virkelig lære seg hvordan de skal krysse veien ved Cape Cross.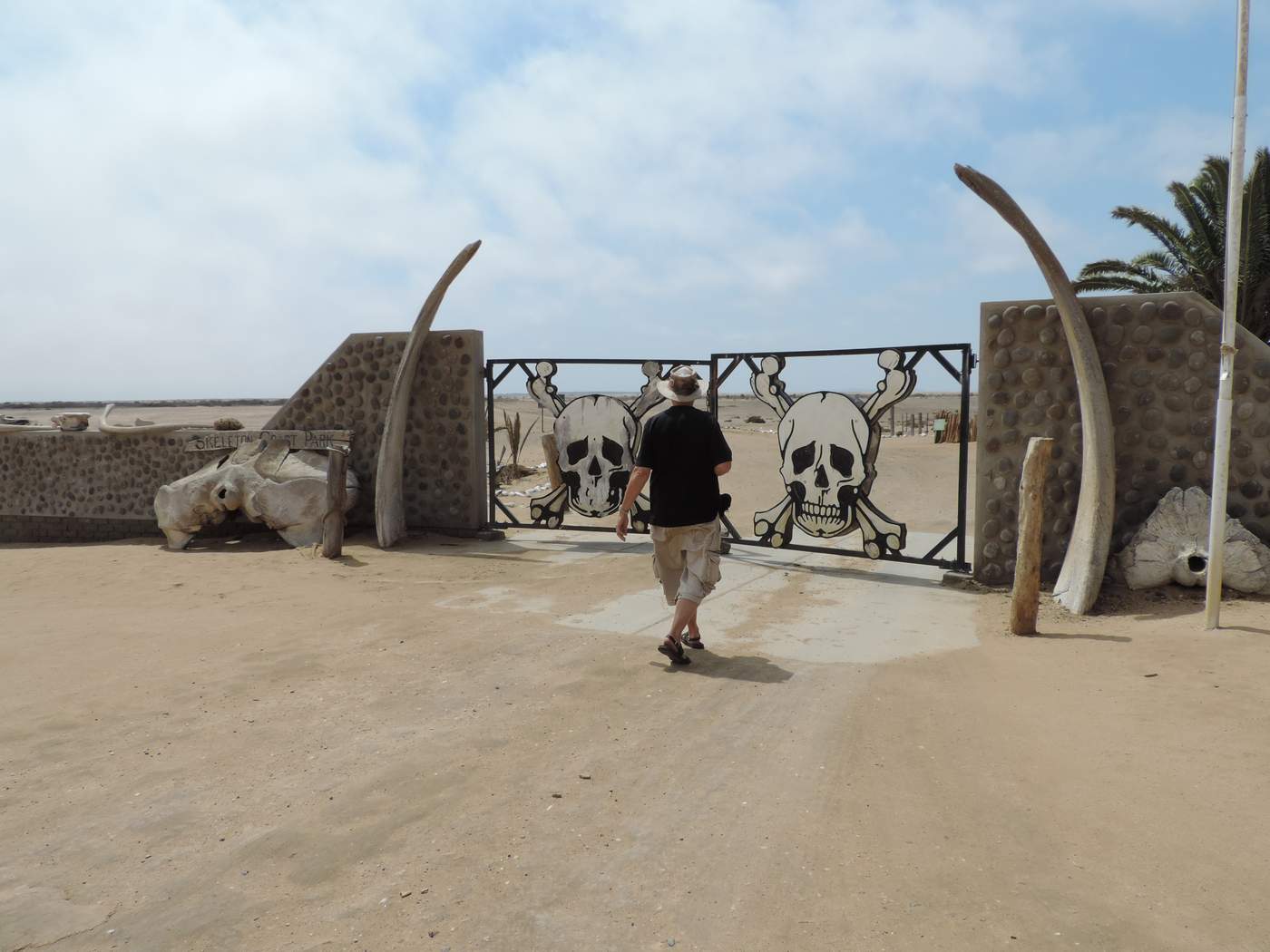 090315 - The southern gate to the Skeleton Coast Park - we did not go any further because they were about to lock the gate for the day. They don't want anyone to start late and get stuck in the desert over night.
090315 - Søndre port til Skjelettkysten park - vi kjørte ikke videre fordi de skulle låse porten for idag. De vil ikke at noen skal "bynne å startte" seint og bli stående fast i ørkenen over natta.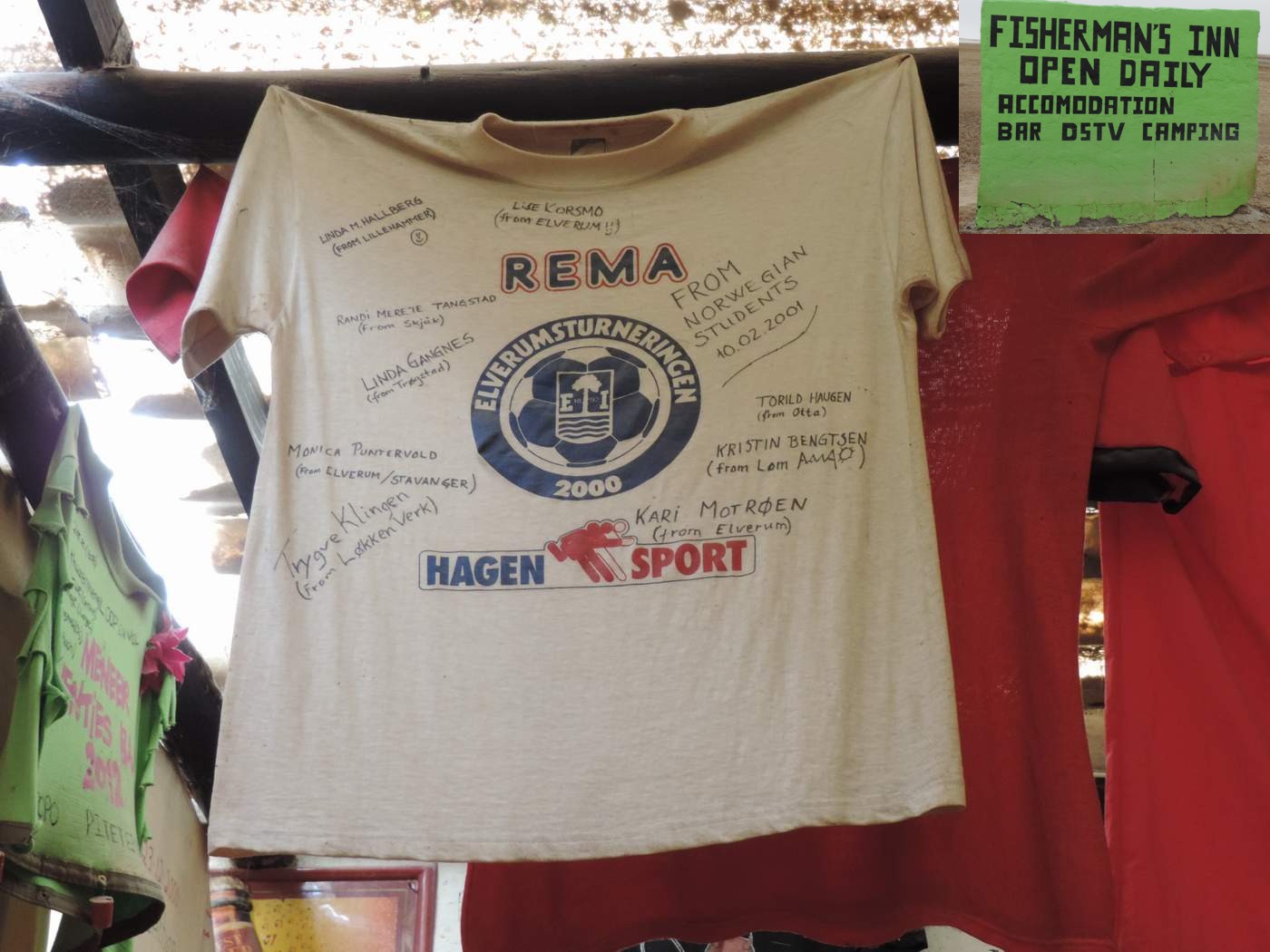 090315 - Fisherman's Inn bar and restaurant - we were obviously not the first Norwegians here. This is the only place to grab something to eat for 130 km between Hentiesbaai and the southern gate of The Skeleton Coast.
090315 - Fisherman's Inn bar og restaurant - vi vare tydligvis ikke de første norske her. Dette er den eneste spiseplassen på 130 km mellom Hentiesbaai og søndre inngang til Skjelletkysten.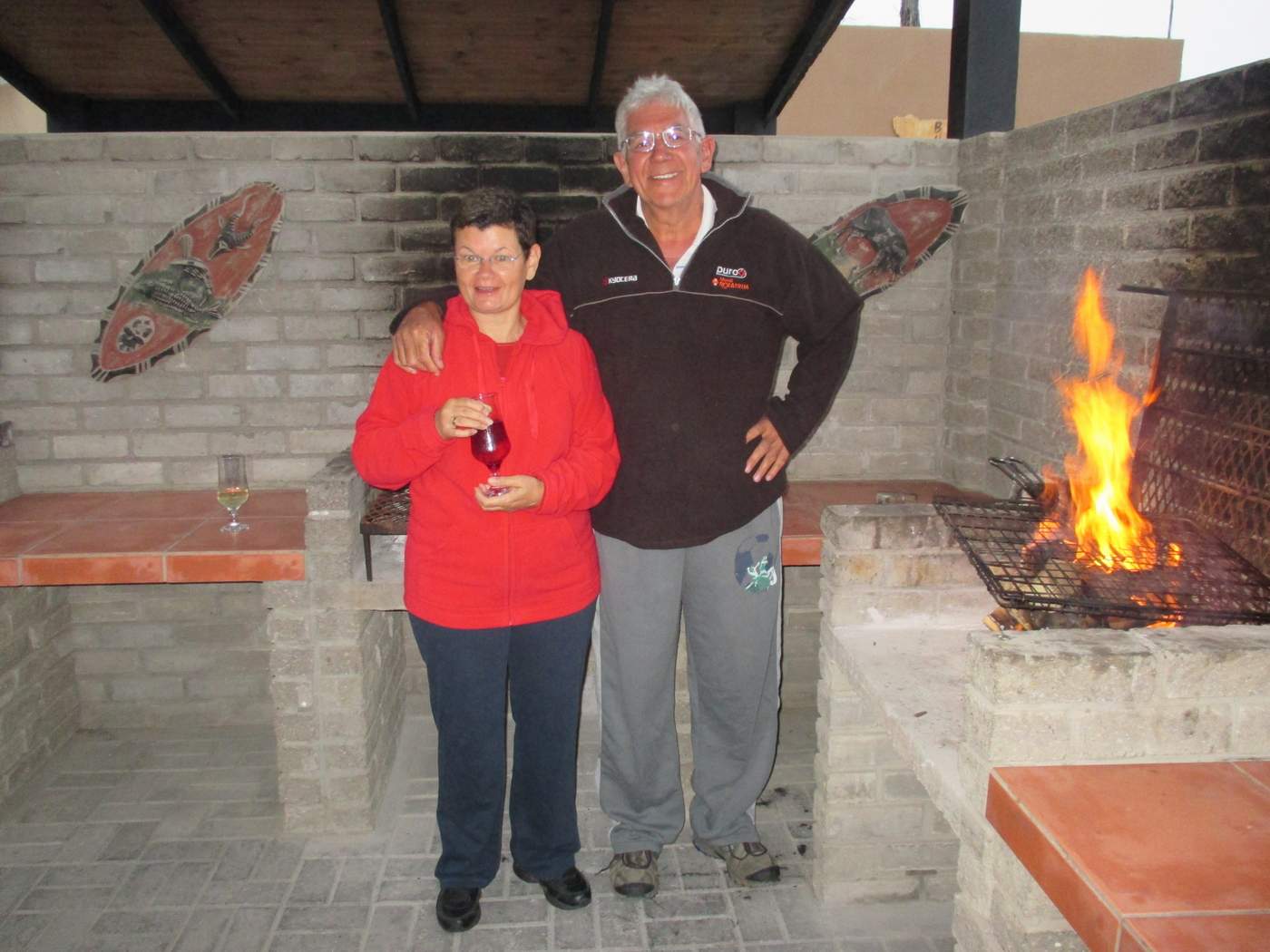 110315 - The Venters from Joburg invited us to a fish braai - he caught a kabeljou earlier in the day and wanted to share it with us the South African way.
110315 - Venters fra Joburg inviterte oss på en fiskebraai - -han fikk en kabeljou tidligere på dagen og ville dele den oss på Sørafrikansk vis.
120315 - Good bye Swakopmund. Emily wishes us a safe drive to Windhoek.
120315 - Ha det, Swakopmund. Emily ønsker oss god tur til Windhoek.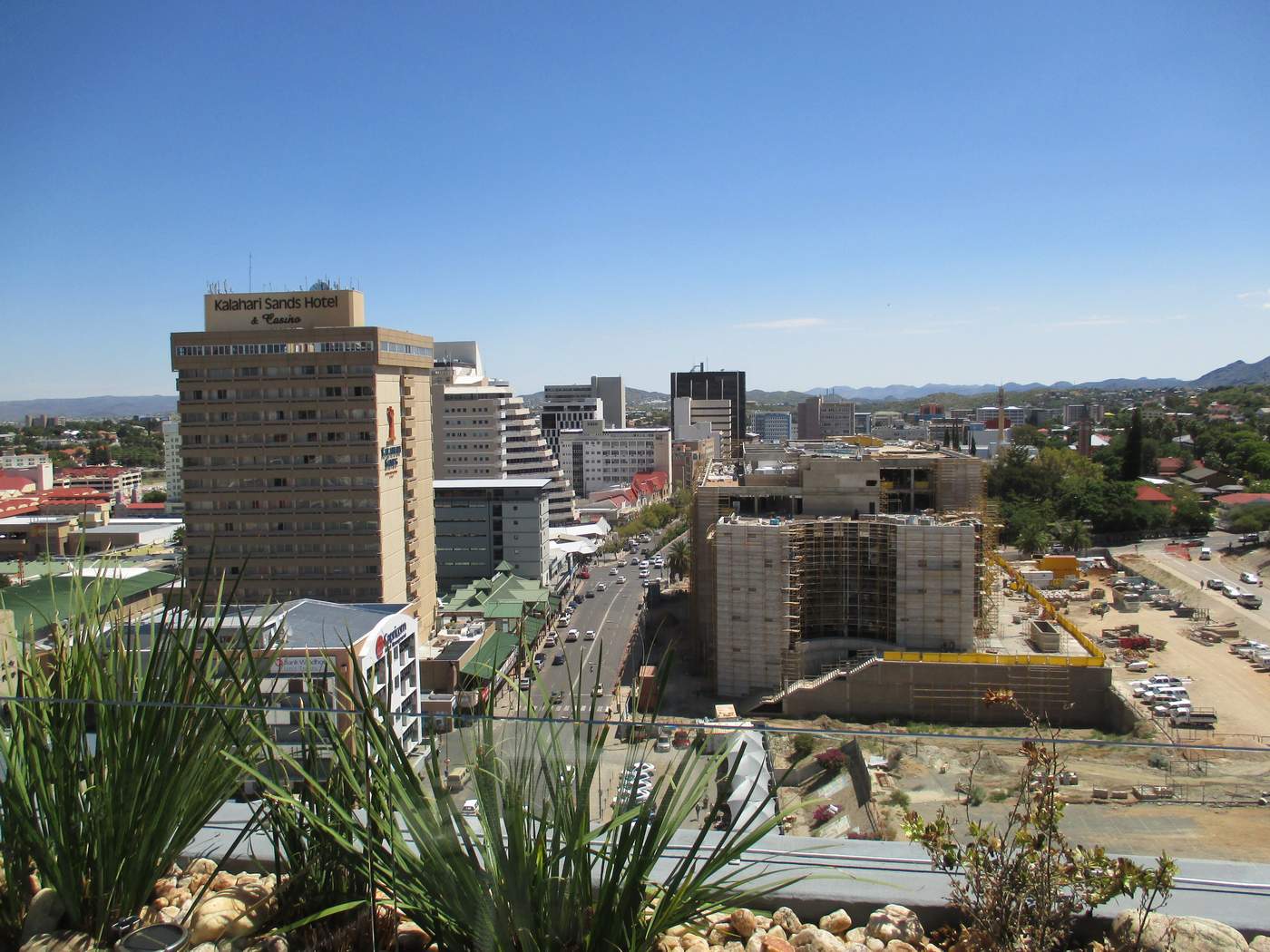 130315 - Back in Windhoek - view towards the west from the roof of the Hilton Hotel. Independence Avenue in the middle.
130315 - Tilbake i Windhoek - utsikt mot vest fra taket på Hilton Hotell. Independence Avenue i midten.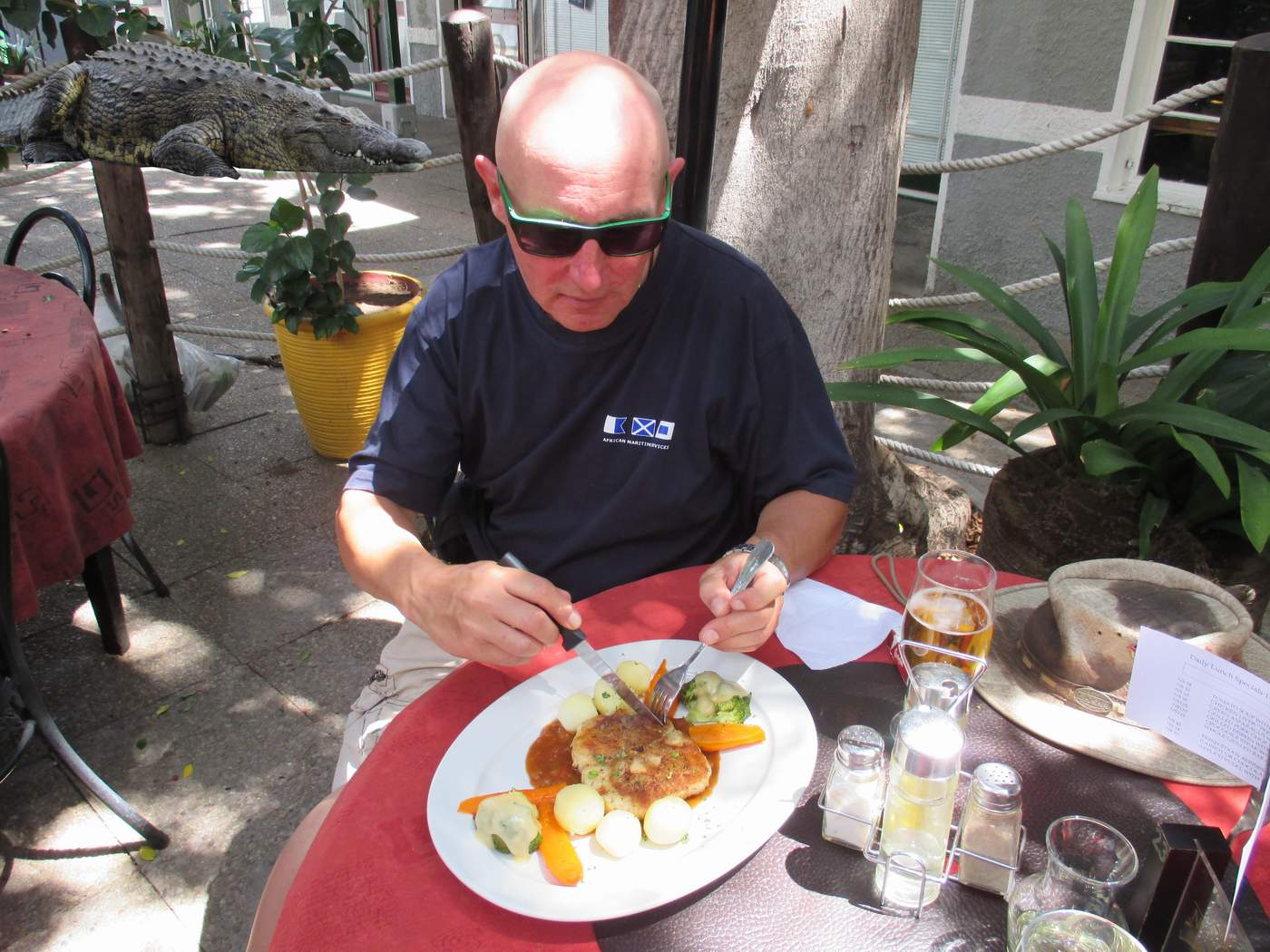 140315 - Croc steak! It's probably from the Zambezi river - it tastes something between pork chops and swordfish. Been there, done that....
140315 - Krokodille biff! Den er trolig fra Zambezi - det smaker en mellomting mellom svinekoteletter og sverdfisk. Så dett var dett...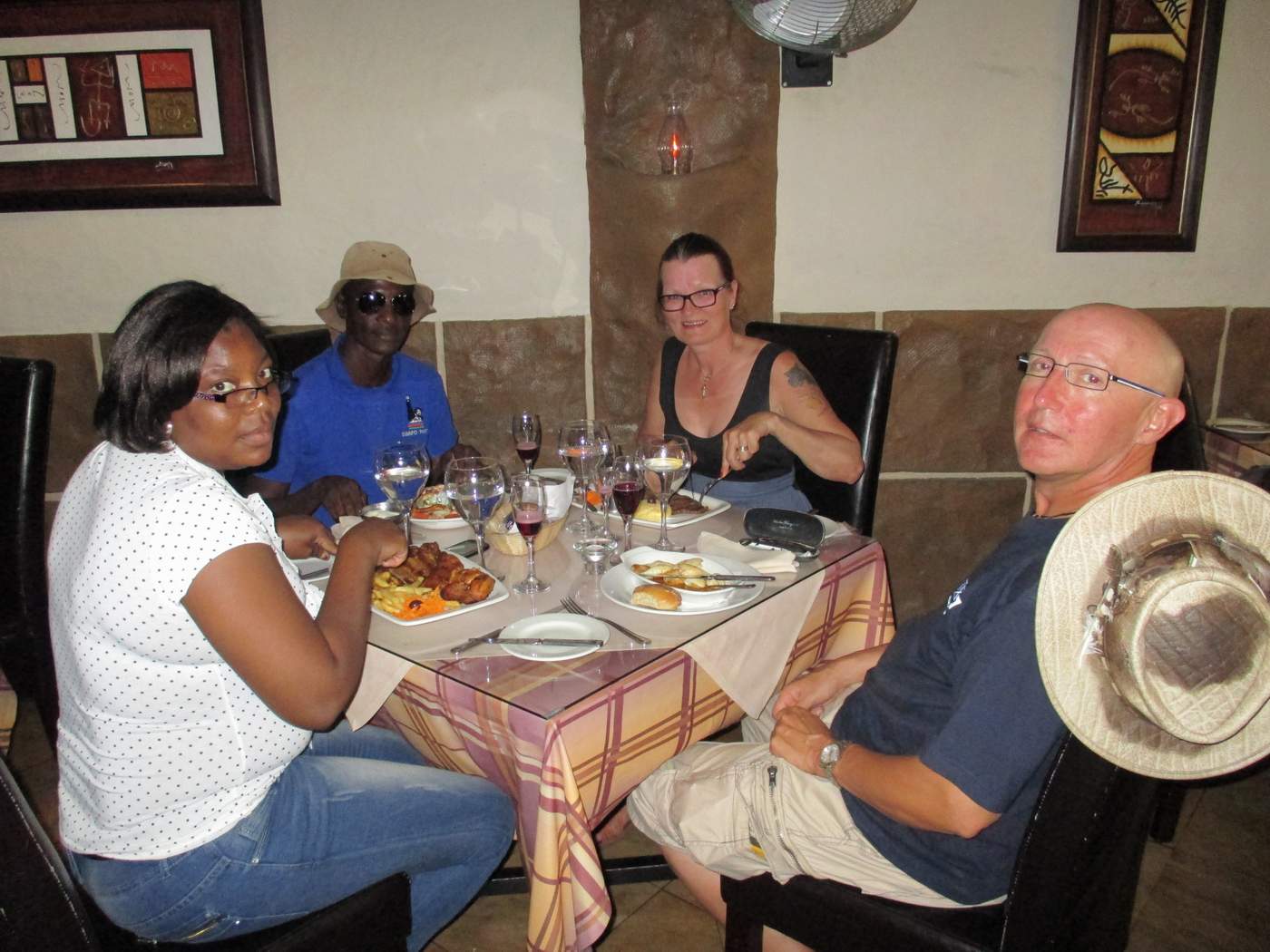 150315 - Our last night in Namibia for now. We spent it at the Portugese-Angolan restaurant Kubata with our good friends Temus and Rauha.
150315 - Vår siste kveld i Namibia for denne gang. Vi var på den portugisiske-angolske restauranten Kubata med våre gode venner Temus og Rauha.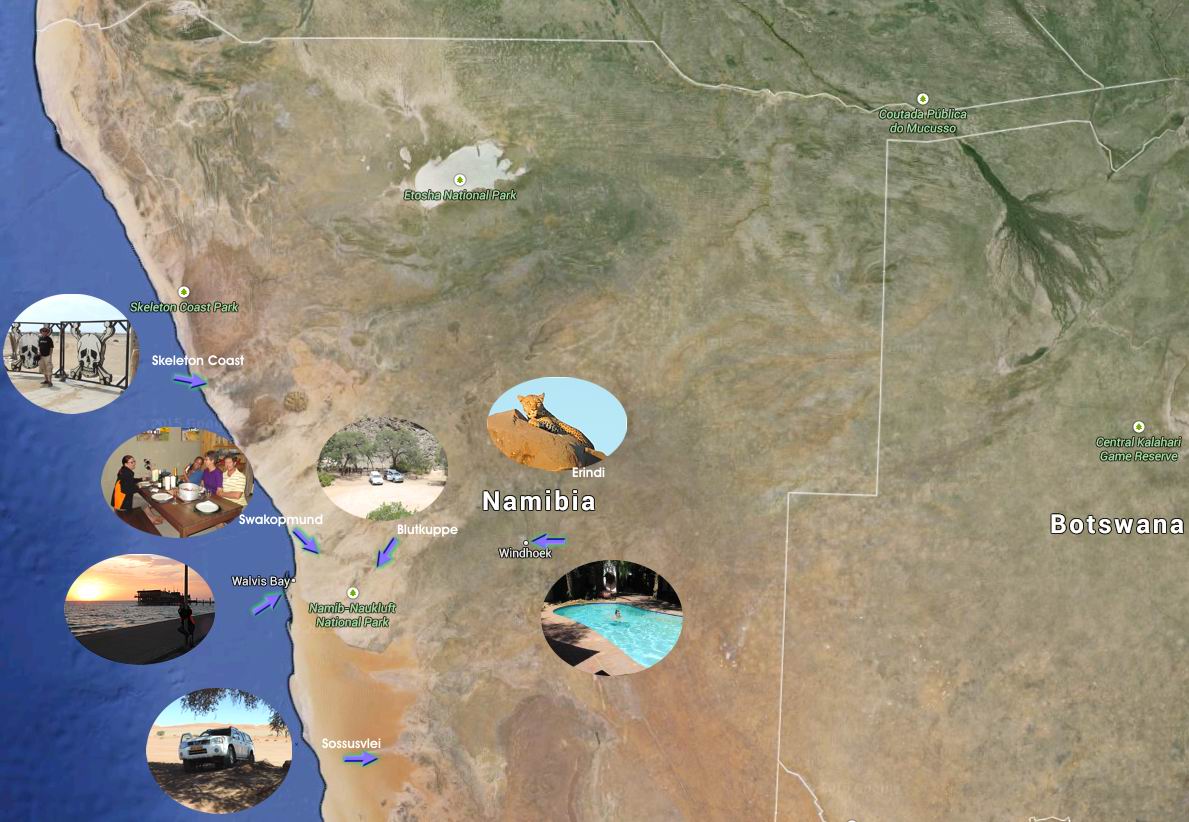 Our trip to Namibia is over for now. What will happen next winter? Maybe we would like to explore NAMIBIA.....?
Turen vår til Namibia er over for denne gang. Hva skjer neste vinter? Kanskje vi kunne tenke oss å utforske NAMIBIA....?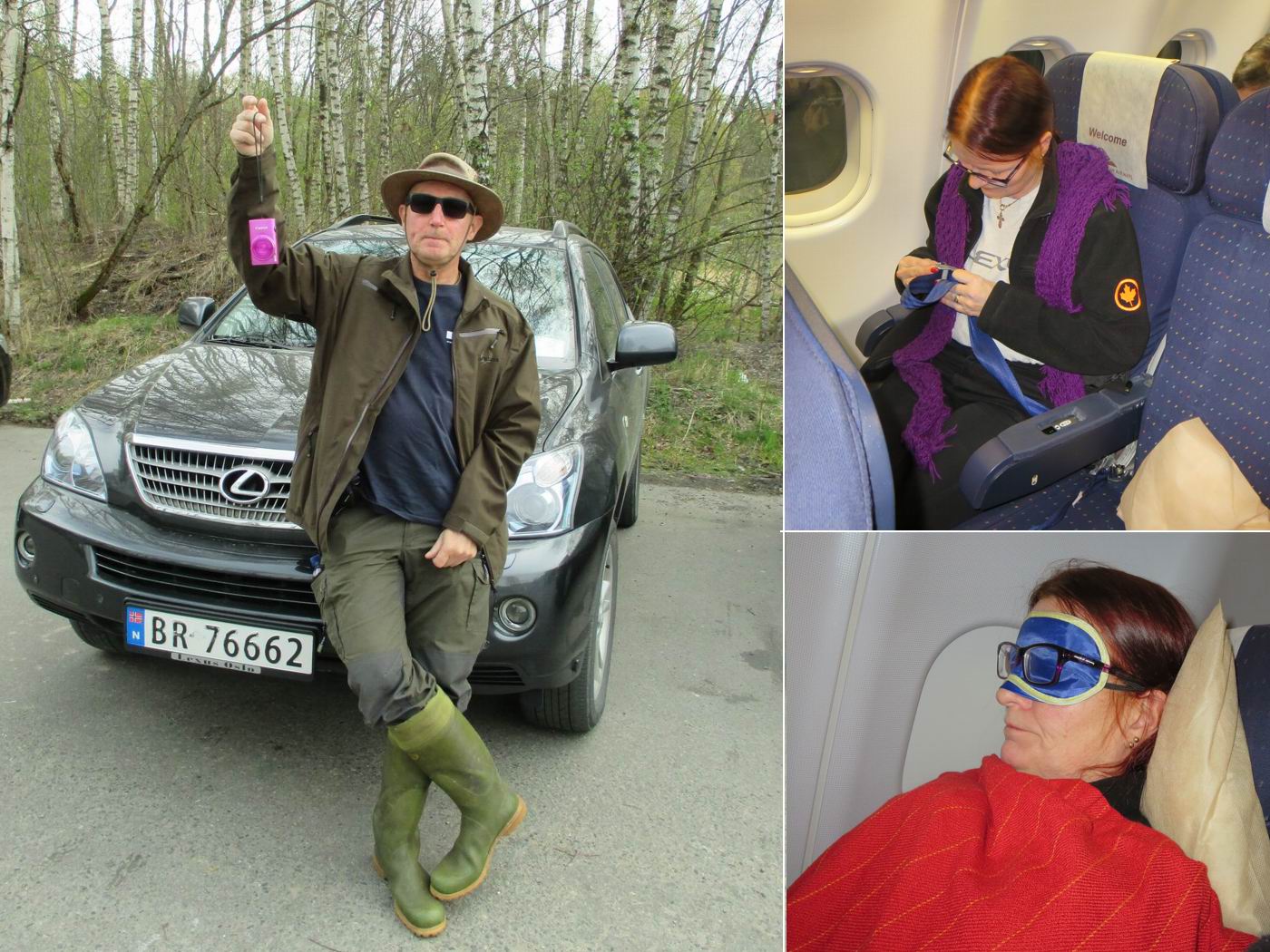 240415 - I just received the camera I lost in security in Jo'burg more than 2 months ago. Thank you Elmarie, for sorting out things for us! And..finally..2 photos shot on the flight from Frankfurt to Jo'burg.
240415 - Jeg fikk kameraet som jeg mistet i security i Jo'burg for over 2 måneder siden. Takk Elmarie for at du ordnet opp for oss! Og til slutt.. 2 bildet tatt på flyet fra Frankfurt til Jo'burg.