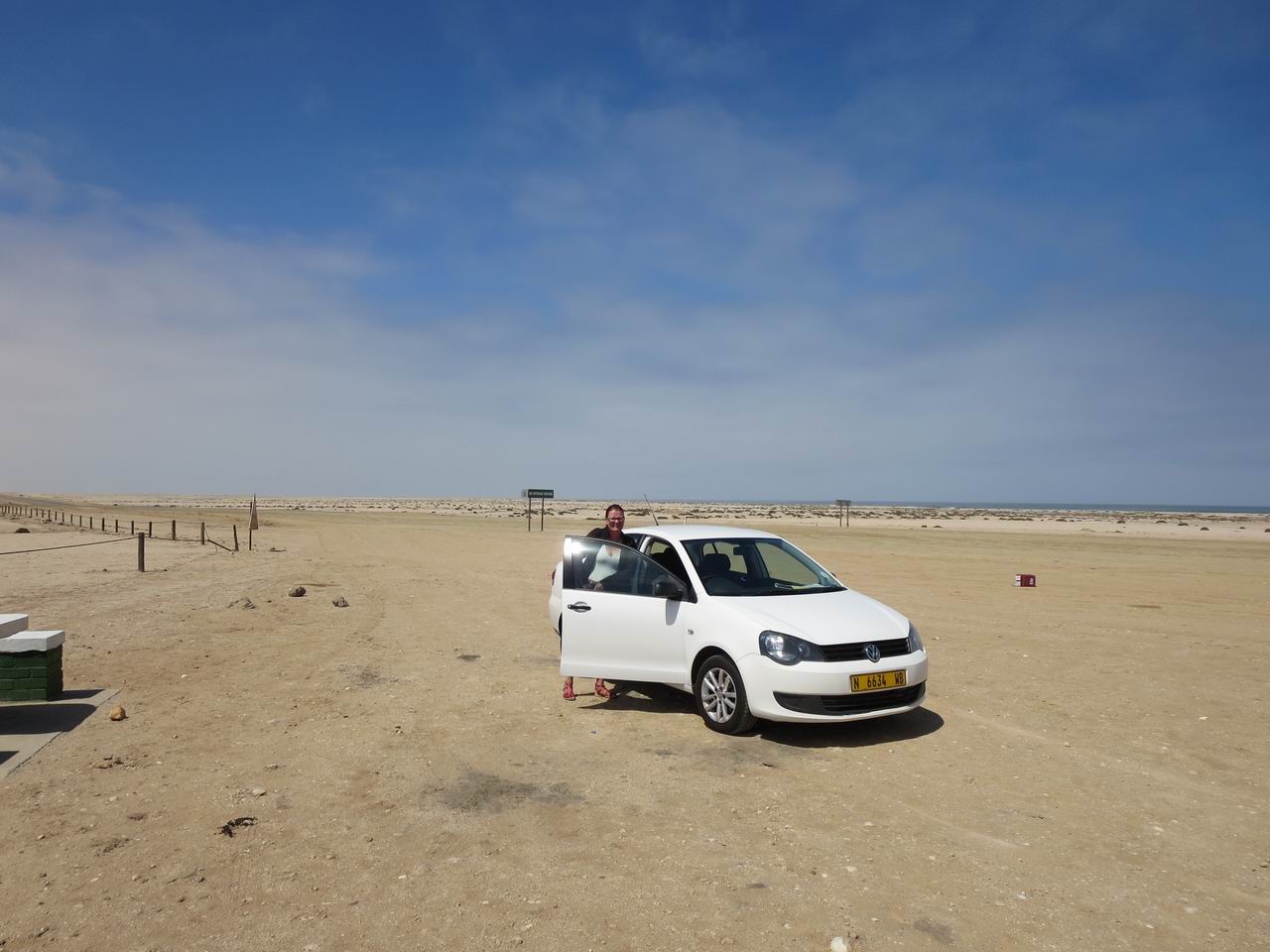 0603 - We finally got to rent a car - a VW Polo - Sylvi had no problems driving on the wrong side of the road and shifting gears with her left hand.
0603 - Endelig fikk vi leid oss en bil - en Polo - Sylvi hadde ingen problemer med å kjøre på feil side av veien og å geare med venstre hånd.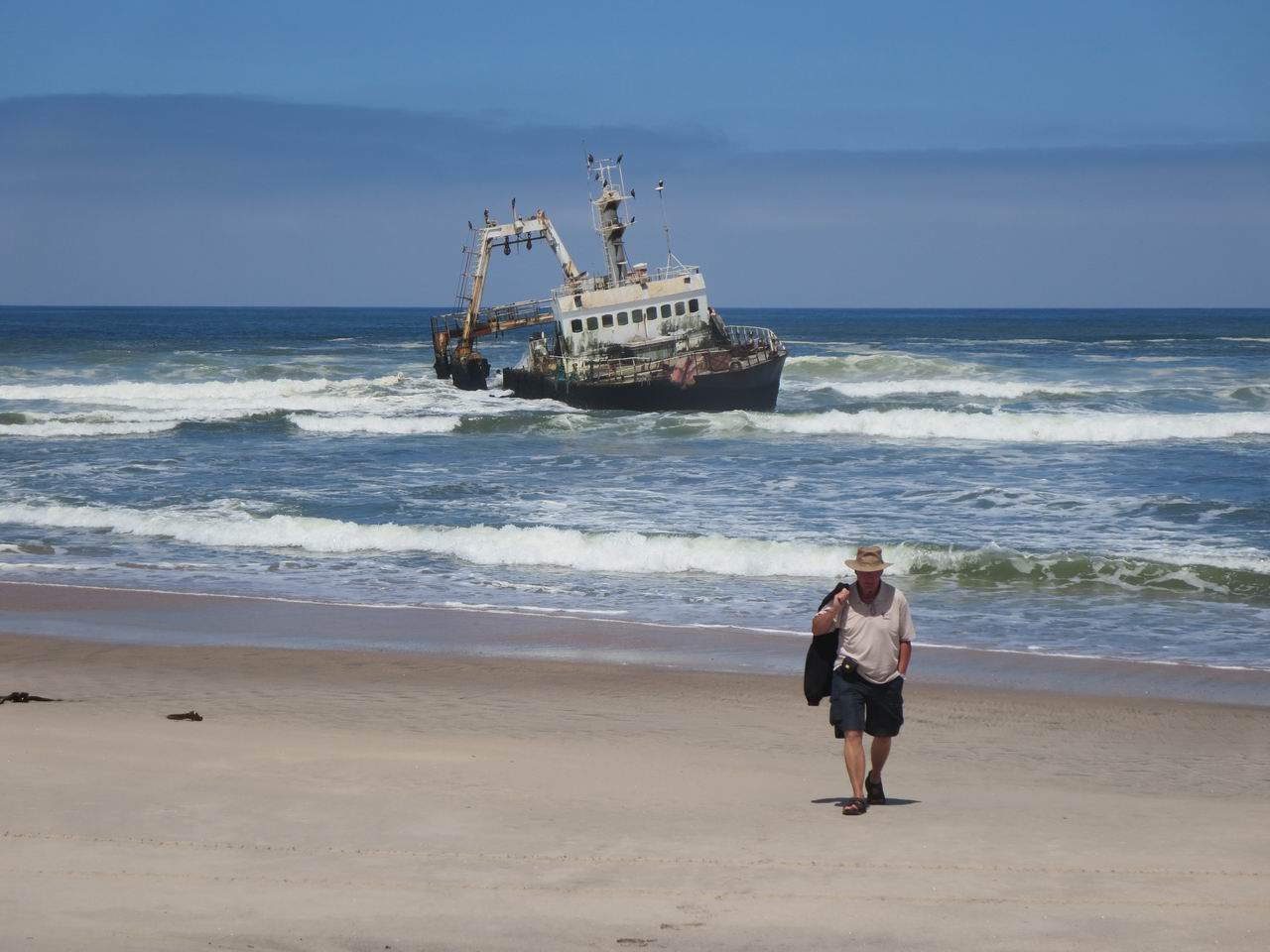 0603 - On our way to Henties Bay - 60 km north of Swakopmund - this fishing vessel is not going to catch a lot of fish here....
0603 - På vei til Henties Bay - 60 km nord for Swakopmund - denne fiskebåten kommer ikke til å få mye fisk her..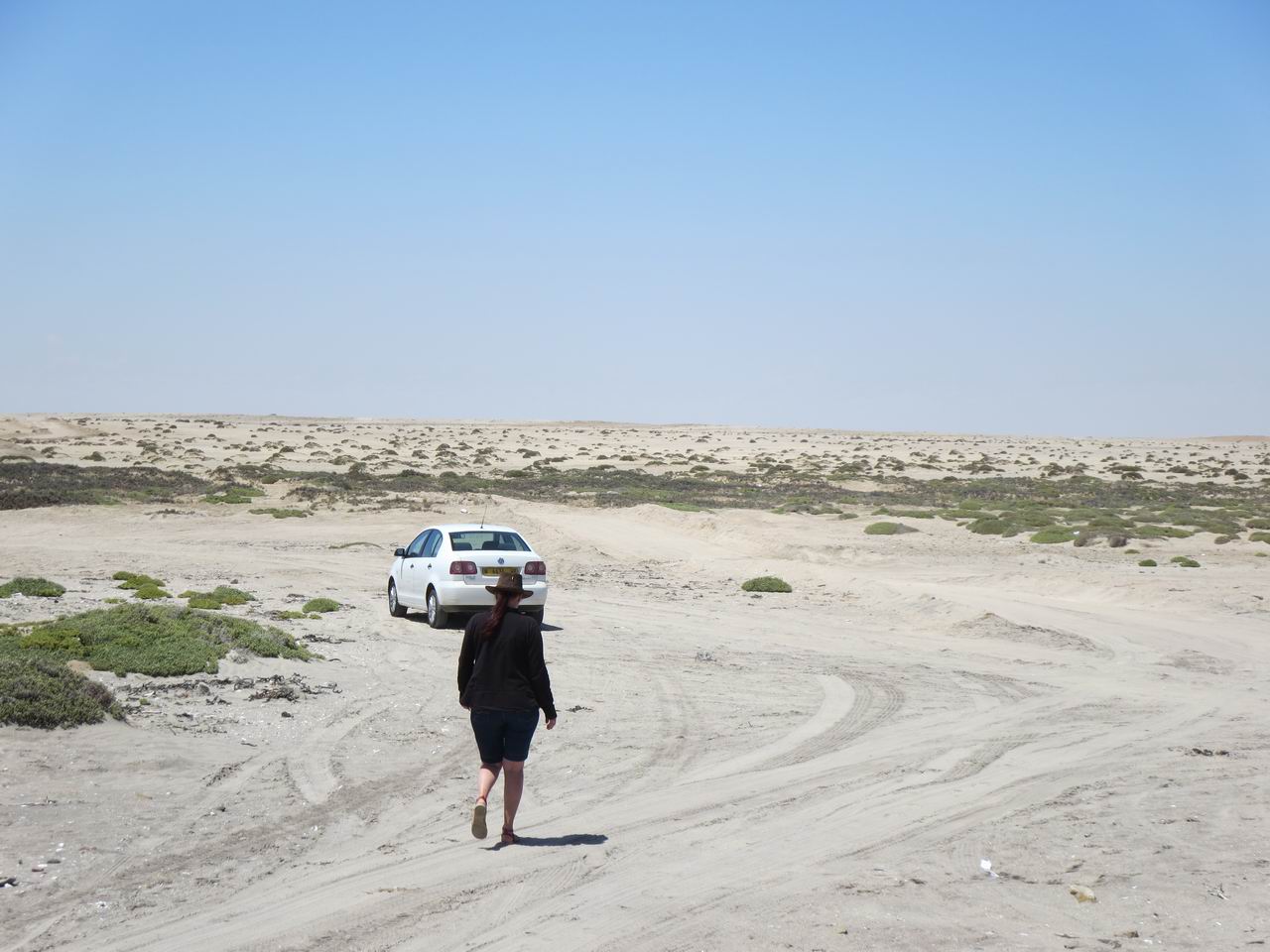 0603 - The Namibian desert is very much.. a desert - sand everywhere (surprise!) however it is not very hot because the wind is a bit cool.
0603 - Den namibiske ørkenen er veldig mye... ørken - sand over alt (stor overraskelse!) men det er ikke så varmt siden viden er kjølig.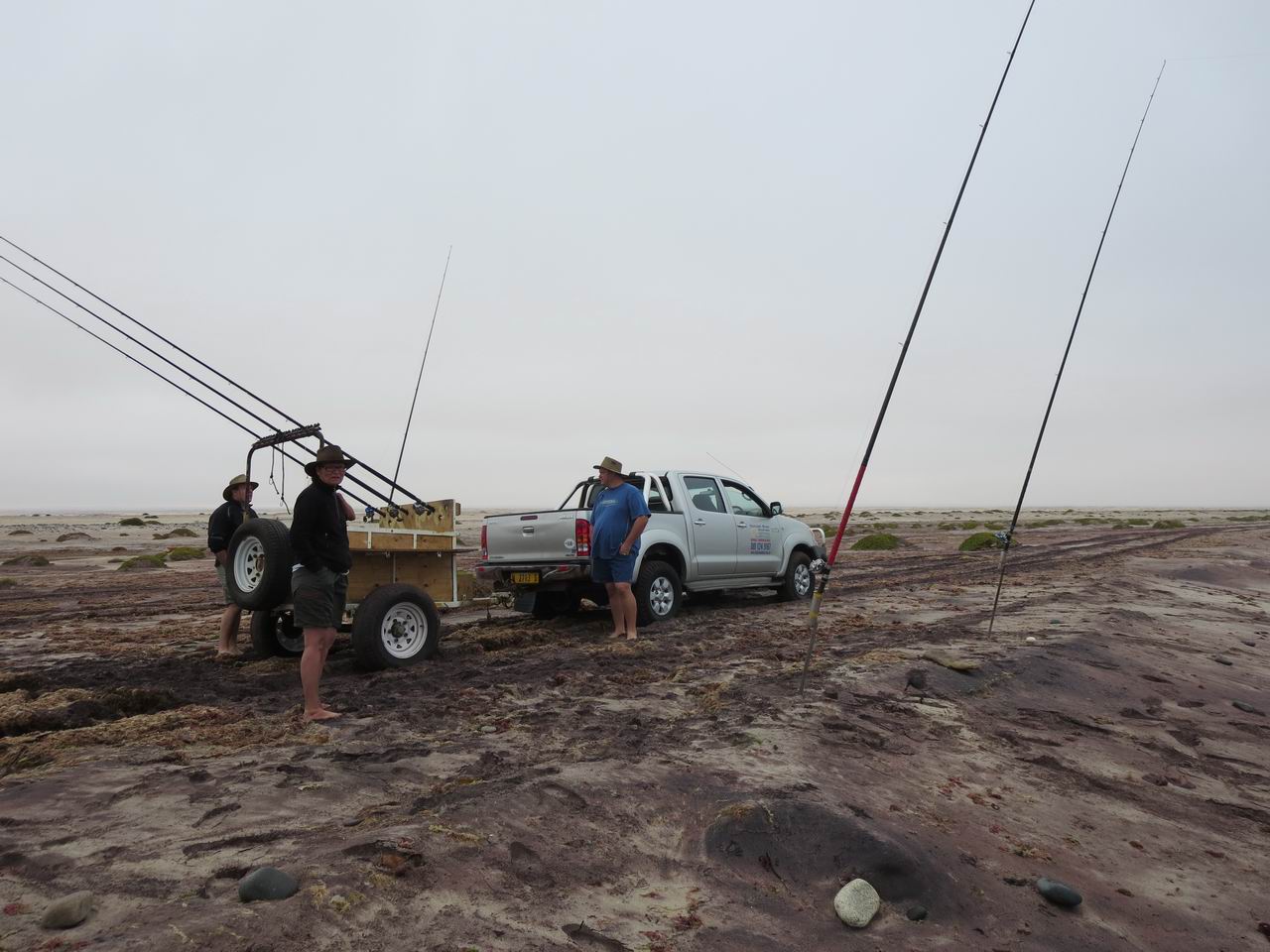 0703 - This is what it lookslike when Norwegians go fishing in Namibia. We are at Mile 8, north of Swakopmund.
0703 - Sånn ser det ut når nordmenn drar på fisketur i Namibia. Vi er ved Mile 8, nord for Swakopmund.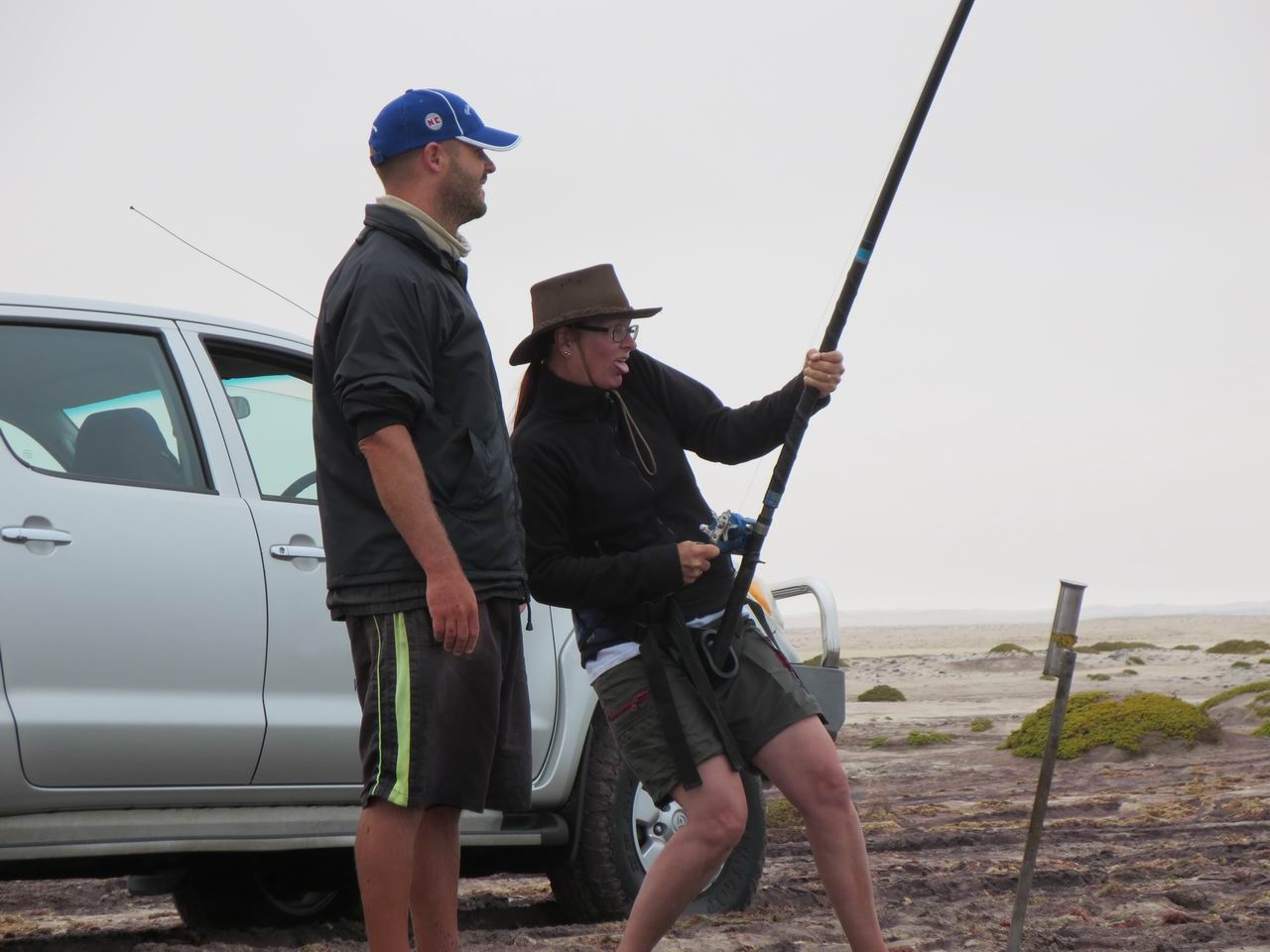 0703 - Sylvi is holding on to that big flagpole - I wonder why??
0703 - Sylvi holder fast i den digre flaggstanga - Jeg lurer på hvorfor??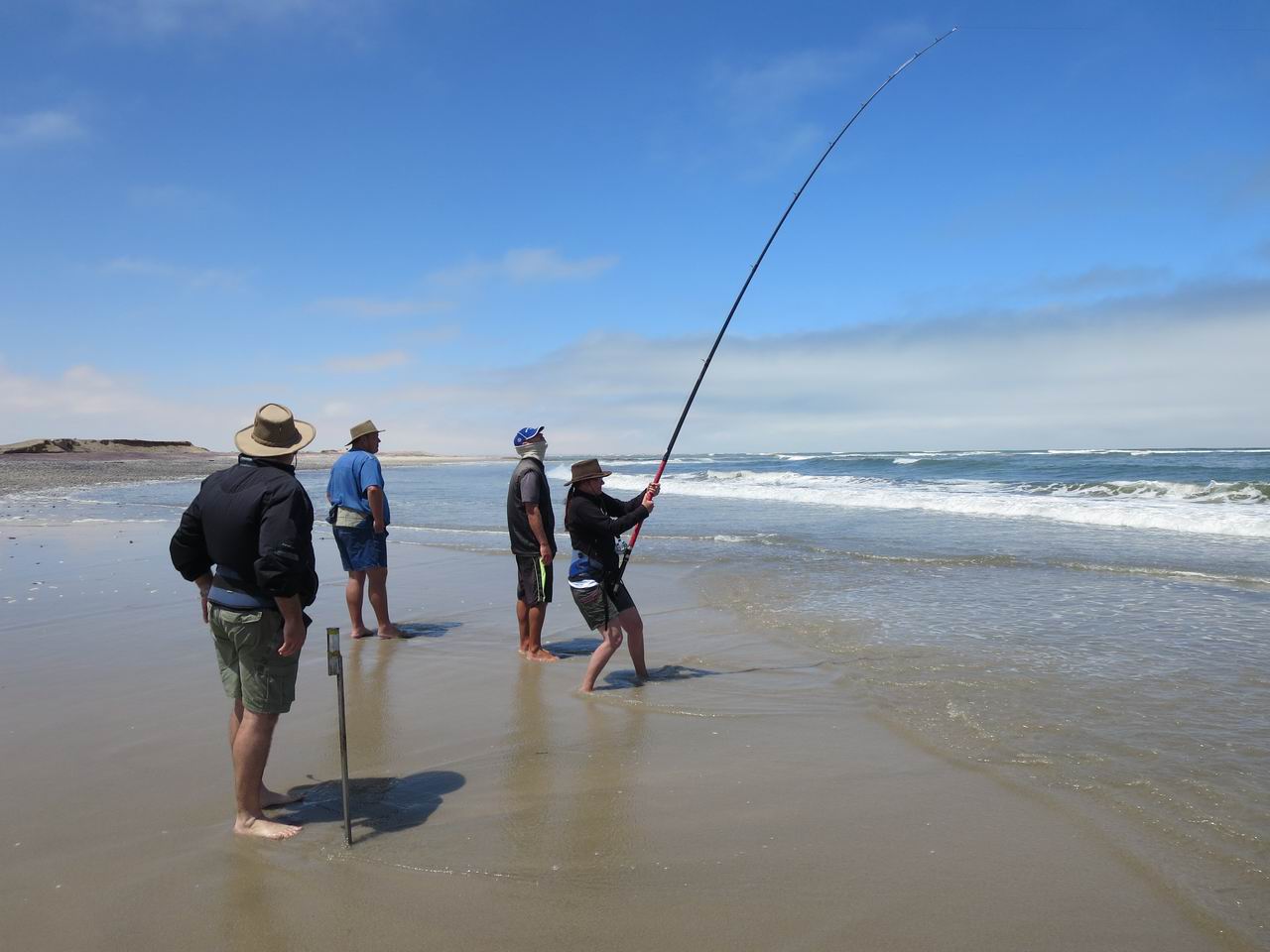 0703 - Hmmm.. there must be something pulling at the end of the line..?
0703 - Hmmm.. det må være noe som drar i enden på snøret..?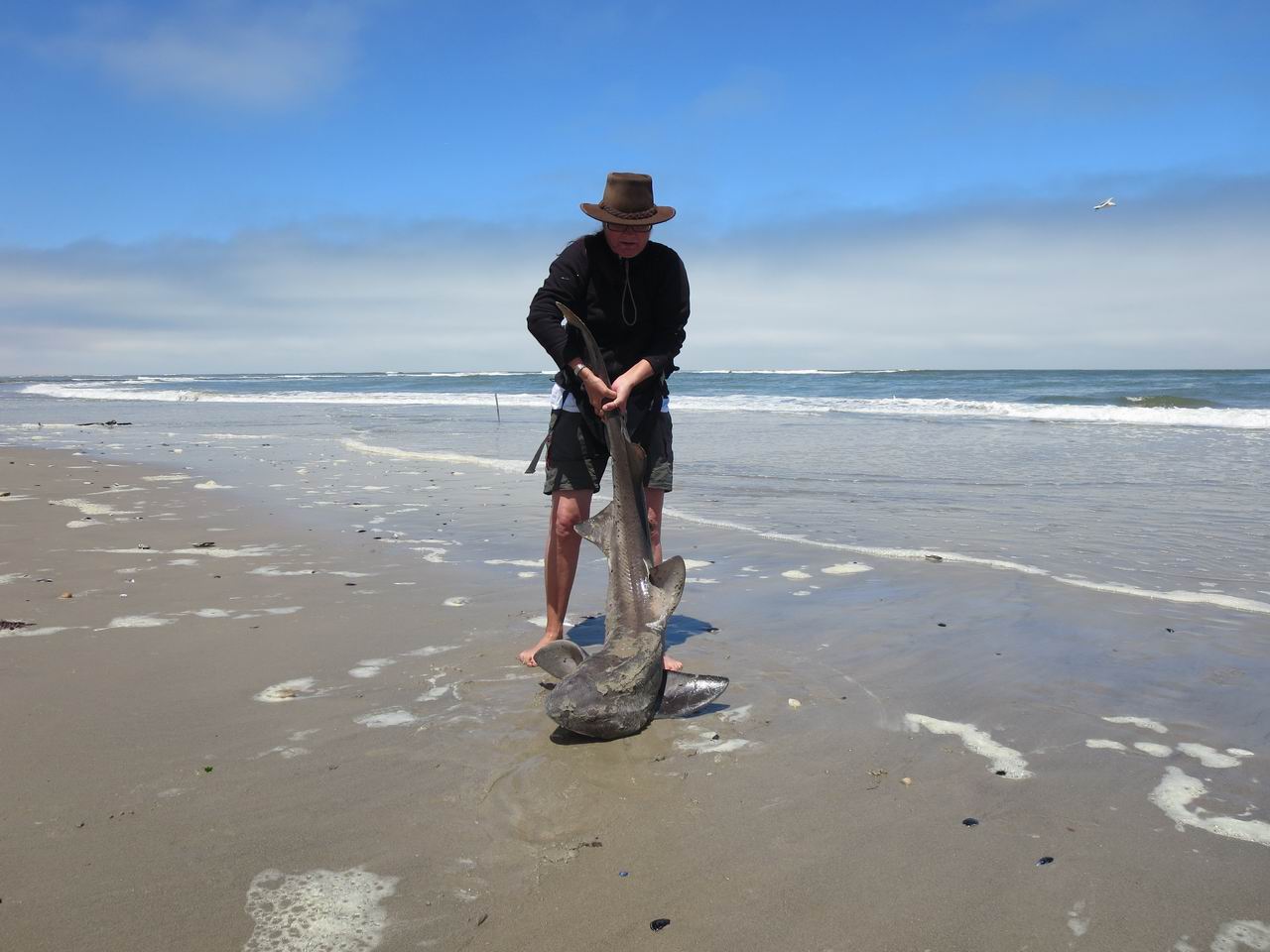 0703 - Yes, a spotted gully shark - approximately 12-13 kg - Sylvi caught 2 sharks today.
0703 - Ja, en spotted gully shark - ca 12.13 kg - Sylvi fikk 2 haier idag.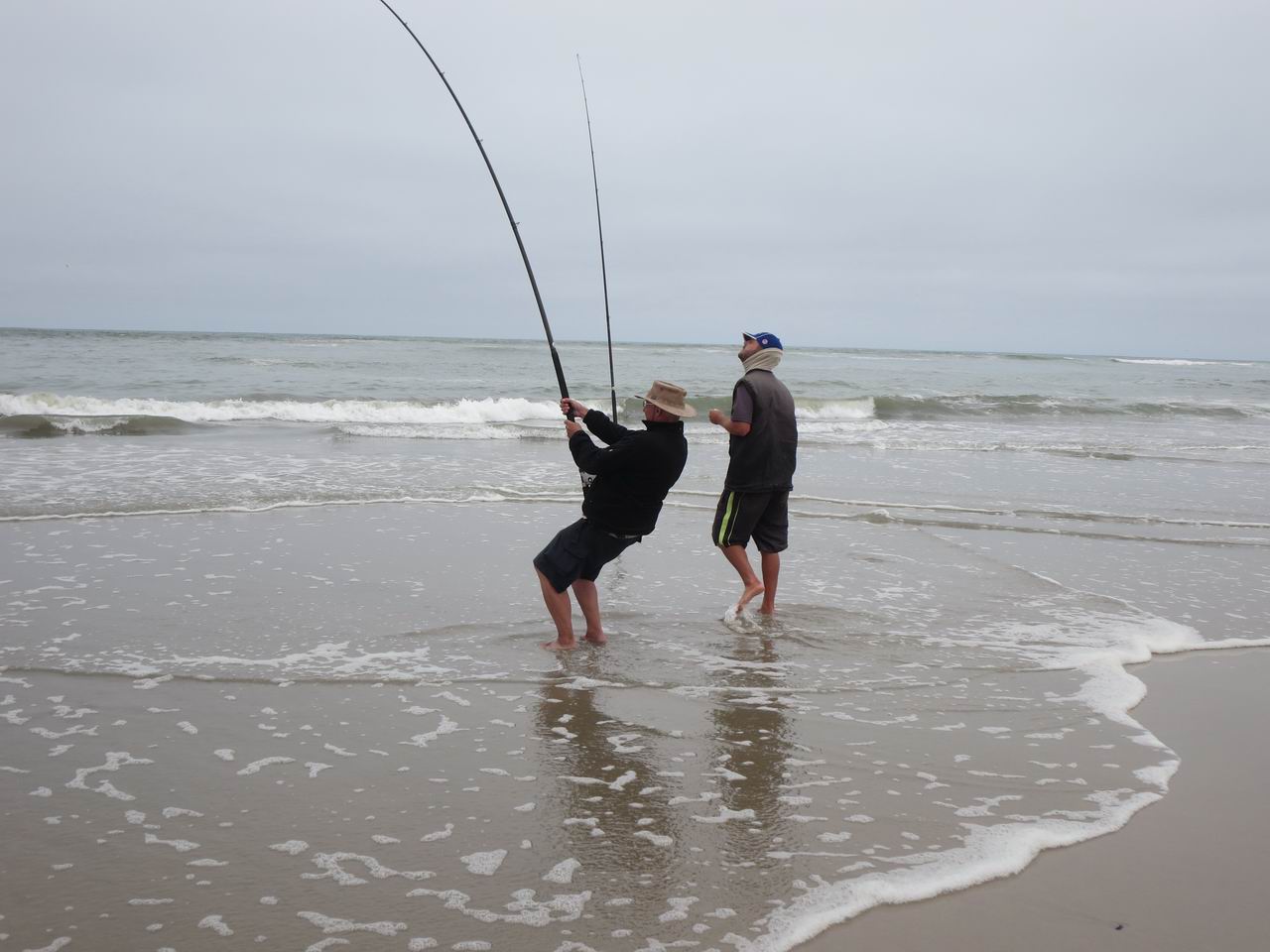 0703 - Now I have something at the end of the line - and it is BIG! Could be a yellow submarine?
0703 - Nå har jeg noe i enden på snøret - og det er SVÆRT! Kan det være en gul undervannsbåt?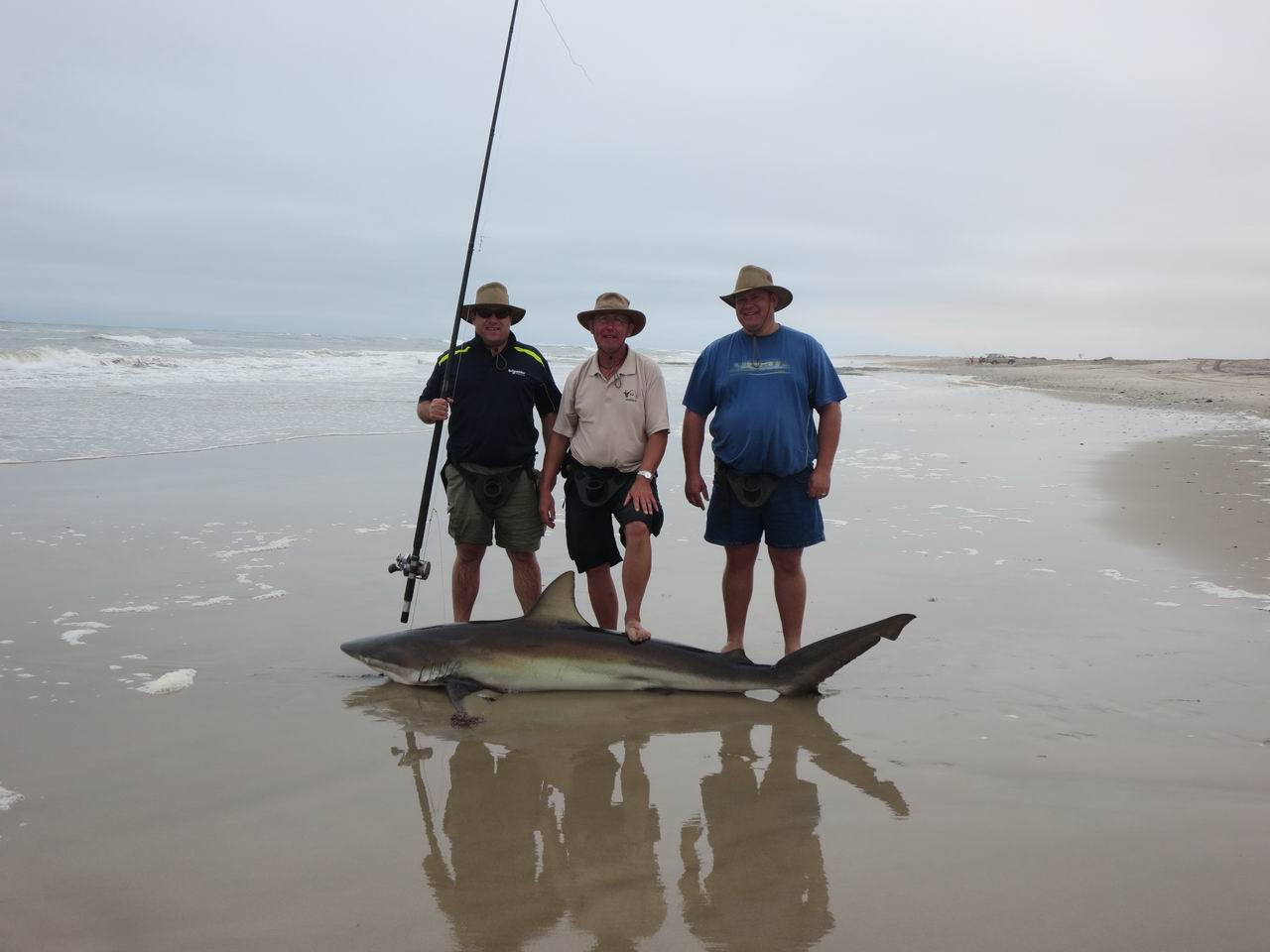 0703 - Nops, it is a coppershark - the guide estimated it to approximately 90 kg.
0703 - Nei, det er en coppershark - guiden antok den å være ca 90 kg.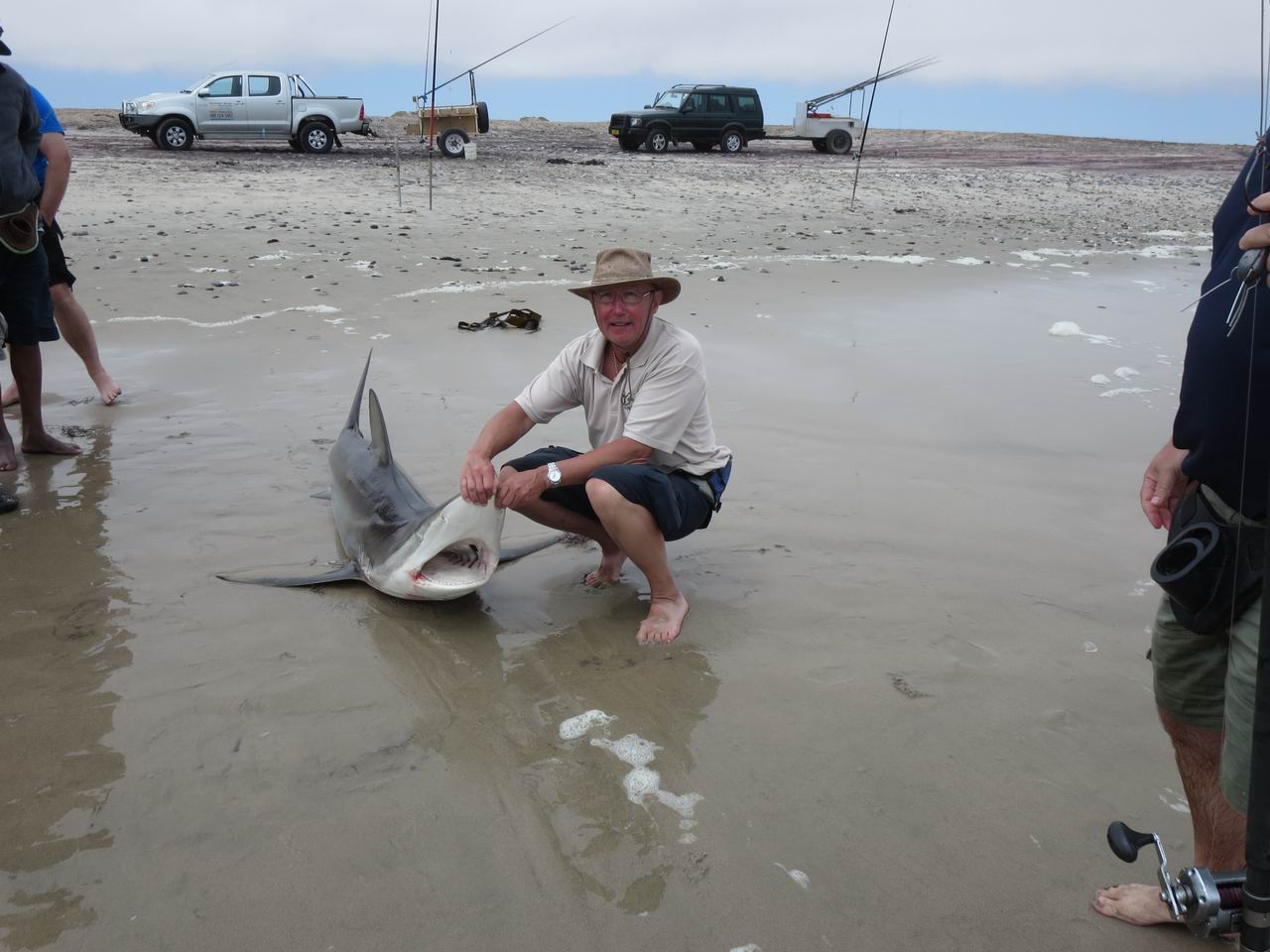 0703 - So, I must admit I am happy with a 90 kg shark - it took nearly 40 minutes to pull it in and I had help from the other guys as well, because this shark was killing my back - but I won!
0703 - Så, jeg må tilstå at jeg fornøyd med en 90 kilos hai - det tok nesten 40 minutter å dra den inn og jeg fikk hjelp av de andre karran' fordi haien tok nesten livet av ryggen min - men jeg vant!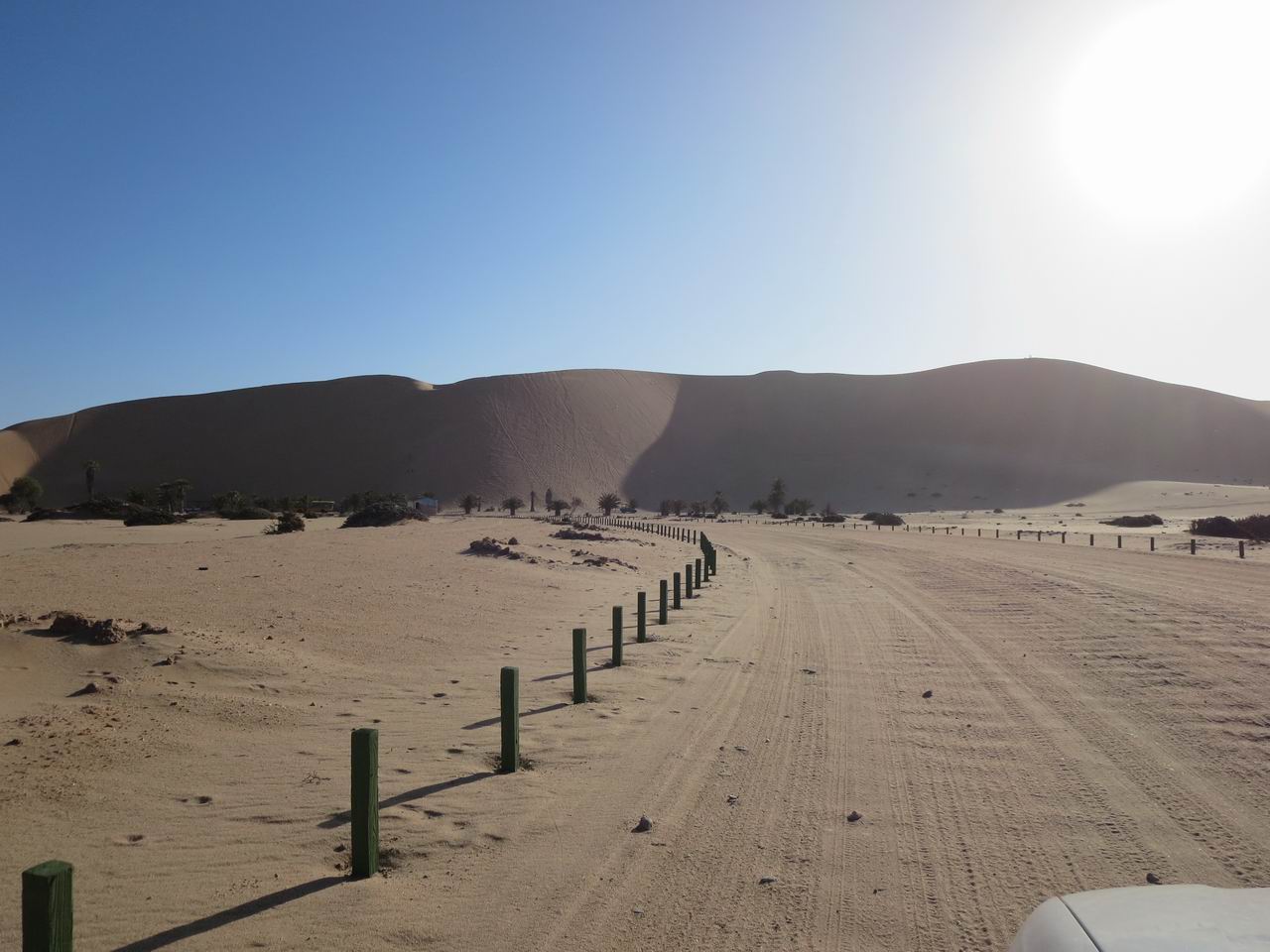 0803 - It's great to have our own car - we got to see Langstrand, a holiday resort between Swakopmund and WB, Walvis Bay airport and Dune 7, a 130 meter high pile of sand outside Walvis Bay.
0803 - Det er kjekt å ha egen bil - vi fikk sett Langstrand, et ferieby mellom Swakopmund og WB, Walvis Bay flyplass og Dune 7, en sandhaug på 130 meter utenfor Walvis Bay.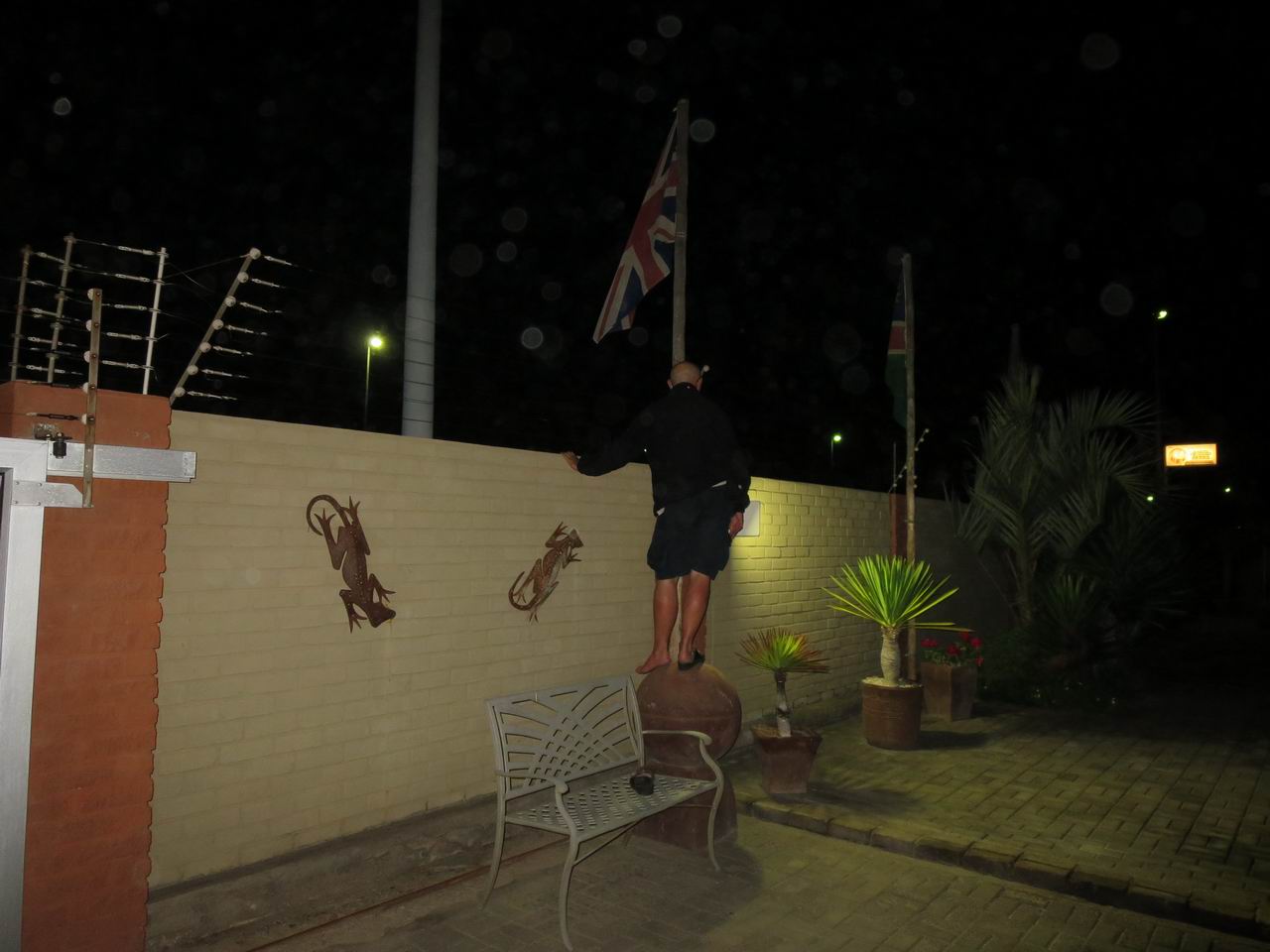 0803 - Saturday night - I can hear voices on the other side of the wall - hookers negotiating prices with their client - I wonder how much he had to pay?
0803 - Lørdag kvelt - jeg hører stemmer på andre siden av muren - kjøpedamer som forhandlet priser med kunden - lurer på hvor mye han måtte betale?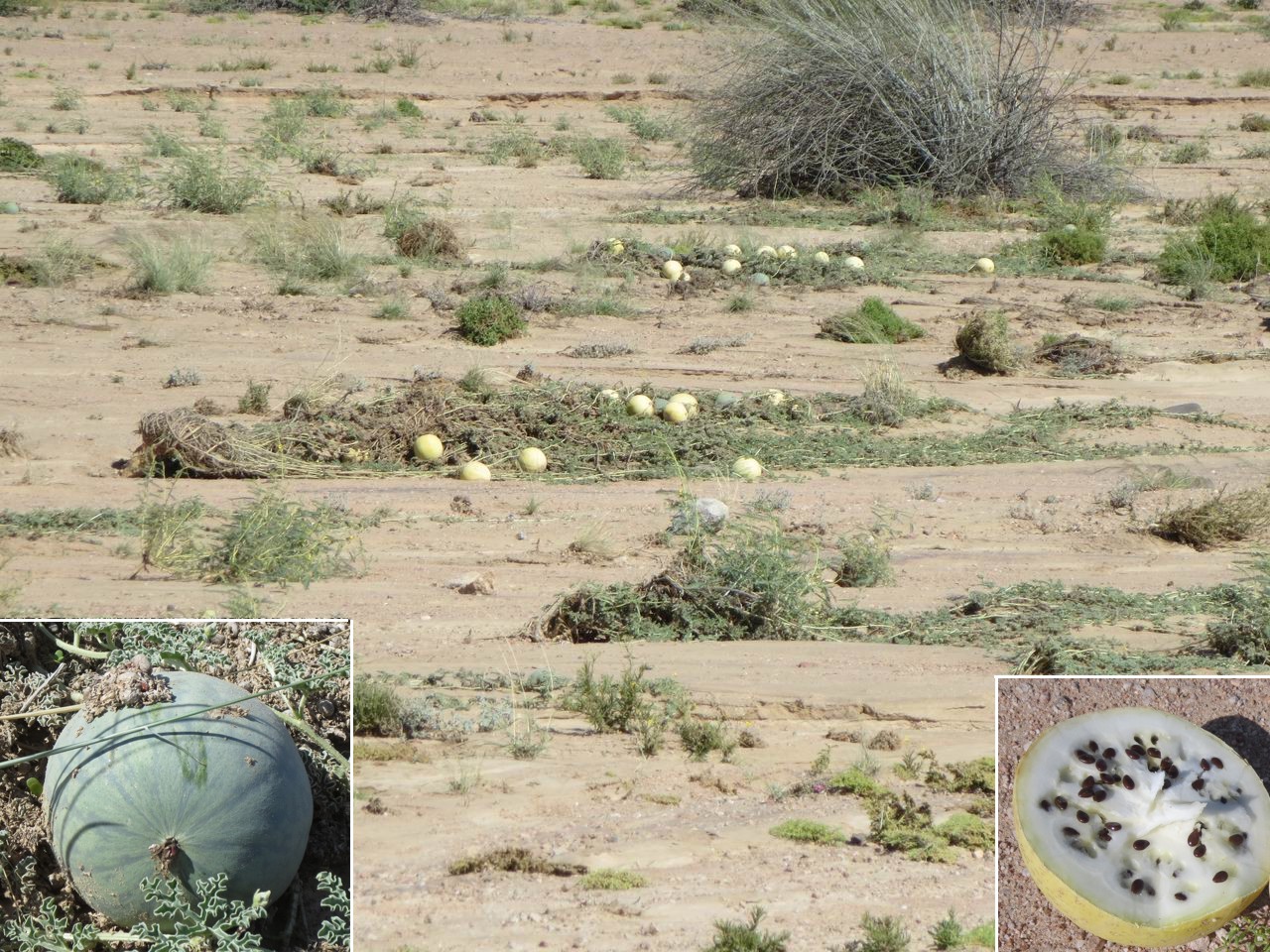 0903 - We found these melons while driving around in the Nakluft national park - they were growing in a dried out river - hundreds of them. I guess the springsboks like them, because I found tracks and shit everywhere. I opened one and it was very juicy.
0903 - Vi fant disse melonene mens vi kjørte rundt i Nakluft nasjonalpark - de vokste i et uttørket elveleie - hundrevis av dem. Jeg anter springbokene liker dem, for jeg fant masse spor og bæsj over alt. Jeg åpnet en og den var veldig saftig.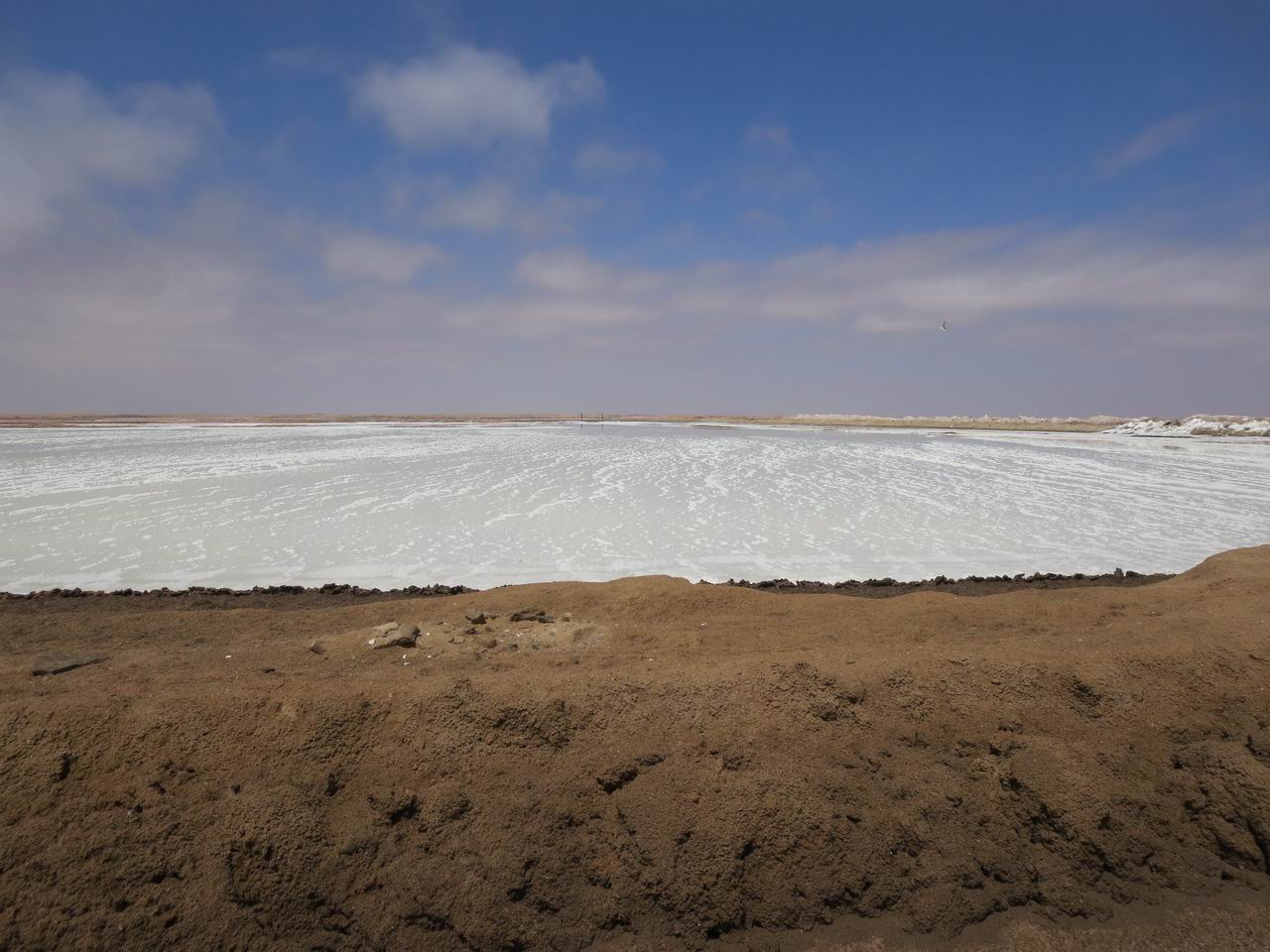 10.03 - Ice and snow!!! Finally we feel at home! No! - It is actually salt - a salt lake by the Walvis Bay lagoon.
10.03 - Is og snø!!! Endelig føler vi oss hjemm! Ikke! - Det er faktisk salt - en saltsjø ved Walvisbaai lagoon.
1103 - A tour in the moon landscape and a visit to an extremely old welwitschia (requires a permit). Welwitschia is the national plant of Namibia - This one is 1600 years old - Imagine what it has seen through the centuries...?
1103 - En tur i månelandskapet og et besøk til ei ekstremt gammel welwitschia (man må ha tillaltelse). Welwitschia er Namibias nasjonalplante - Denne er ca 1600 år gammel - Tenk hva den har sett gjennom århundredene..?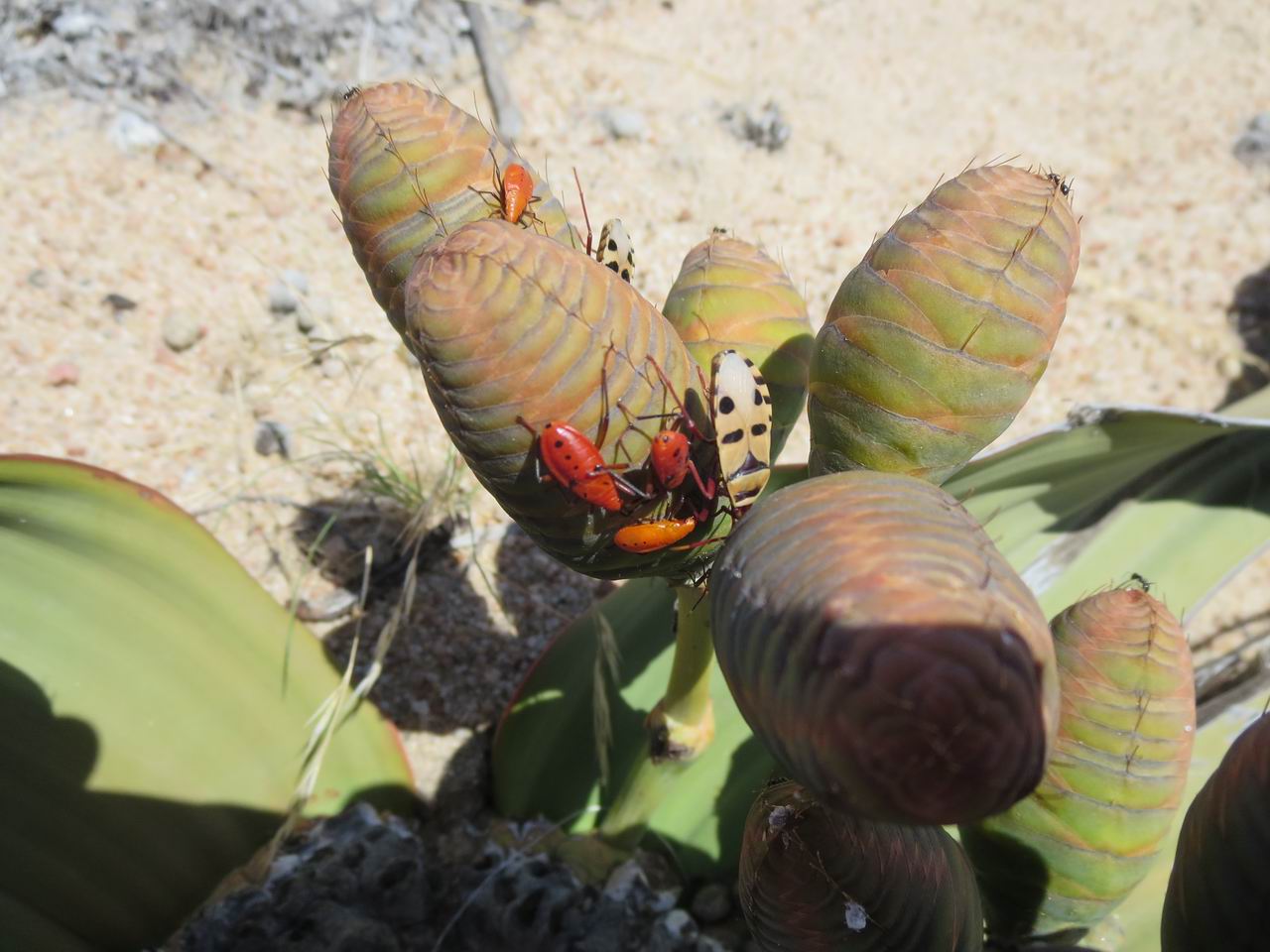 1103 - The bugs seems to enjoy the welwitschia - don't know if the welwitschia enjoys them..?
1103 - Billene ser ut til å like welwitschia'en - vet ikke om welwitschia'en liker dem..?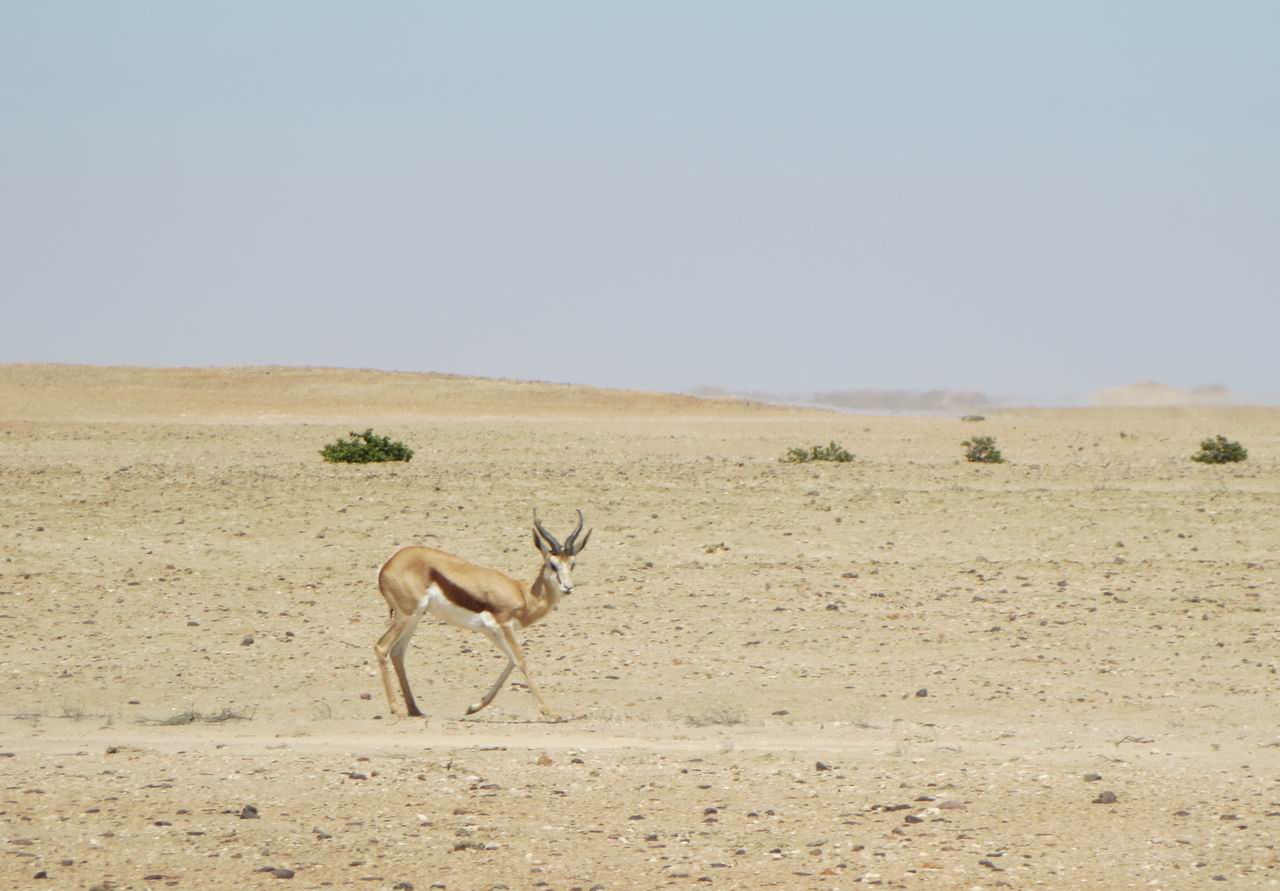 1103 - This springbok was taking a rest in the middle of the desert. I got pretty close to it before it was bothered to rise and walk away.
1103 - Denne springbok'en tok seg en hvil midt i ørkenen. Jeg kom temmelig nært før den var brydd med å reise seg og gå.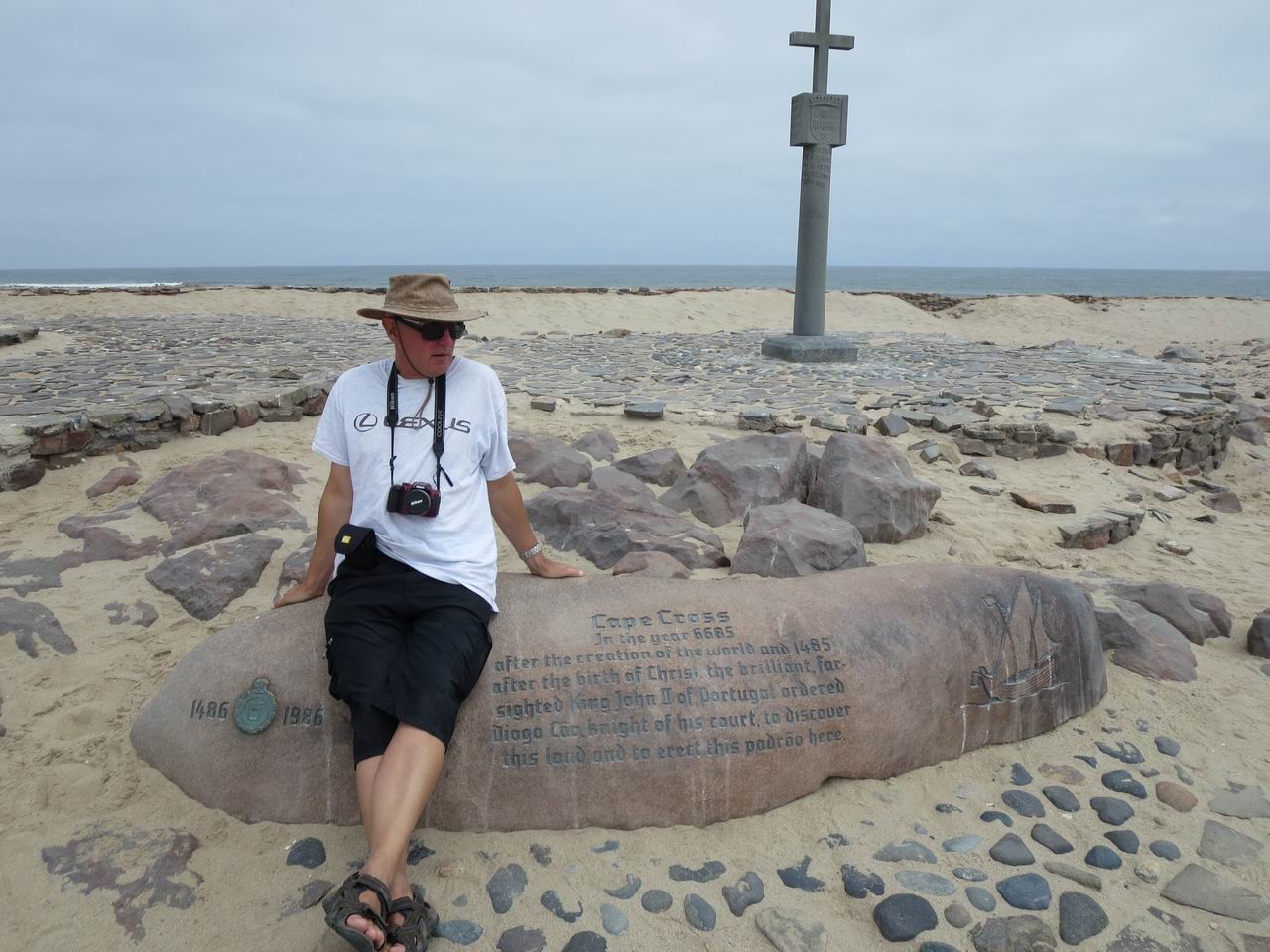 1203 - Cape Cross day - it's situated 130 km north of Swakopmund - it has a humongus seal polulation.
1203 - Cape Cross dagen - det ligger 130 km nord for Swakopmund - det finnes vanvittig mange seler her.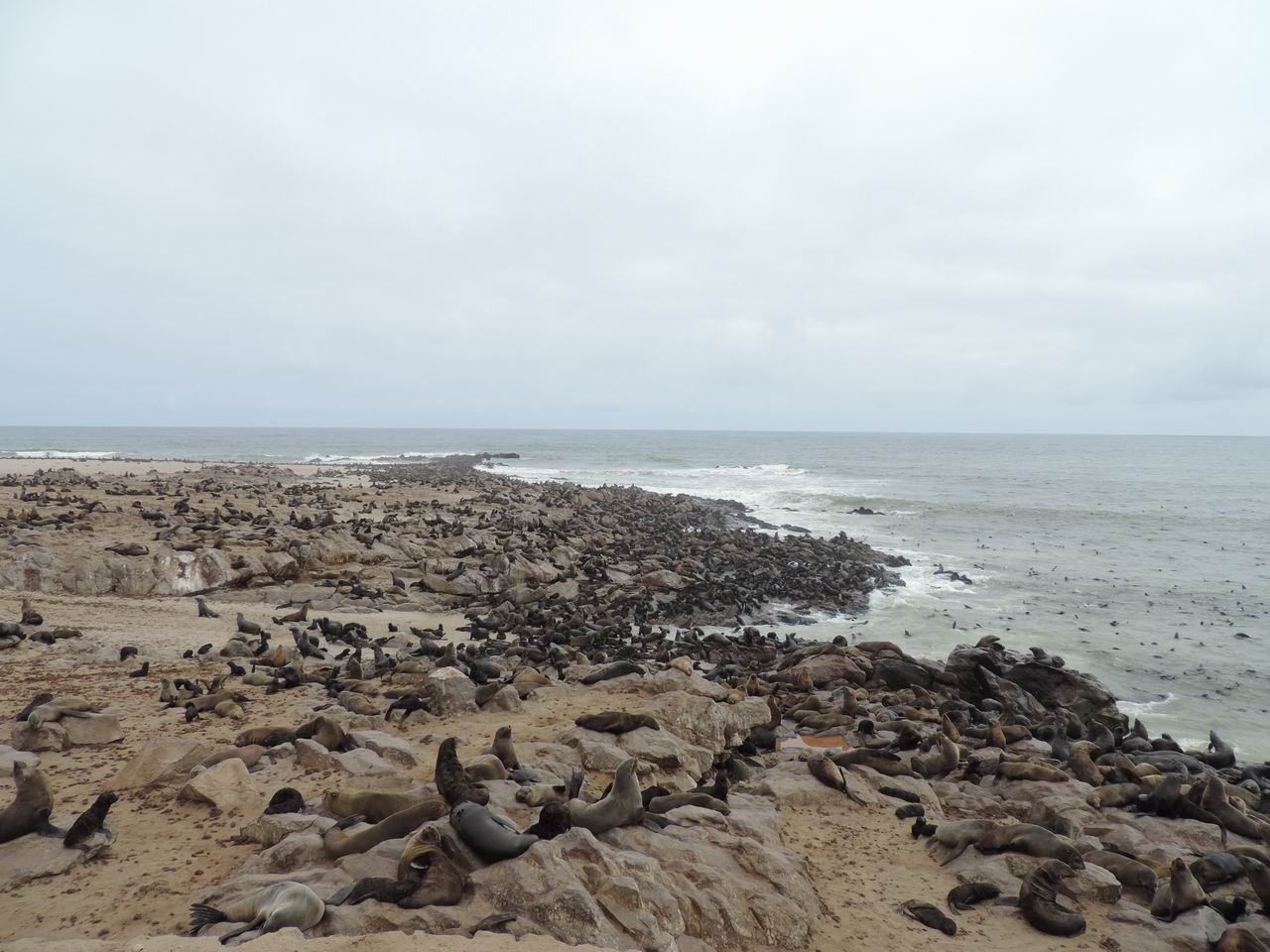 1203 - Seals... and they smell - like seals...
1203 - Seler.. og de lukter som seler...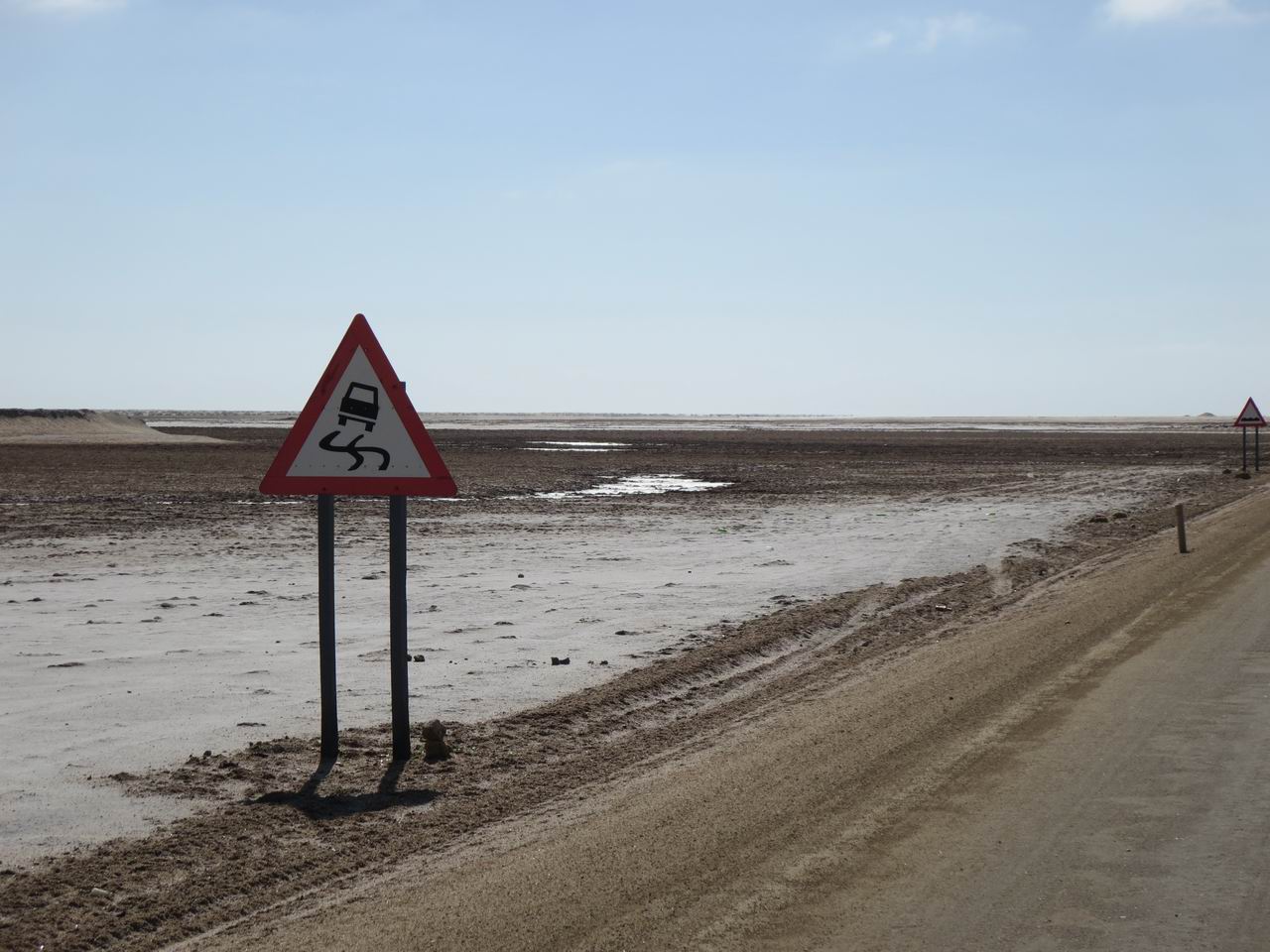 1203 - Icy road ahead - or not...? This photo looks like it has been shot in Norway in the spring - ice and snow on the fields.
1203 - Isete vei - eller ikke..? Dette bildet ser ut som om det er tatt i Norge om våren - is og snø på jordene.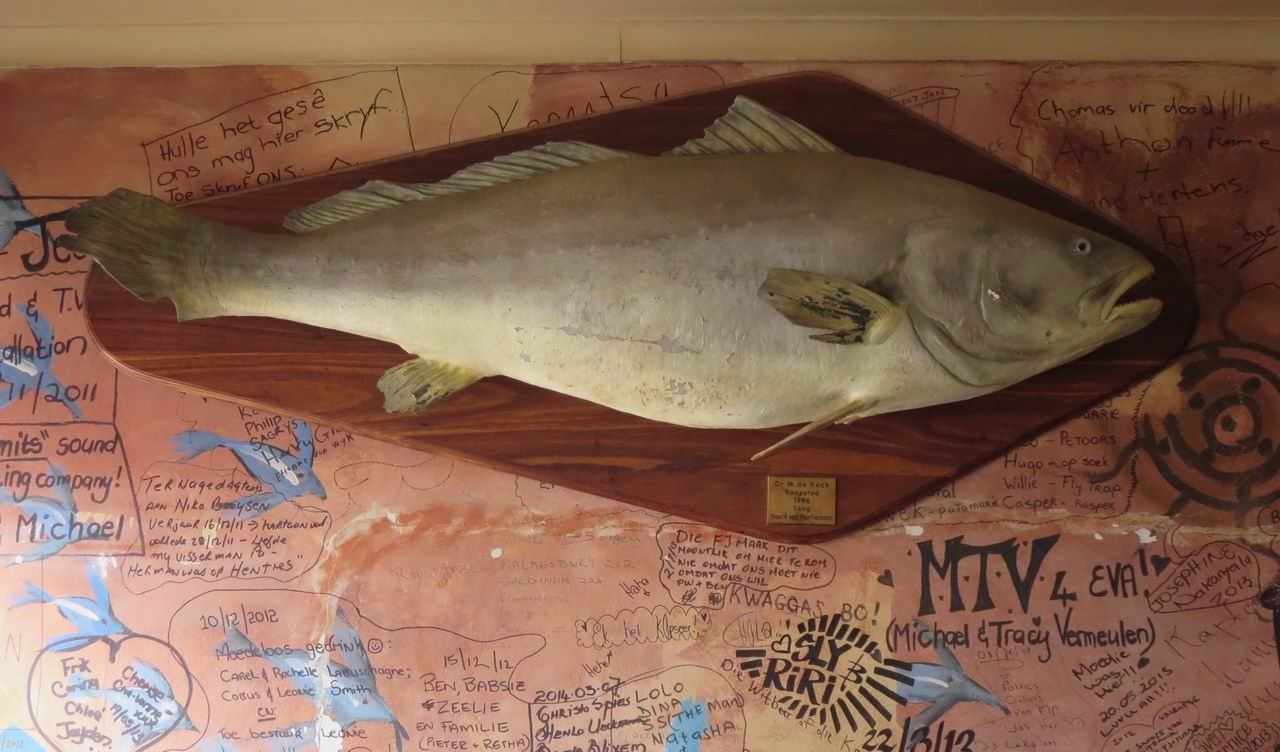 1203 - This "stuffed" fish hangs on the wall in the De Duine bar in Hentiesbaai - it's was 56 kgs when it was caught outside HB in '96.
1203 - Denne "utstoppa" fisken henger på veggen i baren De Duine i Hentiesbaai - den var 56 kg da dem ble fanget i HB i '96.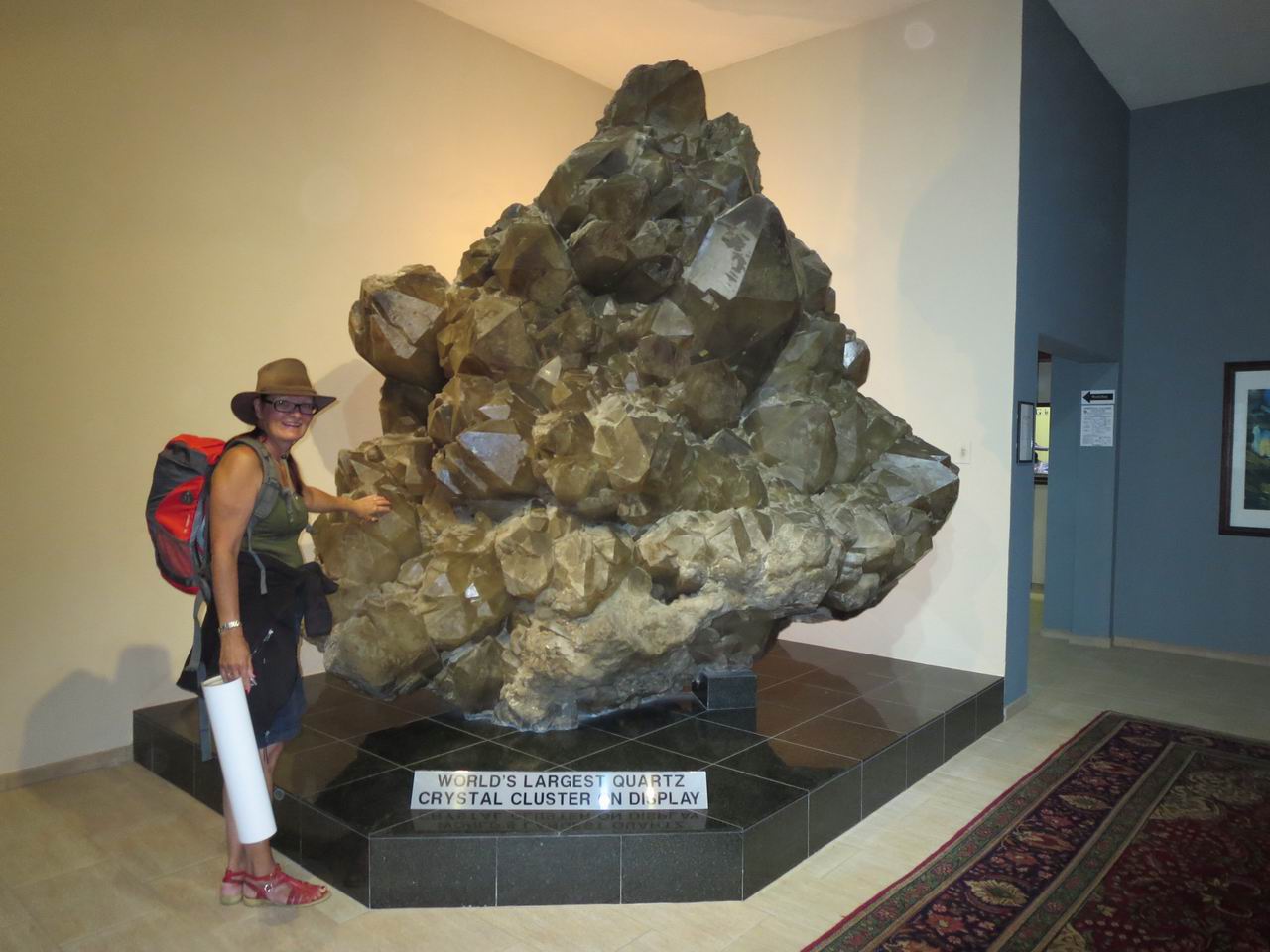 1303 - Swakopmund Kristall Galerie - this gallery houses a lot of shiny and colorful rocks - really worth a visit.
1303 - Swakopmund Kristall Galerie - dette galleriet huser en mengde skinnende og fargerike steiner - virkelig verdt et besøk.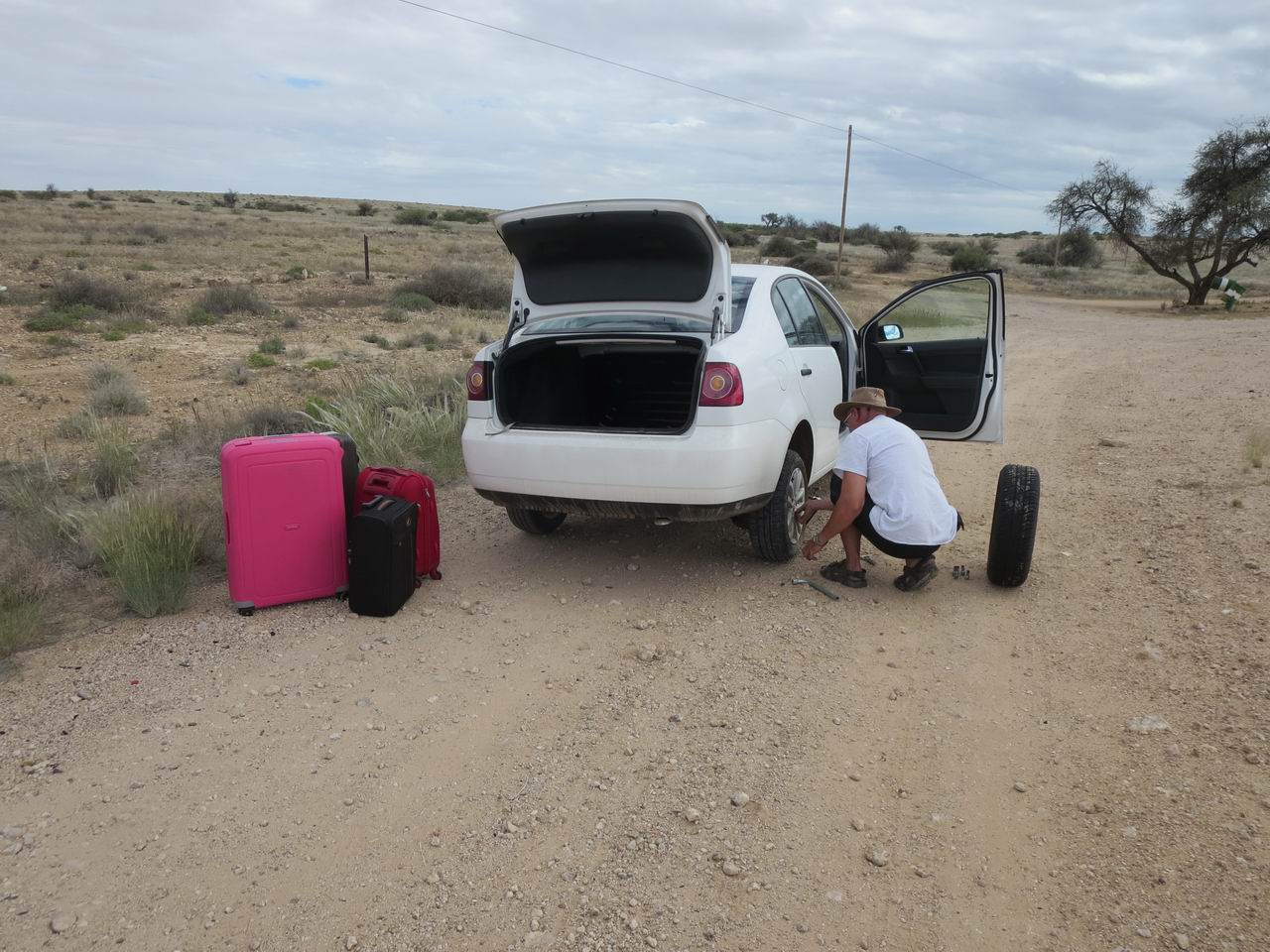 1503 - We left Swakopmund and the coast this morning, driving towards Windhoek when this happened 45 km before Usakos. A guy in a new spors Mercedes was flashing his lights at us signaling us to stop - carjacking...? No, not by a guy in a car like that. He told us we have a flat - which we actually had - the air was slowly seeping out of the tyre so we had to change a drive with the whinpy spare wheel. Max 80 km/h. We got to Usakos where we had the puncure repaired and then we continued to Windhoek and the Roof of Africa - no problem!
1503 - Vi forlot Swakopmund og kysten idag tidlig og kjørte mot Windhoek da dette hendte 45 km fra Usakos. A kar i en ny sportsmercedes blinket med lysa og signaliserte av vi måtte stopp - carjacking...? Nei, ikke av en fyr som kjører en slik bil. Han sa vi hadde punktert - og det hadde vi faktisk - lufta forsvant sakte ut av dekket så vi måtte bytte til pinglereservehjulet og kjøre med det. Max 80 km/t. Vi kom oss til Usakos der de fiksa dekket og så fortsatte vi til Windhoek og the Roof of Africa - ittno problem!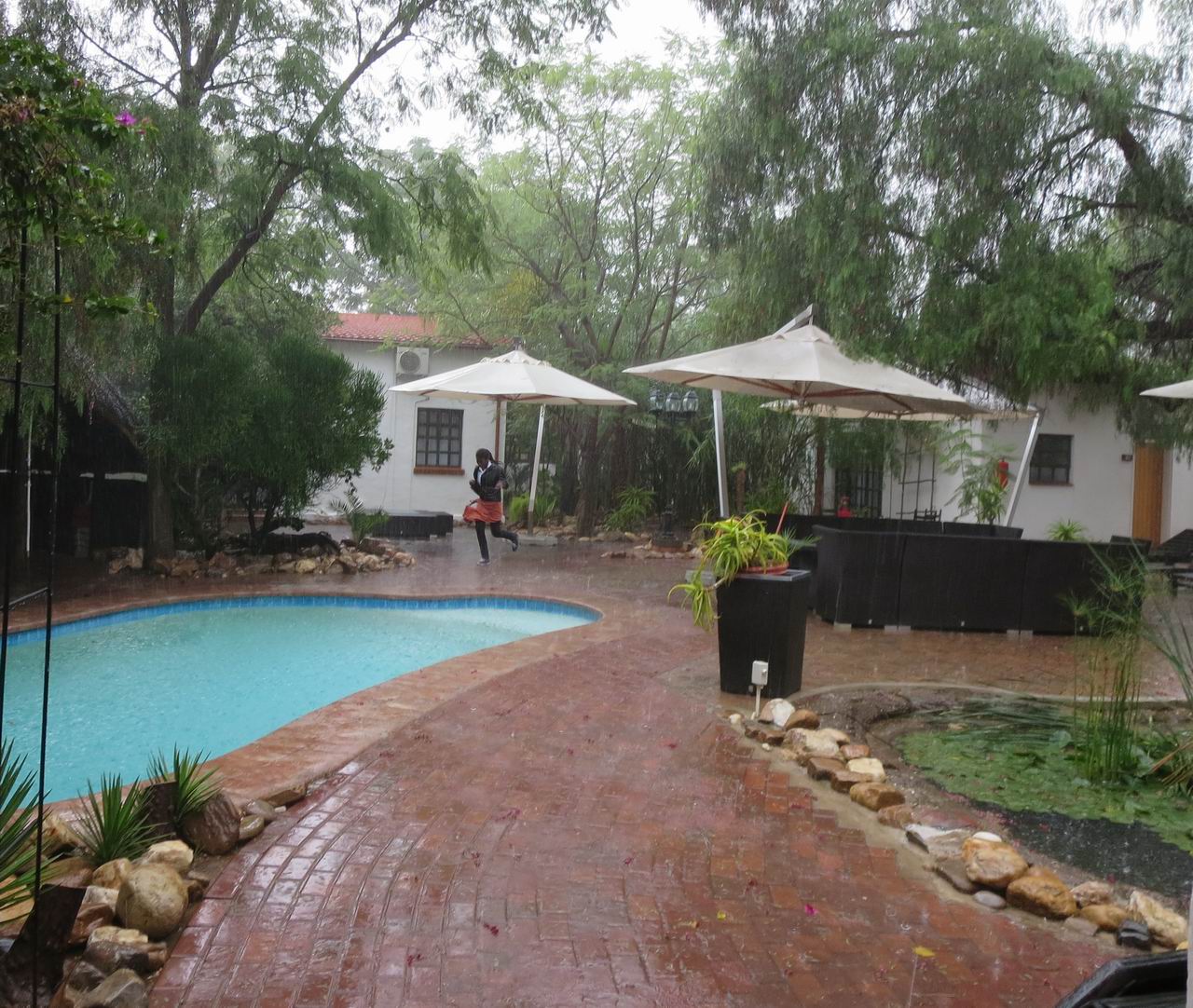 1503 - From sun and strong winds on the coast to the heat and heavy rain in Windhoek. We haven't seen rain for weeks.
1503 - Fra sol og sterk vind på kysten til varmen og styrtrein i Windhoek. Vi har ikke sett regn på flere uker.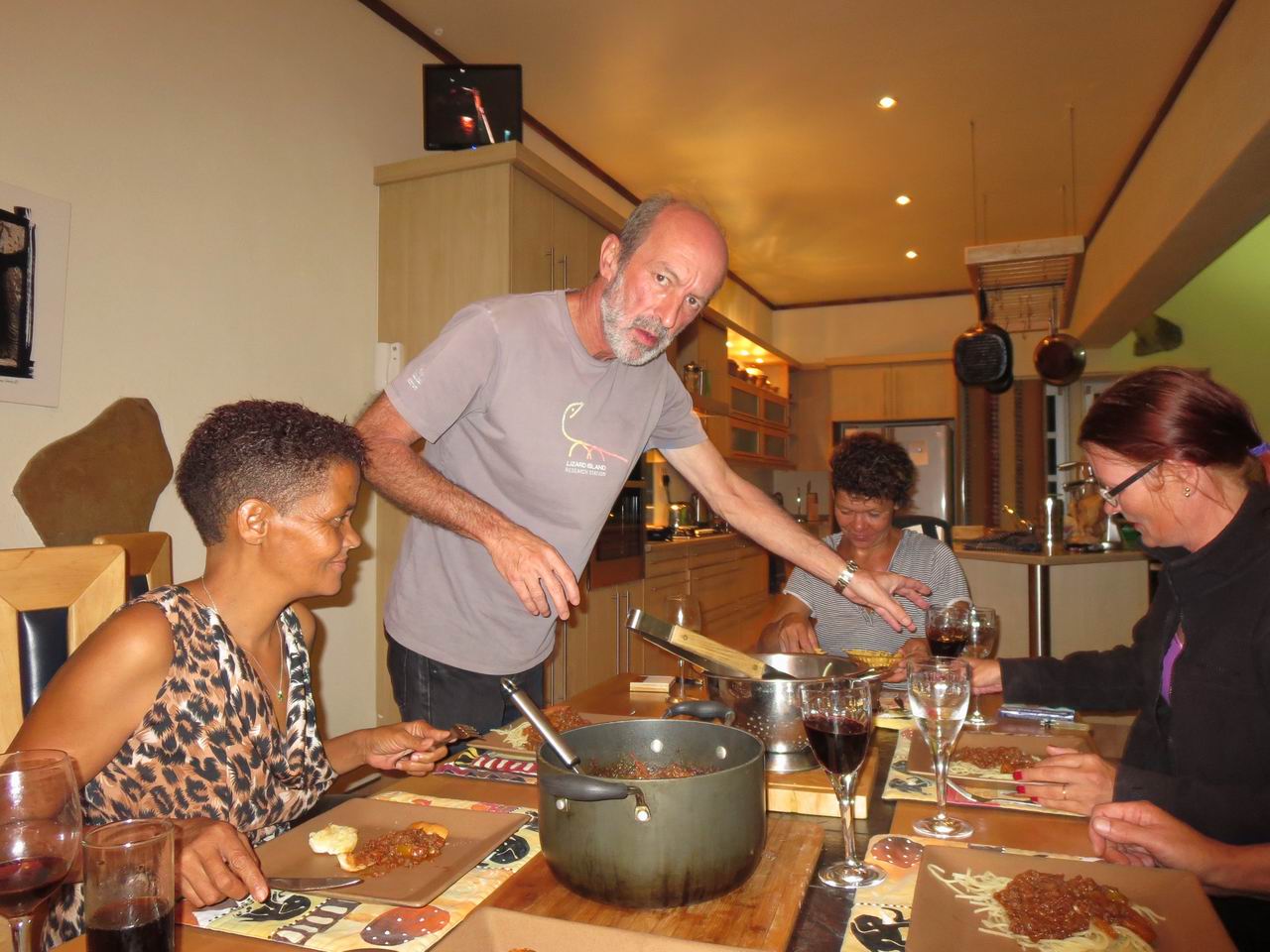 1603 - We were invited to Dave's house for a drink and a meal - we spent a lovely evening with him, Tess and Monica, eating and drinking and chatting.
1603 - Vi var invitert til Dave's hus til en drink og litt mat - vi hadde en flott kveld med ham, Tess og Monica og vi fikk god mat og drikke og pratet masse.